A picture of a TV reporter with her face heavily bandaged is doing the rounds on social media with users claiming that journalist Hana Mahameed was wounded in an Israeli grenade blast in East Jerusalem while covering the ongoing Israel-Hamas war.
American political commentator Jackson Hinkle (@jacksonhinklle) shared the picture on X (formerly Twitter) with a similar claim. The post has received 2.5 million views, 90,000 likes and over 33,000 retweets. (Archive)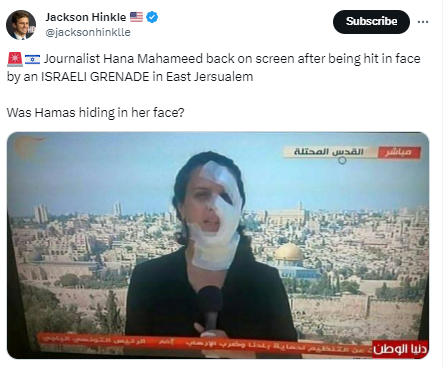 Another X (formerly Twitter) user, @Seiffouaddd, shared the picture with the caption, "Journalist Hana Mahameed back on screen after being hit in the face by an isra*li grenade Was Hamas hiding in her face? #CeasefireForGazaNOW" (Archive)
Journalist Hana Mahameed back on screen after being hit in the face by an isra*li grenade
Was Hamas hiding in her face?#CeasefireForGazaNOW pic.twitter.com/yc0AfkbYhN

— Seif Fouad (@Seiffouaddd) November 6, 2023
X user @tinyfleu and verified users like @akillis21 and @Sentletse also shared the image with a similar claim. The picture was also shared several times on Facebook. Alt News also received requests to verify this on its WhatsApp helpline (76000 11160).
This slideshow requires JavaScript.
Fact Check
We reverse searched the image on Google. This led us to a 2015 report by DNA which features the viral image with the title, "Journalist reports live even after being shot in face by Israeli Army in Jerusalem". It says, "According to reports, a journalist who was shot in her face with a stun grenade from a close distance in east Jerusalem went back to reporting soon after the incident. The journalist, Hana Mahamaid, was reporting the clashes near Beit El settlement, outside of Ramallah when the incident happened. During the clashes, Israeli Occupation Forces started targeting Palestinian journalists with stun grenades and teargas, it is then when the shot hit Mahamaid."
The Guardian also reported about this incident in 2015. The report stated that journalist Hana Mahameed, an Arab-Israeli correspondent for Lebanon-based Al-Mayadeen TV, had continued to broadcast with head bandaged hours after being wounded during a clash between Israeli police and Palestinian protesters in east Jerusalem. The report further added, "Israeli police said the clash took place while forces were detaining the father of a Palestinian teenager who had stabbed and wounded an Israeli teen early on Sunday before being shot dead by police."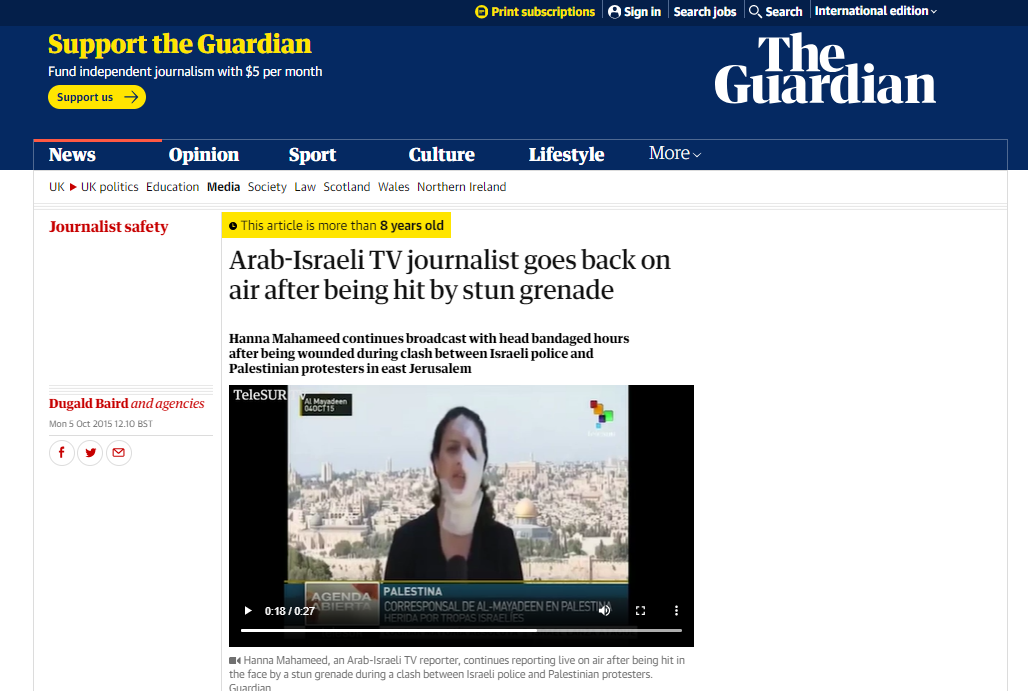 Al Mayadeen Channel uploaded a YouTube video in 2015, titled, 'Reporter injured by Israeli soldiers'. At the 0:54 mark, we can see Mahameed profusely bleeding and screaming in pain before being carried away by rescuers.
To sum up, a picture of journalist Hana Mahameed with her face heavily bandaged is being shared with a misleading claim that Mahameed was recently attacked with an Israeli grenade amid the ongoing Israel-Hamas war. Our fact-check revealed that the viral picture is from 2015, when Mahameed went back to her job hours after she had been hit by a Israeli grenade.
Donate to Alt News!
Independent journalism that speaks truth to power and is free of corporate and political control is possible only when people start contributing towards the same. Please consider donating towards this endeavour to fight fake news and misinformation.