A video that seemingly shows Prime Minister Narendra Modi performing traditional Gujarati dance 'garba' with a group of women is viral on social media. Several users marvelled at the PM's dancing skills while sharing the clip.
On X (formerly Twitter), user @ArunBytes, tagged PM Modi's official X-handle and shared the video with the caption, "PM Modi dances at a navaratri garbha program. Very graceful @narendramodi." The video received over 27,100 views. (Archive)
PM Modi dances at a navaratri garbha program.
Very graceful @narendramodi ji
🙏🙏 pic.twitter.com/2e0S66wcA1

— Arun Subramanian (@ArunBytes) November 8, 2023
A verified page on X,सनातनी हिन्दू राकेश जय श्री राम (@Modified_Hindu9), also shared the video with the caption, "Krishna, your forms are many. There is only one heart, how many times will you win? Sixteen Kala Avatar Kanhaiya: The one who can lift the flute can also lift the Govardhan mountain, just like the one who can do air strikes, who can do surgical strikes can also do perfect Garba." The post has over 19,600 views, 761 likes and 231 retweets. (Archive)
कृष्ण तेरे रूप अनेक।

एक ही दिल है कितनी बार जीतोगे? सोलह कला अवतार कन्हैया जो बांसुरी उठाता है वह गोवर्धन पर्वत भी उठा सकता है ठीक उसी की तरह जो… जो एयर स्ट्राईक कर सकता है जो सर्जिकल स्ट्राईक कर सकता है वह परफेक्ट गरबा भी कर सकता है। pic.twitter.com/Dpw0aJsYVL

— सनातनी हिन्दू राकेश जय श्री राम 🙏🙏 (@Modified_Hindu9) November 8, 2023
Another verified X user, @Radhika8057 shared the video stating, "Today I came to know that Modi ji can dance so well." The video has received over 14,100 views, 47 likes and 12 retweets. (Archive)
Today I came to know that Modi ji can dance so well. 🙌👏 #NoModiNovember #Election2023 #NitishKumar #Bihar #BiharVidhanSabha #deepfake #RashmikaMandanna #Firecrackers pic.twitter.com/FsmFZ4PMIi

— Radhika Chaudhary (@Radhika8057) November 8, 2023
Other verified accounts on X such as Manish Malhotra (@algotradingdesk) and Minni Razdan (@mini_razdan10) also amplified the claim. The video was shared numerous times on Facebook. Alt News also received requests to verify the video on its WhatsApp helpline (76000 11160).
This slideshow requires JavaScript.
Fact Check
We noted that on X, a user named @Lala_The_Don shared screenshots of the same event posted on an Instagram story from the account, @vikas_mahante. It can be seen that the man in the photos has dressed like PM Modi and arguably takes after him to some extent, but he is certainly not PM Modi.

Taking a cue from this, we came across Vikas Mahante's Facebook and Instagram profiles, where he has uploaded several videos of him attending events as PM Modi's lookalike.
This slideshow requires JavaScript.
Mahante had posted a reel on Instagram stating that he was invited as a chief guest to attend a Diwali mela in London. A comparison of the viral video and the reel shared by Mahante depicts that the background and the performers are similar in both the visuals and also that Mahante is wearing the same outfit in both the clips implying that the viral video is from the same event in London.
Alt News reached out to Mahante's team via WhatsApp, and they confirmed that the viral video depicted Vikas Mahante performing 'garba' at the Diwali mela in London.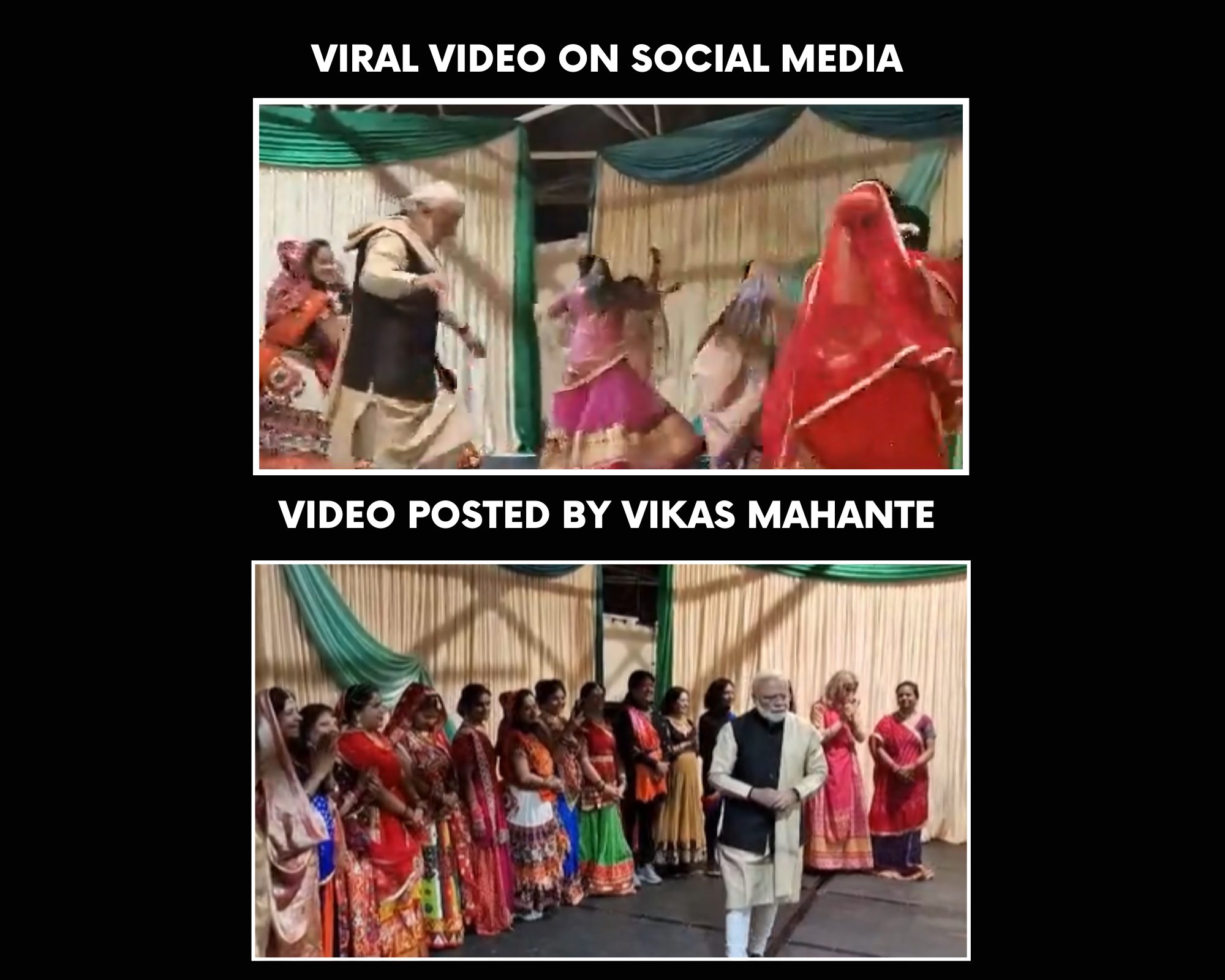 On Facebook, we found that a user named Pankkaj Sodha had shared the same video that has gone viral. Sodha describes himself as a 'showbiz promoter' based in London.
In another post, Sodha shared a poster of a Diwali event presented by him where 'Duplicate Modiji' will be present. Vikas Mahante's name, too, is mentioned in the poster.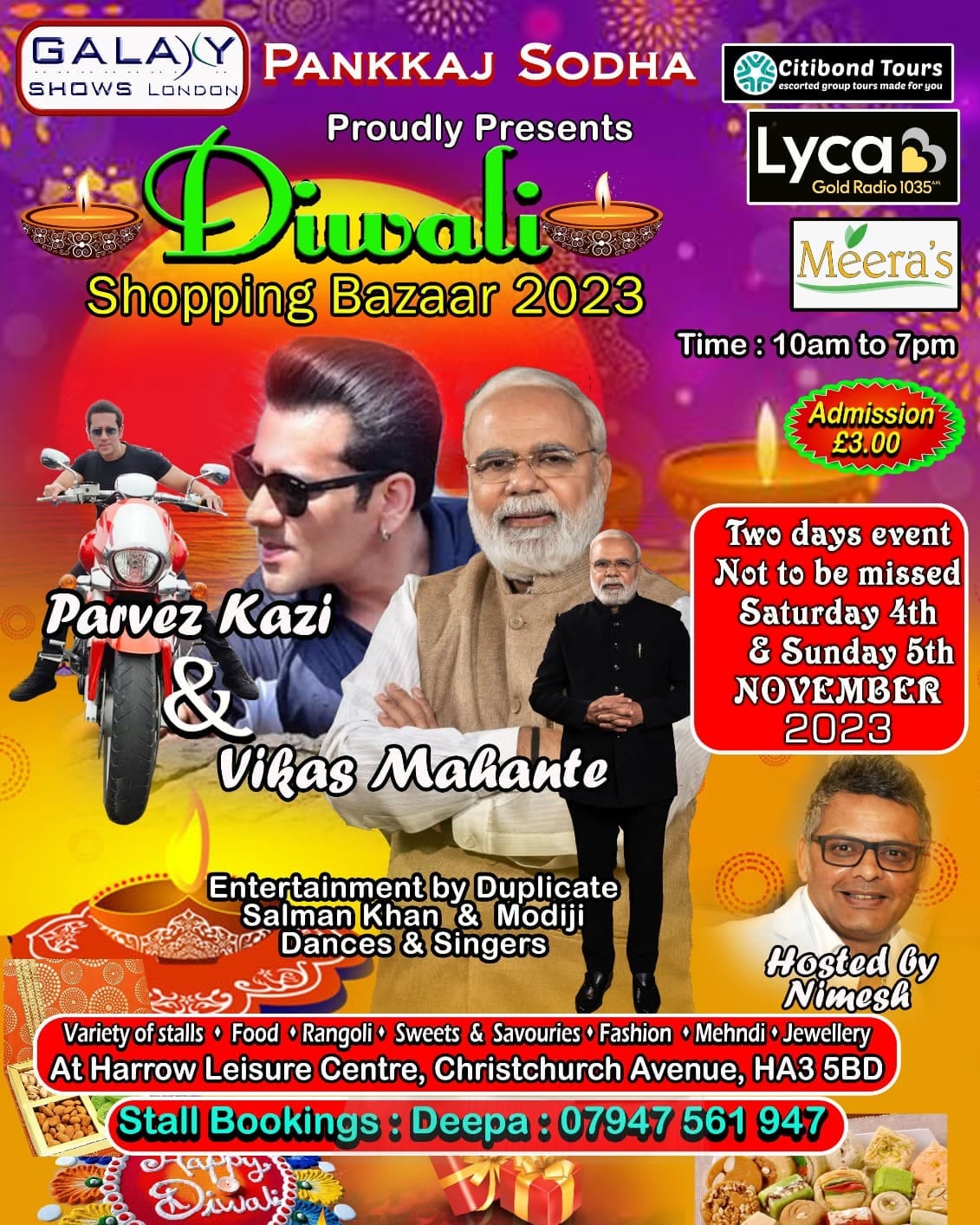 Hence, the video viral as Narendra Modi performing 'garba' does not show the Prime Minister. It features a man named Vikas Mahante who often attends programmes dressed up as the Prime Minister.
Abira Das is an intern at Alt News.
Donate to Alt News!
Independent journalism that speaks truth to power and is free of corporate and political control is possible only when people start contributing towards the same. Please consider donating towards this endeavour to fight fake news and misinformation.