A video is being shared by pro-Israel users on social media where a child with a bloodied face can be seen being treated. In the background, a man can be seen walking with a camera. Several other scenes appear on the screen which seem to be directed and captured on camera by someone.
Social media users are sharing this video with the 'Pallywood' narrative. It's a term that pro-Israel influencers and users have used several times in the past month to discredit the claims of the death toll and destruction in Gaza by suggesting that Palestinians are play-acting injury and even death.
Ofir Gendelman (@ofirgendelman), Israeli diplomat and current spokesperson to the Arab media in the Israel Prime Minister's Office, shared the above-mentioned video on X (formerly Twitter) on November 9. The caption accompanying the video said: "The Palestinians are fooling the international media and public opinion. DON'T FALL FOR IT. See for yourselves how they fake injuries and evacuating "injured" civilians, all in front of thr cameras. Pallywood gets busted again." The tweet has received over 2.43 Lakh views and has been retweeted over 2,800 times. (Archive)

The video was also shared by Kobbi Shoshani (@KobbiShoshani), the consul general of Israel to Midwest India. He wrote, "Bollywood, you have fake competition in Gaza." (Archive)
Verified X page RadioGenoa (@RadioGenoa) also posted the viral video on November 9 with the following caption: "Little girl "hurt" by the director. Why do they use children for this?" The tweet has received over 7.38 Lakh views and has been retweeted over 3,500 times. (Archive)
Readers should note that RadioGenoa has amplified several false claims related to the ongoing Israel-Hamas war in the past month.

X Blue user and pro-Israel influencer SissiEmperatriz 🇮🇱 (@GabyLob) shared the same video with a similar claim. The caption in Spanish can be translated as: "Never forget this: everything you know about Gaza is through Hamas. Look at this beautiful Pallywood production." The tweet has received over 1.88 Lakh views and has been retweeted over 3,400 times. (Archive)

Several other users such as @MichalSabra, @MeghUpdates, @HenMazzig, @MarinaMedvin, @DrEliDavid, @shim_rational, @abhijitmajumder, @Rey_Guardian, @AlexandreR1001, @Michael_Wgd, @KalangoFertunga, @Israel365News, shared the same video on X claiming or insinuating that Palestinians are faking their injuries.
This slideshow requires JavaScript.
Fact Check
We noticed a comment under Ofir Gendelman's tweet with a link to an Instagram account of a user named Omar Al-Rayes Al-Tab (omar.atabb). We noticed that the second reel shared on his page contains footage similar to the viral video clip. It seemed to be the final version of a feature film.
The video opens with a text that says: "The Reality" — seemingly the title of the film. The film consists of a voiceover in English where the narrator can be heard talking about the death of young Palestinian children and the horrors of war becoming an Instagram trend. The video ends with the scene of the girl with a bloodied face.
The caption in Arabic can be translated as: "Their betrayal was clinging to the core of my mind, swallowing up all my energy to escape from bottom to bottom. I'm drowning in a whirlpool of questions: Do they really see us? Do they think that our blood is a means to gain fame and money? Or have they sacrificed their honour? A sacrifice for those who have no honour. #Palestine #Palestine🇵🇸 #Al-Aqsa_Flood🇵🇸 #Gaza #Al-Maamdani_Hospital #May_God_Have_Merci_the_Martyrs".
View this post on Instagram
We also noticed that Omar's Instagram bio says that he is an 'Actor' and is based in Lebanon. Also, at the end of the above video, another text pops on the screen saying: "Filmed by Mahmoud Ramzi". In his Instagram bio, Mahmoud describes himself as a Film Director.
This slideshow requires JavaScript.
We came across another Instagram account with the username @rami.jardali, who also shared the film. On his page, we found the viral video shared with the caption, "Backstage Reality". This suggests that the viral video is a behind-the-scenes shot of the film 'The Reality'.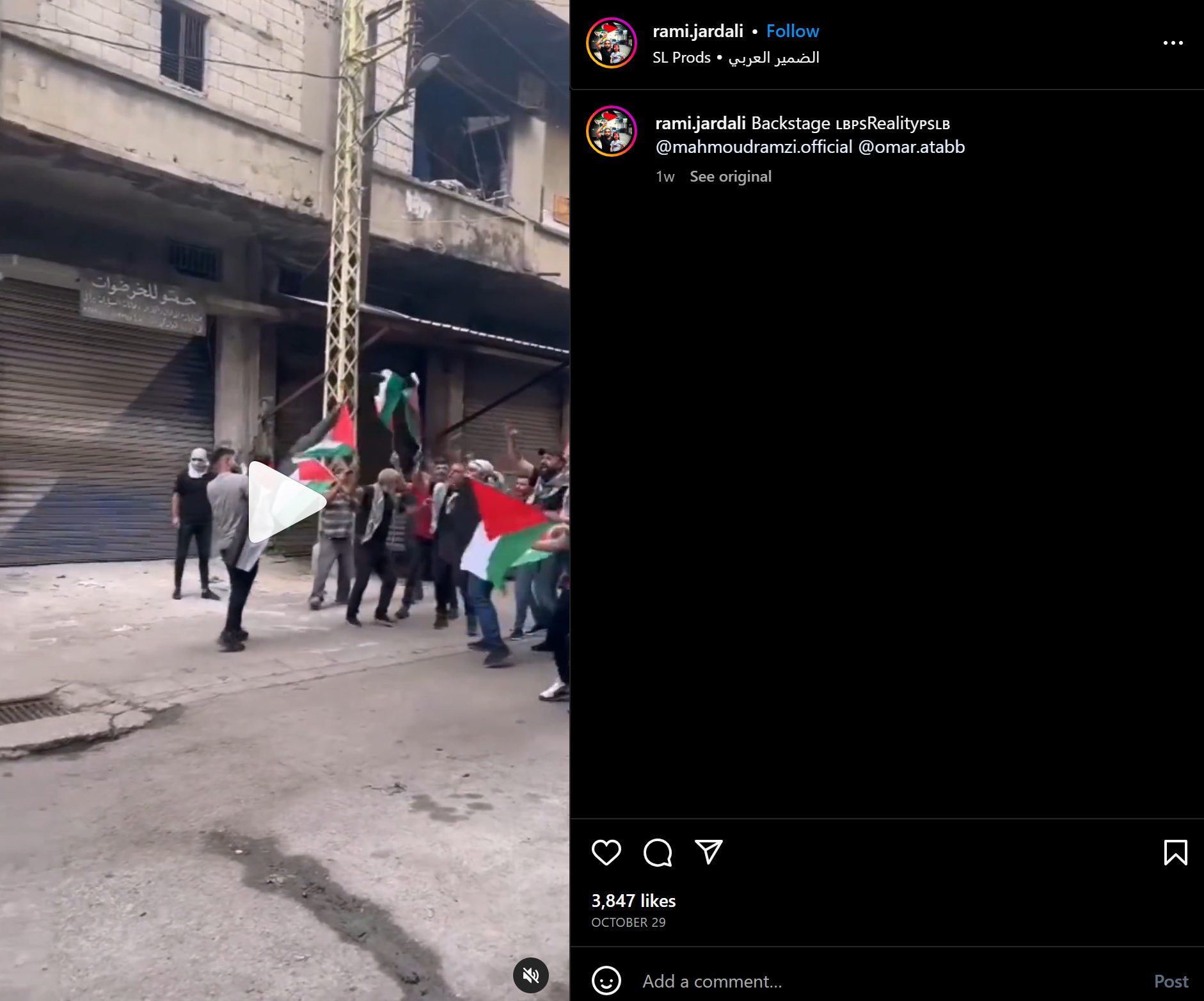 On Omar's Facebook page, we found that he had clarified that their clip was being shared out of context with false claims. Mahmoud also clarified the same on his Instagram stories and clarified that the actors in the viral video were only enacting war scenes from Gaza.
This slideshow requires JavaScript.
Hence, it is clear that the girl seen in the viral video is not being made to enact an injury to fool the media or manipulate public opinion. It is a behind-the-scenes shot of a movie filmed in Lebanon.
As mentioned earlier, the amplification of such images/videos can be seen as part of a larger effort by Israel, and pro-Israel influencers and social media users to call into question Palestine's claims of the human cost of the war on their side. Earlier, the official X handle of the state of Israel was found falsely claiming that a dead body is Gaza was moving its head. The same handle also tried to pass off footage of a dead 4-year-old child from Gaza as a 'doll'. Again, Israel mocked a survivor of a July invasion by its forces of a refugee camp in West Bank by calling him an 'actor'. In yet another instance, a Halloween image from Thailand was used by pro-Israel users to claim it was a 'fake war victim' from Gaza pretending to be dead. Another related story can be found here.
Donate to Alt News!
Independent journalism that speaks truth to power and is free of corporate and political control is possible only when people start contributing towards the same. Please consider donating towards this endeavour to fight fake news and misinformation.