Campaigning is in full swing in Madhya Pradesh with state elections slated to be held later this month. The battle continues to be waged on social media, where party leaders and supporters have been targeting each other fiercely.
A video of former Madhya Pradesh chief minister and Congress leader Kamal Nath is doing the rounds on social media platforms. In the clip, he is seen addressing a Muslim audience. The audio clip goes as follows, "I was thinking about talking to you all for a long time. Just remember that what I'm about to say should not leave this venue. We are the most worried and concerned about you. Congress wants the support of our Muslim brothers so that in the future we can make decisions in your favour. I assure you, continue supporting us, we will get you land for your mosque and will also take a look at [Article] 370. Look, I can't say everything openly, just understand this much…"
While sharing this video, it is being claimed that Kamal Nath, Congress's chief ministerial candidate in Madhya Pradesh made these remarks. While sharing the video, BJP leader and former Gaya MP Hari Manjhi wrote that this was the reality of the Congress party. (Archived link)
While sharing the video, the account 'Megh Updates', which has often been found spreading misinformation, claimed that the chief minister candidate of Congress in Madhya Pradesh said that he could not say everything in the open and that it would take care of Muslims as well as Article 370. (Archived link)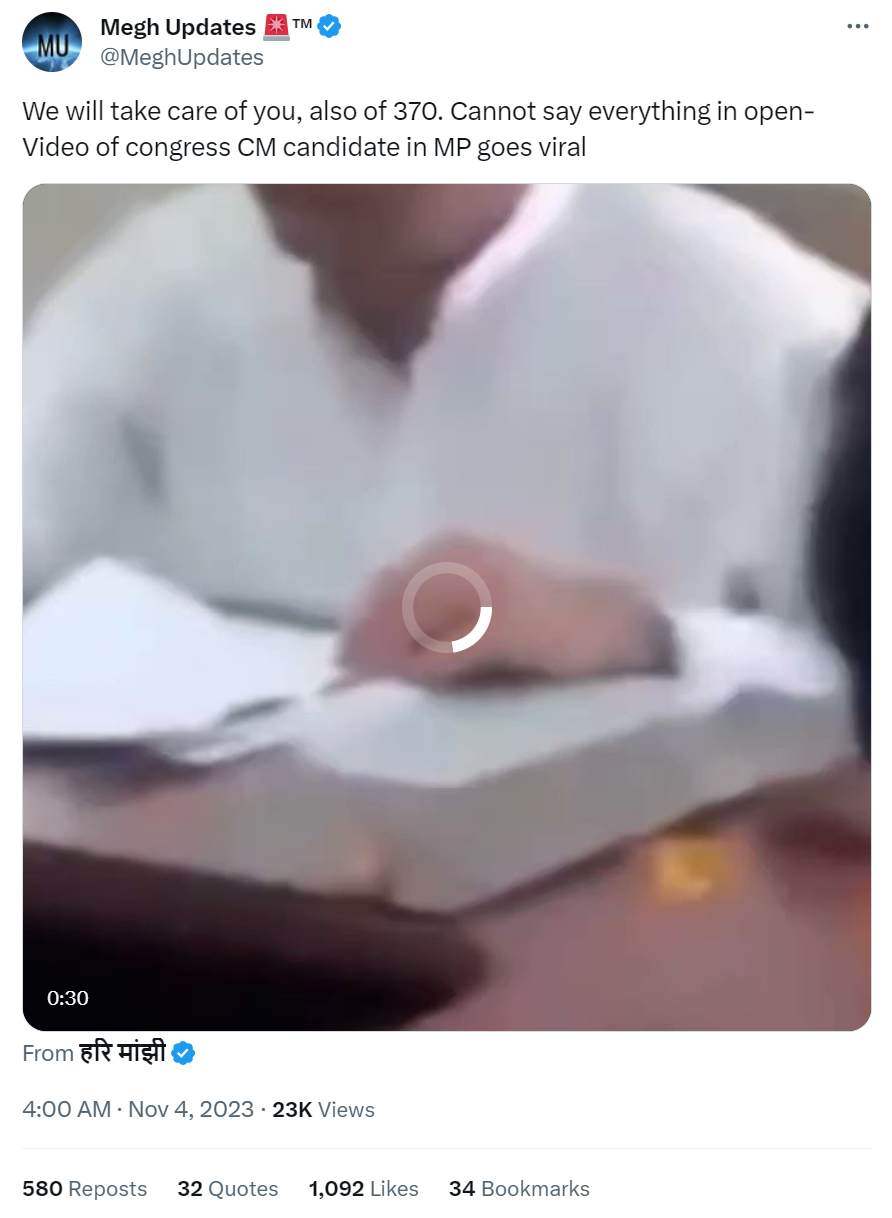 A user named Riniti Chatterjee Pandey also amplified the footage with the same claim. (Archived link)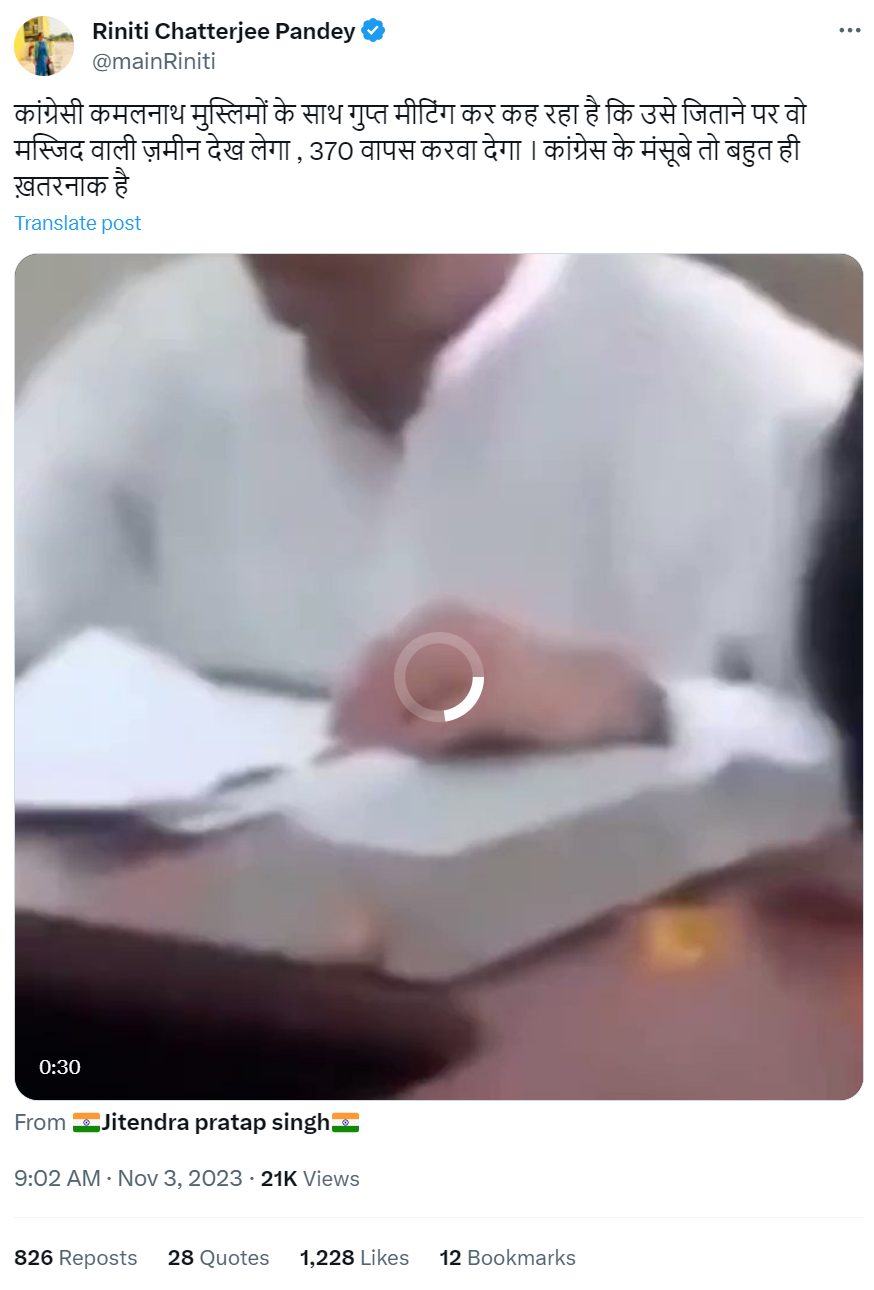 Similarly, pro-BJP accounts including handles like Kanimozhi, Jitendra Pratap Singh, and Rakesh, among others, circulated the clip and accompanying claim.
This slideshow requires JavaScript.
Fact Check
Alt News performed a reverse image search using a frame taken from the viral video. We found a screengrab from this video in an article published by NDTV India on November 21, 2018. According to this report, a video of Madhya Pradesh Congress president Kamal Nath went viral in which he had told Muslims attending the meeting that if Congress did not secure 90% of the Muslim vote, it would suffer losses. However, NDTV did not confirm the authenticity of this video.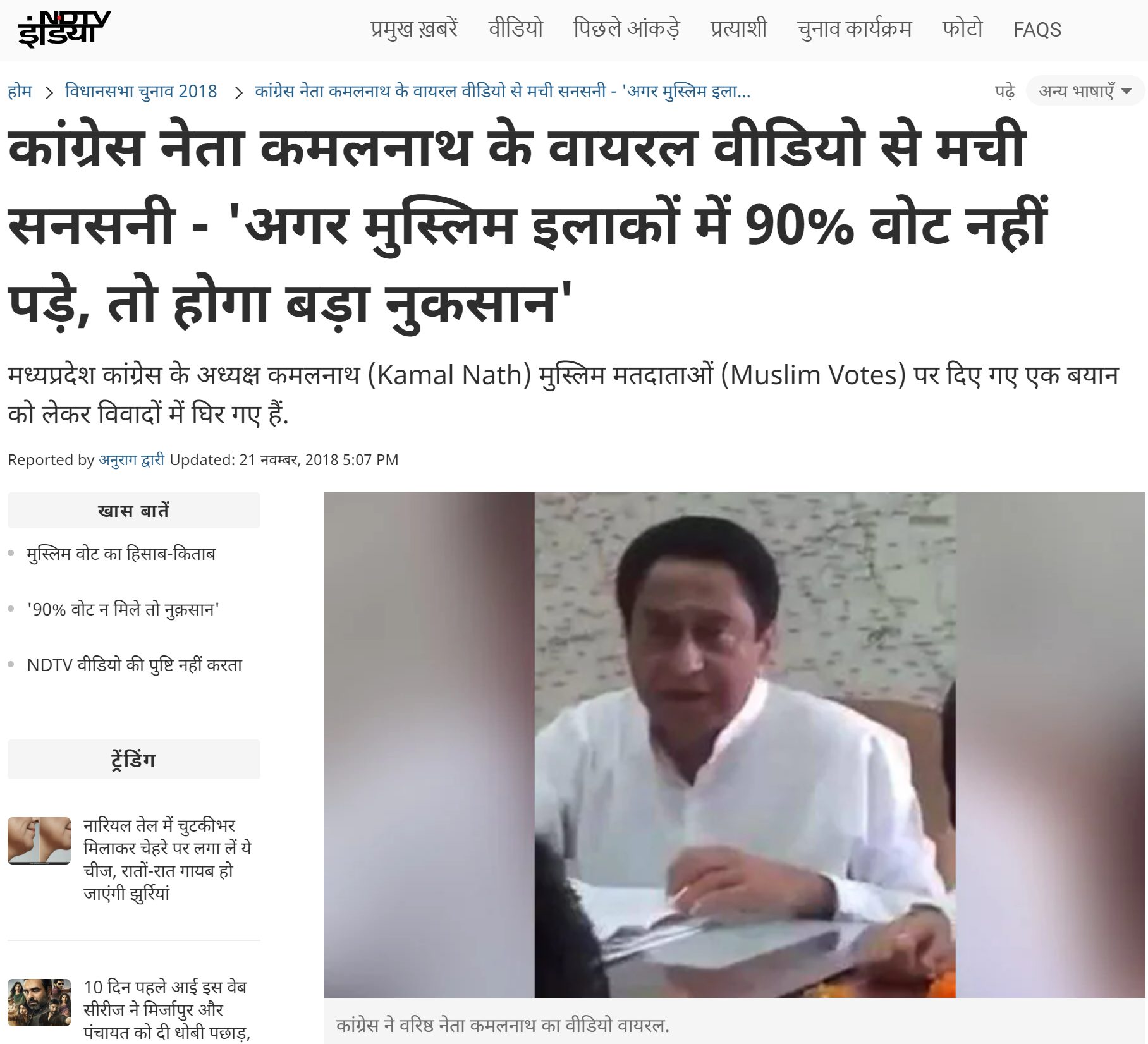 When we performed a search using related keywords on YouTube, we found a report on India Today's YouTube channel dated November 21, 2018. Here, an extended version of the footage of Congress leader Kamal Nath is available, in which scenes from the viral video appear at the 2:14 mark. The visuals in this video match the viral video, but the audio does not.
In fact, Kamal Nath can actually be heard saying, "What are the RSS workers saying? I am aware of how their people are spread around. For example, people come and tell me about Chhindwara. Because their RSS is associated with Nagpur, it is very easy for them to come in the morning and go at night. That is their only slogan, if you want to vote for a Hindu, then vote for Hindu lion Modi. If you want to vote for a Muslim, then vote for Congress. Just these two lines, they don't have any other lessons to teach, this is their strategy. Amid all this you will have to be very cautious, because they will try to confuse you…" In other words, the viral video has been tampered with and edited, with a separate audio added to it.
To sum it up, BJP leaders and supporters shared a doctored video of former Madhya Pradesh chief minister Kamal Nath and falsely claimed that he appealed to Muslim voters by promising them a mosque site and discussion on Article 370. In the real audio, he branded RSS as communal and spoke about voting in favour of Congress.
Donate to Alt News!
Independent journalism that speaks truth to power and is free of corporate and political control is possible only when people start contributing towards the same. Please consider donating towards this endeavour to fight fake news and misinformation.