A photo collage of a woman is being shared by social media users which seemingly shows an acid-attack victim. Several users have claimed that the perpetrator was a Muslim by referring to them as 'Abdul', while some others implied that the offender was a Hindu by referring to them as 'Ramlal'.
Twitter Blue user, 🇮🇳 Rupen Chowdhury 🚩(@rupen_chowdhury) shared the collage with a voice-over in the background on May 25. The audio in the post says that when youth do not always listen to their parents and decide to pursue a romantic relationship in their lives they face issues in their life and career. Chowdhury also added the sarcastic caption, "Mera Abd00l aisa nahi 😡😡 #LoveJihaad". The tweet has received over 1 lakh views and has been retweeted over 2,000 times. (Archive)
Mera Abd00l aisa nahi 😡😡#LoveJihaad pic.twitter.com/Mp1QUCWZ7V

— 🇮🇳 Rupen Chowdhury 🚩 (@rupen_chowdhury) May 25, 2023
The term 'Abdul' is used to refer to Muslim men who apparently 'trap' Hindu women in romantic relationships, popularly referred to as 'Love Jihad' by the Right Wing. The phrase "Mera Abdul aisa nahi" is often used by the Right Wing to target Hindu women who are in inter-faith relationships. It promotes a victim-blaming narrative.
On the other hand, Amira Afreen (@Afreen_khan02), whose account has been suspended by Twitter as of now, also tweeted the same collage of images on May 27 suggesting that a Hindu man (signified by the name Ramlal) had done this to the woman. The collage was shared with a caption in Hindi which can be translated as: "Her Ramlal also was not like others… He was a painter… what a painting he has done… many congratulations." The tweet had received over 1 lakh views and had been retweeted over 100 times. (Archive)
This slideshow requires JavaScript.
It is worth noting while Amira Afreen's account has been suspended, Rupen Chowdhury's tweet and account are still live. The comment section under the tweet is filled with insensitive remarks which portray victim blaming and anti-Muslim claims.
Several other social media users, including RAJ NAGAR BJP (@TrendRajnagar) also shared the image with similar claims as in the above tweets. The same is viral on Facebook as well. Most of the users said the perpetrator as a Muslim. On Facebook, a group called 'bhagwa Love trap' shared the photos with the 'Ramlal' claim.
This slideshow requires JavaScript.
Fact Check
On running a reverse image search on the viral picture collage, we came across several news reports.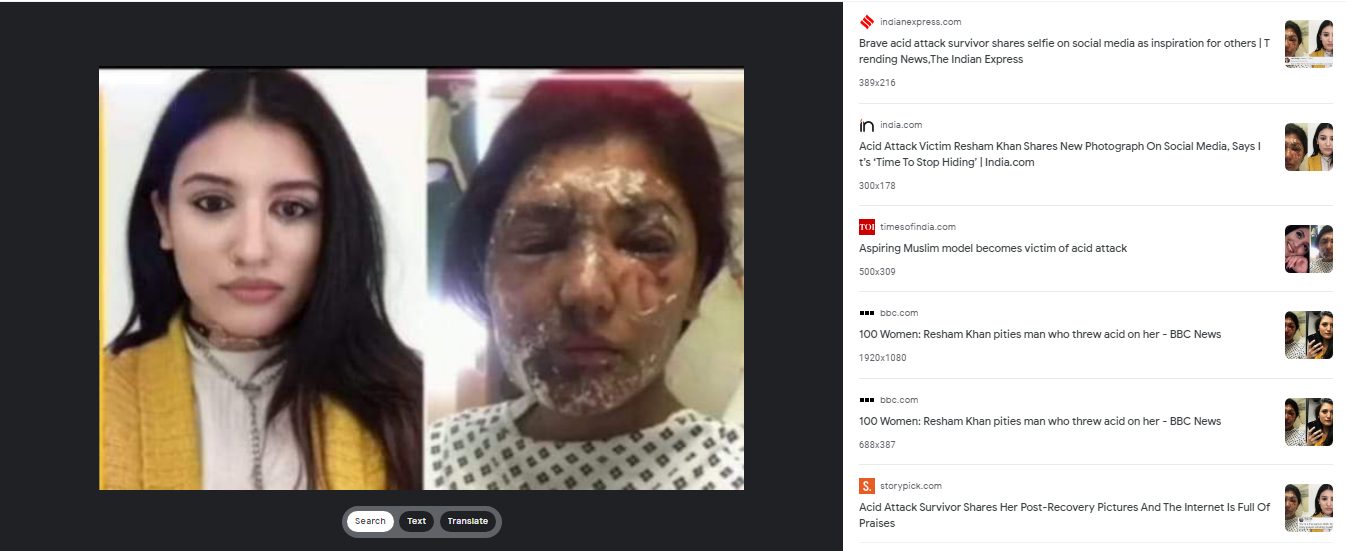 A report from June 26, 2017, in the UK tabloid Metro had the headline: "Student shows life-changing injuries after random acid attack on 21st birthday". The victim's name is mentioned as Resham Khan and the incident happened on June 21, 2017. It was her 21st birthday and she was on the way with her cousin, Jameel Mukhtar, to celebrate. Their vehicle was stopped at a traffic signal in Beckton, London when a man threw a corrosive substance through an open window which left Resham with burns across her face and Jameel severely injured.
The report has further mentioned that Resham shared the news of the incident on her Twitter handle. We found the Twitter thread that was posted by Resham Khan on June 24, 2017. Her tweets confirm the facts about the incident mentioned in the Metro report. She also shared an image of herself and her cousin before the attack.
This slideshow requires JavaScript.
In the same thread, Resham added another tweet which said, "THIS IS THE MAN", and attached a link to a news report by Evening Standard which mentioned that the police were looking for a white man called John Tomlin in connection to this attack.
On July 9, 2017, BBC reported that John Tomlin, a resident of Colman Road, Canning Town, had been arrested on suspicion of causing grievous bodily harm with intent. Further, on April 20, 2018, several news outlets reported that John Tomlin had been jailed for 16 years. The reports also mentioned that the victims and Tomlin were not known to each other and that the judge who pronounced the sentence called the attack "somewhat random".
Therefore, the images of the acid attack victim that are being shared are of Resham Khan who was attacked by John Tomlin in June 2017 in London. Tomlin is now in prison and no communal motive behind the act was found during investigation. Hence, the claims that the crime was communally motivated are false.
Donate to Alt News!
Independent journalism that speaks truth to power and is free of corporate and political control is possible only when people start contributing towards the same. Please consider donating towards this endeavour to fight fake news and misinformation.