An alleged rate list with a price tag put on non-Muslim women with an exhortation to lure them and convert them to Islam is circulating on social media. The price ranges from Rs. 6 lakh for a Hindu Brahmin girl to Rs. 3 lakh for a Jain girl and Rs. 7 lakh for a Sikh girl. Below is a tweet by @TheZaiduLeaks.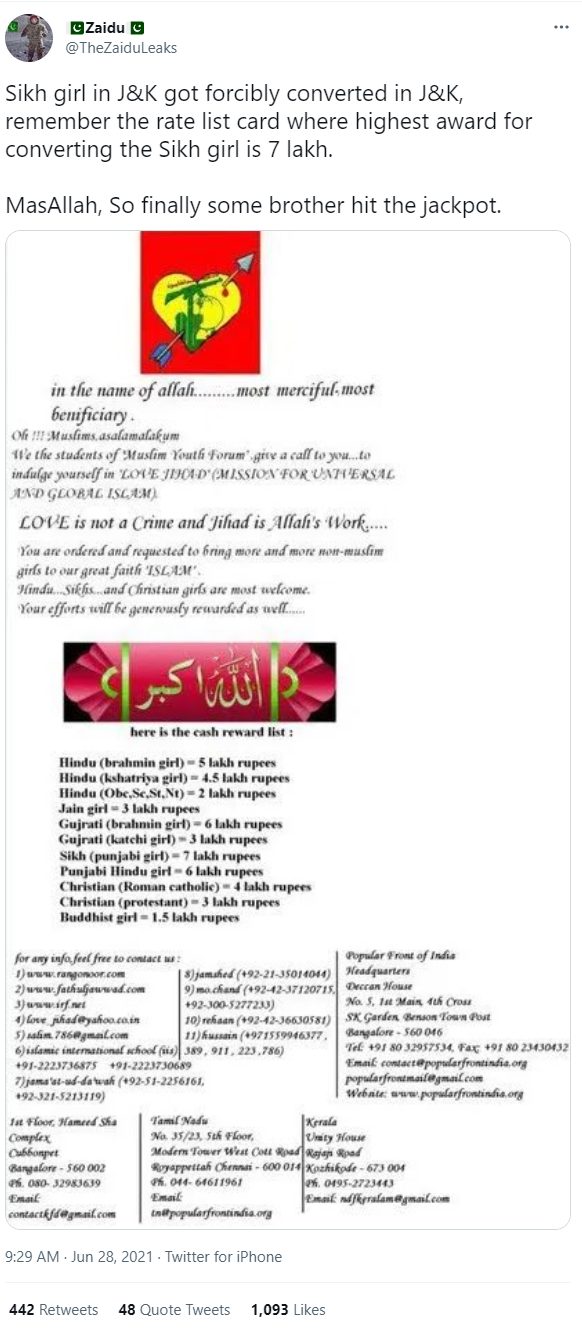 Twitter handle 'Santani Kids' tweeted an image of what appears to be an extract from the newspaper, Sanjha Lokswami, which advertised the same 'rate card' writing, "लड़की भगाओ मुस्लिम बनाओ और इनाम पाओ" (Elope with a girl, convert her to Islam and gain a reward).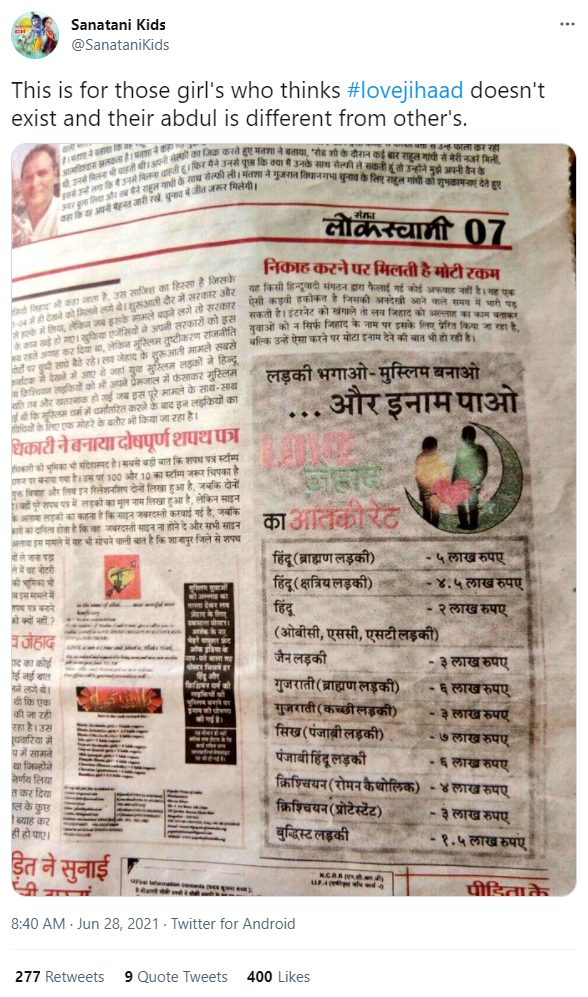 The 'rate card' has been making the rounds on social media for quite sometime now. Last year, it was shared by Facebook group PROUD HINDU with the caption, "Shocking document. Love jihad is real. Save our Hindu daughters. Sponsored by PFI."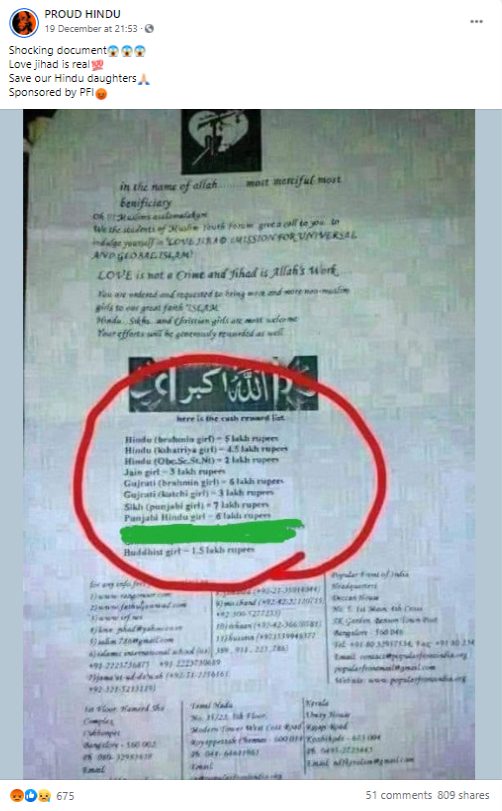 On August 4, 2018, actor Koena Mitra Mitra had tweeted the alleged Sanjha Lokswami newspaper clipping. Mitra's account remains permanently suspended by Twitter as of now.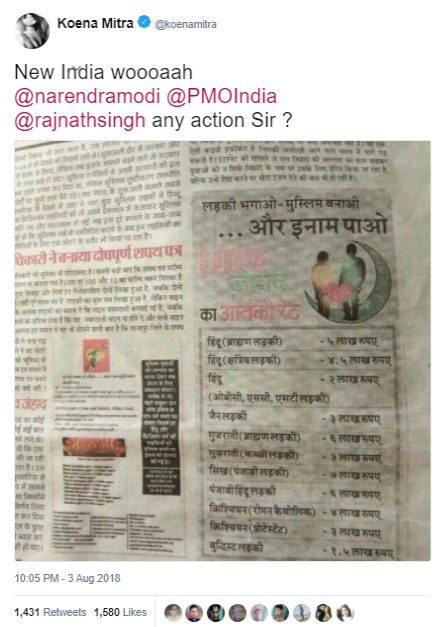 Mischievous, photoshopped image
The image tweeted by Mitra is photoshopped, and this particular message has been circulating on social media and on WhatsApp for several years now. Alt News found that the earliest version of this dangerous provocation is on a blog titled 'Sikh and Islam' published on February 5, 2010. There are a number of clues in the image posted below which prove that it is fake.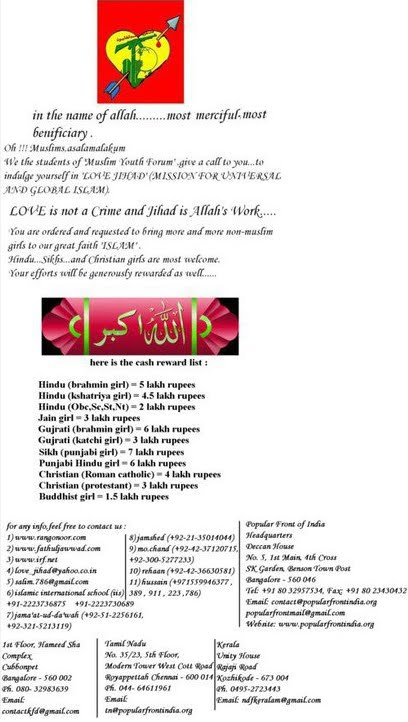 Firstly, this poster has the phrase, "in the name of allah……most merciful, most benificiary", while the usual phrase used is "In the Name of Allah, the Most Beneficent, the Most Merciful". Such a mistake would be unusual if this had actually been a pamphlet issued by an Islamic organisation. Moreover, it is the heart-shaped image at the top of the pamphlet that gives the most concrete evidence of this poster being a photoshopped one. The gun-shaped image within the heart is actually the flag of Hezbollah, the Lebanese Shi'a Islamist militant group. The heart-shaped image has been independently in circulation since 2006.
In June 2017, Times Now had broadcast a prime time story based on this old photoshopped picture with the claim that it was from Kerala, and with the hashtag #CaliphateConvertsHindus.
This slideshow requires JavaScript.
This message had also been circulated by various fake news sites like Hindutva.Info, Jagruk Bharat and Hindu Existence in February 2016 and had also featured in Saamana, the mouthpiece of the Shiv Sena in 2010.
Such inciteful content is pervasive on social media and keeps circulating at regular intervals, with the objective of keeping communalism active and relevant.
Donate to Alt News!
Independent journalism that speaks truth to power and is free of corporate and political control is possible only when people start contributing towards the same. Please consider donating towards this endeavour to fight fake news and misinformation.