A video purportedly of actress Rashmika Mandanna getting into an elevator is doing the rounds on social media. Several social media users shared the viral footage on Facebook and Instagram and these clips have garnered millions of views. For instance, one fan account posted this video on Instagram on October 13, where it amassed more than 82 lakh views. Similarly, this video was amplified on Instagram by a meme page called idioticgyan, garnering more than 1.20 lakh views.
View this post on Instagram
The video was shared on Facebook by a fan page of the actress, which received more than 46 lakh views. The post was later taken down. Another Facebook page named Viral Media also uploaded this video, where it racked up more than 2.6 lakh views.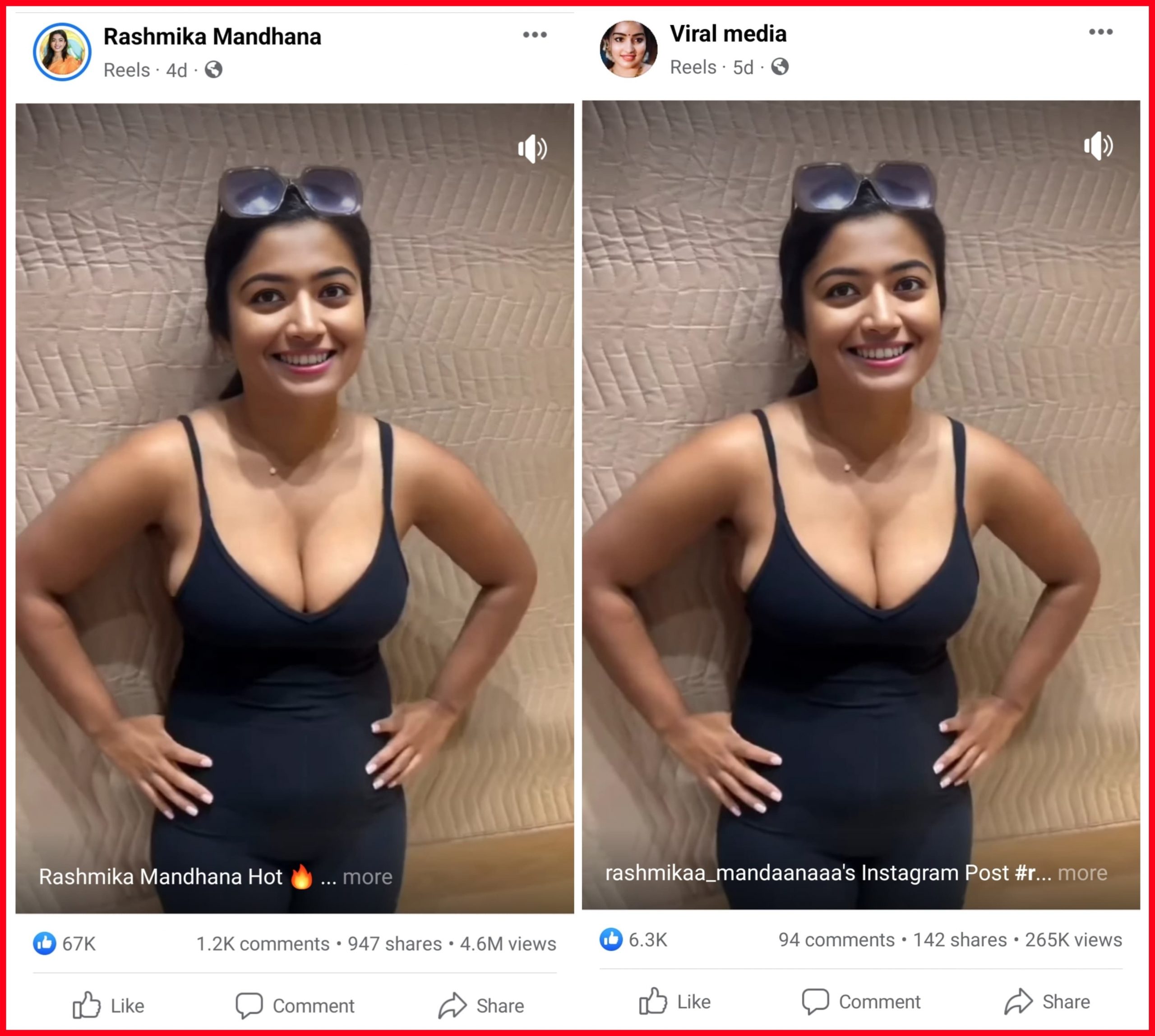 A Twitter user also tweeted this video on October 31 and described it as Rashmika Mandanna. (Archived link)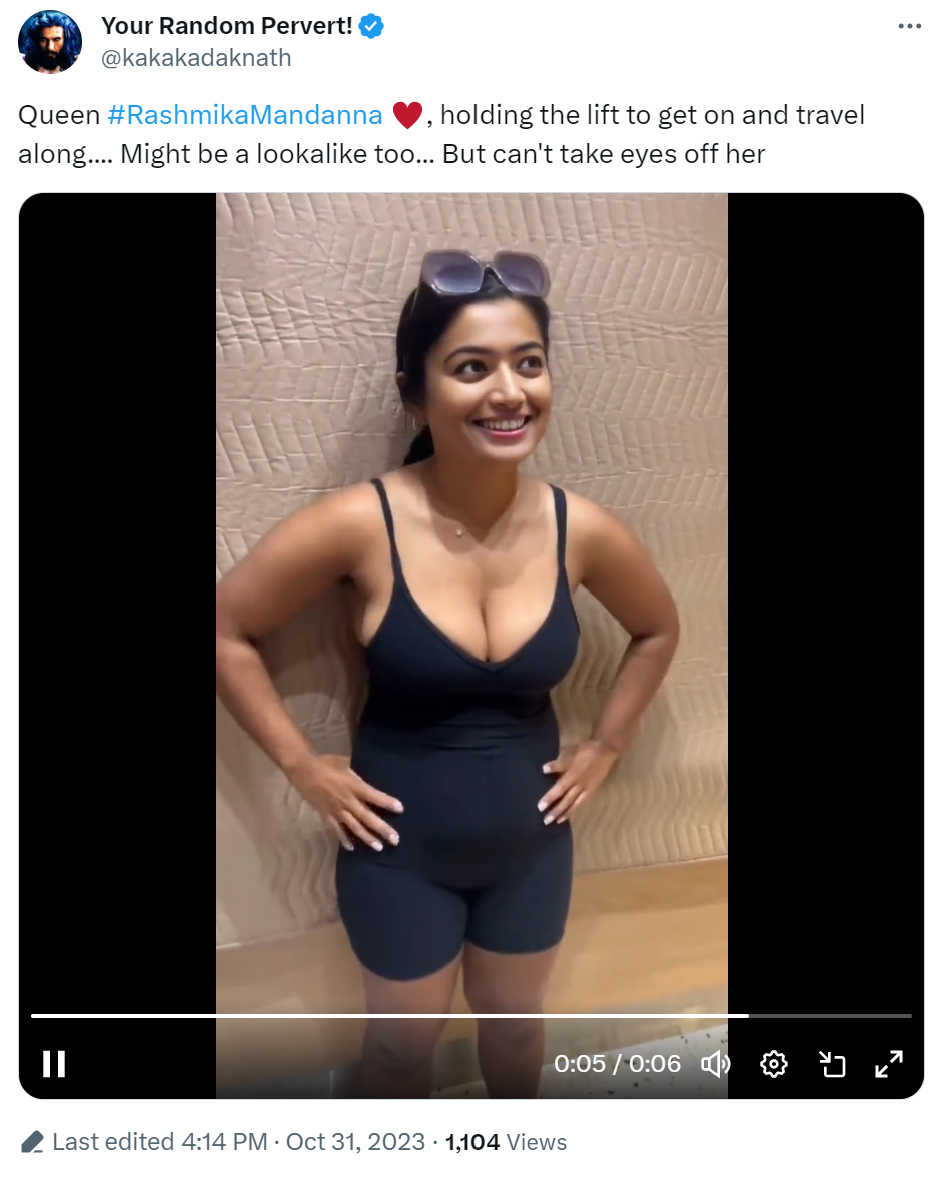 The Video is a Deepfake
Alt News discovered that the video was created with the help of deepfake. If one takes a closer look at the viral video, one can see that the initial few frames when the woman enters the elevator, her face gets completely transformed. For a few split seconds, it shows a different woman, then the face changes to that of Rashmika Mandanna.
The GIF given below illustrates this more clearly, in which the face of the woman that initially appears in the video can be seen.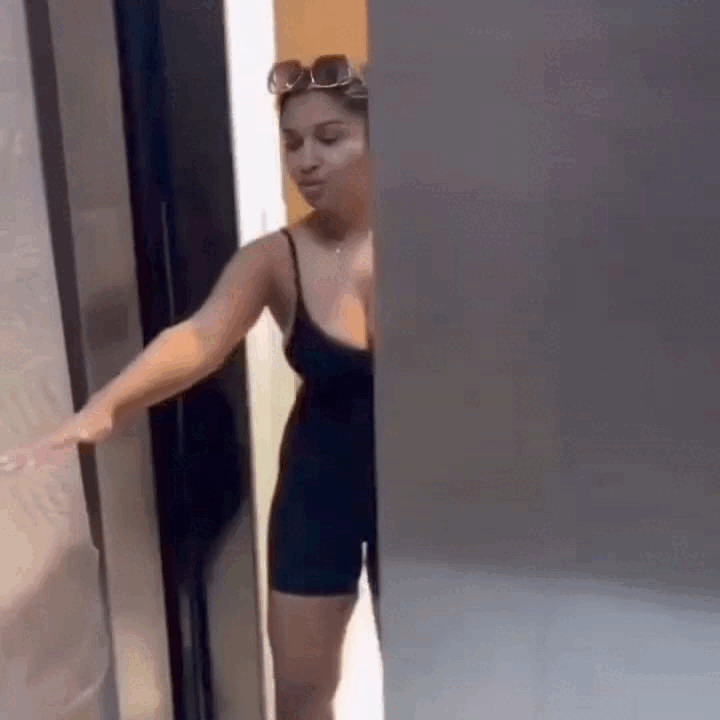 The original video is of Zara Patel, a British-Indian girl with 415K followers on Instagram. She uploaded this video on Instagram on 9 October. (2/3) pic.twitter.com/MJwx8OldJU

— Abhishek (@AbhishekSay) November 5, 2023
Original Video Shows Zara Patel
In fact, the viral video featuring actress Rashmika Mandanna's face originally depicted a British-Indian woman named Zara Patel who had uploaded the video on Instagram on October 9, where Zara has more than 4 lakh followers. Mandanna's face has been added to Patel's video with the help of deepfake technology.
We also found other videos on Zara's account in which she can be seen standing inside the same elevator which appears in the viral video. Based on this, Alt News can confirm that this video is of Zara Patel, and has been doctored with the help of deepfake technology. However, Alt News cannot verify who edited this video.
View this post on Instagram
What is a Deepfake?
Deepfake technology is a type of artificial Intelligence which enables users to create fake videos and audios that look like real ones by changing people's faces and voices. Deepfakes can be used in entertainment, satire, and content creation, but its misuse can also have a harmful impact on society including the spread of misinformation, character assassination, propaganda against political rivals, blackmail, etc. On May 28, India's top wrestlers, Vinesh Phogat, Sangeeta Phogat and others were detained by Delhi Police while protesting. A photo of them sitting in a bus went viral in which they were seen laughing. While sharing this, many social media users claimed they were faking their outrage, whereas in reality it was a deepfake image in which their facial expressions had been altered. Alt News had fact-checked the viral picture of the wrestlers.
Extremely Scary: Rashmika Mandanna
After the fact-check went viral on X (formerly Twitter), Rashmika Mandanna tweeted to express her disappointment and demanded action from the police. Mandanna said, "I feel really hurt to share this and have to talk about the deepfake video of me being spread online."
Expressing concern for the young girls studying in schools and colleges, Rashmika in her tweet added, "Today, as a woman and as an actor, I am thankful for my family, friends and well wishers who are my protection and support system. But if this happened to me when I was in school or college, I genuinely can't imagine how I could ever tackle this."
She further wrote that there was a need for immediate action as a community before more people were affected by this type of identity theft.
I feel really hurt to share this and have to talk about the deepfake video of me being spread online.

Something like this is honestly, extremely scary not only for me, but also for each one of us who today is vulnerable to so much harm because of how technology is being misused.…

— Rashmika Mandanna (@iamRashmika) November 6, 2023
Amitabh Bachchan Reacts
Bollywood actor Amitabh Bachchan also weighed in, stating that legal action should be taken in the matter.
yes this is a strong case for legal https://t.co/wHJl7PSYPN

— Amitabh Bachchan (@SrBachchan) November 5, 2023
Statement by Union Minister Rajeev Chandrasekhar
Reacting to the incident, Union minister of state for information technology Rajeev Chandrasekhar said that the Government of India was committed to ensuring the security and trust of all digital citizens using the internet. He added that under the Information Technology Rules notified in April 2023, social media platforms were legally obligated to ensure that no misinformation is posted by any user. When reported by any user or government, platforms would have to ensure a removal of the misinformation within 36 hours. If the platforms do not comply, Rule 7 would apply and they could be taken to court by the aggrieved person under the provisions of the IPC.
PM @narendramodi ji's Govt is committed to ensuring Safety and Trust of all DigitalNagriks using Internet

Under the IT rules notified in April, 2023 – it is a legal obligation for platforms to

➡️ensure no misinformation is posted by any user AND

➡️ensure that when reported by… https://t.co/IlLlKEOjtd

— Rajeev Chandrasekhar 🇮🇳 (@Rajeev_GoI) November 6, 2023
Disturbed, Deeply Upset: Zara Patel
Zara Patel also posted a 'story' on Instagram stating she was deeply upset over the whole saga. She also said she had no role in the making of the deepfake video.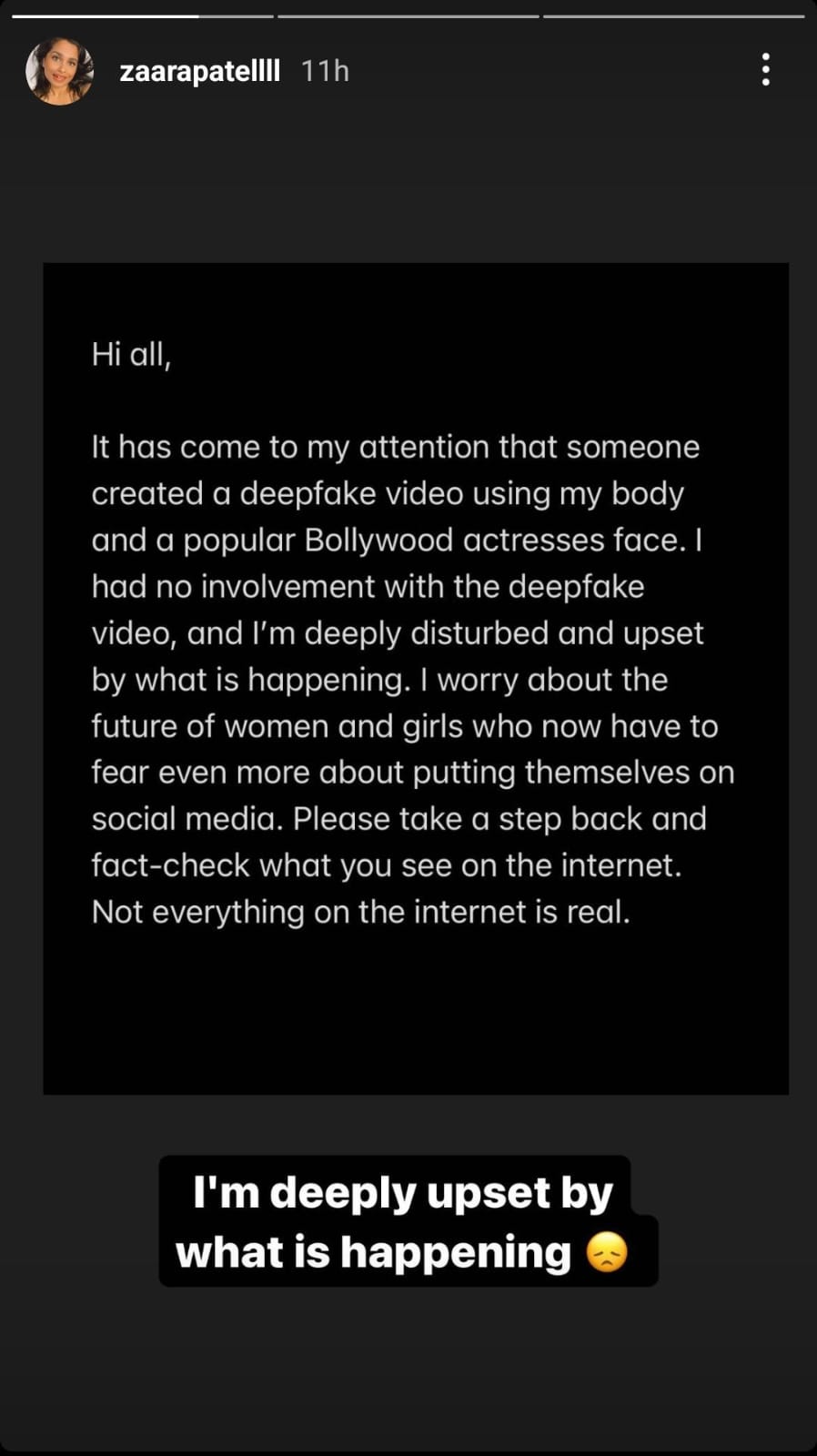 Donate to Alt News!
Independent journalism that speaks truth to power and is free of corporate and political control is possible only when people start contributing towards the same. Please consider donating towards this endeavour to fight fake news and misinformation.