With the Israel-Gaza war raging for a month, the health ministry in Gaza has said that over 9,700 Palestinians have been killed in the territory, including 4,800 children. During this period, the government of Israel and pro-Israel commentators have on several occasions questioned Gaza's claims of death and destruction. On social media, pro-Israel social media influencers have amplified the claim that Palestinians are often play-acting injuries and deaths.
A video is being shared widely where bodies covered in white shrouds can be seen lying on the ground. A man lying partially covered in a shroud can be seen opening his eyes. The video frame carries a text in Persian which can be translated to: "I don't know if the problem is with the Israeli bullets or something else, but apparently they are the same. One is coming alive."
A parody handle of Israel's intelligence agency Mossad, @TheMossadIL, shared the above-mentioned clip on X (formerly Twitter) on November 5 with the following caption: "We're happy to report his condition has been upgraded to alive." The tweet has received over 20 Lakh views and has been retweeted over 17,000 times. (Archive)
We're happy to report his condition has been upgraded to alive. pic.twitter.com/0u7NHLgZbL

— The Mossad: Satirical, Yet Awesome (@TheMossadIL) November 5, 2023
Israeli journalist Eddie Cohen אדי כהן🇮🇱 (@EdyCohen) also shared the same clip on November 6 with a caption in Arabic that can be translated as: "Miracle miracle. A corpse is moving. Zoom in". The tweet has received over 3.11 Lakh views and has been retweeted over 100 times. (Archive)
معجزة معجزة . جثة تتحرك. تكبير pic.twitter.com/YZVU9J6SUW

— إيدي كوهين אדי כהן 🇮🇱 (@EdyCohen) November 5, 2023
Readers should note that Eddie Cohen has been found sharing misinformation related to the ongoing war several times in the past month.
Several other users such as @5luckyfingers, @noconversion, @Rey_Guardian, @Natio_1976, @seriousfunnyguy, @AzzatAlsaalem, @DrEliDavid, @HiwaTube, shared the same clip with similar captions.
This slideshow requires JavaScript.
Fact Check
After breaking down the video into several keyframes, we ran a reverse image search on some of them. We found that the video was posted by a TikTok user with the username @metjetak17 on August 18. Hence, the video was shot before the October 7 Hamas attack in Israel that set off the current war. The caption under the video is in Malay, the official language in Malaysia. One of the hashtags mentions Malaysia which seemingly suggests that the video is from there.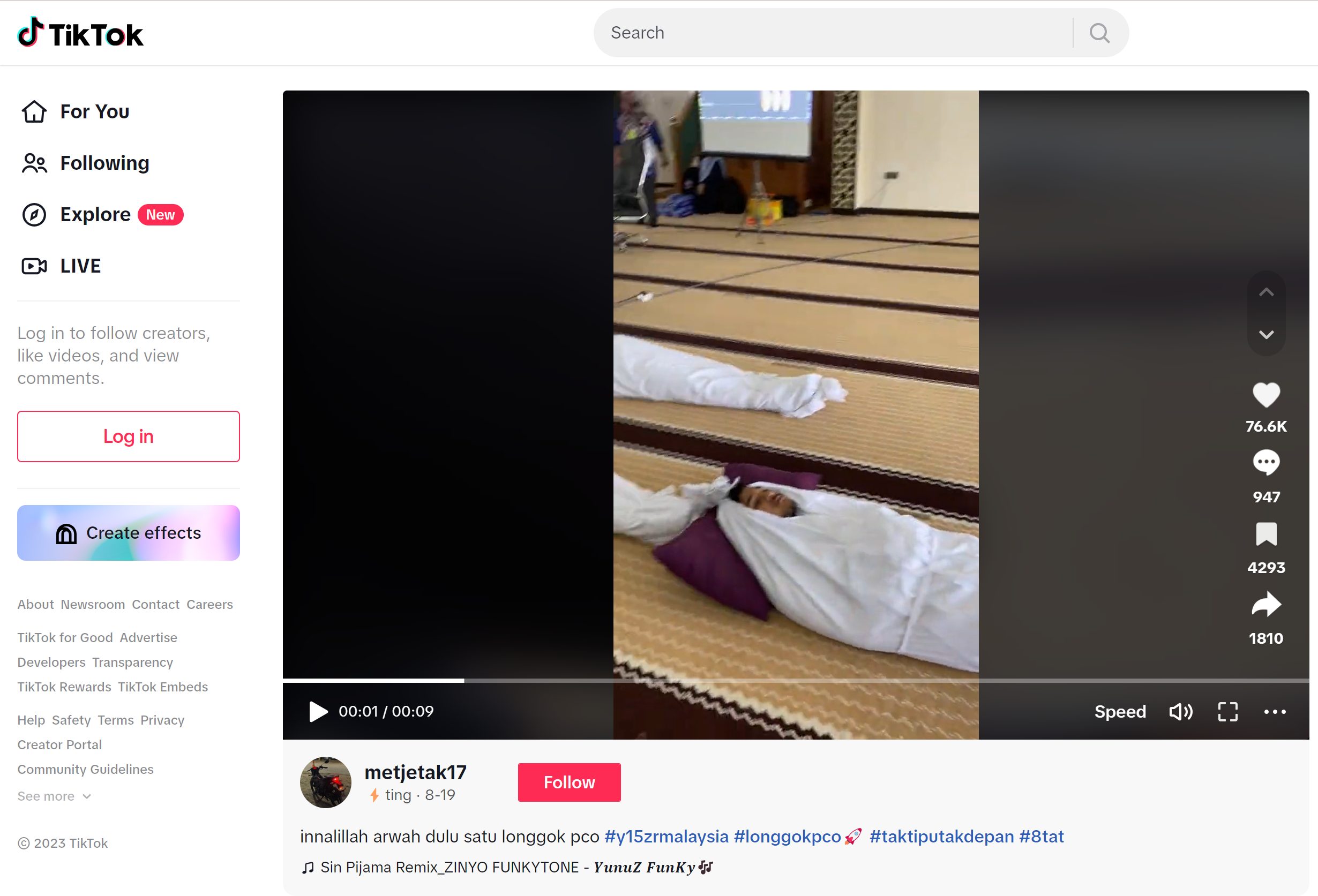 We came across a tweet by the user @Marchfoward, where quote-tweeting @TheMossadIL, the user shared a tweet in Malay that can be translated as: "They are really bad; they are losing the propaganda narrative. They even claim that they stole a video of managing corpses in Malaysia and say that Palestine is lying about the death toll. Keep pushing, 14th Division of the Onion Army and 21st Special Operations Regiment, Malaysian Netizens. Don't give them a chance."
Punyalah teruk diorang tengah kalah naratif propaganda

Video Pengurusan Jenazah di Malaysia pun dia rembat nak kata yang Palestin tipu jumlah kematian

Keep pushing 14 Divisyen Tentera Bawang dan Rejimen 21 Operasi Khas Netizen Malaysia

Jangan bagi Peluang https://t.co/pN2rmEn92y

— Irfan_newboys🇲🇾🇵🇸🏳️🏴 (@Marchfoward) November 6, 2023
'Pengurusan Jenazah' in Malaysia is a course on Corpse Management where children are taught how to perform the last rites for the dead and pay respect to them. During the course, volunteers take the place of a dead body and the Imam teaches the process by performing a demo on the volunteers.
On searching with relevant keywords on Facebook, we came across a video from Bandar Diraja Klang Official Mosque in Malaysia where the same process can be seen performed on a man while a child watches and learns. The live video has been titled "FUNERAL MANAGEMENT COURSE WITH USTAZ LUTFI RAZALI". In the video, the volunteer can be seen first washed, cleaned and then wrapped in a white sheet like a deceased person is.
Therefore, it is clear that contrary to the claims, the viral video of a man dressed as a corpse opening his eyes is not related to the Israel-Hamas war. The video dates back to August of this year and is from a Funeral Management course in Malaysia.
As mentioned earlier, the amplification of such images/videos can be seen as part of a larger effort by Israel, and pro-Israel influencers and social media users to call into question Palestine's claims of the human cost of the war on their side. The official X handle of the state of Israel was recently found falsely claiming that a dead body is Gaza was moving its head. Previously, the same handle tried to pass off footage of a dead 4-year-old child from Gaza as a 'doll'. Again, Israel mocked a survivor of a July invasion by its forces of a refugee camp in West Bank by calling him an 'actor'. In yet another instance, a Halloween image from Thailand was used by pro-Israel users to claim it was a 'fake war victim' from Gaza pretending to be dead. Another related story can be found here.
Donate to Alt News!
Independent journalism that speaks truth to power and is free of corporate and political control is possible only when people start contributing towards the same. Please consider donating towards this endeavour to fight fake news and misinformation.