In a tragic accident, a train mowed down Dussehra revellers gathered close to railway tracks near Amritsar. At least 60 people were feared dead. Soon after, videos of the disaster shot by several eyewitnesses were picked up by news organisations, including Asian News International (ANI). Subsequently, ANI also put out an eyewitness' statement that blamed the Congress for the incident. This tweet was posted at 8:39 PM on October 19.
#WATCH Eyewitness at #Amritsar accident site says, "Congress had organised Dussehra celebrations here without permission. Navjot Singh Sidhu's wife was the chief guest at the celebrations and she continued to give a speech as people were struck down by the train." pic.twitter.com/rcsxbVxiB9

— ANI (@ANI) October 19, 2018
At 11:49 PM, it was pointed out that the 'eyewitness' quoted by ANI was a spokesperson of BJP Punjab and former president of Bharatiya Janata Yuva Morcha (BJYM). At 12:36 AM, ANI tweeted a 'correction', clarifying that the 'eyewitness' was BJP leader Rajesh Honey.
#Correction: The eyewitness is BJP spokesperson Rajesh Honey who was present at the site when the DMU train ran over people watching Dussehra celebrations in #Amritsar. https://t.co/jnPLUIUTnj

— ANI (@ANI) October 19, 2018
What's noteworthy is that after 14 hours of ANI's clarification, only 463 users retweeted it and 769 people liked it. Contrastingly, its earlier tweet drew over 5,000 likes and retweets. The damage was already done.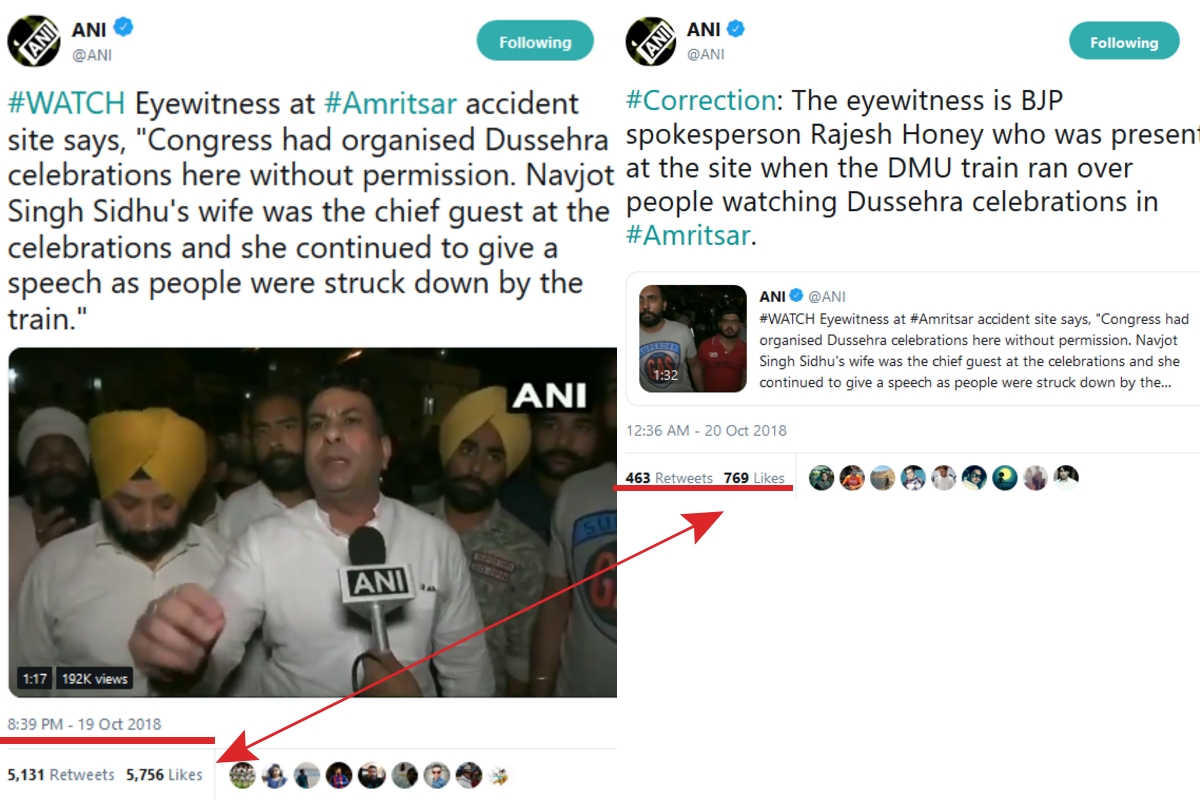 Moreover, ANI's correction missed another essential fact.
'Eyewitness' himself claims to have reached the spot after 20 minutes
After ANI's eariler tweet received backlash on social media, its News Editor Smita Prakash stood by the outlet's reportage, saying that Rajesh Honey, even though a BJP leader, was present at the spot and this makes him an 'eyewitness'.
Incidentally, Honey himself tweeted that he reached the spot 20 minutes after the incident occurred. Therefore, he could not have been a witness to the accident.

This wasn't an isolated instance when ANI's reportage missed essential facts.
1. Another politician named as 'eyewitness' to the Amritsar train accident
One more 'eyewitness' account taken by ANI, which also was picked up by other media outlets, was by an independent politician from Punjab Mandeep Singh Manna.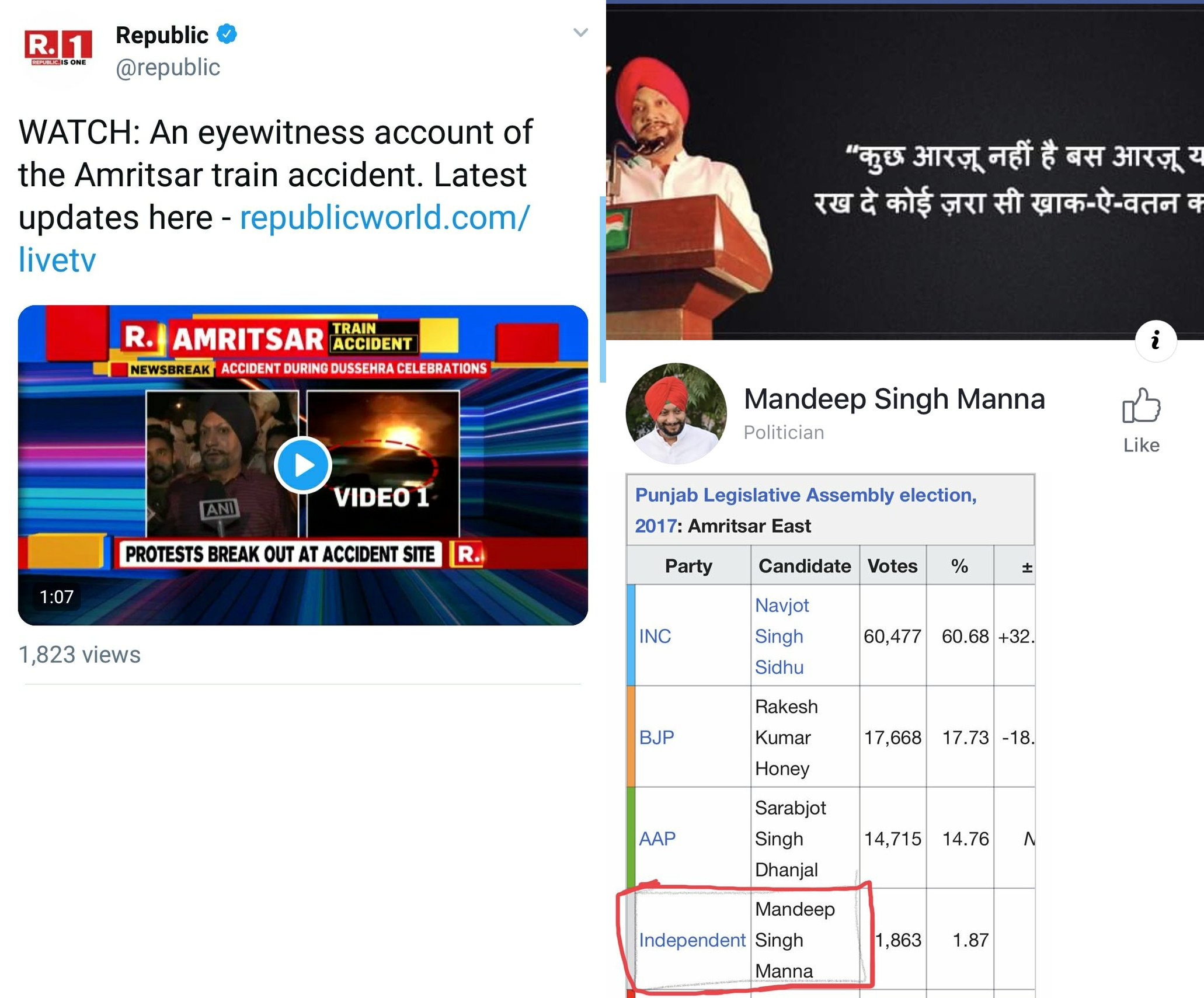 Within hours of the tragedy, the incident was politicised with the ruling and opposition parties placing the blame on each other. In such a situation, tweeting statements by members of political parties as 'eyewitness' accounts was unfortunate.
Multiple times in the past, ANI has made similar slights.
2. Tweeted statement of BJP MLA as 'Bangalore resident'
In May 2015, ANI had tweeted a statement from a purported Bangalore resident praising Prime Minister Modi's radio program 'Mann ki Baat'. However, after it was pointed out that the person quoted was not just a 'resident' but a BJP Karnataka MLA, ANI deleted its earlier tweet and put out a fresh tweet with the politician's name.
3. Quoted a BJP minority cell member as 'Mangalore' resident
In April this year, ANI tweeted a 'Mangalore resident' saying that former Karnataka Chief Minister Siddaramaiah has created a divide between Hindus and Muslims in the city. As it turned out, the 'local from Mangalore' was Fazal, a member of BJP minority cell, Mangalore. ANI tweeted a correction and deleted the earlier tweet which missed the fact.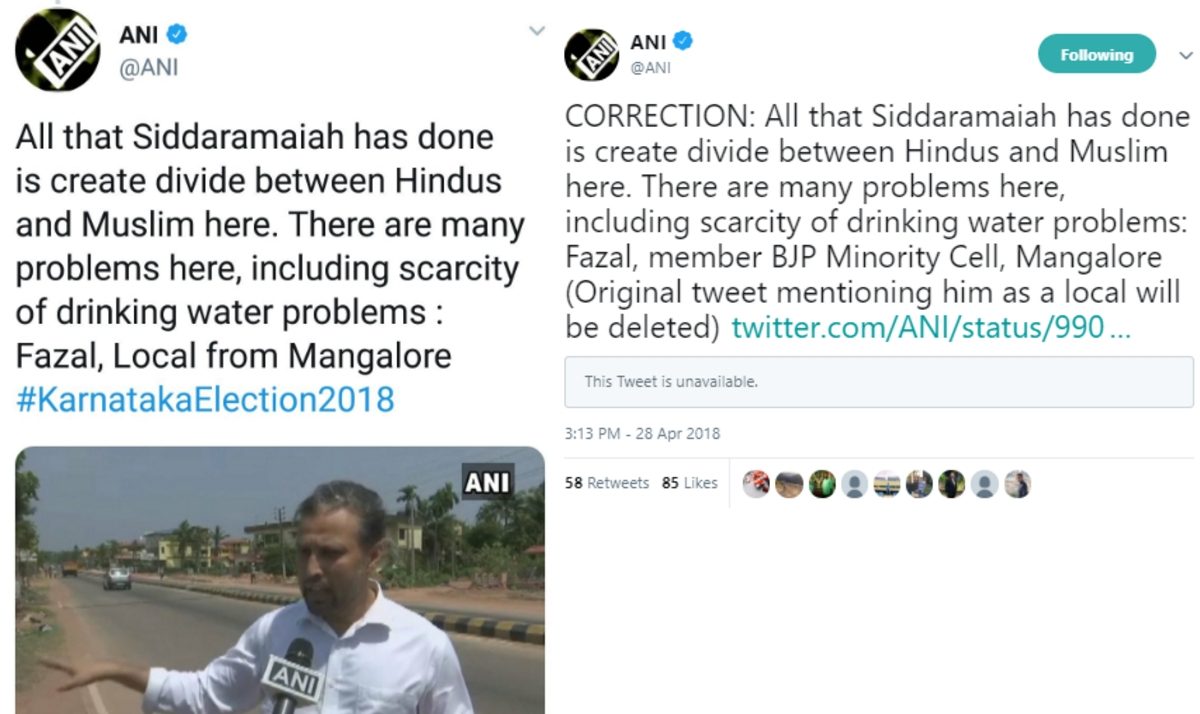 4. Quoted its own correspondent as an individual praising a tea stall
A 'tea stall customer' was quoted by ANI as commending the shop for enabling online payments post cash shortage after demonetisation. The customer turned out to be a correspondent with ANI. The news agency later deleted the tweet without a clarification.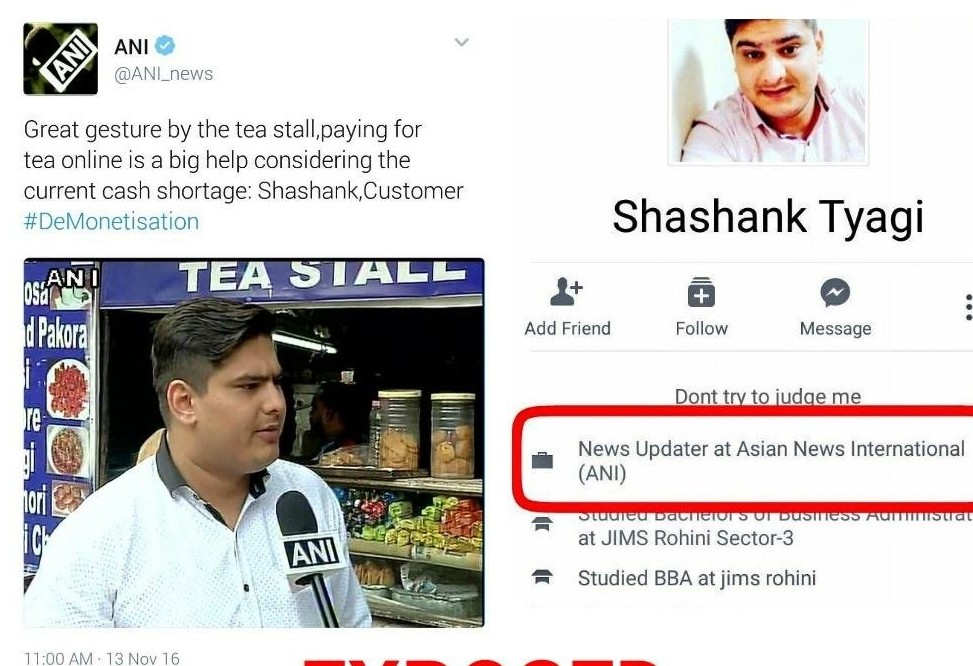 5. Misreported BJP workers as "bus passengers" involved in vandalism
On March 23, 2017, ANI tweeted a video of vandalism, claiming that "bus passengers beat toll booth employees and cause damage in Firozabad, UP."
#WATCH Bus passengers beat toll booth employees and cause damage in Firozabad, UP pic.twitter.com/buGqqmbpAI

— ANI UP (@ANINewsUP) March 23, 2017
However, ABP News reported on the same day that the people involved in the vandalism were BJP workers. According to the report, "आरोप है कि मारपीट करने वाले बीजेपी के कार्यकर्ता थे और बीजेपी नेता के शव को लेकर टोल से होते हुए पास के गांव उसायनी जा रहे थे. टोल पर किसी तरह की कहासुनी हुई, जिसके बाद शव को गांव पहुंचा कर कुछ लोग लाठी डंडों के साथ वापस आए और टोल पर मारपीट की. (The accusation is that the ones thrashing (the toll booth) were BJP workers who were taking the dead body of a BJP leader to Usaini. Due to some altercation at the toll, some people returned with sticks after delivering the body and started thrashing the toll. )"
6. The reappearance of "Muslim women from Varanasi"
On multiple occasions in the past, ANI has tweeted about "Muslim women from Varanasi" either celebrating Hindu rituals or praising Prime Minister Narendra Modi.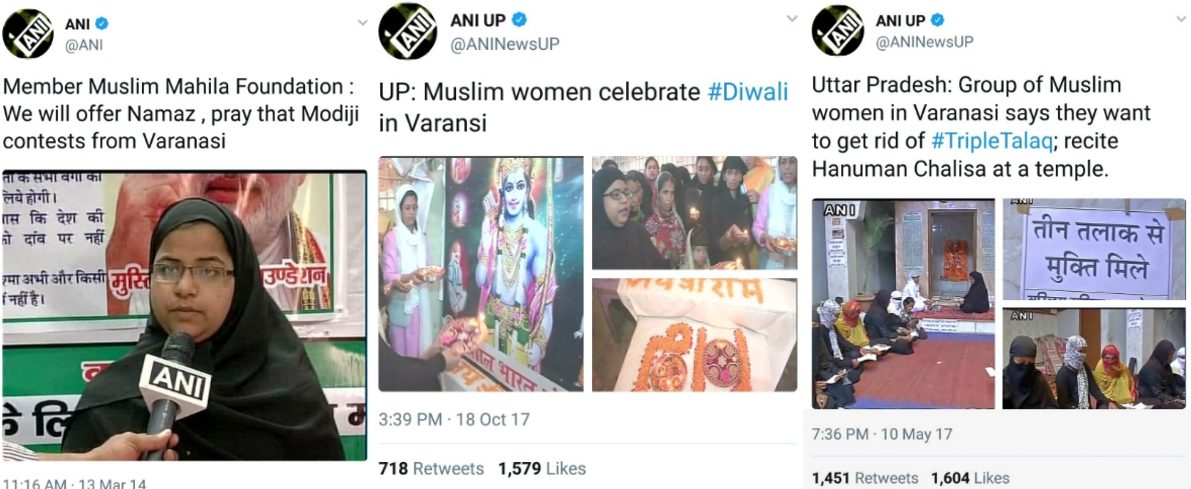 A layperson scrolling through these tweets would either infer that many women belonging to Varanasi's Muslim community were promoting Hindu festivals and/or PM Modi, or that a Muslim organisation was doing the same. However, ANI failed to mention that these women are members of an organisation founded by a staunch BJP supporter.
In the first tweet (of the collage above), ANI quoted a 'member' of Muslim Mahila Foundation (MMF) as saying that she prays that PM Modi contends from Varanasi. This tweet is from 2014. The woman in the photograph isn't a member but the founder of MMF, Nazneen Ansari. She has reappeared in several other tweets by ANI.
Ansari is a vocal BJP supporter. In 2014, she, along with another supporter of the BJP, floated the Bharatiya Awam Party (BAP) and declared unconditional support to Narendra Modi. BAP has also shared the stage with RSS. Last year, Nasari accepted soil from Ayodhya as her (and her foundation's) support toward building Ram Mandir in Ayodhya. According to a Times of India report, "an office-bearer of Muslim Rashtriya Manch, Purnendu Upadhya said the "sacred" soil will be put at different places for public view." Muslim Rashtriya Manch is affiliated to the RSS.
While ANI's reportage about these "women from Varanasi" is not misinformation, it is incomplete and misleading.
7. Misreported RSS-affiliated Muslim organisation as "people in Lucknow" celebrating Bakrid by cutting cake
On August 21, 2018, ANI tweeted that "people in Lucknow" were cutting a cake this Bakrid instead of sacrificing goats. The media outlet also quoted a man from the Muslim community who said, "the custom of sacrificing an animal on Bakrid is not right."
People in #Lucknow are preparing to celebrate an eco-friendly #Bakrid by cutting cakes with a goat image. A buyer at a bakery says, "The custom of sacrificing an animal on Bakrid is not right. I appeal to everyone to celebrate the festival by cutting a cake instead of an animal." pic.twitter.com/C5EJ73dKM1

— ANI UP (@ANINewsUP) August 21, 2018
However, they weren't just "people from Lucknow" but members of RSS-affiliated Muslim Rashtriya Manch celebrating bakrid by cutting a cake. The man in the photograph is a member of the organisation. Alt News had earlier reported this instance here.
8. Reported businessman arrested by Enforcement Directorate as "former Congress MLA"
In 2017, ANI tweeted that Gangan Dhawan, a former Congress MLA was arrested by the ED for involvement in a Rs 5,000 crore scam. The news agency later deleted this tweet and put out a clarification saying that Dhawan is a businessman and not a former MLA of the INC.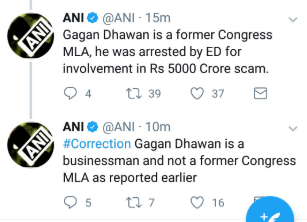 With an explosion of information from every corner of the country and a race among media outlets to be the first to break the news, inadvertent slights are bound to happen. Even though subsequent corrections are issued, the initial errors are always a matter of concern as incorrect information gets much wider circulation. We have seen in most cases that the corrected versions do not reach the audience who have been affected by the earlier misinformation. Such misinformation not only misleads the citizens but has the potential to add fuel to existing political biases and favour certain parties.
Donate to Alt News!
Independent journalism that speaks truth to power and is free of corporate and political control is possible only when people start contributing towards the same. Please consider donating towards this endeavour to fight fake news and misinformation.