A 'letter' is widely circulating on social media, claiming that author and activist Arundhati Roy repeatedly wrote to the National Security Council (NSC) of India "complaining about the treatment of captive insurgents (terrorists) being held in National Correctional System facilities." According to posts on social media, National Security Advisor Ajit Doval had responded to this letter from Roy informing her about a new government initiative, 'Liberals Accept Responsibility for Killers' or L.A.R.K.
The letter begins by Doval thanking Roy for showing "profound concern for treatment of the ISIS and LeT terrorists captured by Indian Forces". Under the L.A.R.K program, one terrorist would be placed in the personal care of concerned citizens like Roy. The letter adds, "we advise that you do not ask him (terrorist) to demonstrate these skills (combat skills) at your next yoga group."
The alleged NSC response was also floating on social media last year.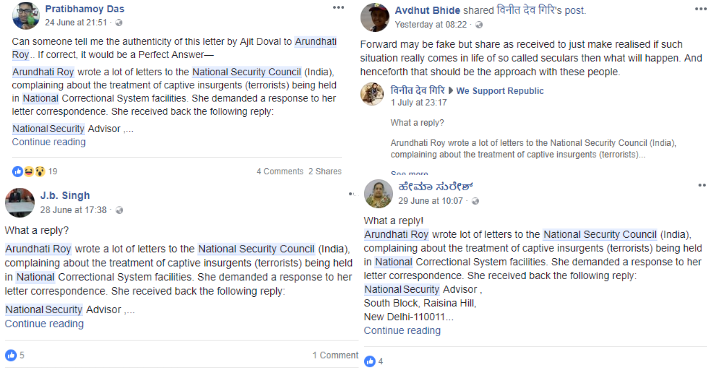 In 2014, the letter was shared by Rishi Bagree, who's followed by PM Modi on Twitter. The letter was also published in 2016 by a website called Satyavijaya. Several users on Facebook and Twitter shared it in 2017 as well. From a Facebook page Rearming Hinduism, it drew 2,500 likes. This post was made in 2016. The alleged NSC response has also been shared on various other right-wing pages in the past few years.
Arundhati Roy denied writing any such letter or having any knowledge about its origin. "I've been getting calls about the letter, with people asking me if I wrote it. A senior journalist forwarded it to me and I remember seeing the same letter with different details circulating a couple of years ago as well. It is obviously fake because I've never written any such a letter and there has also been no interaction with NSC," she told Alt News.
The letter is a satirical piece dating back to 2002
Alt News searched the letter with various keywords and found a similar version posted in 2002. The main difference here is its sender – the then U.S. President George W. Bush.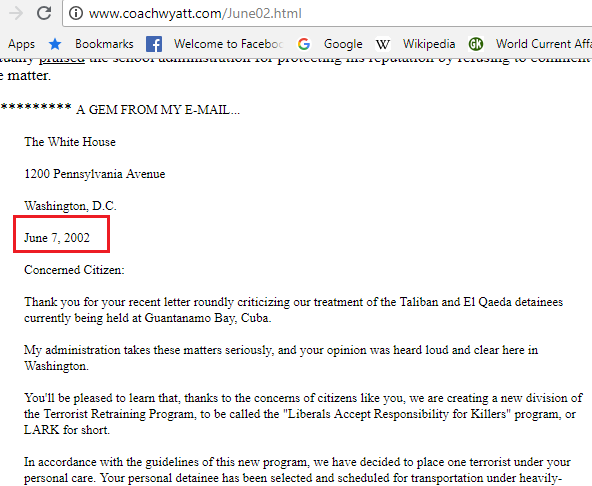 Further research revealed that the letter has been doing the rounds on social media for quite some time now, reshared with changing contexts. 'The Panama Conspiracy', a 2003 fictional novel by William Penn, also includes it in a satirical tone. In the book, the Chief of Staff of the President of the U.S gives him the letter to sign. It is written by the CoS to mock a Congresswoman who claimed that the government knew all about the September 11 attacks.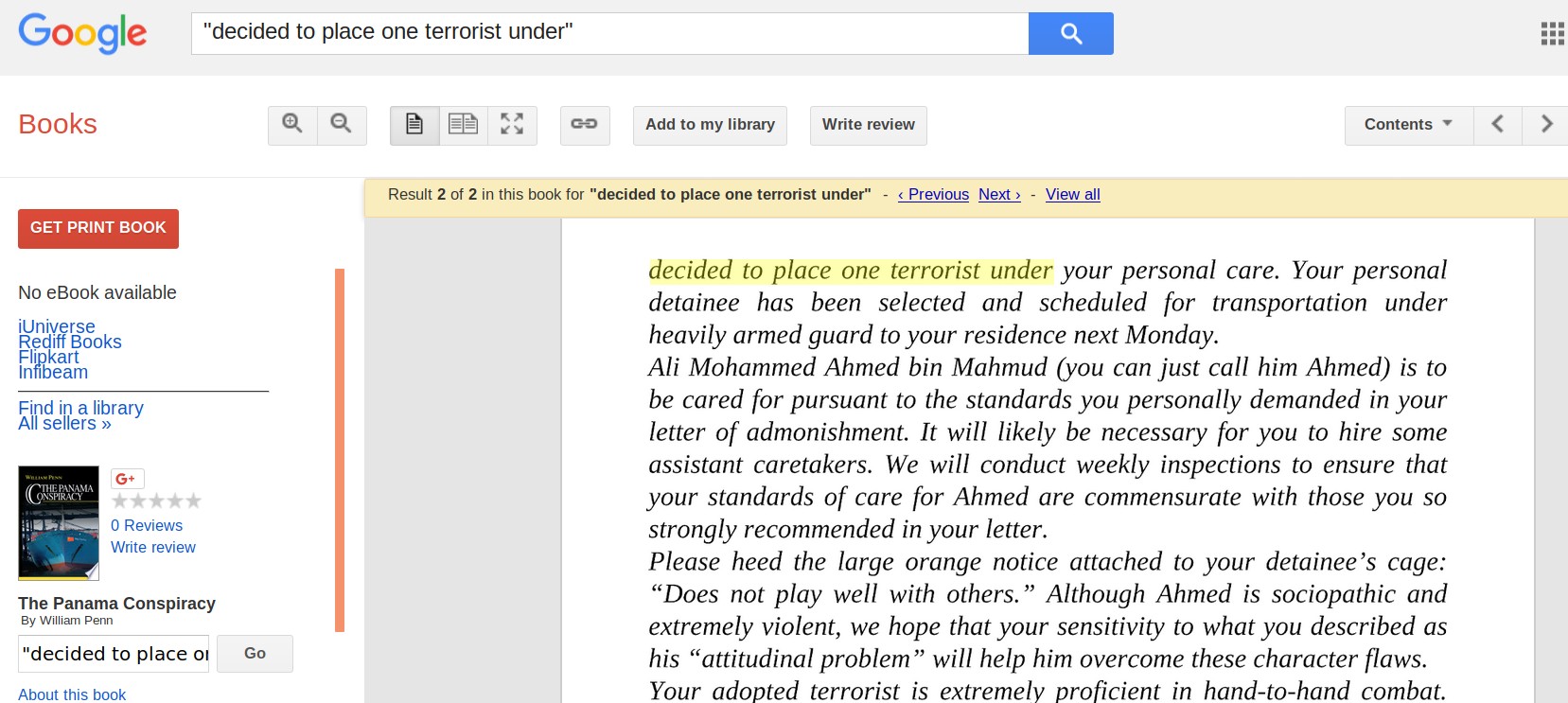 American fact-checking website Snopes first debunked a version of the letter in 2005 in an article which was subsequently updated in 2017 to debunk another version of the letter. It was published with the narrative that a "liberal female from San Francisco wrote a lot of letters to the U.S. government, complaining about the treatment of captive insurgents (terrorists) being held in GITMO (Guantanamo Bay detention camp)." The response is undersigned by the U.S. Secretary of Defence James Mattis. Snopes described the letter as a "well-crafted use of satire".
In 2014, the letter resurfaced on a blog named mediacrooks.com. Here, it was claimed that it was written by a "Canadian female libertarian" who questioned the government "about the treatment of captive insurgents (terrorists) being held in Afghanistan National Correctional System facilities." The blog shared the letter to direct it at Sagarika Ghose, Kavita Krishnan, Rana Ayyub and Barkha Dutt, who are termed in the post as India's "Fiberals".
This isn't the first time that fake news on Arundhati Roy has been floated on social media. In January 2018, a fake quote attributed to the writer claimed that she was drawing parallels between Islamic terrorism, and mothers and teachers who 'terrorise' millions of children every day. In May 2017, actor and BJP MP Paresh Rawal courted controversy by suggesting the Indian Army should tie Arundhati Roy to a jeep, in a reference to the incident wherein a Kashmiri protester had been tied to the front of an army jeep as a 'human shield'.
In the present case, one quick read through the letter in question gives clear hints that it is meant only as a satire, however, our biases often blind us to the truth. It is pertinent that any information on social media without a credible source is cross-checked.
Donate to Alt News!
Independent journalism that speaks truth to power and is free of corporate and political control is possible only when people start contributing towards the same. Please consider donating towards this endeavour to fight fake news and misinformation.