A video has surfaced on social media where a man can be seen running after a woman with a weapon in his hand and can be seen striking her with it on her head. Later, passers-by come forward to stop the attacker. The video seems to be recorded on a CCTV camera and is said to be from Pune. Social media users are sharing this video with the claim that the man was a jilted lover. Referring to the attacker as a 'Jehadi' or 'Jihadi', they suggested that he was a Muslim.
Twitter user Ayesha (@Ayesha86627087) tweeted the video on June 27 calling the attacker a "Jehadi". (Archive)
Again, a Jehadi attacked a girl over one-sided love, tried to kiII her but people present there interfered, caught that guy & saved the girl … #Pune 😲😲👇#TomatoPrice #VandeBharatExpress #Encounter #UniformCivilCode #MeraBoothSabseMazboot pic.twitter.com/GqDtIuJ0Kh

— Ayesha (@Ayesha86627087) June 27, 2023
Another Twitter user, Rajanikumari21 (@rajanikumari21), shared the same video the same day with the same claim. The tweet has received over 10,000 views and has been retweeted over 300 times. (Archive)
जबरदस्ती प्यार:-पुणे में जिहादीर ने एकतरफा प्यार में एक लड़की पर हमला किया,
उसे मारने की कोशिश की लेकिन वहां मौजूद लोगों ने हस्तक्षेप किया और उस लड़के को पकड़ लिया और लड़की को बचा लिया।

पुणेवासियों को उनके प्रयासों के लिए सलाम! pic.twitter.com/GRtPspMWQD

— Rajanikumari21 (@rajanikumari21) June 27, 2023
Several other users shared the aforementioned video with similar claims on social media. Some can be found below. Everyone referred to the attacker as a 'Jihadi'. Some users described the incident as a 'forced Love Jihad'.
This slideshow requires JavaScript.
Fact Check
On running a reverse image search on one of the key-frames of the video, we came across news reports related to this incident. According to a news report by NDTV, the accused was already arrested and he had been charged under Section 307 (attempt to murder). The report also mentions that the victim's mother had complained to the accused's father that he had been bothering her daughter. Quoting DCP Pune Sandeep Singh Gill, the report states that the accused has been identified as Shantanu Laxman Jadhav.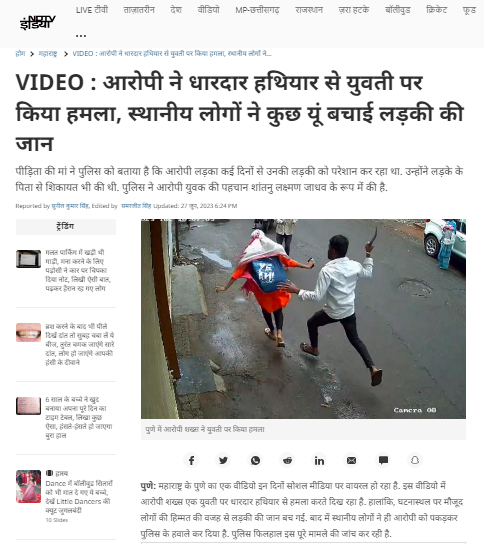 As per an Indian Express report, the incident occurred on June 27 at Pune's Sadashiv Peth near the Perugate police chowki of Vishrambag police station. The 21-year-old accused allegedly attacked the victim with a machete because she ended their relationship owing to his abusive behaviour. The report mentions that police have said that both the attacker and the victim were students at Pune.
The accused, Shantanu Laxman Jadhav, is a resident of Dongargaon village in the Mulshi area of Pune. DCP Sandeep Singh Gill added that the woman has sustained injuries on her head and hand from a sharp object. She underwent treatment and was out of danger.
We came across more such news reports that carried similar information about the incident and the alleged assailant.
Therefore, the claim that the man who attacked a woman with a machete in Pune was a Muslim is false. The assailant's name is Shantanu Laxman Jadhav and he is currently in police custody.
Donate to Alt News!
Independent journalism that speaks truth to power and is free of corporate and political control is possible only when people start contributing towards the same. Please consider donating towards this endeavour to fight fake news and misinformation.