Trigger Warning: Suicide
A video has gone viral on social media claiming that in Dharampur of Gurugram, a transgender person was killed and subsequently hanged by a few 'Bangladeshi Muslims' who had entered Dharampur illegally. In the video, one can see a human body hanging from the balcony of an apartment. According to social media users, the incident apparently took place at Dharampur Sector 108, Gurugram.
Right-Wing propaganda outlet Sudarshan News' Sagar Kumar (@KumaarSaagar), who amplifies misinformation frequently, shared the video mentioned above on July 4. He tweeted it with a caption in Hindi that can be translated as: "Bangladeshi Muslims brutally killed and hanged a eunuch in a house in Gurgaon's Dharampur Sector 108. All the Jihadi tenants living in the rented house are absconding, say the residents of this village in Gurugram. Many Bangladeshis are living illegally in Dharampur village." Kumar later deleted his tweet. (Archive)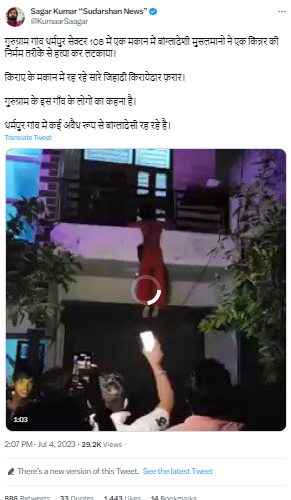 Journalist at Sudarshan News Abhay Pratap Singh (@IAbhay_Pratap), vice president of ISKCON Kolkata Radharamn Das and other users, including several Twitter Blue users such as @mind_kracker, @trunicle, @igopalgoswami, @TheAbhishek_IND, shared the video with similar claims.
This slideshow requires JavaScript.
Fact Check
On running relevant keyword searches we could not find any related news reports about the incident. We checked for updates from the Gurugram police on their official Twitter handle, where we came across a set of tweets related to this incident.
On July 5, Gurugram police tweeted in Hindi: "A claim has been going viral on social media that in Dharmapuri Sector-108, a Bangladeshi Muslim hanged a transgender person after brutally killing her in Taliban style. This is untrue."
After refuting the claim, in the second tweet, Gurugram police added more details about the incident. They said that the incident had occurred on July 3 and the name of the deceased was Priya who was a transgender person. A friend of Priya who lived in the Rajendra Park area informed police that she had died by suicide. The tweet also said that police had taken cognizance of the matter as per section 174 under CrPC. Gurugram police further clarified that the claim that she had been killed was false.
यह घटना 3 जुलाई 2023 की है जब थाना राजेंद्रा पार्क एरिया में रहने वाली प्रिया नामक किन्नर की सहेली ने पुलिस को सूचित किया था कि प्रिया ने बीमारी से तंग आकर आत्महत्या कर ली थी। इस पर थाना राजेंद्र पार्क द्वारा 174 CrPC की कार्रवाई की गई है। हत्या करने की बात असत्य है।

— Gurugram Police (@gurgaonpolice) July 5, 2023
Alt News contacted the Rajendra Park police station to confirm the details related to the incident and the SHO of the P.S. refuted the communal claims and confirmed that this was a case of suicide.
Therefore, the claim that Bangladeshi Muslims had killed and hanged a transgender person from a balcony in Dharampur Sector 108, Gurugram is false. The deceased, a woman identified as Priya, died by suicide. There is no communal angle to the incident.
Donate to Alt News!
Independent journalism that speaks truth to power and is free of corporate and political control is possible only when people start contributing towards the same. Please consider donating towards this endeavour to fight fake news and misinformation.