"बंगाल कि मुख्यमंत्री ममता बनर्जी बंगाल में हिंदुओ का घर खाली करवा रही है वो इस वीडियो में जरा देखिये" (In Bengal, WB CM Mamata Banerjee is making Hindus vacate their homes. Please see this video- translation).
With the above message, a video has been shared on social media platforms. It is two minutes, thirty seconds long, and begins with a woman describing her plight as she was forced to vacate her house. The video then shows another woman who walks around the place, explaining how it was attacked and set on fire. Later on in the video, she accuses the police of being complicit in the violence. The video is a report by BBC Hindi.
"बंगाल कि मुख्यमंत्री ममता बनर्जी बंगाल में हिंदुओ का घर खाली करवा रही है वो इस वीडियो में जरा देखिये"…👇😡😡😡

Posted by भगवा शेरनी on Wednesday, May 8, 2019
The above post by a page Bhagwa Sherni has been viewed more than 167,000 times and shared over 7500 times since it was posted on May 7. The video has been shared by several individual users on Facebook and Twitter. The claim here along with the video is that members of the Hindu community are being forced to vacate their homes in West Bengal. WB CM Mamata Banerjee has been blamed directly in the viral message, holding her directly responsible for the arbitrary harassment narrated in the video.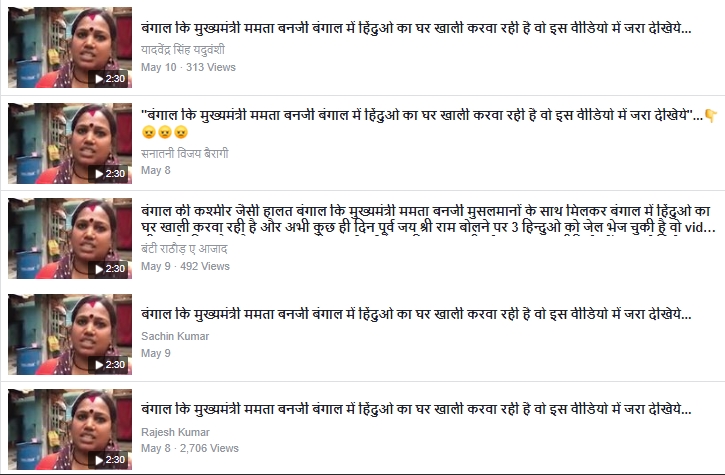 Video from 2018
The video shared so aggessively on social media platforms, alleging discrimination of Hindus at the hands of the TMC government, is NOT recent. It is more than a year old, and pertains to the communal violence which rocked Asansol in West Bengal during Ram Navami in March 2018. At least five people were killed in the flare-up.
The ground report by BBC Hindi was published on YouTube on April 2, 2018 and has been posted below.
Communal violence rocked Asansol during Ram Navami in March 2018
Communal clashes had broken out in March 2018 in Asansol, when Ram Navami processions in Raniganj had turned violent. Five people were killed in the violence, and dozens of vehicles and homes were set ablaze. According to a ground report by Scroll published in April 2018, those affected by the violence said the police was late in arriving at the scene. The report states:
"A close look at the incidents of violence and conversations with people who were witness to them – including those who organised or participated in the processions – shows that the police and administration were late in responding to the rioting and in their attempts to arrest its spread. Many of them told Scroll.in that it took the police several hours to arrive at the trouble spots, despite several of these places being located within minutes of police stations. They also accused the police of not deploying sufficient personnel in areas that had seen clashes during Ram Navami celebrations in the past."
A video of a ground report from Asansol, West Bengal in 2018 was falsely shared as a recent incident of harassment and intimidation of the Hindu community at the behest of the TMC led state government. West Bengal is in the cross-hairs of misinformation as the nation heads towards the final phase of polling.
Donate to Alt News!
Independent journalism that speaks truth to power and is free of corporate and political control is possible only when people start contributing towards the same. Please consider donating towards this endeavour to fight fake news and misinformation.To make an instant donation, click on the "Donate Now" button above. For information regarding donation via Bank Transfer/Cheque/DD, click here.