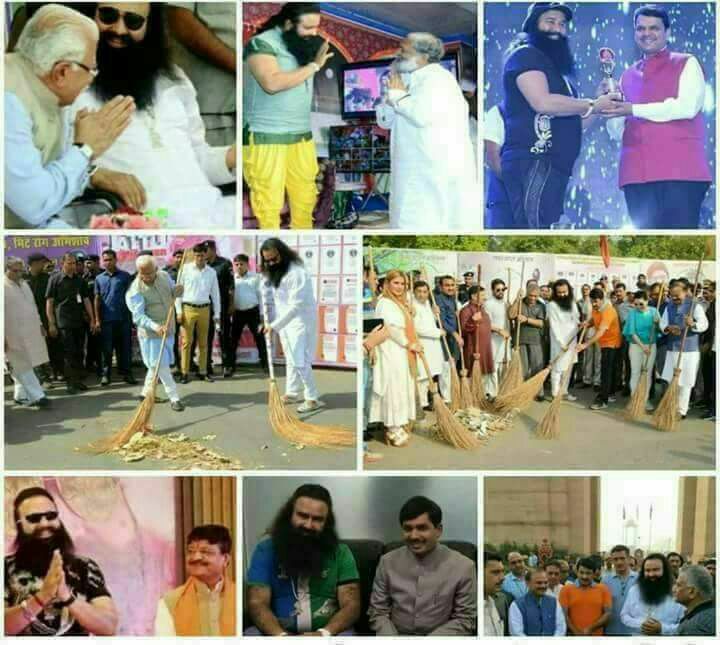 Gurmeet Ram Rahim Singh has been awarded a jail sentence of 20 years after being convicted in the rape cases of two of his followers. Ever since the Gurmeet Ram Rahim Singh episode has erupted in the last week, images like the one above are viral on social media which show Gurmeet Ram Rahim Singh with various prominent BJP leaders. On Alt News, we had written how BJP and Gurmeet Ram Rahim Singh's recent friendliness is undeniable. The same article also detailed how Congress has previously tried to cozy up to Dera Sacha Sauda in 2007 and 2012. The recent administrative failures on the day courts announced the verdict in the Gurmeet Ram Rahim case which has led to the death of 38 people has also brought a lot of negative publicity for BJP.
In view of these events, BJP's IT cell probably felt the need to counter-balance the propaganda and its IT Cell Head Amit Malviya posted three tweets trying to link Congress with Gurmeet Ram Rahim Singh's Dera Sacha Sauda.The first two tweets showed how Congress cozied upto the Dera in 2007 and 2012. These are well documented facts. However, in the third tweet, Amit Malviya claimed, "Rahul Gandhi visited Dera Sacha Sauda as recently as Jan 2017 to seek support.. Congress rules Punjab. What quid pro quo did they promise?".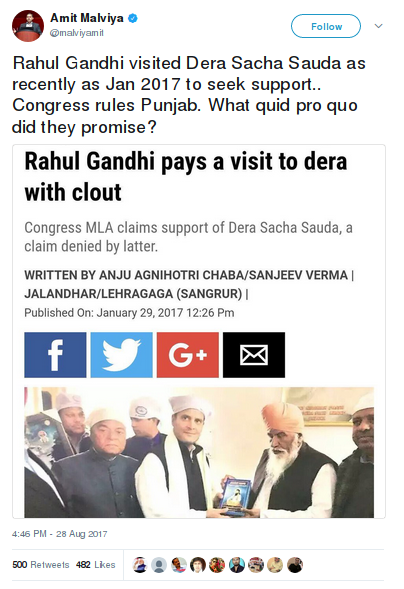 The screenshot of the article that Amit Malviya posted is originally an Indian Express article dated January 29, 2017. The article states, "With just a week to go for the Punjab Assembly elections, AICC vice-president Rahul Gandhi Saturday visited Dera Sach Khand Ballan in Jalandhar, the biggest and the most influential among the Dalit Ravidassia community."
Is Dera Sacha Khand Ballan same as Dera Sacha Sauda of which Gurmeet Ram Rahim Singh was the spiritual head? Let's look at another contemporary news report on this issue. Hindustan Times reported on the same issue on January 28, 2017. The article states, "With an eye on Dalit vote bank in Doaba, Congress vice-president Rahul Gandhi on Saturday visited Ravidassia community's Dera Sachkhand Ballan". The article further states, "Rahul, who was accompanied by Conress in-charge of Punjab affairs Asha Kumari, co-incharge Harish Chaudhary and Jalandhar MP Santokh Chaudhary, held a closed-door meeting with Dera Ballan head Sant Niranjan Dass".
Clearly, this Dera is not the same as Dera Sacha Sauda considering that the head of this Dera is Sant Niranjan Dass and not Gurmeet Ram Rahim Singh who has been convicted in 2 rape cases. In fact, Wikipedia articles of these two organisations clearly outline the differences between the two (1 & 2). Dera Sacha Sauda is based in Sirsa while Dera Sach Khand Ballan is headquartered in Ballan. Dera Sacha Sauda was founded on 29 April, 1948 whereas Dera Sach Khand Ballan was founded on 5 January, 1942. Most importantly, Dera Sacha Sauda was founded by Mastana Balochistani whereas Dera Sach Khand Ballan was founded by devotees of Guru Ravidass. These are two different organisations and Rahul Gandhi visited Dera Sach Khand Ballan and not Gurmeet Ram Rahim Singh's Dera Sacha Sauda.
The Indian Express article further states, "Separately, Congress candidate Lehragaga and former chief minister Rajender Kaur Bhattal claimed at a rally in her constituency that the Sirsa-based Dera Sacha Sauda had promised its support to the party, a claim Dera spokesperson refuted when contacted by The Indian Express."
Either, Amit Malviya did not read the article, or if he did, he got confused between Congress candidates claiming support of Dera Sacha Sauda and Rahul Gandhi visiting Dera Sach Khand. There are no news reports which suggest that Rahul Gandhi visited Gurmeet Ram Rahim Singh's Dera Sacha Saluda before 2017 Punjab elections.
Donate to Alt News!
Independent journalism that speaks truth to power and is free of corporate and political control is possible only when people start contributing towards the same. Please consider donating towards this endeavour to fight fake news and misinformation.