"Mein guru maharaj Ram Singhji, Mastanji ke Sacha Sauda ki bhumi ko pranam karta hun (I salute Ram Singhji, Mastanji's Sacha Sauda's land)" were PM Modi's words in a speech in Sirsa, Haryana, on Oct 11th, 2014. Ram Singh in PM Modi's speech referred to Gurmeet Ram Rahim Singh who has been convicted of raping two of his followers. This case started in 2002 when based on an anonymous letter, CBI filed an FIR in 2002. In 2007, the CBI filed its chargesheet in the special court at Ambala after having located the victims. In 2008, the CBI court ordered framing of charges of rape against Gurmeet Ram Rahim. When Modiji saluted Gurmeet Ram Rahim, he was well aware of the rape charges and yet he chose to make him an icon of the land. Haryana elections were to be held on Oct 15th, 2014 and BJP needed the support of spiritual group Dera Sacha Sauda which has a huge clout. Gurmeet Ram Rahim Singh is the head of Dera Sacha Sauda.
PM @narendramodi saluting Gurmeet Ram Rahim (Ram Singh Mastanji) in a speech. Gurmeet Ram Rahim stands convicted in a rape case. pic.twitter.com/ibtDVkN1ph

— Pratik Sinha (@free_thinker) August 25, 2017
BJP won the Haryana elections and Manohar Lal Khattar was elected as the Chief Minister. He assumed office on 26th October, 2014. On 12th November, 2014, 18 BJP MLAs/Ministers led by BJP's Haryana election incharge Kailash Vijayvargiya paid a visit to Gurmeet Ram Rahim Singh to seek his blessings.
Subsequently, Dera Sacha Sauda extended support to BJP in Delhi elections in February 2015 and Punjab elections in Feb 2017.

Haryana Chief Minister ML Khattar has tweeted atleast 5 times applauding BJP and Dera Sacha Sauda (1, 2, 3, 4 & 5).
संत @Gurmeetramrahim जी गरीब मरीजों की सेवा, स्वच्छता अभियान, शिक्षा के प्रचार-प्रसार,नशामुक्ति सहित कई समाज हितैषी कार्यों में लगे हुए हैं।

— Manohar Lal (@mlkhattar) May 6, 2017
Other than the Chief Minister of Haryana, Haryana Governor Kaptan Singh Solanki, Haryana BJP President Subhash Barala have also expressed gratitude towards Gurmeet Ram Rahim Singh.
जन्मदिवस के अवसर पर संत श्री @Gurmeetramrahim जी आपका अति सुंदर सुमधुर संदेश प्राप्त हुआ। आपको कोटिशः नमन। https://t.co/8QttSwndFv

— Kaptan Singh Solanki (@ProfKaptanSingh) July 2, 2017
आज टोहाना में साध संगत के साथ देशभक्ति से ओत प्रोत #HKNKJ फिल्म देखी। @Gurmeetramrahim जी को इसके लिए बधाई। pic.twitter.com/gkDxr4uOSo

— Subhash Barala (@subhashbrala) February 13, 2017
Ministers of Haryana Government have also donated a sum total of 1.12 crores towards Dera Sacha Sauda at various points of time including Education Minister Ram Bilas Sharma donating 51 lakhs, Sports Minister Anil Vij donating 50 lakhs and Manish Gover donating 11 lakhs.
When Gurmeet Ram Rahim Singh's film Jattu Engineer was released, Haryana Govt declared it tax free.
Other than leaders in Haryana BJP, BJP leaders and spokespersons from other states have also expressed their happiness about being in company of Gurmeet Ram Rahim Singh. They've often attended the functions for his atrocious films while beaming happily for the camera.
आज दिल्ली में डेरा सच्चा सौदा प्रमुख संत बाबा @Gurmeetramrahim जी से भेंट करने का सौभाग्य प्राप्त हुआ। pic.twitter.com/HjCXXMZHPg

— Kailash Vijayvargiya (@KailashOnline) June 7, 2017
Welcome to #HPCA stadium #Dharamsala @Gurmeetramrahim, enjoy the match & view! @himachalcricket pic.twitter.com/gVd75zd6Dl

— Anurag Thakur (@ianuragthakur) October 16, 2016
Thanks @Gurmeetramrahim Ji for gracing the 44th #Giants INTERNATIONAL Awards Ceremony pic.twitter.com/SN2riymqBp

— ShainaNC (@ShainaNC) September 18, 2016
With @Gurmeetramrahim Ji discussing humanitarian social projects for social good and national empowerment. #MSG pic.twitter.com/HsySCFIYz4

— ShainaNC (@ShainaNC) October 6, 2016
Some BJP leaders now embarrassed about their previous association with Gurmeet Ram Rahim have started deleting their tweets. P Murlidhar Rao who is the National General Secretary of BJP deleted the following tweet.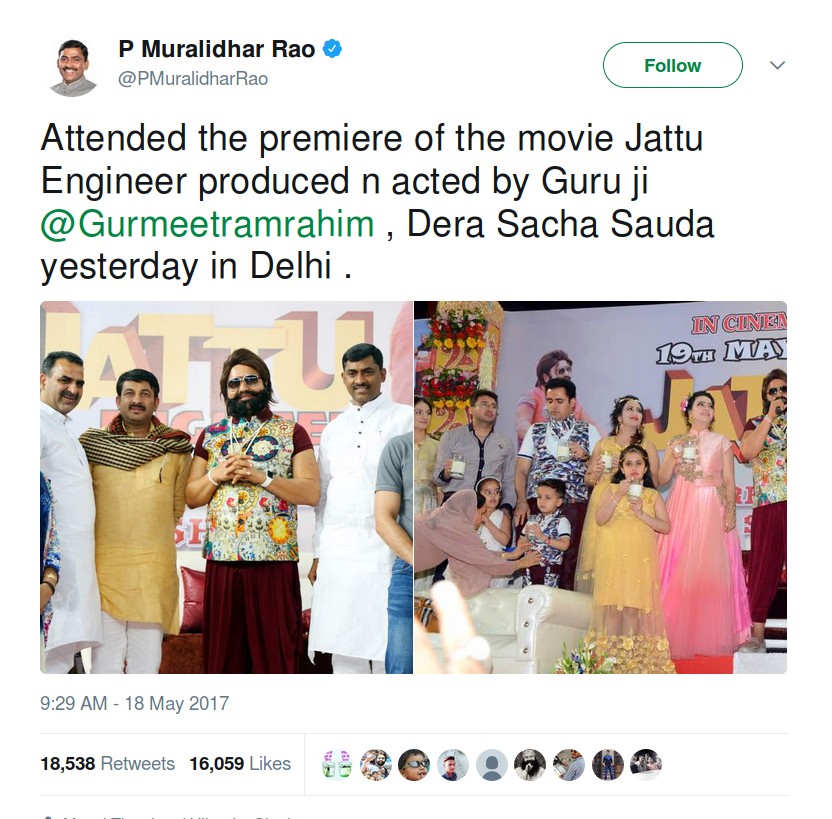 The attempts to get in the good books of a rape accused guru is not limited to BJP. In the past, Congress has also reportedly tried to woo Dera Sacha Sauda in 2007 and 2012.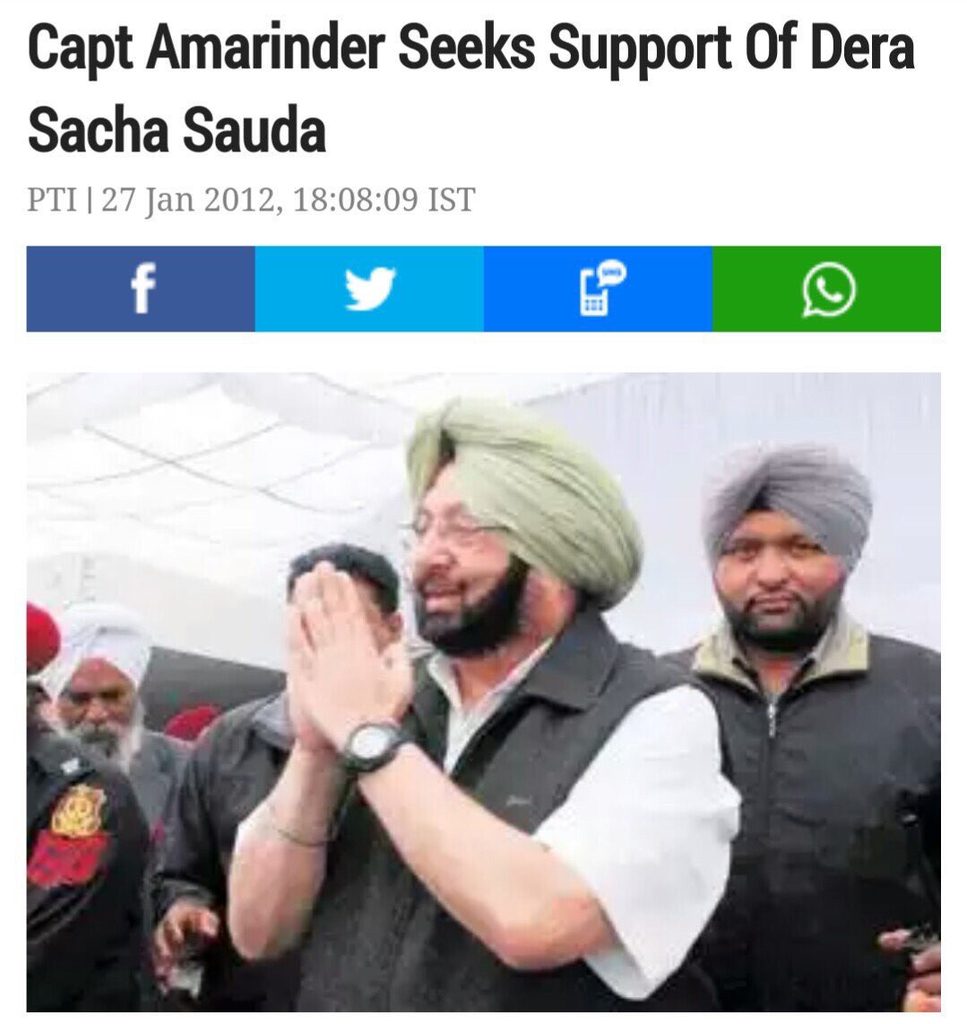 Even after the conviction and arrest of Gurmeet Ram Rahim Singh, BJP leaders continue to defend him. BJP MP Sakshi Maharaj somehow believes that if a person has a huge number of devotees, the evidence presented in a court of law based on which a person has been convicted is not valid and that one proven accusation of rape is not enough.
Only one person accused Ram Rahim of rape. And, crores are believing Ram Rahim is noble and true: Sakshi Maharaj, BJP MP #RamRahimConvicted

— TIMES NOW (@TimesNow) August 25, 2017
After Punjab and Haryana high court passed an order to seize properties of Dera Sacha Sauda to pay for the damages by its rampaging followers, BJP MP Subramanian Swamy also put out a tweet claiming that there's a conspiracy against Sadhus as part of which their properties are being grabbed by sending them to Jail.
A new threat to Sadhus: Politicians& ashramites wanting to grab Ashram wealth by sending the Swamijis to jail. Sadhus must groom successors

— Subramanian Swamy (@Swamy39) August 25, 2017
Further more, as reported by NDTV, CM's office issued a statement claiming that the violence was the handiwork of certain anti-social elements who got mixed up with the followers of Dera Sacha Sauda thus shying away from putting direct blame on the followers. However, DGP Haryana in a press conference stated that weapons were found from the cars of Dera followers.
3 rifles, pistols, cartridges, narcotics recovered from 65 cars of Dera people during checking: BS Sandhu,DGP Haryana #RamRahimVerdict (ANI)

— Hindustan Times (@htTweets) August 25, 2017
Thus, self styled godmen continue to call the shots in Indian politics. Gurmeet Ram Rahim Singh may be friendlier with BJP at the moment, but he's been friends with Congress in the past. Chandraswami who was investigated in several financial scams was reportedly the spiritual advisor to former Prime Minister PV Narsimha Rao. Just a month before 2014 Lok Sabha elections, Congress President Sonia Gandhi met Shahi Imam of Jama Masjid Syed Ahmed Bukhari to seek support, Shahi Imam being one of the country's most prominent religious Muslim leaders. Despite Sri Sri Ravi Shankar refusing to pay the fine of 5 crores ordered by National Green Tribunal for damage to Yamuna Plains due to Art of Living's World Cultural Festival, Narendra Modi inaugurated the event and many other BJP leaders came out in support of Sri Sri. Arvind Kejriwal had also come out in support of Art Of Living during this phase. Till the time, these religious leaders continue to influence Indian politics, political parties talking about secularism means zilch.
Donate to Alt News!
Independent journalism that speaks truth to power and is free of corporate and political control is possible only when people start contributing towards the same. Please consider donating towards this endeavour to fight fake news and misinformation.