A 20-second-long video of a man arguing with traffic police personnel has been gathering a lot of traction on social media. The policeman is heard saying that the vehicle has a religious sticker, while the driver of the vehicle is saying that it has a sticker of the deity, "Khatu Shyam", and he would not remove it even if the police issued him a challan. Several BJP leaders shared the video claiming the incident was from Rajasthan, and was a reflection of the Congress government's Muslim appeasement politics.
Richa Rajpoot, social media head of the BJP Uttar Pradesh youth wing, described this as an incident from Rajasthan while calling out the Congress government. (Archived link)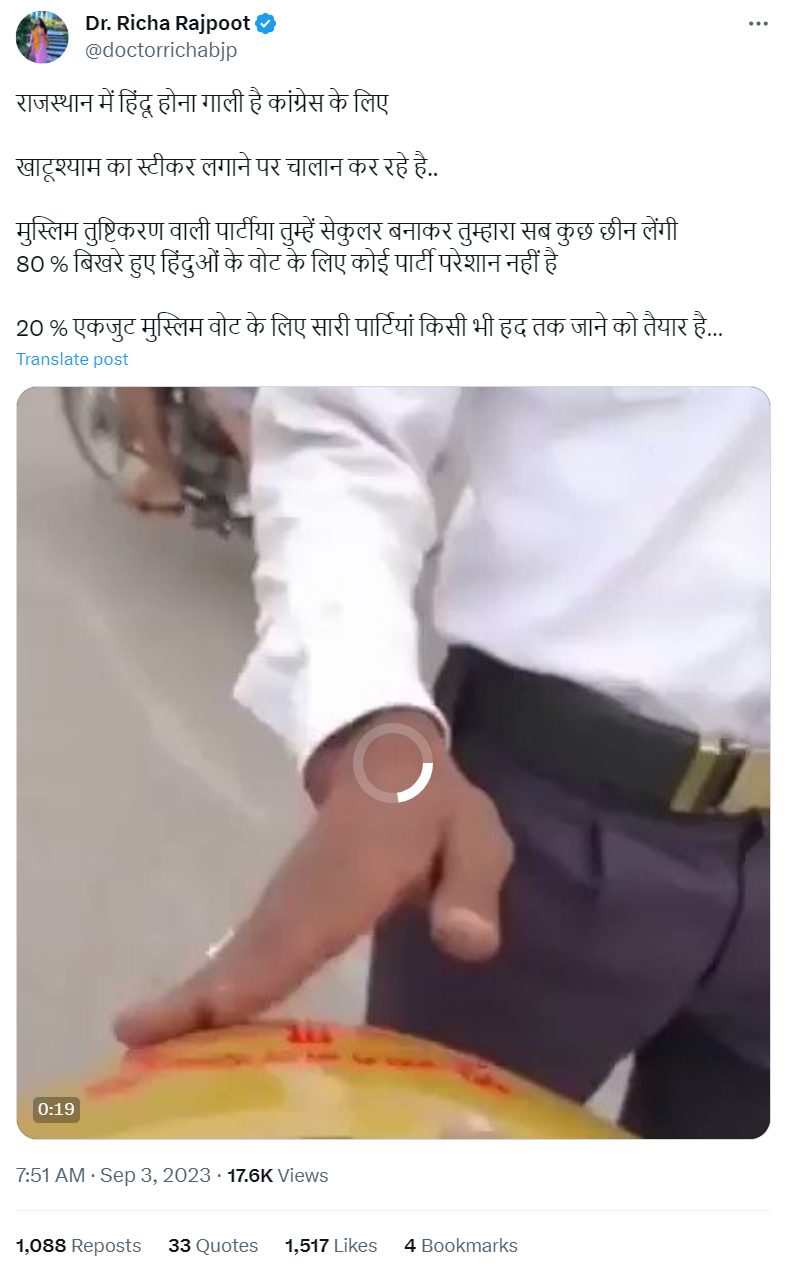 BJP leader Vikass Singh Rajput also made a similar claim while posting the video. (Archived link)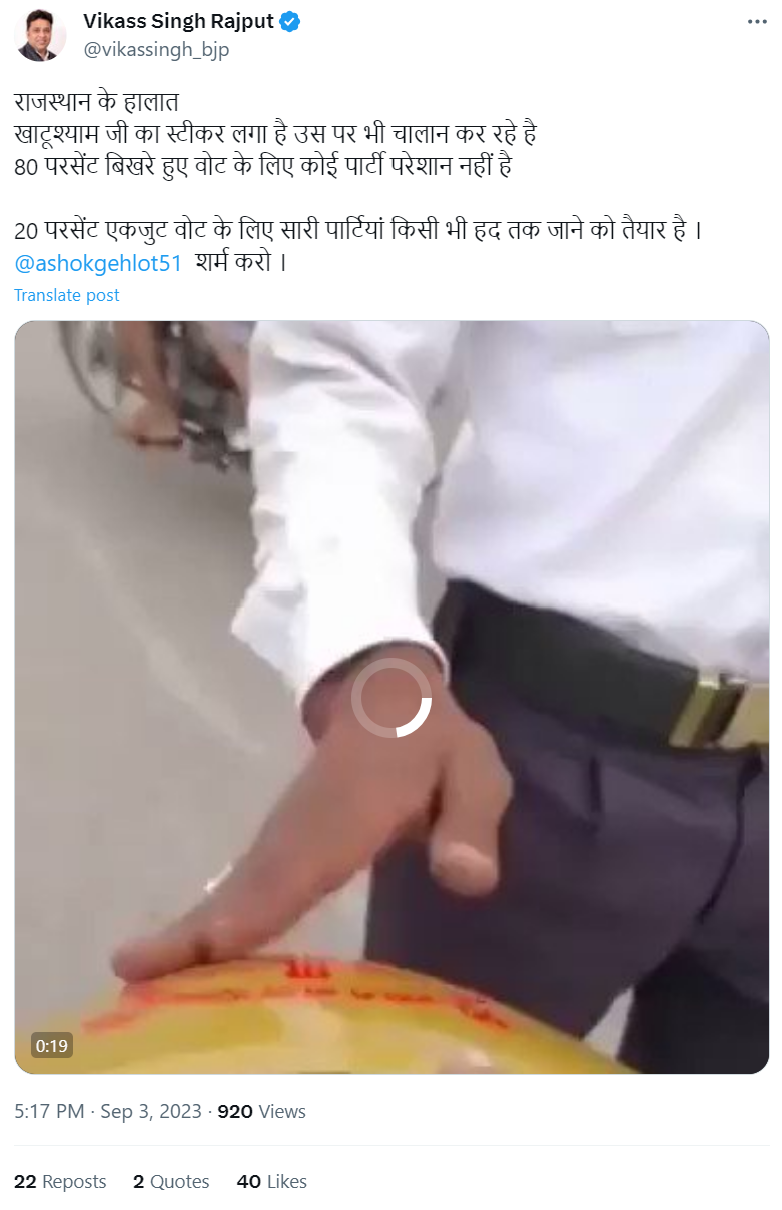 BJP Jodhpur's social media division co-in-charge Chandrakant Sundesha also tweeted the footage with the same claim. (Archived link)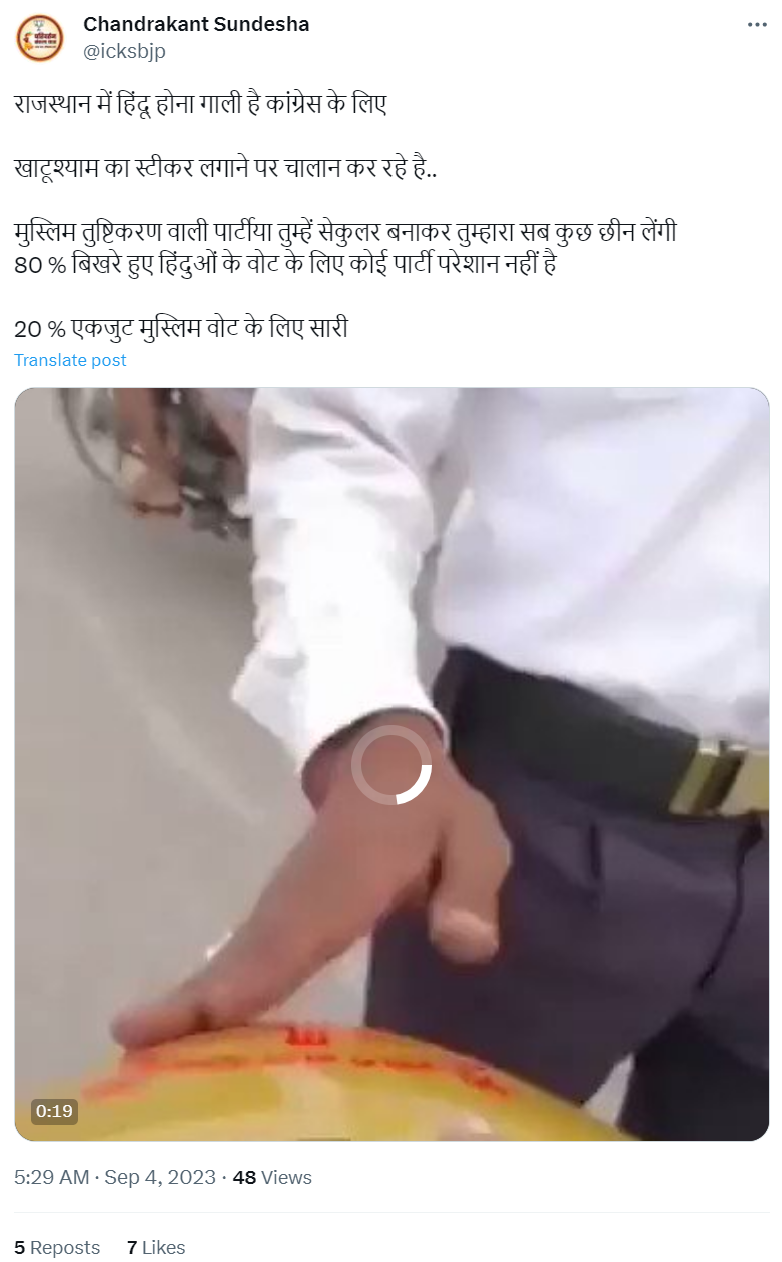 Fact Check
Alt News performed a keyword search on Twitter, which led us to a tweet by user Deepak Srivastava dated August 28 containing the viral video. The user posted a longer version of the video in question which was 32-second long, and wrote that it was from Lakhimpur Kheri in Uttar Pradesh.
यह वीडियो लखीमपुर खीरी का है जहां TI महोदय सरकार का कानून बता के चालान काटने की धमकी दे रहा है शायद इन्हें ये किसी ने नहीं बताया जाति सूचक शब्द नही लिखा होना चाहिए और नही नंबर प्लेट पे बाइक नंबर के सिवाय कुछ हो @Uppolice @uptrafficpolice @DmKheri @ProDefLko @lucknowtraffic pic.twitter.com/0CcqZw6fJM

— दीपक श्रीवास्तव ( डिविजन चीफ/प्रदेश उपाध्यक्ष) (@Deepakmansi2215) August 28, 2023
In this video, we spotted a signboard in the background saying 'Chowdhary Machinery Store' and a yellow coloured house next to it. Upon searching for this landmark on Google Maps, we found the yellow house which was indeed located next to this shop. Thus, Alt News independently verified that the incident in the viral video did not take place in Rajasthan, but in Lakhimpur Kheri, Uttar Pradesh. This can be seen more clearly in the graphic given below.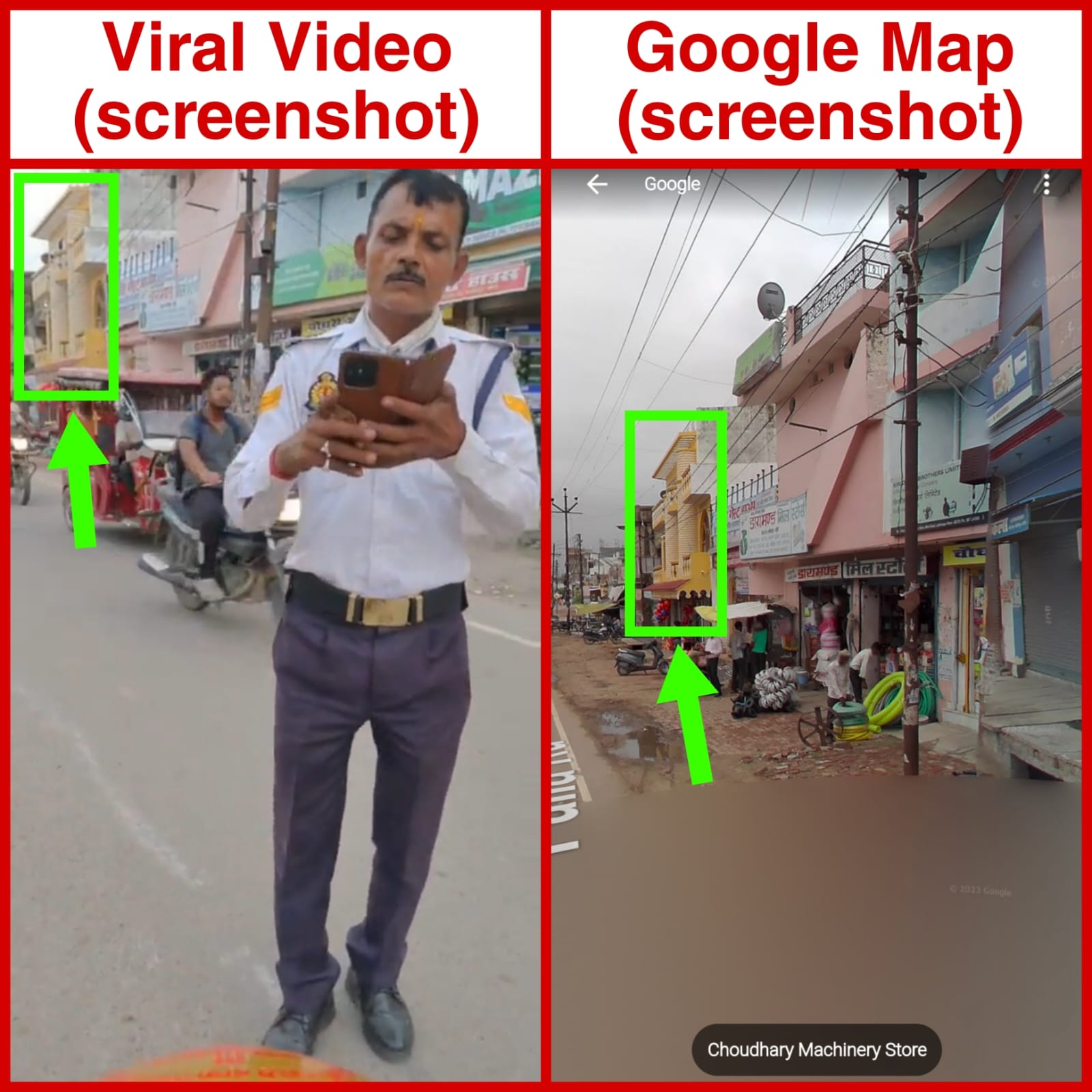 It is worth noting that the Uttar Pradesh Police recently started a campaign to actively impose fines on drivers with caste related and religious stickers on their vehicles. According to reports, as per the instructions of Uttar Pradesh chief minister Yogi Adityanath, police personnel intensified their campaign to fine vehicle owners who used stickers indicating caste or religion.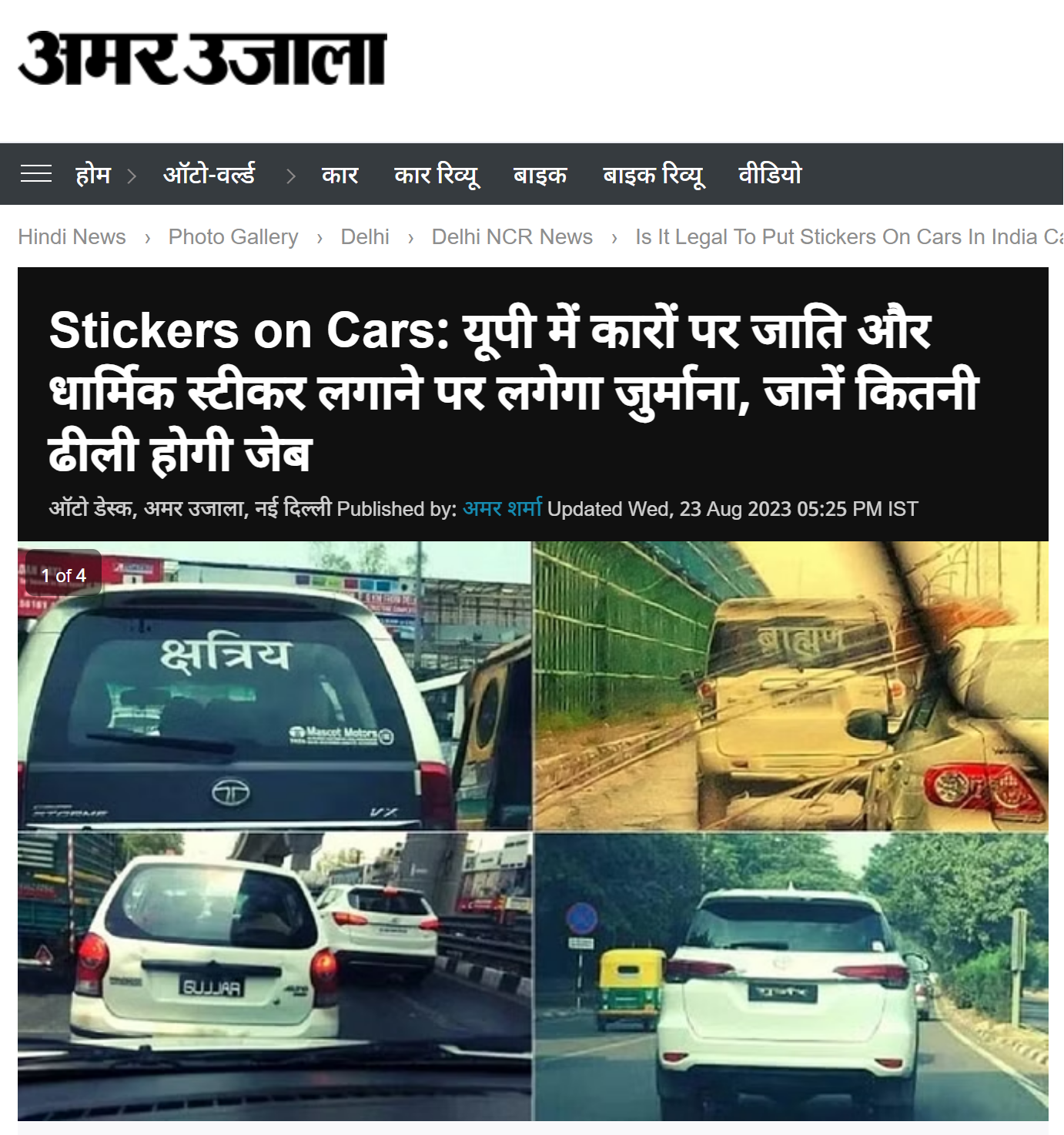 Rajasthan Police also debunked the viral video in a tweet and clarified the incident was not from Rajasthan.
#FakeNews Alert 🚨:

सोशल मीडिया पर एक वीडियो हो रहा है वायरल।

इस वीडियो को #राजस्थान का बताया जा रहा है,
जबकि यह बात सरासर झूठ है।

भ्रामक जानकारी वाले इस वीडियो को फॉरवर्ड ना करें।#RajasthanPolice pic.twitter.com/VKlLrwTTMs

— Rajasthan Police (@PoliceRajasthan) September 4, 2023
To sum it up, a number of BJP leaders falsely circulated a video of traffic police issuing a challan to a two-wheeler driver for using religious stickers on vehicles in Uttar Pradesh's Lakhimpur Kheri as Rajasthan while targeting the state's ruling party Congress, and accusing it of Muslim appeasement.
Donate to Alt News!
Independent journalism that speaks truth to power and is free of corporate and political control is possible only when people start contributing towards the same. Please consider donating towards this endeavour to fight fake news and misinformation.