A video of former Indian cricketer and BJP MLA Gautam Gambhir making an obscene gesture toward spectators during the rain-curtailed India vs. Pakistan match of Asia Cup 2023 has gone viral. In the clip, spectators can be apparently heard shouting "Bharat Tere Tukde Honge, Inshallah Inshallah" (God willing, India will be broken into pieces).
Richa Rajpoot, the head of social media cell for BJP Youth Uttar Pradesh, tweeted the video and wrote, "जब पाकिस्तानी ऐसे नारे लगाएंगे तो जवाब इतना ही करारा मिलना चाहिए" (Translation: When Pakistanis raise such slogans, the answer should be as befitting). (Archive)
जब पाकिस्तानी ऐसे नारे लगाएंगे तो जवाब इतना ही करारा मिलना चाहिए pic.twitter.com/fRZ9xY9g2d

— Dr. Richa Rajpoot (@doctorrichabjp) September 4, 2023
Verified account @narendramodi177 tweeted the viral video with the claim that this is what had transpired at the ground. (Archive)
Here Is REAL Video #GautamGambhir pic.twitter.com/klgDE2rsMi

— Narendra Modi fan (@narendramodi177) September 4, 2023
Right-Wing influencer Gopal Goswami also tweeted the viral video and wrote, 'Those who shout Bharat Tere Tukde Honge should be shown not only the middle finger but something else as well'. (Archive)
भारत तेरे टुकड़े होंगे वालों को मिडल फिंगर ही नहीं कुछ और भी दिखाना चाहिए।#GautamGambhir
pic.twitter.com/BHgLbNCSO4

— Gopal Goswami (@igopalgoswami) September 4, 2023
The same video was also shared on X (formerly Twitter) by users such as @Riyaagrahari8 and @Sidha_memer.
This slideshow requires JavaScript.
The video is also viral on Facebook.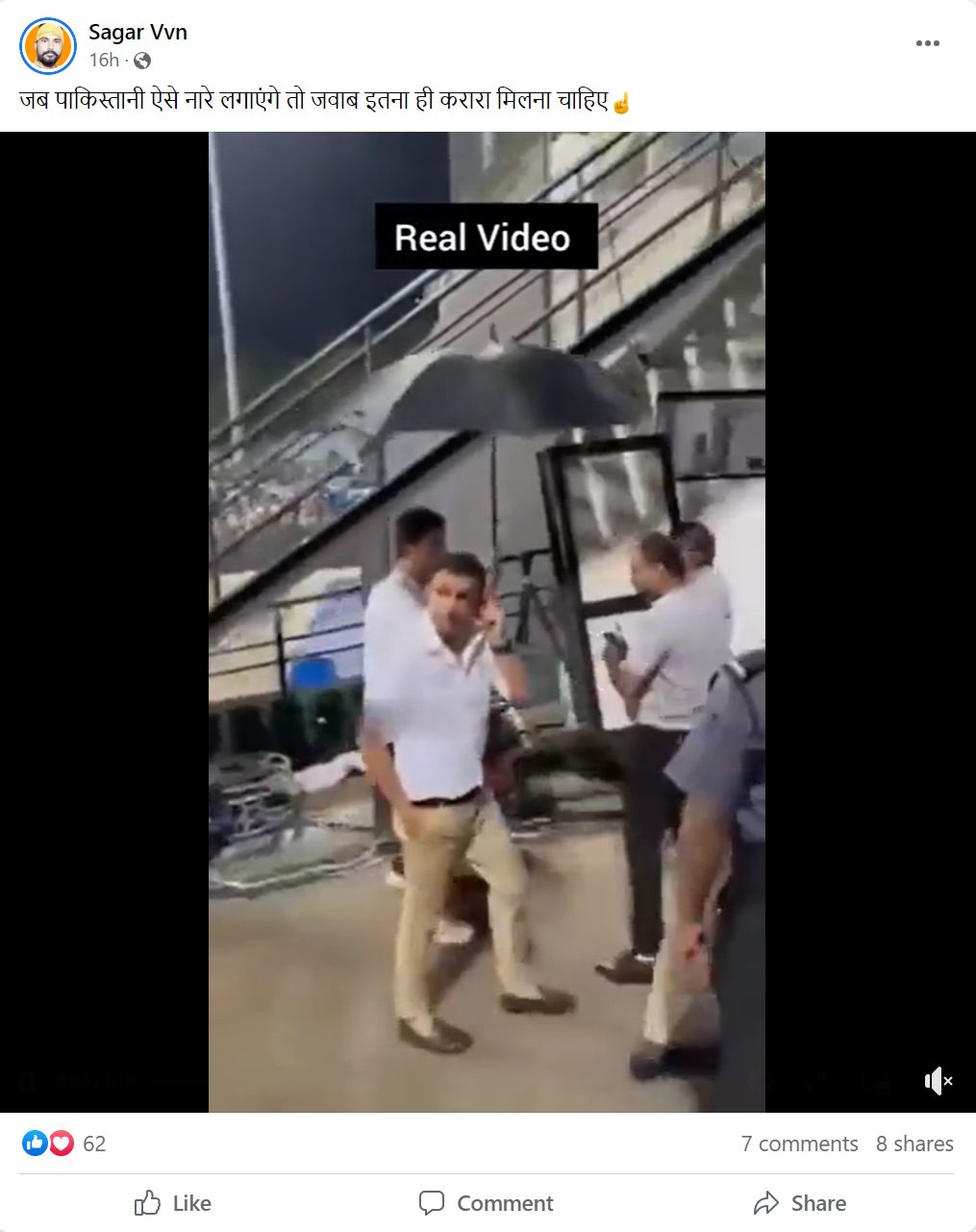 Reacted to Anti-India Slogans: Gambhir
According to reports, Gambhir flashed his middle finger at the spectators when some fans had taunted the former India cricketer from the stands. The fans, apparently supporters of Indian batsman Virat Kohli, started chanting his name when they saw Gambhir rushing out of the field into the stadium amid rain. The relationship between the two Delhi-born cricketers has been the subject of much speculation of late. In May, Gambhir and Kohli were seen engaged in an aggressive on-field spat after the Lucknow Super Giants Vs Royal Challengers Bengaluru match in this year's IPL.
The discernible 'Kohli, Kohli' chant which triggered the strong response from Gambhir in Pallekele can be heard in clips being circulated on social media.
However, Gambhir later said in a statement "What is shown on social media has no truth in it because people show whatever they want to show. The truth about the video that went viral is that if you raise anti-India slogans and speak about Kashmir then the person before you will obviously react and not smile and leave. There were 2-3 Pakistanis there who were speaking anti-India things and things on Kashmir. So, it was my natural reaction. I can't hear anything against my country. So, that was my reaction…".
Fact Check
Alt News can ascertain that the video clips with the chant "Bharat Tere Tukde Honge, Inshallah Inshallah" are doctored. The slogan has been edited into the video of Gambhir flashing his middle finger.
The readers should note that some of the viral videos have the text 'xTripti' imposed on them.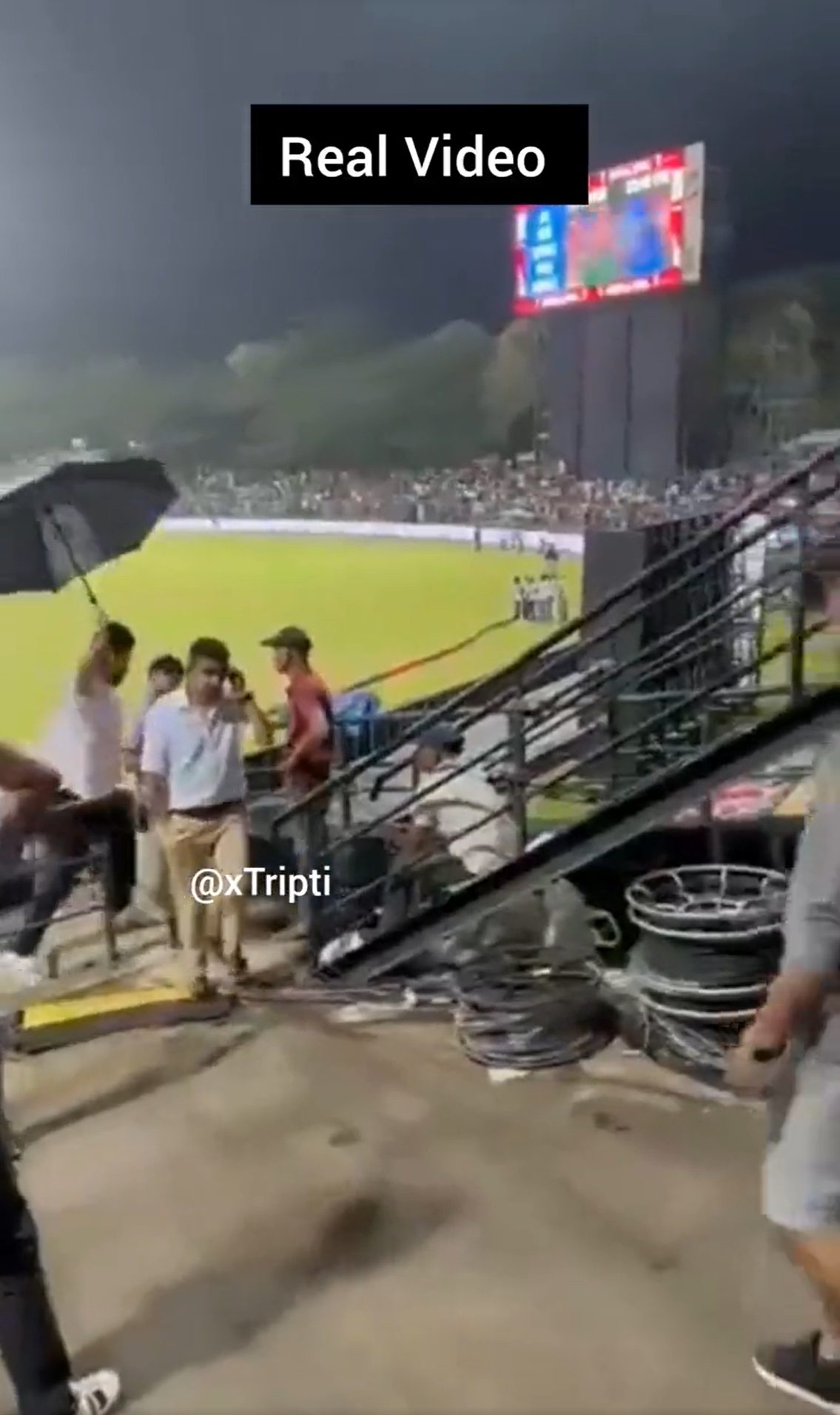 We discovered that Twitter user @xTripti was the creator of the viral video with the anti-India slogans, who has now deleted their account. However, before the deletion, they clarified in several tweets that the video has been edited. Here, here and here are archives of those tweets.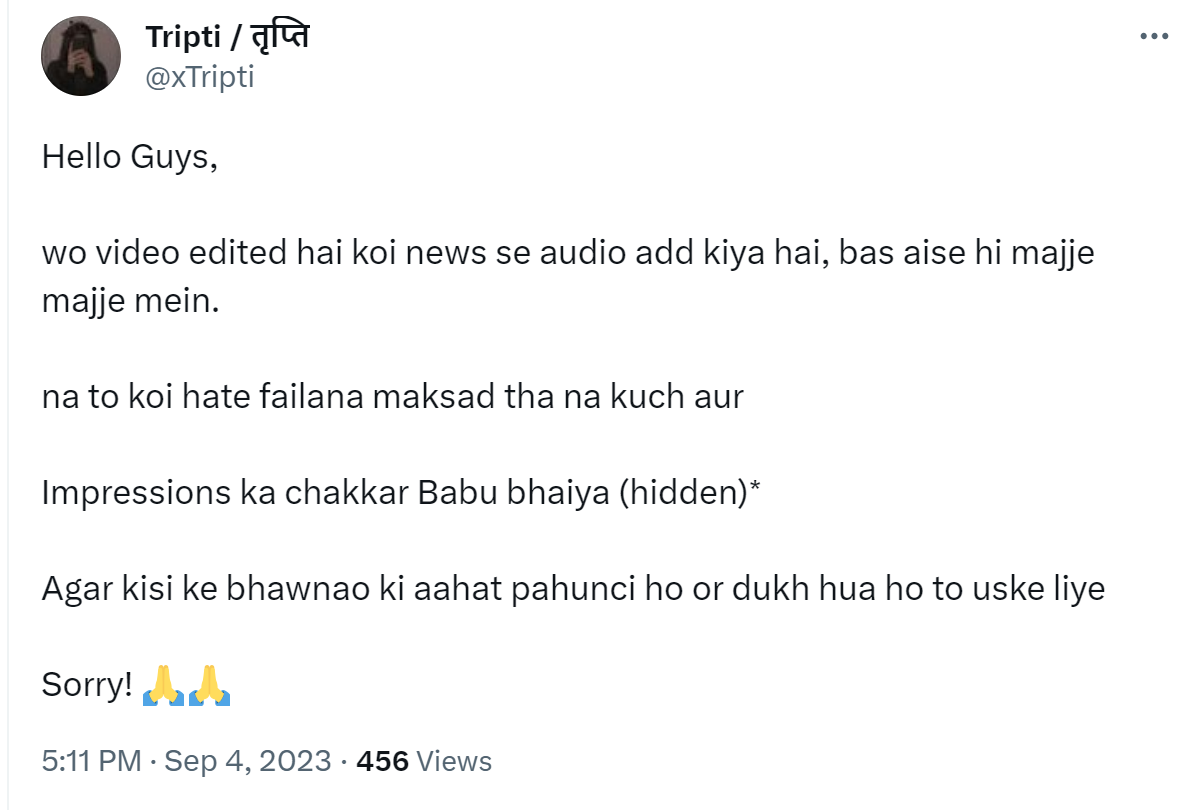 The audio (the anti-India sloganeering) has been taken from widely circulated videos of an event called 'The country without a post office,' organized at Jawaharlal Nehru University on February 9, 2016, where anti-India slogans were allegedly raised. The programme, which was organized with an intent to deplore the hanging of Afzal Guru convicted in the attack on the Indian Parliament, sparked off a huge controversy that led to the arrests of student leaders including JNU students' union president Kanhaiya Kumar. The clip of this alleged sloganeering is available on YouTube, uploaded in 2016 itself.
To sum up, an edited video of Gautam Gambhir flashing his middle finger at spectators shouting anti-India slogans is viral. The slogan 'Bharat Tere Tukde Hinge, Inshallah, Inshallah' has been edited into the video.
Donate to Alt News!
Independent journalism that speaks truth to power and is free of corporate and political control is possible only when people start contributing towards the same. Please consider donating towards this endeavour to fight fake news and misinformation.