BJP member Major Surendra Poonia shared an image (archive) that looked like a newspaper front page with the headline, "Cyberabad Police bans the sale of oranges in the city". Poonia added a rather cringe-worthy message to the image, saying "now oranges are also being maligned in the name of sickularism darling for you. Looks like police in some states has started to impose Shariah. That day is not far when sindoor, mangalsootra, bindi and Om will also be banned. Sickularism Zindabad." His tweet garnered nearly 14,000 likes and close to 4,000 retweets before it was taken down.

A few other users also shared the clipping, believing the news to be true.
Twitter handle @theskindoctor13 had earlier tweeted the clipping and tagged Cyberabad police.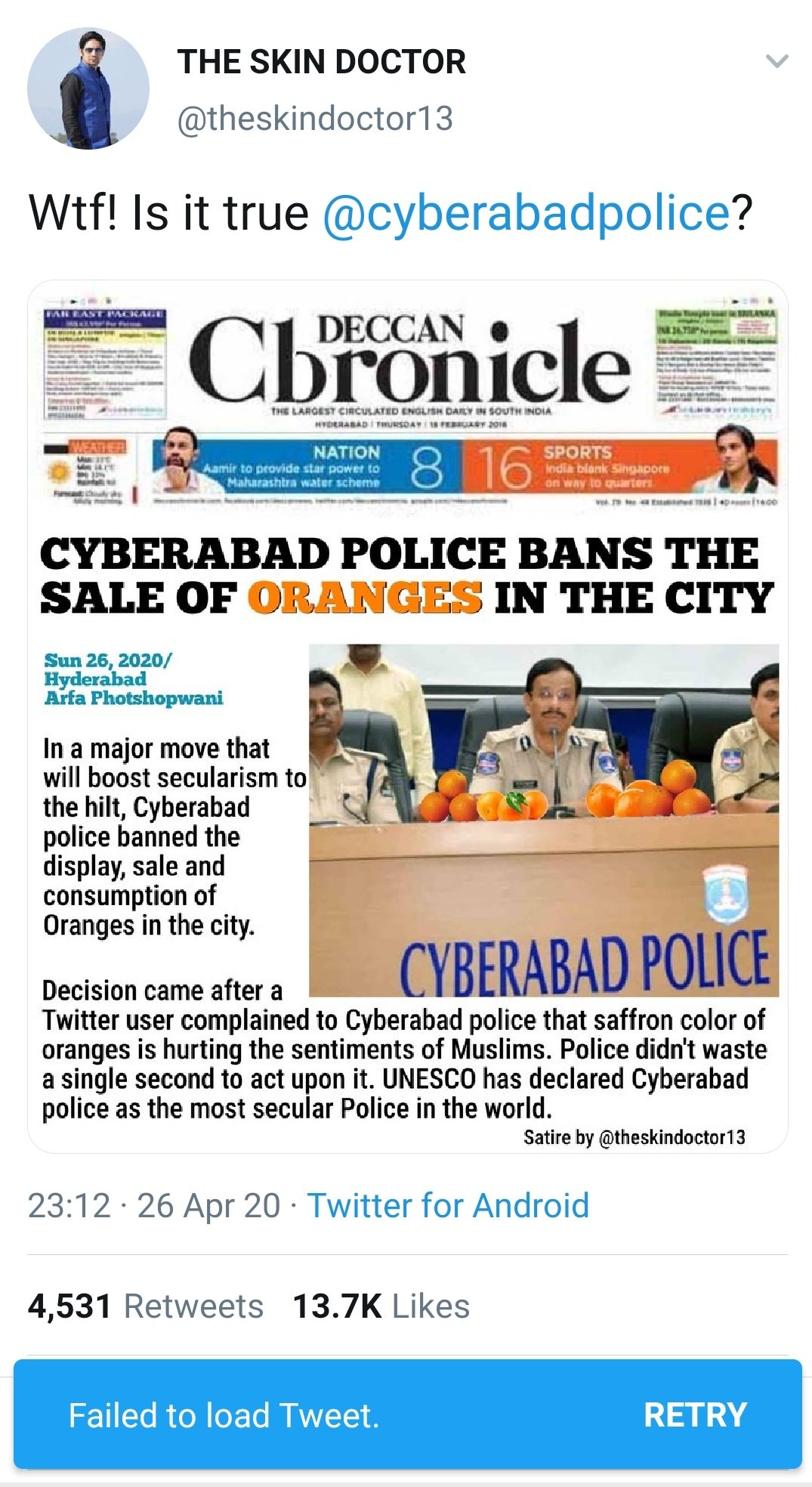 Fallen for a spoof
Poonia completely missed the glaring clues that pointed to the fact that the clipping is a computer-generated spoof newspaper. The name of the paper is 'Deccan Cbronicle' and 'satire by @theskindoctor13' is clearly written on the bottom right-hand corner.
In his hurry to make a reference to Shariah and 'sickularism' Poonia also did not notice the ludicrous text in the clipping that said 'UNESCO has declared Cyberabad police the most secular police in the world'.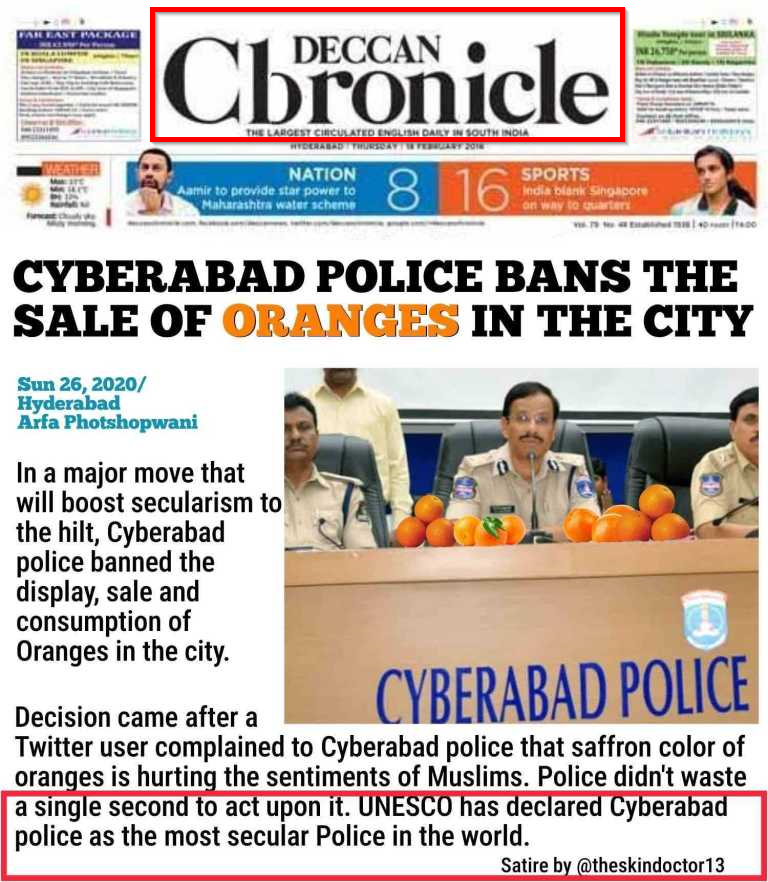 Twitter user @theskindoctor who also goes with the name of Neelam Singh had made the satirical clipping in response to the news about a fruit vendor booked in Jharkhand for installing a hoarding that read 'Hindu fruit shop'. Similar cases were reported in Telangana. A user tagged the police and wrote that vegetable vendors in Attapur were installing saffron flags in their carts. In response, Cybderabad police tagged Rajendra Nagar police station. This led to an outrage with several BJP members, including MLA Arvind Dharmapuri, questioning why the police station was tagged.
— Cyberabad Police (@cyberabadpolice) April 26, 2020
Cyberabad police has registered a case against @theskindoctor13 for manufacturing the satirical newspaper clipping.
A person from north-India circulates fake news stating Cyberabad police banned sale of oranges in Hyderabad. He used masthead of a city-based English daily to make it look that paper published 'orange sale ban' news. Case is registered. @MARRIRAMU @cpcybd @TelanganaDGP

— The Hindu-Hyderabad (@THHyderabad) April 27, 2020
Donate to Alt News!
Independent journalism that speaks truth to power and is free of corporate and political control is possible only when people start contributing towards the same. Please consider donating towards this endeavour to fight fake news and misinformation.