A picture depicting BJP supporters standing in front of a Canara Bank branch is doing the rounds on social media. Several users have claimed that the BJP supporters thought Canara Bank was somehow linked to Canada and were protesting against it in light of the recent diplomatic tension between Canada and India.
Cricketer turned politician Kirti Azad, who is a TMC leader, posted the picture on X (formerly Twitter) with the caption, "Canara बैंक को Canada समझ कर उसके सामने प्रदर्शन करते भाजपा के Sanghis." The tweet received over 2,980 retweets, 5,30,000 views and 12,200 likes. (Archive)
Canara बैंक को Canada समझ कर
उसके सामने प्रदर्शन करते भाजपा के
Sanghis pic.twitter.com/oGpJ6xanjB

— Kirti Azad (@KirtiAzaad) September 24, 2023
Spokesperson and national media in-charge of Congress Arunesh Kumar Yadav also shared the photo with the caption, "Mistaking Canara Bank for Canada Poor innocent Sanghis of BJP protesting in front of him." (Archive)
Canara बैंक को Canada समझ कर
उसके सामने प्रदर्शन करते भाजपा के बेचारे मासूम Sanghis 😅 pic.twitter.com/mEHp7Q3laR

— Dr. Arunesh Kumar Yadav (डॉ अरुणेश यादव) (@YadavArunesh) September 24, 2023
Former national president of the Indian Youth Congress (IYC) Keshav Chand Yadav also shared the picture with the same claim. (Archive)
Canara बैंक को Canada समझ कर उसके सामने प्रदर्शन करते भाजपाई…. pic.twitter.com/2S69GDCK4H

— Keshav Chand Yadav (@keshavyadaviyc) September 24, 2023
The photo and the claim are also viral on Facebook.

Fact Check
We ran a reverse image search on the image that led us to a 2020 report by Tamil evening daily Maalai Malar titled "Removal of flagpole: BJP protest", which contains the same image as the viral one without the Canara Bank signage. The report states that the incident happened in Nilgiri district, Ooty, where some BJP members had constructed a flag pole in an area owned by the municipality, allegedly without seeking prior permission from the authorities. "As a result, the municipal staff and police removed the flagpole which had been planted without permission yesterday evening. Following this, BJP members suddenly started protesting against the municipality for removing the flagpole. Ooty city president Praveen led the protest. In this, slogans were raised condemning the municipality." the report added.
This slideshow requires JavaScript.
A comparison of the image used in the 2020 report by Top Tamil News and the viral picture on X reveals that a signboard of 'Canara Bank' was added to the original picture. The viral image is thus morphed.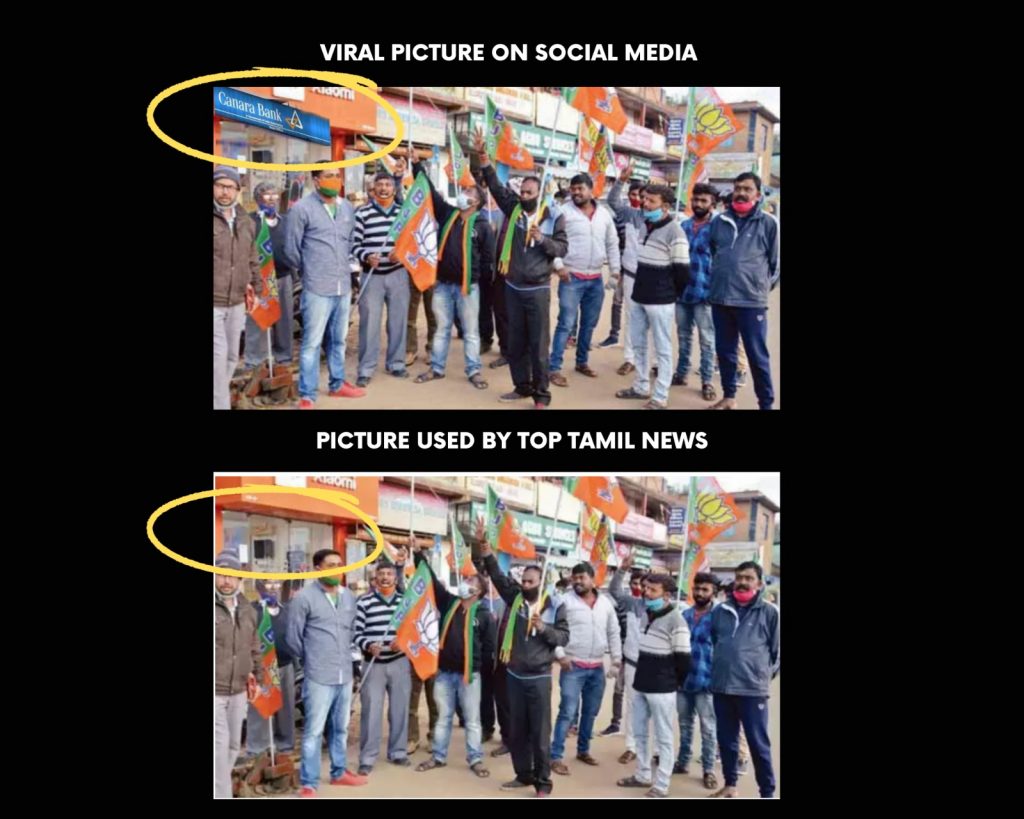 To sum up, a picture of BJP supporters protesting outside Canara Bank has gone viral with the false claim that the supporters had mistakenly linked 'Canara Bank' with Canada. Alt News investigation revealed that the viral picture is morphed. The original image is from 2020 and that the signboard of 'Canara Bank' was added to it.
Abira Das is an intern at Alt News.
Donate to Alt News!
Independent journalism that speaks truth to power and is free of corporate and political control is possible only when people start contributing towards the same. Please consider donating towards this endeavour to fight fake news and misinformation.