A video of police personnel pinning down protesters on the ground is being widely shared on social media. It has been claimed that protesters staging a demonstration against high inflation and energy shortage in Germany were beaten up by the police.
Procurenet CEO Gurbaksh Singh Chahal made the claim while sharing the video. (Archived link)
Johns Hopkins University economist Steve Hanke shared the video, claiming that German police beat up citizens who were protesting because of record-high inflation and energy shortages. (Archived link) Paytm founder Vijay Shekhar Sharma retweeted Hanke's post.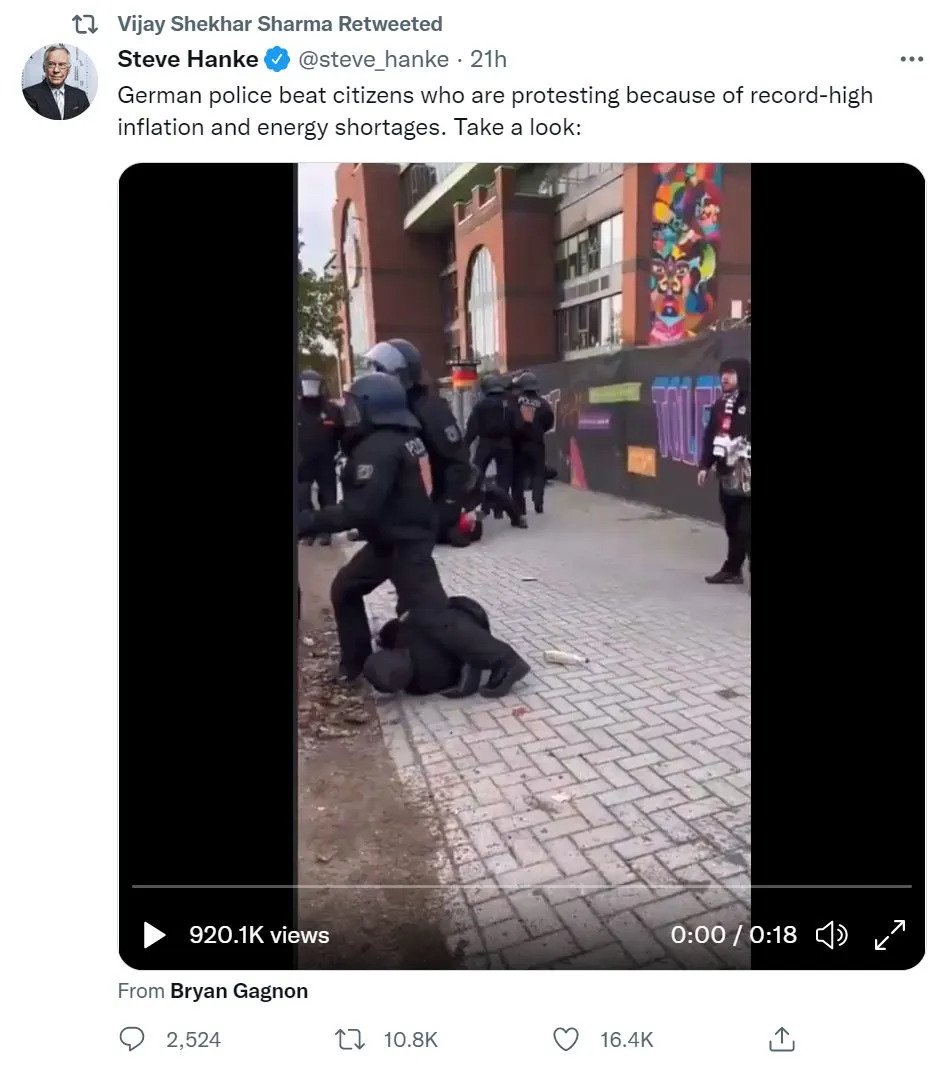 Based on the viral claim accompanying the video, Republic World claimed in its article that German police assaulted protesters rallying over rising inflation. (Archived link)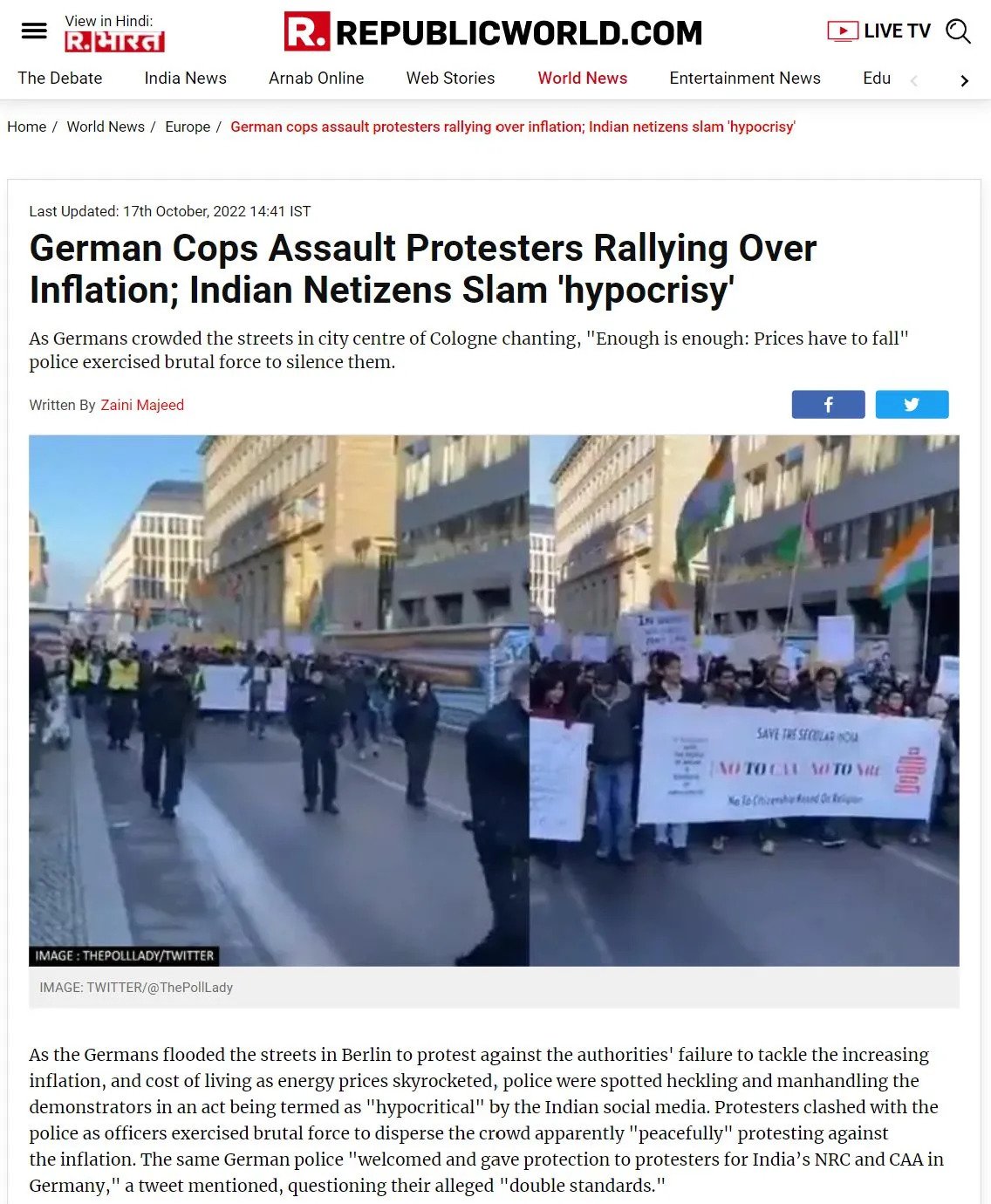 Twitter user The Poll Lady also made the same claim while tweeting the video. (Archived link)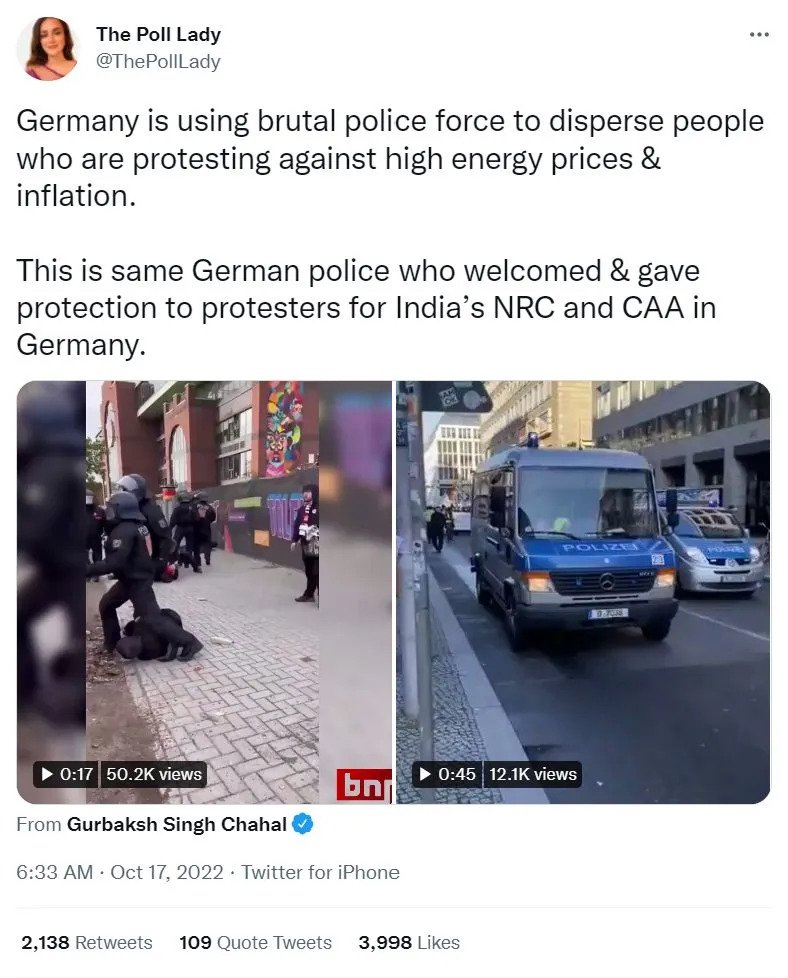 The video is widespread on social media platforms with the same claim.
Fact-check
Alt News performed a reverse image search using frames taken from the viral video. This led us to reports by web portals like TVP Info, Fakt, and Interia. When we translated these into English, we found that the video actually contained footage from the aftermath of a clash between two football clubs in Germany named FC St. Pauli and HSV Hamburg, in which German police had to intervene. This confirms that the video has nothing to do with the ongoing protests against rising inflation in Germany.
This slideshow requires JavaScript.
This can be seen more clearly in the comparison of the two images given below.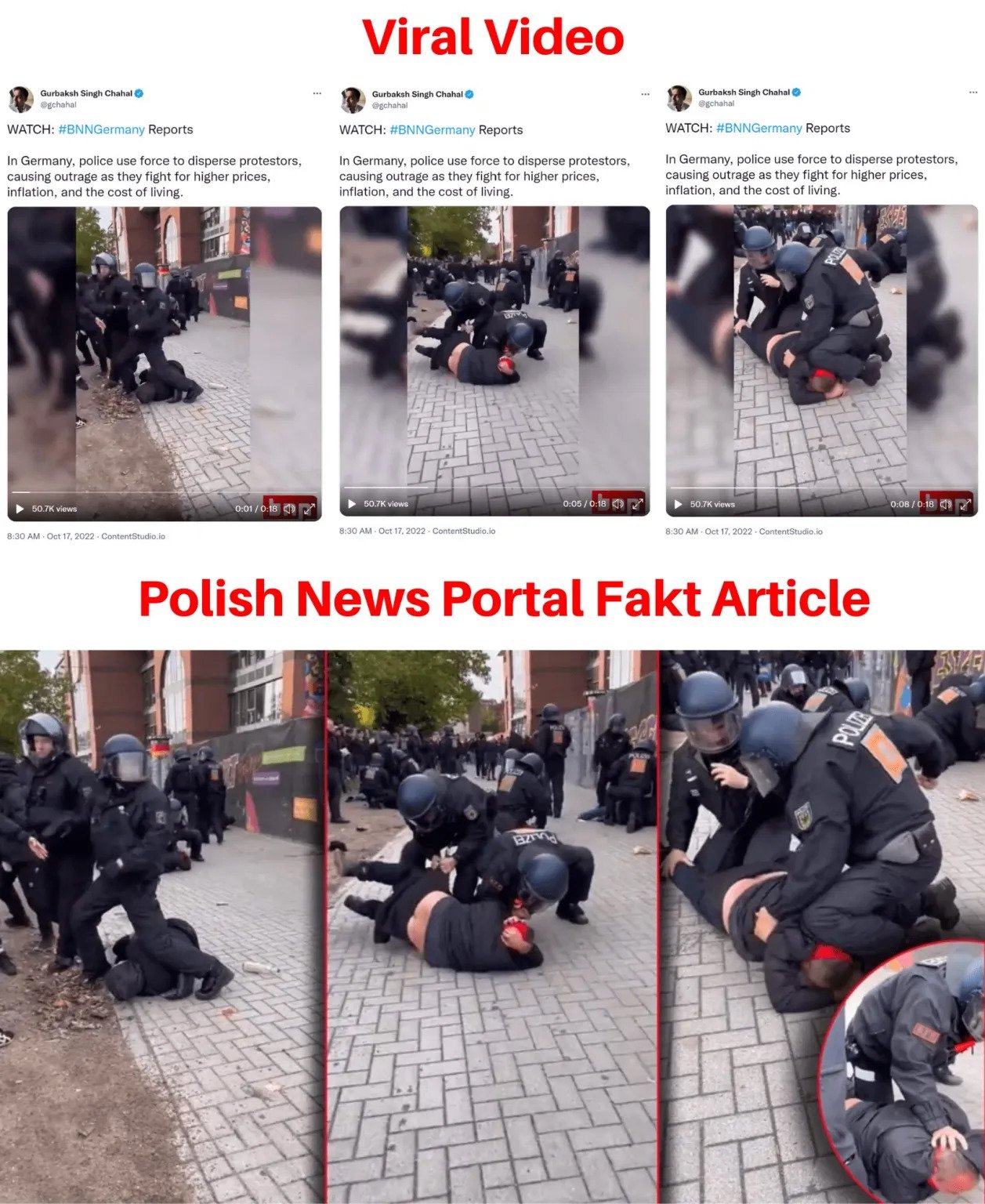 Referring to the row in an October 14 tweet, football club FC St. Pauli demanded a clarification on the action taken by the police personnel.
Auf dem Heiligengeistfeld hat es einen massiven Polizeieinsatz gegeben, mehrere Personen wurden verletzt. Angesichts vorliegender Videos und Augenzeugenberichten stellt sich die dringende Frage nach der Verhältnismäßigkeit. Der FC St. Pauli fordert Aufklärung.#fcsp #fcsphsv

— FC St. Pauli (@fcstpauli) October 14, 2022
The Hamburg Police posted a statement in a Twitter thread clarifying its stance on the clash. According to the police, the officers were trying to prevent a confrontation between football fans and began taking the furious fans into custody. The viral video was taken while fans were being detained, and showed the cops using coercion in the form of physical violence. Police insisted that this was the procedure when individuals were not cooperating with officers. An investigation is still underway.
Als der Fanmarsch die Glacischaussee erreichte, versuchten etwa 150-200 #StPauli-Fans vom Vorplatz über das #Heiligengeistfeld zu den HSV-Fans zu gelangen.
Dies konnte von Polizeikräften unterbunden werden.#fcsphsv

— Polizei Hamburg (@PolizeiHamburg) October 14, 2022
The Hamburg Police issued two press releases related to the case on October 14 and October 17.
To sum it up, several social media handles including that of Republic World, Steve Hanke, and Gurbaksh Singh Chahal shared a video falsely claiming that protesters staging a rally over rising inflation in Germany were beaten up by the police. In reality, the viral video is of the police crackdown on a clash between fans of two rival football clubs in Germany.
Donate to Alt News!
Independent journalism that speaks truth to power and is free of corporate and political control is possible only when people start contributing towards the same. Please consider donating towards this endeavour to fight fake news and misinformation.