Trigger Warning: Death. Discretion advised.
A video of an individual lying inside a van-turned-ambulance in an unconscious state is going viral on social media. Sharing this video on Twitter, Prashant Umrao, who is the standing counsel in the Supreme Court for Goa and media panelist for BJP UP, wrote in Hindi, "Khurja police killed Abdul accused of jewellery shop robbery in Bulandshahr."
बुलंदशहर में ज्वेलरी शॉप लूट के आरोपी अब्दुल को खुर्जा पुलिस ने किया ढेर। pic.twitter.com/1OSW34fqyd

— Prashant Umrao (@ippatel) January 3, 2023
Sagar Kumar, who is affiliated with Sudarshan News, a pro-BJP propaganda outlet, shared the video and wrote, "Khurja police 'shot' Abdul accused of jewellery shop robbery in Bulandshahr. Yogi ji's message is clear, leave the life of a 'criminal' or leave Uttar Pradesh. Baba Ji Rocks."
बुलंदशहर में ज्वेलरी शॉप लूट के आरोपी अब्दुल को खुर्जा पुलिस ने किया 'ढेर'

यूपी में योगी जी का साफ़ संदेश है, कि 'अपराधी' या अपराध छोड़ दे ,, या 'उत्तर प्रदेश' छोड़ दे।

बाबा जी Rocks 🚩@myogiadityanath @dgpup pic.twitter.com/EkCM1KeQqy

— Sagar Kumar "Sudarshan News" (@KumaarSaagar) January 3, 2023
Journalist Tushar Srivastava who is affiliated with Zee Hindustan also tweeted about the encounter. He wrote, "Abdul was killed in a police encounter in Bulandshahr. Abdul had robbed a jeweller a few days back."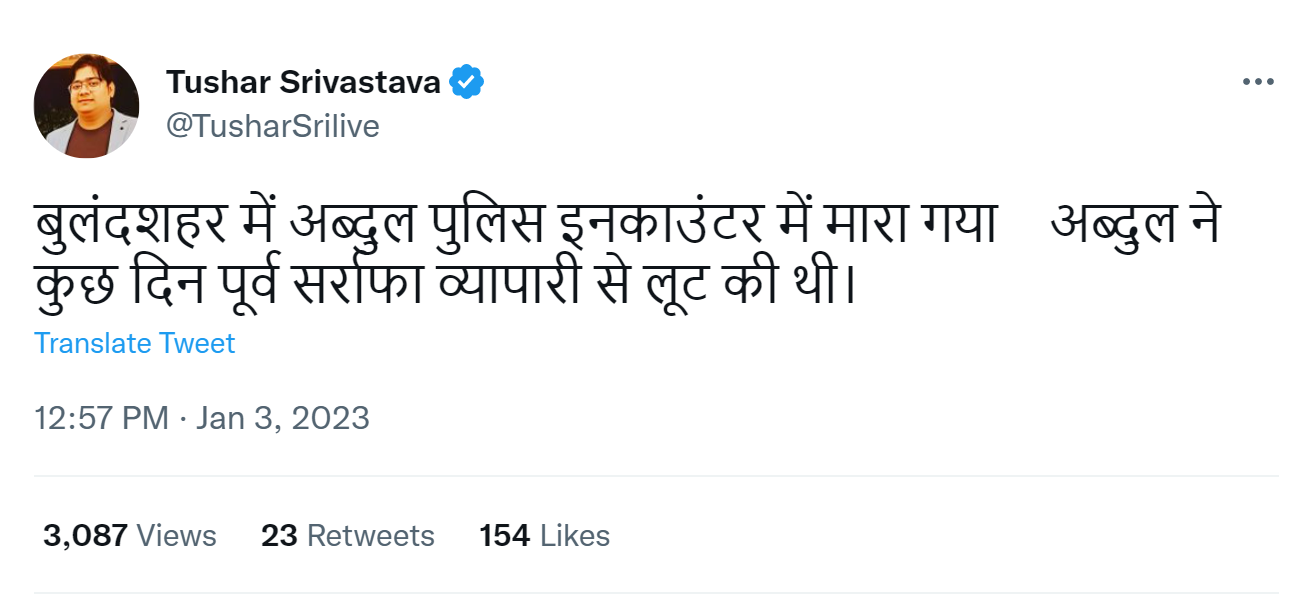 A user who goes by the name 'Janardan Mishra' also wrote on Twitter, "Khurja police killed Abdul accused of jewellery shop robbery in Bulandshahr. Keep in mind, Baba is in power and not Babar".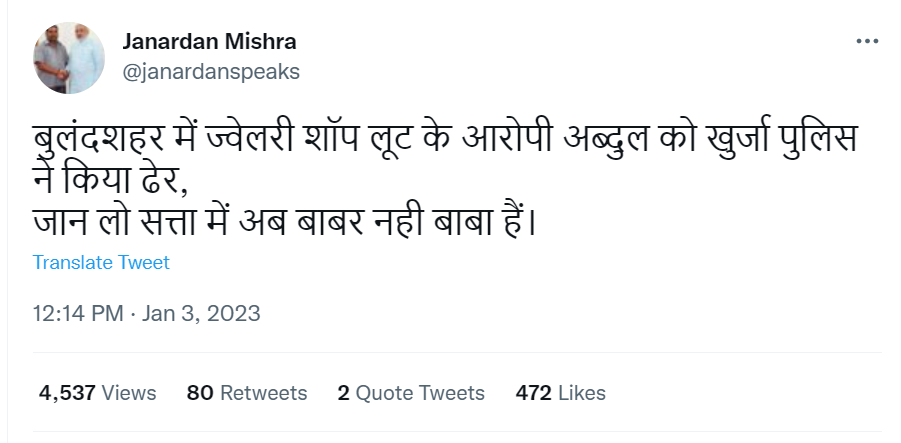 This claim was also shared multiple times on Facebook and Twitter.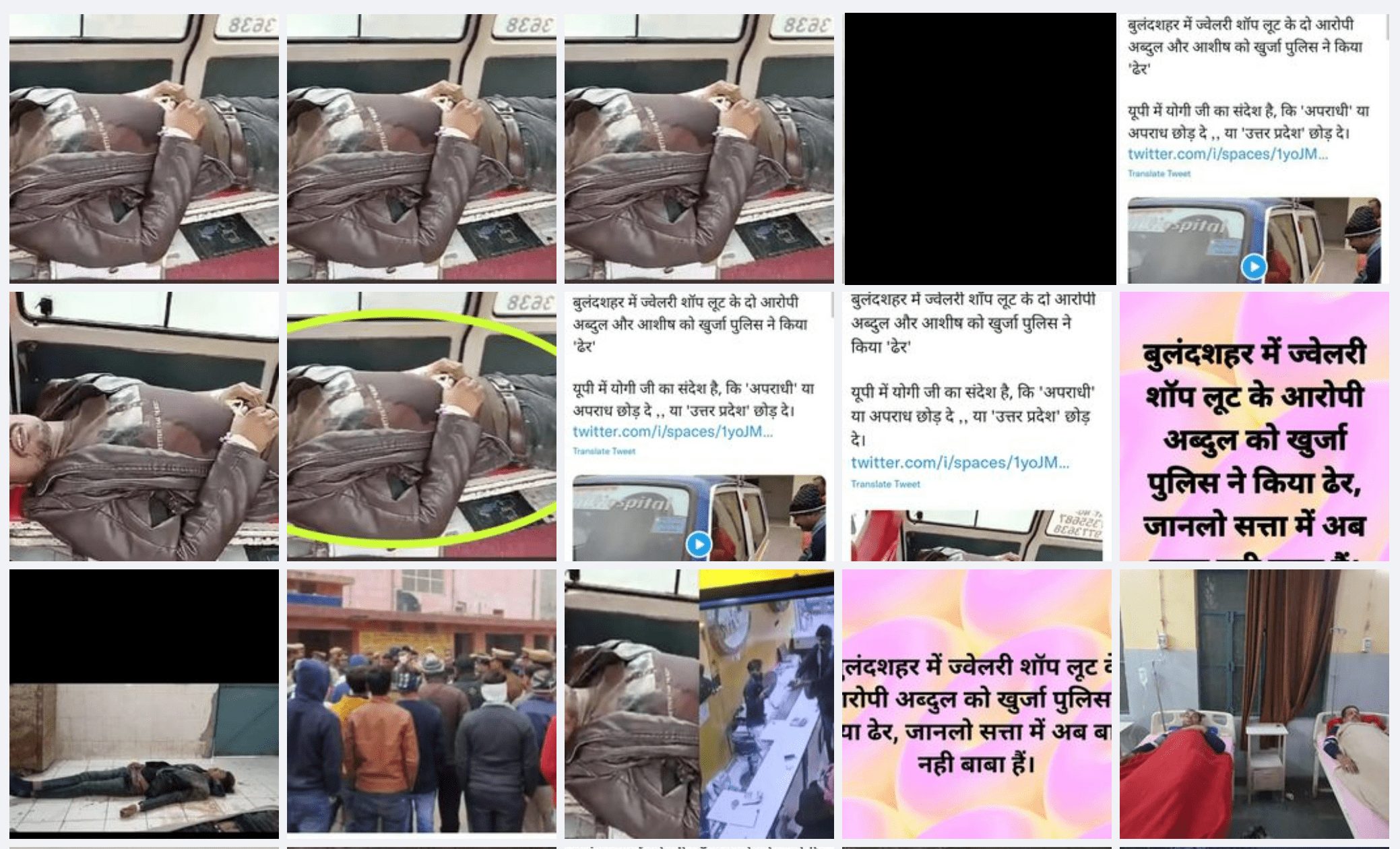 Fact Check
We performed a keyword search on Twitter in English and came across a tweet by journalist Piyush Rai shared on the platform on January 3.
As per Rai's tweet, there were two suspects namely Ashish and Abdul who had robbed a jewellery shop in UP's Bulandshahr in November last year, and they were killed recently in separate police encounters. One of the accused had shot at a jeweller.
Two suspects -Ashish and Abdul- involved in an armed robbery at a jewellery shop in UP's Bulandshahr in November'22 were killed in seperate police encounters last night. They had shot at the jeweller during the heist. pic.twitter.com/XMEVXx1KKb

— Piyush Rai (@Benarasiyaa) January 3, 2023
Additionally, we performed a Google search in Hindi using relevant keywords and came across a news report by Amar Ujala published on January 3. As per the report, a robbery was carried out by two armed miscreants on November 3, 2022, in the town of Kotwali in Bulandshahr. During this robbery, they shot at the jeweller, Rahul, a resident of Utrawali village. Rahul sustained serious injuries.
Later, the police filed a case against unknown miscreants and arrested four individuals on charges of helping the miscreants and buying some of the loot. However, the two main accused in the robbery, Ashish and Abdul, had been absconding.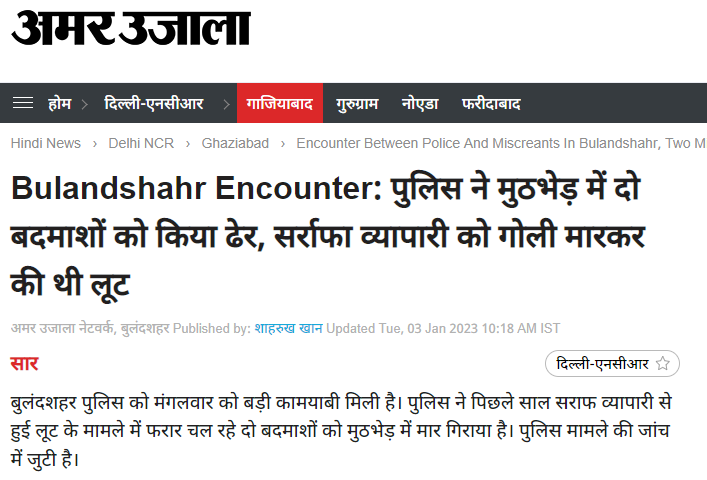 The report further adds, on the morning of January 3, the police killed Ashish Thakur in an encounter. However, his co-accused, Abdul escaped. He was later captured during a police check where he allegedly fired at the officers. In return fire, Abdul was killed.
A conversation with Bulandshahr SSP Shlok Kumar is also available on YouTube where he narrates the details of the encounters and the alleged criminal history of the two accused.
To sum it up, two miscreants who were part of an armed robbery were killed in separate encounters in the early hours of January 3. Sharing a video of one of the accused lying inside an ambulance, prominent social media users such as Prashant Patel Umrao and Sagar Kumar attempted to give communal colour to the case by providing only half of the information.
Both Prashant Umrao and Sagar Kumar are habitual offenders when it comes to sharing false and misleading claims. In 2022, both of them shared misinformation at least nine times, as the Alt News year-end compilation shows.
Donate to Alt News!
Independent journalism that speaks truth to power and is free of corporate and political control is possible only when people start contributing towards the same. Please consider donating towards this endeavour to fight fake news and misinformation.