There are several urban legends regarding Prime Minister Narendra Modi which circulate on social media. We've heard how "Narendra Modi had been declared the best prime minister in the world by UNESCO" or Julian Assange of Wikileaks fame stating that "Modi is incorruptible". Both these claims turned out to be false. Similarly, an elaborate hoax started by certain supporters of PM Modi was about how a bureaucrat who had retired in February 2014 decided to rejoin Modi's PMO and the story he narrates about Modi's work ethic. Here's the story.
True story by Manish Malhotra ,an Indian MBA in U.K
===============
My close family member is a key member in PMO . Let's call him Mr A for simplicity
So Mr. A

had retired in Feb 2014

and he was happily spending his time with the family. He has spent almost all his career with Congress Govt. In his daughters wedding all the array of Congress leaders had come. Kapil Sibal and Ashwini Kumar are his family friends
Now in May 2014 after Modi took over he looked at officers and did a big reshuffle. He still had major gaps to fill. So he recalled 7 officers who had retired recently based on their excellent track record.
Mr A was one of them. He was not too keen as he had post-retirement plans. However to cut the chase he was finally convinced for a year…,
He is not a fan of BJP and Modi
Then began the mad drill. Life turned upside down. Even on Holi and Diwali days he and the entire team is with Modi. On Diwali day he came home 11 in the night. Last week he agreed to extend his contract by another year.
He said in last 44 years in Govt

he has never worked so hard and so much.
He was recently telling me that he is worried the way Modi is working he may be harming his own health
Apparently many times he skips regular meals to accommodate some requests.
He is working avg 18-20 hours a day!
When I asked him why doesn't he respond to allegations against him. He laughed and said he has reached state of self actualisation. Every meeting they have, he runs through it for 30 mins and than

he always ask the same question to everyone in every meeting ' What more can we do to make India better'

24×7 he is on the over drive working on it.
Mr A said a recent example where they finished a meeting at 12 in the midnight and as they were walking out there were 3 groups of people waiting for him.
Coincidentally he had meeting on another topic at 8am in the morning the very next day. When they were walking in at 8am, the 3rd group from previous night was walking out.
And later he came to know from his secy that PM hasn't slept for 36 hours !
And this is when it is business as usual and not national emergency..
Mr. A says he does not know whether Modi's health will survive this self inflicted tough schedule or if he will even win the next election
However he is clear of one thing… In this 5 years he will leave a lasting legacy…
This tale about Mr Modi was widely circulated on social media with thousands and thousands of shares. It had become so viral that it even appeared on a Times of India blog. This is one of those typical posts which glorifies Mr Modi as to how hard working he is. Apparently, someone called Manish Malhotra, who is an 'Indian MBA' from UK and has a close relative in the PMO, is the source of the article. The close relative is referred to as Mr A.
What is the truth?
Alt News did some basic fact-checking to ascertain the veracity of this story. Here is what we found.
1) The post claims that Mr A. has been an officer in the Govt for last 44 years and retired in Feb 2014. The typical retirement age of IAS/IPS/IFS officers is 60. So if Mr A was 60 in 2014, he must be 62 now. 44 years of service means he was appointed at the age of 18! We googled for the youngest IAS/IPS officer and couldn't find anyone less than 22 years of age. Some of the youngest officers have been enlisted in this Quora post.
Even if we assume that Mr A got an extension for 3/4 years, he couldn't have had 44 years of service. Moreover none of the youngest IAS/IPS officers that we found in our research are in the PMO. In fact, the lower age limit to appear for the UPSC exam through which IAS, IPS, IFS officers are chosen is 21. Wonder, in which country did Mr A appear for an IAS exam at the age of 18!
2) We checked the list of officers listed on PMO site and googled each one of them for their current employment status. Only 3 officers in the PMO right now are among retired IAS/IPS/IFS officers – Nripendra Mishra, Ajit Doval and PK Mishra. None of these officers retired in Feb 2014 or anywhere close to it. Nripendra Mishra's age is 72 and Ajit Doval's age is 73, so they retired almost a decade ago and much before Feb 2014 when Mr A supposedly retired. PK Mishra's age is 68, so he retired at least 5-7 years ago, again much before Feb 2014. So, who is this Mr A who supposedly retired in Feb 2014? He's nowhere to be found on the list of officers on PMO's site. The complete list of officers can be found here.
The story keeps getting posted and shared on various social media platforms at regular intervals.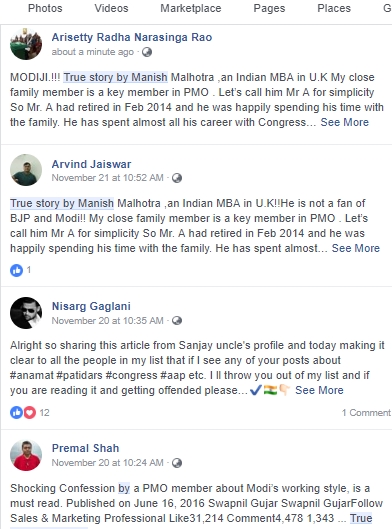 Thus it can be safely concluded that this entire post is someone's figment of imagination, which has taken flight on social media.
Donate to Alt News!
Independent journalism that speaks truth to power and is free of corporate and political control is possible only when people start contributing towards the same. Please consider donating towards this endeavour to fight fake news and misinformation.