A video which shows policemen thrashing women is circulating in the context of protests against the Citizenship Amendment Act (CAA) and the National Register of Citizens (NRC). Among the group of women is one who's worn a burqa.
अगर #मिडिया नही‌ दिखायगा तो‌ हमे ही पुरे #भारत को‌ यह दिखाना होगा ।
VIRAL करो बजरडीहा वाराणसी pic.twitter.com/uff85Acd1m

— Md Saqib Raza (@mdsaqibrazaaem) December 27, 2019
A Twitter user has shared the clip with the caption, "अगर मिडिया नही‌ दिखायगा तो‌ हमे ही पुरे भारत को‌ यह दिखाना होगा । VIRAL करो बजरडीहा वाराणसी" (Translation: If the media doesn't show then we will have to show it to all of India. Make the video viral. Bajardiha Varanasi.).
Another user tweeted the same video with the identical caption. An archived version of the tweet can be accessed here.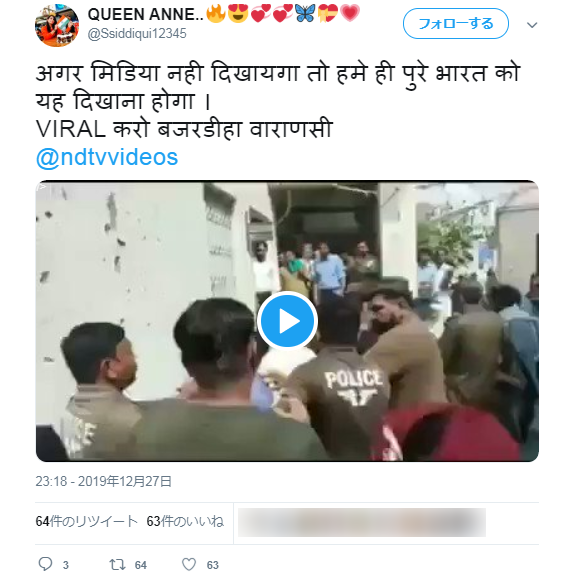 The caption implies that the video is related to anti-CAA protests in Varanasi where police used force to disperse protestors in Bajardiha.
Fact-check
A closer look at the video shows that the policemen are wearing a badge of the flag of Pakistan on their uniforms.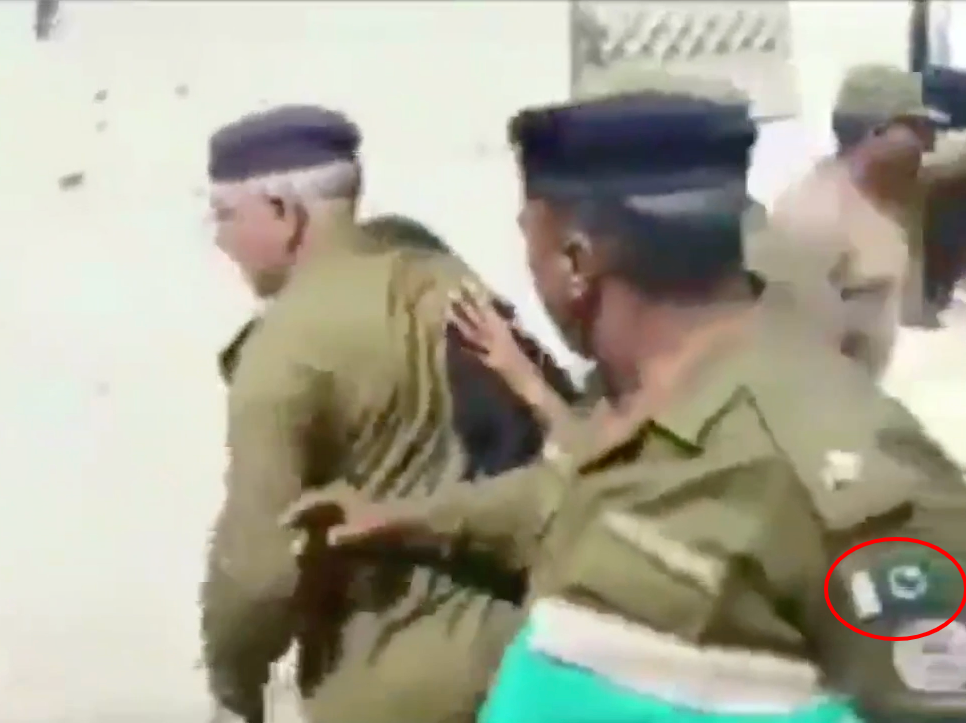 A reverse search of a frame from the video on Yandex led us to several tweets by Pakistani users where the same video was shared. The earliest we found was from June 26, 2019.
یہ تو واقعی نیا پاکستان بن رہا ھے😡 pic.twitter.com/hIBoTFSJT2

— T̤a̤l̤h̤a̤ G̤h̤o̤ṳr̤i̤ (@TalhaGhouri786) June 26, 2019
EARLIER VIRAL AS 'KASHMIR'
The same video was viral in September with the claim that Kashmiri women were assaulted by the Indian army. From the Facebook account of one Shamim Hossain, the clip garnered 41,000 shares.
#Kashmir_Muslim_Woman_Tourture_By_Indian_Army ||😥
#Kashmir_Muslim_Are_Helpless_in_Current_Word ||
#Free_Kashmir
#Save_Muslim☪

Posted by Shamim Hossain on Saturday, 7 September 2019
AFP had then debunked the video and uploaded a June 27 YouTube video in its report which said, "punjab police beaten women in #multan – police beaten women in court."
An old video of Pakistan police assaulting women is being circulated with the false claim that the cops in Varanasi, Uttar Pradesh thrashed the women.
Donate to Alt News!
Independent journalism that speaks truth to power and is free of corporate and political control is possible only when people start contributing towards the same. Please consider donating towards this endeavour to fight fake news and misinformation.