[The following story includes graphic photos and videos. Readers' discretion is advised.]
In the first week of September, Alt News started receiving multiple requests daily to verify audio and videos clips related to incidents and/or rumours of child kidnapping. The volume of requests was unusually high and most of them were from one of India's largest states, Uttar Pradesh. In all of these cases, an individual or a group was assaulted by the general public on the suspicion that they were child kidnappers.
Based on this, we started analyzing news reports using keyword searches, and also monitored social media. We observed that the attacks on individuals increased exponentially between August 30 and September 13. On August 30, a mentally challenged woman was assaulted by villagers in DK Shikarpur, West Champaran, Bihar. The same day, in Uttar Pradesh's Phoolpur, a group of sadhus were detained by police over child kidnapping allegations. In many cases, sadhus and mentally challenged individuals were at the receiving end of mob attacks over child theft rumours.
In Prayagraj, even health department officials were not spared when they went to a village to spray larvicide in and around the home of a dengue patient. Villagers assumed them to be child kidnappers and started chasing them. The health workers barely managed to escape. Later, on the outskirts of the village, they met the elders of the village and explained to them that they were health workers. This incident was reported by Amar Ujala on September 13.
Dainik Bhaskar reported that eight people on their way to work were attacked by villagers in Bihar on September 9. On the same day, it was reported that four workers of a telecom company were attacked by locals in Kasganj, UP, on suspicion of child abduction, before police rescued them. On September 11, Jagran reported that three youths who had gone to a village in Uttarkhand to buy contraband were assaulted by villagers for similar reasons. Police personnel who who went in to control the situation were not spared, either. Again, on September 12, a couple was attacked by villagers in UP's Pilbhit while they were travelling with their daughter. According to Jagran, the couple and the three-year-old child were on a bike, during which she started crying. This aroused suspicion in onlookers and they started attacking the man.
Between August 30 and September 13, the number of instances in which sadhus were attacked stood at six, while in eight cases, mentally challenged individuals were at the receiving end. The total number of attacks/assaults in the span of 15 days was 27. September 1 to September 13 witnessed 25 attacks.
We also found that 17 attacks occurred in Uttar Pradesh, followed by seven in Bihar, and one each in Karnataka, Maharashtra and Uttarakhand.
What led to this wave of child kidnapping rumours in such huge volume is difficult to determine. However, the seeds of it were sown over a period of time. Scripted videos showing incidents of child kidnapping have been doing the rounds on social media for months now, each video different from the other. Some were even shared with communal messages, but the basic narrative remained the same. A group or an individual steals children and is either caught, or successfully escapes. Most of which happens in the open.
The catalysts: Scripted videos, doctored clips, unverified audio, unrelated videos and more
By end of August, two such staged clips were viral on social media. In the first clip, we see three men haggling over money and apparently unconscious children lying around them. In the second clip, we see two masked men being confronted by a group of people, it also shows children lying in the back seat of the car.
Below we have embedded the first clip. (Archive link.)
वीडियो को देखकर आपकी आंखें खुली की खुली रह जाएंगी पैर के नीचे की जमीन खिसक जाएगी कलेजा एक बार दहल जाएगा वीडियो कहां की है यह तो नहीं पता है वीडियो कहीं की भी हो प्रशासन को हरकत में आना चाहिए pic.twitter.com/EzMkXxmKXv

— Sunil Yadav (@SunilYa59918245) July 6, 2022
The second clip is not available in the public domain, however, we have added screengrabs from the viral video.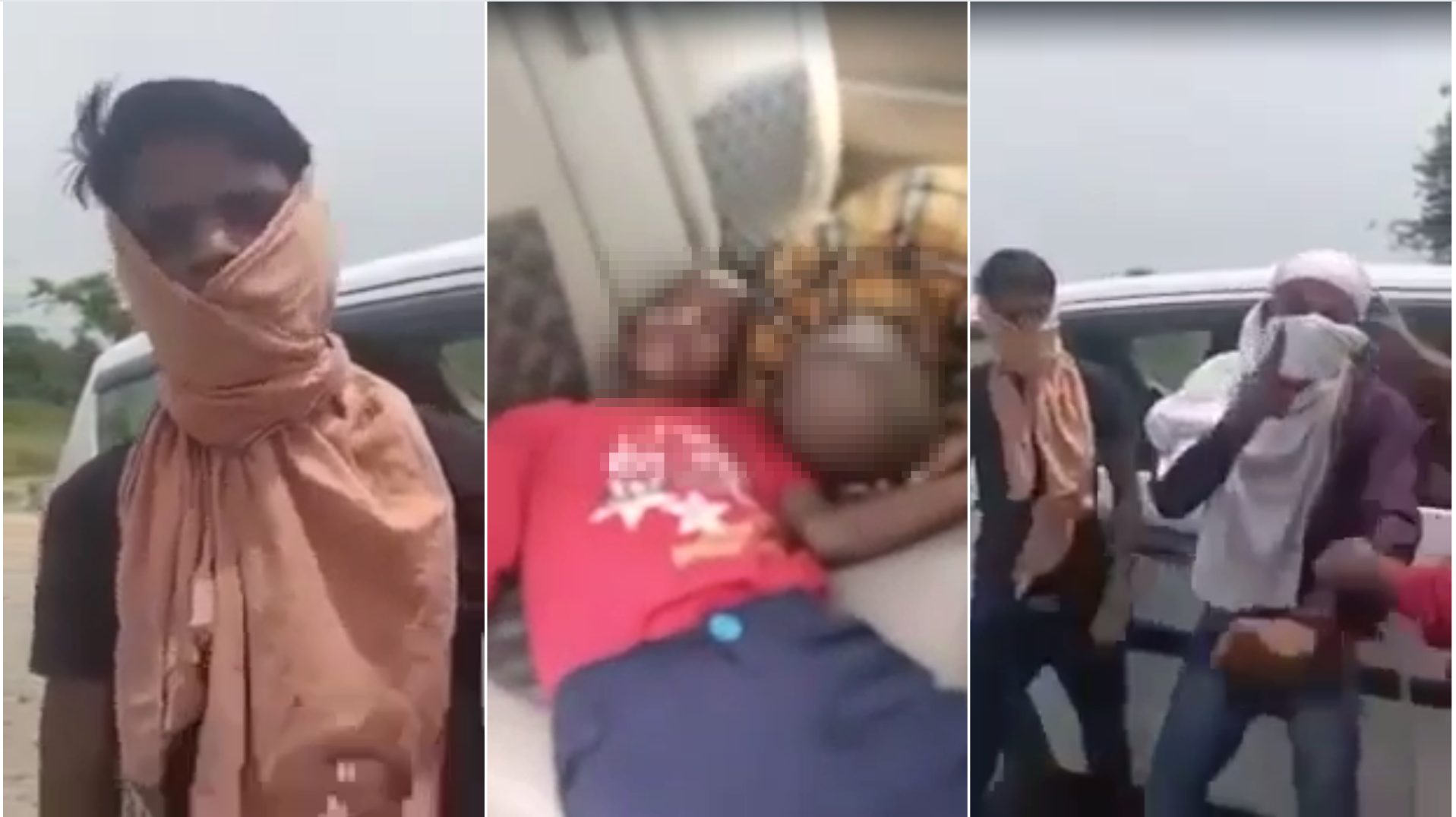 Both the videos were debunked by Alt News and The Quint fact-check. In fact, the second scripted video was debunked by The Quint in the beginning of July. However, both videos continue to be circulated on WhatsApp.
During this wave of rumours, even older clips tarted to surface online. One such video is a staged clip of a burkha-clad man stealing a child. The video was shot in Egypt but it viral in the Indian context. Again, the clip had been debunked by Alt News and various other fact-checking organisation in July but it continues to surface online as a genuine clip. July, in particular, saw two more instances of scripted child kidnapping videos going viral. In one video, a woman can be seen stealing a child of a deaf and mute woman. And in another, a burkha-clad man can be seen running with a child. Both clips were subsequently debunked by Alt News.
Scripted video as a phenomenon has been documented thoroughly by Alt News. Readers interested in going through the database can do so by clicking on this link. In June this year, Alt News also wrote about scripted 'CCTV' videos, how people fall prey to them and the economy behind it. The full story can be read here.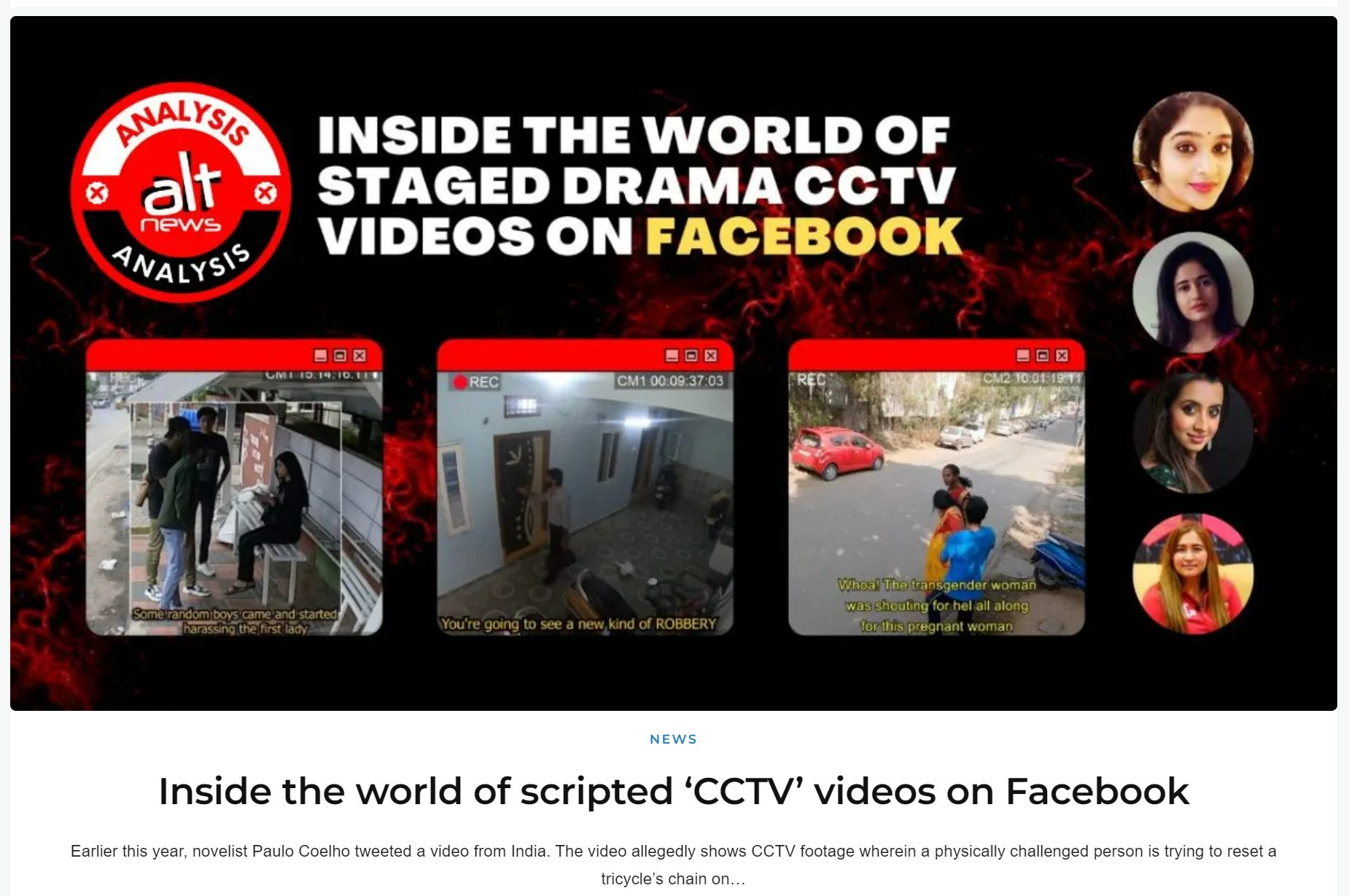 In a trend that was not noticed earlier, the present wave of child-heft rumours have seen unrelated audio/video clips getting clubbed and circulated as a single incident. For instance, a video clip of a sadhu getting beaten up was accompanied by an unrelated voice-over that appears to be a public announcement.
The audio clip asks people to be vigilant as a 'baccha chor gang' (child kidnapping gang) is out there and they kidnap the kids for organ trading or child trafficking. The clip says these gang members are disguised as sadhus (sage), kabdiwala (junk seller), fakir, and pheriwalas (hawkers). The clip also says that if an unknown person stops their car in front of you asking for direction, you should step away. The recording ends with the man saying, "Audio Recording Abrar Chhotu, Sitapur".
Adding legitimacy or authority to these rumors, there was another doctored video that was making the rounds on social media, where a police officer could be seen speaking to the media on child-kidnapping rumours. It had a similar voice-over. The words spoken in the two clips are similar: Don't open your doors for pheriwalas (hawkers), kabadiwala (junk sellers) sadhus (sages), or even bhikari (beggars). The voice also claims that 500 people, disguised as beggars, have come from Bargadwa. They take hostage whoever they come across on their way and sell their hearts and kidneys. The clip concludes by saying that this was said by SP (city) Dr Kaustab while talking to media outlets in Gorakhpur.
This doctored clip was debunked by Alt News in 2019, however, it is still circulating as a genuine video clip even in 2022.
Another video that has been viral in the current cycle of rumours about sadhus being involved in child theft is a video from Raisen, Madhya Pradesh. In the beginning of August, villagers in Raisen caught a group of thieves disguised as sadhus who had stolen jewellery from a woman in the name of performing prayers. Villagers later handed them over to the police. This particular video is now being shared as a case of child kidnapping. The clip of "Abrar chhotu" or the doctored video of Sitapur police is clubbed with this to give it an air of legitimacy.
Alt News debunked this clip on September 8, 2022. However, the video went viral again within a week as a case of villagers in Maharashtra mistaking sadhus for child kidnappers and thrashing them. This video was shown by various prominent media outlets and was subsequently debunked by Alt News.
Another video, where a sadhu begging for alms got into a confrontation and was beaten by villagers is also viral as a case related to child theft. Police clarified that it was not a case of child kidnapping. However, the public should maintain caution and should not pay heed to such rumours.
Graphic videos claiming to show incidents of organ trading
Scripted videos, unverified audio clips or mob thrashing sages are just the tip of the iceberg. There are videos that are graphic in nature and are viral as incidents of child kidnapping. In one clip, the bodies of three minors can be seen lying on the ground while they are surrounded by villagers who can be heard crying. It is accompanied by a claim that a group was caught red-handed stealing kidneys and killing children.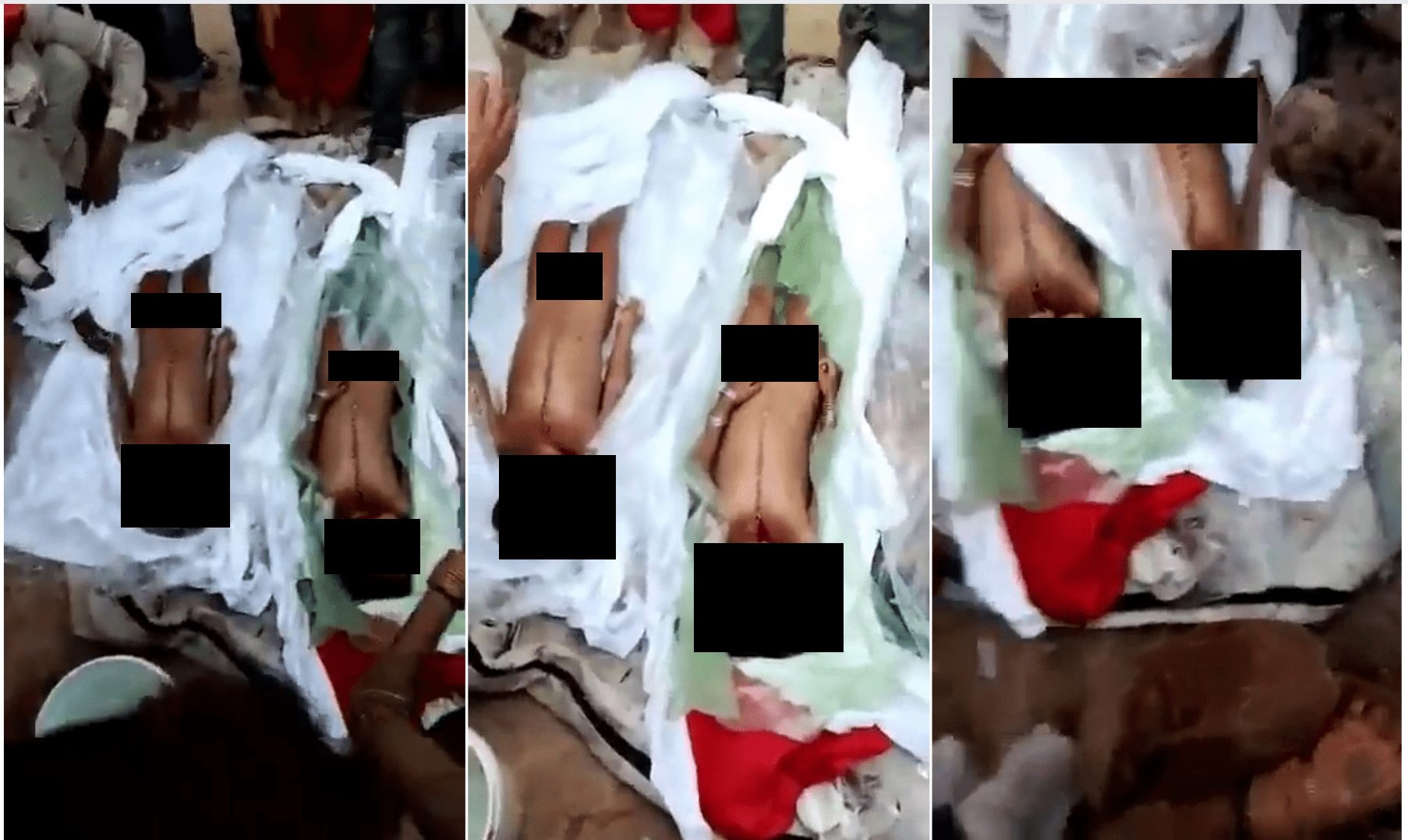 Alt News could not determine when or where this video was shot. However, we did speak to medical practitioners who could confirm that the bodies appear to have been recorded after post-mortem as they have 'Y' shaped central incision and even the sutures (surgical threads) are visible. Such incisions are not made during 'kidney transplants' as the accompanying claims suggest.
There is also a clip where a man can be seen tied to a pole and his gut is being cut open. This clip is being shared with one of the scripted videos without any accompanying caption. The viewer is left to assume that the two clips are related.
Alt News could not determine the origin of the video in which the man's body is cut open. However, it is certain that the video is from South America based on the language that could be heard in the video. A second video from South America is also viral as an organ trading/human trafficking video. The clip recently went viral as a case of 'love jihad' in Kerala. 'Love jihad' is a conspiracy theory according to which Muslim men are trained to trap Hindu women and marry them to convert them to Islam.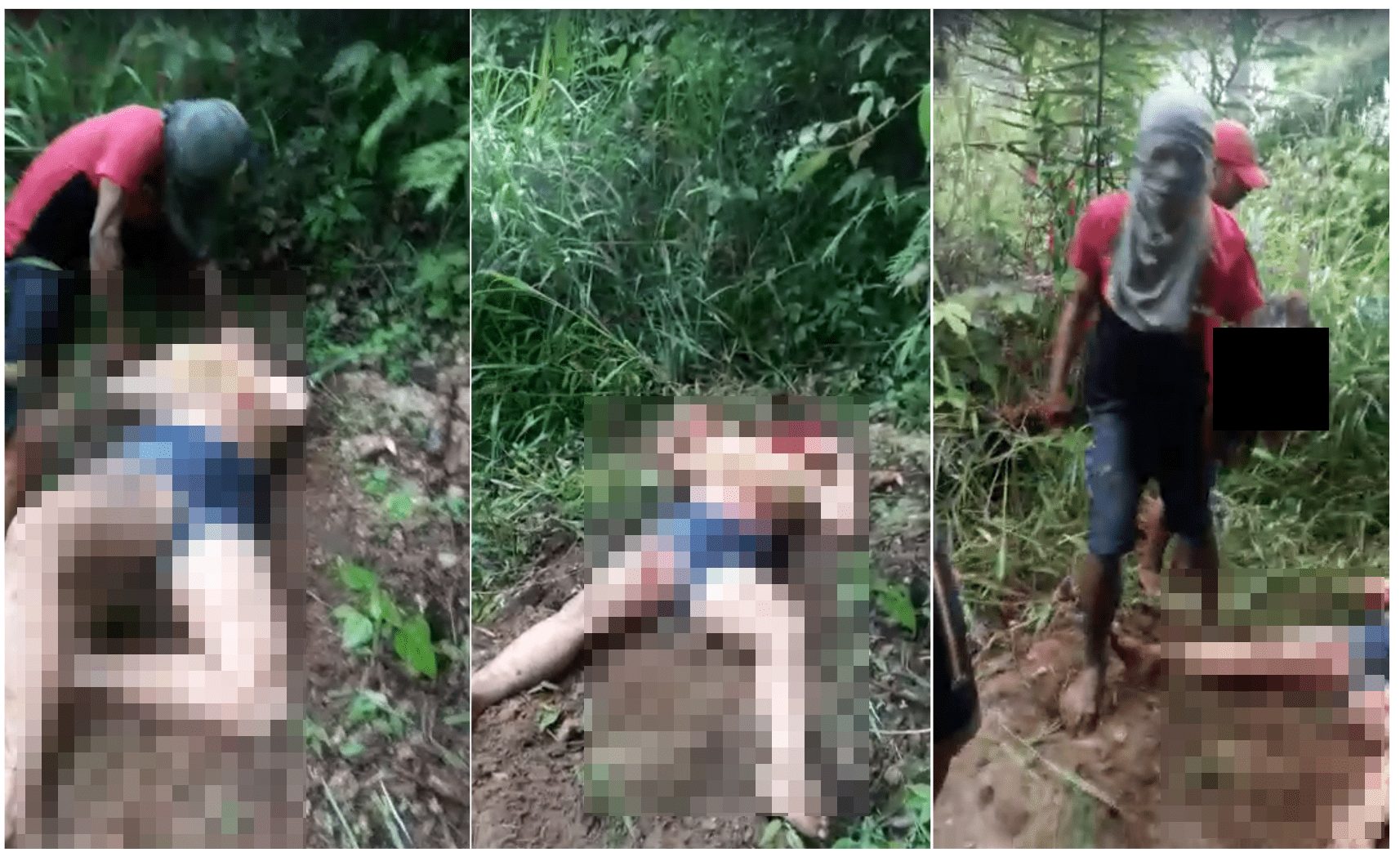 The clip was debunked by Alt News back in 2019 when it was viral as an incident from Rajasthan.
Patterns similar to 2017-2019
In 2018, BBC's analysis of millions of English language reports found that at least 31 people were killed in 23 incidents related to child kidnapping rumours between 2017 and 2018 and dozens more were injured. It also found that 20 of these violent mob attacks occurred between April and July 2018.
In July 2019, three local Congress leaders were mistaken as child kidnappers and were thrashed by locals in Madhya Pradesh. Based on a IndiaSpend database, between 2017 and 2019, 48 people have been lynched based on suspicion that they are child kidnappers.
Death of Nilotpal Das and Abhijeet Nath
In June 2018, Nilotpal Das and Abhijeet Nath were attacked and killed by villagers when they stopped at a village in Assam's Karbi Anglong to ask for directions. It was widely reported that in the weeks before the lynching, villagers had come across messages on Facebook warning that everyone should be on guard as phankodongs – the Karbi term for child lifters – were on the loose in the area.
Speaking to Scroll, a senior district police official said, "There had been a viral social media rumour doing the rounds in the area about child lifters, and these boys had appearances that nobody in the village had probably come across before. In the vehicle, there were two musical instruments: an almost five-foot-long hollow pipe and an ATC-[air traffic control] shaped drum with flashy colours – both of which would have been completely foreign to the villagers. On top of that, they were riding a black Scorpio (SUV) at night. Everything that could go wrong went wrong."
The pattern above is very similar to what we have seen so far in 2022. On September 13, in Maharashtra's Sangli district, it was reported that a group of sadhus on their way to Solapur had lost their way. They were travelling in an SUV. They stopped at Lavanga village and approached a boy to ask for directions. The boy did not speak any language other than Kannada, apparently got scared looking at their appearance and started shouting. After which the villagers intervened and attacked the sadhus. Similarly, the telecom workers attacked by locals in UP's Kasganj on September 9 were travelling in an SUV. In some cases, we have seen locals attack mentally challenged individuals because they could not understand their language.
The pattern of attacks is also similar to what has been said in unverified audio clips and doctored videos that we mentioned in the beginning of the story. "Child kidnappers are disguised as sadhus (sage), kabadiwala (junk seller), fakir, pheriwalas (hawkers), and bhikari (beggars)", was said in the audio clip. It also said to stay vigilant of people who stop to ask for directions.
Not just a law and order issue
In the past, police have typically tried to deal with the menace by making videos requesting people not to pay heed to such rumours. In 2019, UP DGP shared a video on Twitter asking people to be aware and not fall for such forwards. Police in other states, too, took the same approach. They either made public safety awareness posts on social media or requested media organisations to help spread their messages.
बच्चा चोरी के सम्बन्ध में भ्रामक सूचना/अफवाह पर विश्वास न करें, जिम्मेदार नागरिक की तरह #UPPolice की सहायता लें।
इस संबंध में @dgpup द्वारा जनता के नाम संदेश #UPPAgainstFakeNews pic.twitter.com/iq6Zwyir87

— UP POLICE (@Uppolice) August 28, 2019
In some cases, police went to marketplaces and other crowded areas making announcements asking people not to take law into their own hands or forwards child kidnapping rumours. More such clips can be found here.
बच्चा चोरी की अफवाह पर ध्यान न दे ! कोई संदिग्ध व्यक्ति दिखे तो तत्काल @up100 डायल करें या स्थानीय पुलिस को सूचना दे, कानून को अपने हाथ में न लें! SHO लाइन बाजार द्वारा लोगों को बच्चा चोरी की अफवाह के बारे में जागरूक किया गया। @Uppolice @dgpup @adgzonevaranasi @IgRangeVaranasi pic.twitter.com/xg4gRvnYAB

— Jaunpur police (@jaunpurpolice) September 4, 2019
The approach of law enforcement in 2022 has been the same i.e., to visit village to village, location to location to inform the public about maintaining caution and not taking the law into their own hands. Police in states like UP (1,2,3,4) have also taken to social media requesting people to exercise restraint. This is the same as what they did in the past.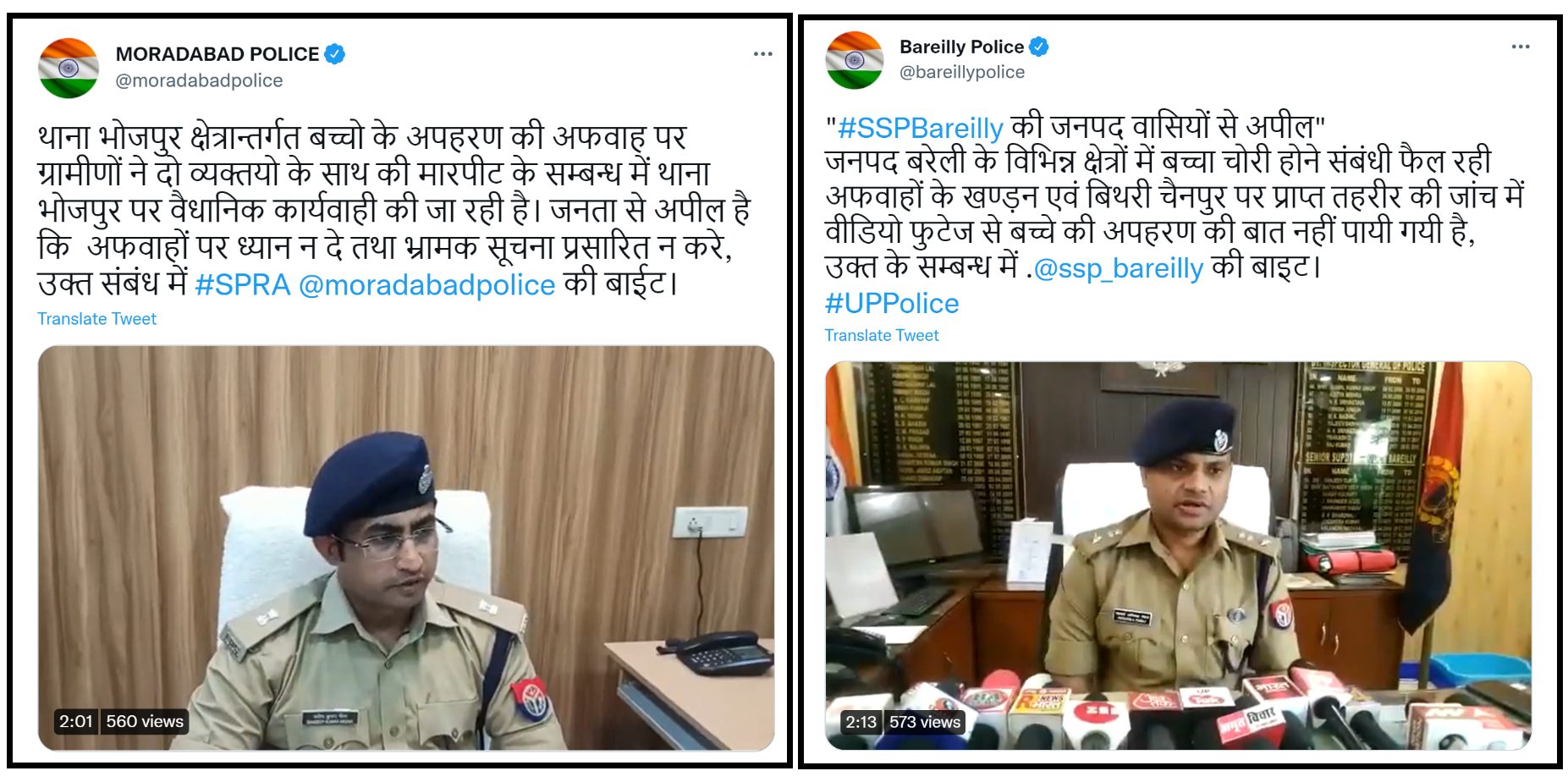 In Uttarakhand, in 2022, it was suggested that people found sharing child kidnapping rumours could be charged under the National Security Act (NSA). The same approach was taken by UP Police in 2019. Back then Uttar Pradesh Director General of Police OP Singh told IANS that NSA would be slapped against people found involved in "rumour-mongering". Interestingly, the idea of charging people with NSA for sharing child kidnapping rumours was also proposed again in 2022 by the UP Police.
While police have considered them culprits, many believe that they are the victims as well, as they have fallen prey to rumours. One might argue that those who view child-theft rumour cases and resultant assaults just as law and order issues miss the larger point that parents become soft targets of these rumours because they fear for the lives and safety of their children. It needs a larger initiative from the government — which may include community awareness programs — to fight the menace. This becomes clear when we look at the rural areas of Varanasi. It has been reported that parents have stopped sending their wards to schools owing to child kidnapping rumours. This is despite repeated calls by Varanasi Police (Rural) saying that there are no child kidnappers in the area and people should not flame such rumours.
Limitations with methodology
The limitation of the methodology deployed by Alt News in doing this analysis is that we found most cases using keyword searches in Hindi or English and some cases of violence through social media monitoring. Depending on the "phrases used" the output may be higher for some states while it may show none in other cases. Same for monitoring; a state may show higher results of violence over child kidnapping depending upon how the news or rumours were monitored. No separate accounts were used for monitoring. The author used their own personal Twitter account and the Alt News tipline for the monitoring process.
Donate to Alt News!
Independent journalism that speaks truth to power and is free of corporate and political control is possible only when people start contributing towards the same. Please consider donating towards this endeavour to fight fake news and misinformation.