An image of what appears to be a newspaper article has been shared widely on WhatsApp. The headline of this article is '31 दिसंबर के बाद बदले नहीं जा सकेंगे 2000 रूपये के नोट !' (2000 rupee notes will not be exchanged after December 31- translation). The 'report' states that the Reserve Bank of India (RBI) is withdrawing the Rs 2000 currency note from circulation.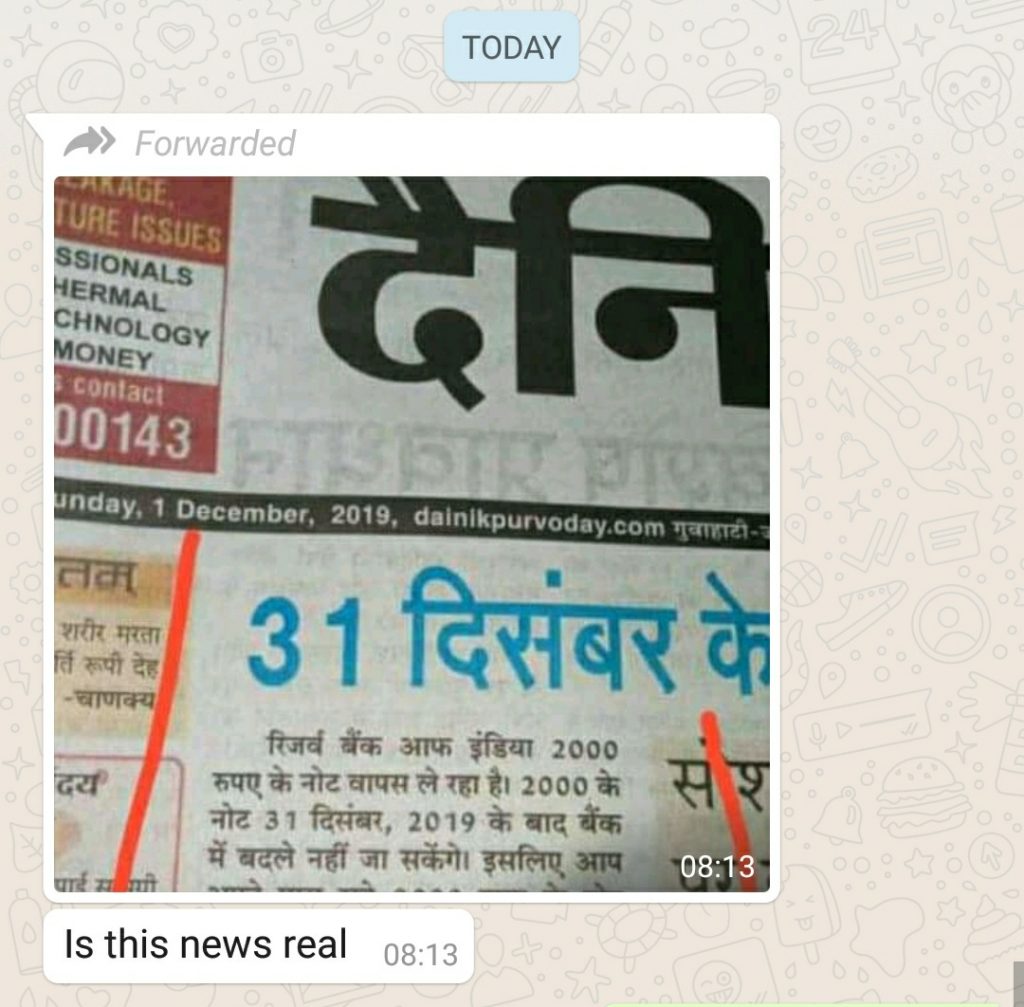 Alt News has received numerous requests on its official app for verification of this information.

FACT CHECK: CLIPPED IMAGE OF NEWSPAPER REPORT
The image in question has been taken from an e-paper Dainik Purvoday, a Hindi daily published in the northeast. The article in question was published in the Guwahati edition on December 1. Alt News found that a portion of the report was clipped and circulated on WhatsApp with the intention of misleading readers into believing this as genuine news. This report was a clarification of the said rumour, stating that the information of RBI withdrawing the Rs 2000 note after December 31, 2019, is false. This is evident from the e-paper of December 1, where the full report is visible.
As can be seen, the report clearly states in a box, "सोशल मीडिया पर वायरल खबर है फ़र्ज़ी " (The information viral on social media is false- translation).
Alt News contacted Mr Ravi Shankar, editor of Dainik Purvoday who clarified, "Someone has done mischief. A part of our report was clipped and circulated on WhatsApp, and this soon became viral. The report clearly stated that this information is false. A portion of it has been clipped and misused to mislead readers."
The newspaper published another report on December 8 asking readers not to be misled by the viral, clipped image of the newspaper report of December 1.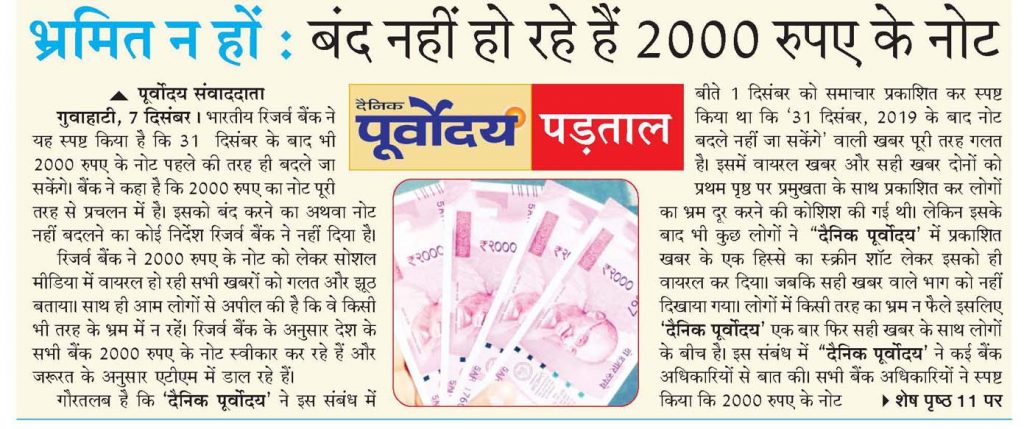 NO NEWS ON WITHDRAWAL OF Rs 2000 NOTE
It is NOT true that the RBI will be withdrawing the Rs 2000 currency note after December 31, 2019. There has been no such announcement from the Reserve Bank of India. Any communication put forward by the RBI is published on the official website of the Central Bank, where no such notification has been put up.
The misinformation was viral in October 2019. Alt News had contacted the Reserve Bank of India for clarification. Department of Communication, RBI had stated, "These are all rumours. There has been no such notification (by the RBI). Please refer to the website for all communication".
Moreover, Anurag Singh Thakur, Minister of State for Finance & Corporate Affairs, stated in a written reply to a question in Rajya Sabha on December 3 that there is no government proposal to phase out Rs 2000 notes.
The false news was also circulated through a morphed screenshot of a broadcast by Aaj Tak channel. It may be reiterated that there is no truth to the claim that the Rs 2000 note introduced after demonetisation in November 2016 is going to be scrapped by the end of the year.
Donate to Alt News!
Independent journalism that speaks truth to power and is free of corporate and political control is possible only when people start contributing towards the same. Please consider donating towards this endeavour to fight fake news and misinformation.