"We were very confident that we can never come to power. So our people suggested us just to make tall promises. Now people remind us of our promises…Now we just laugh and move on." says Union Minister Nitin Gadkari in 34-second clip which has gone viral on social media. Gadkari was on a Colors Marathi reality show, Assal Pavhane, Irsal Namune alongside Bollywood actor Nana Patekar as a guest on October 4. The Congress party was quick to take a jibe at Gadkari, tweeting this clip with a message that the Modi Government was built on 'jumlas' and fake promises.
Good to see Union Minister @nitin_gadkari concurring with our view that the Modi Govt was built on jumlas and fake promises. pic.twitter.com/DewDbnd16w

— Congress (@INCIndia) October 8, 2018
Next day, AICC President Rahul Gandhi had also tweeted the same video. Several media organizations like National Herald, The Week and Times of India have reported on the video. On October 10, Nitin Gadkari conducted a press conference to clarify that the media reports have misquoted him and jibed Gandhi, wondering if he understood Marathi.
This is false, I did not say anything on Modi ji or 15 lakhs etc. The program was in Marathi and I wonder since when has Rahul ji starting understanding Marathi?: Nitin Gadkari,Union Minister on reports that he said BJP over promised in 2014 elections pic.twitter.com/mqu9ELsiX7

— ANI (@ANI) October 10, 2018
#WATCH: Union Minister Nitin Gadkari clarifies on his earlier reported statement that 'BJP overpromised in 2014 elections'. pic.twitter.com/WCDkYiqSZf

— ANI (@ANI) October 10, 2018
Fact-checking the claim
On the basis of the claims made by Gadkari in the press conferenece, we tried searching for the complete video on the internet. Alt News found a promotional video of 69 seconds of the show featuring Nana Patekar and Gadkari posted on the official Facebook page of Colors Marathi on September 30, 2018. Although this is not the complete video, we are posting it for reference as it brings out the context in which the statement was made.
We accessed the full video uploaded on Voot, a digital platform of Viacom 18 network, which is hyperlinked here.
Actual Translation of the video
Alt News has translated the relevant portion of the video available on Voot. The translation is as follows (from 39:30 in the video).

Nitin Gadkari: Now, in politics, keep this in mind — politics is a game of compulsions, limitations and contradictions.
Nana Patekar: You're saying this now, but during elections, you had said something different
Nitin Gadkari: — had said something different…[Both laugh.]
Nitin Gadkari: Look, I — I shouldn't be saying this now — but I had spoken about two or three things — Devendra [Fadnavis] was President then and Munde was there, Gopinath Rao. I had said to them, 'Don't do the toll [tax] announcement.' […] I'll tell you what our problem was. We all had a firm belief, we were confident that we would never in all our lives come to power in the state. We were completely convinced of this in our minds. So our people said, 'Speak, say [anything], what's the harm, when are you going to be held responsible for it?' [Laughingly] And now we have come to power. […]
Nana Patekar: Gadkari, what [are you saying]?[Both laugh.]
Nitin Gadkari: That's the truth. Now you know what Gadkari said on which date, what Fadnavis said. So you ask us, 'You had said this, what next?' That's how it is. […] In politics, I'm a bit of an exception. I don't lie, I don't give false assurances. People don't believe the consequences I sometimes bear for this. I tell people, 'I won't do this, it cannot be done, so don't come to me.' Some people feel, 'Well, at least you tell us this upfront and save us the trouble of running back and forth.' They're happy. But sometimes, I do do things. I look into matters, I enquire, I laugh. Five or ten people go away speaking ill of me. So you… in the extremely poor state of our country's politics, people understand that you can't have such [ideal] politics.
State Elections, Not Union Elections

From the translation, it is evident that Nitin Gadkari's statement was about the Maharashtra state elections which had also taken place in 2014. He refers to "Toll" (tax), Devendra Fadnavis (then BJP state President) and the late Gopinath Munde. Hence, the claim made by the Congress party that the Union Minister was referring to promises made by the BJP in run-up to the 2014 general elections is incorrect. Gadkari's words are NOT in reference to the promises made by PM Modi but in-fact were in reference to promises made by the BJP to make Maharastra Toll free before the state elections.
#MAHAYUTI will find ways to make #Maharashtra toll free & will appoint an Experts' Committee to find solutions for it pic.twitter.com/i1FBhz3MIN

— Devendra Fadnavis (@Dev_Fadnavis) January 14, 2014
Media (mis)reports

Numerous media organisations reported Gadkari's statement, but with a twist.
National Herald
"Watch: Modi government was built on false promises, says Union Minister Nitin Gadkari" read the headline of the article published on October 8, 2018. The content of the report is in line with the headline. While reading the translation, it is evident that he was referring to the Maharastra politics and it is incorrect to suggest that he was speaking about the Lok Sabha elections.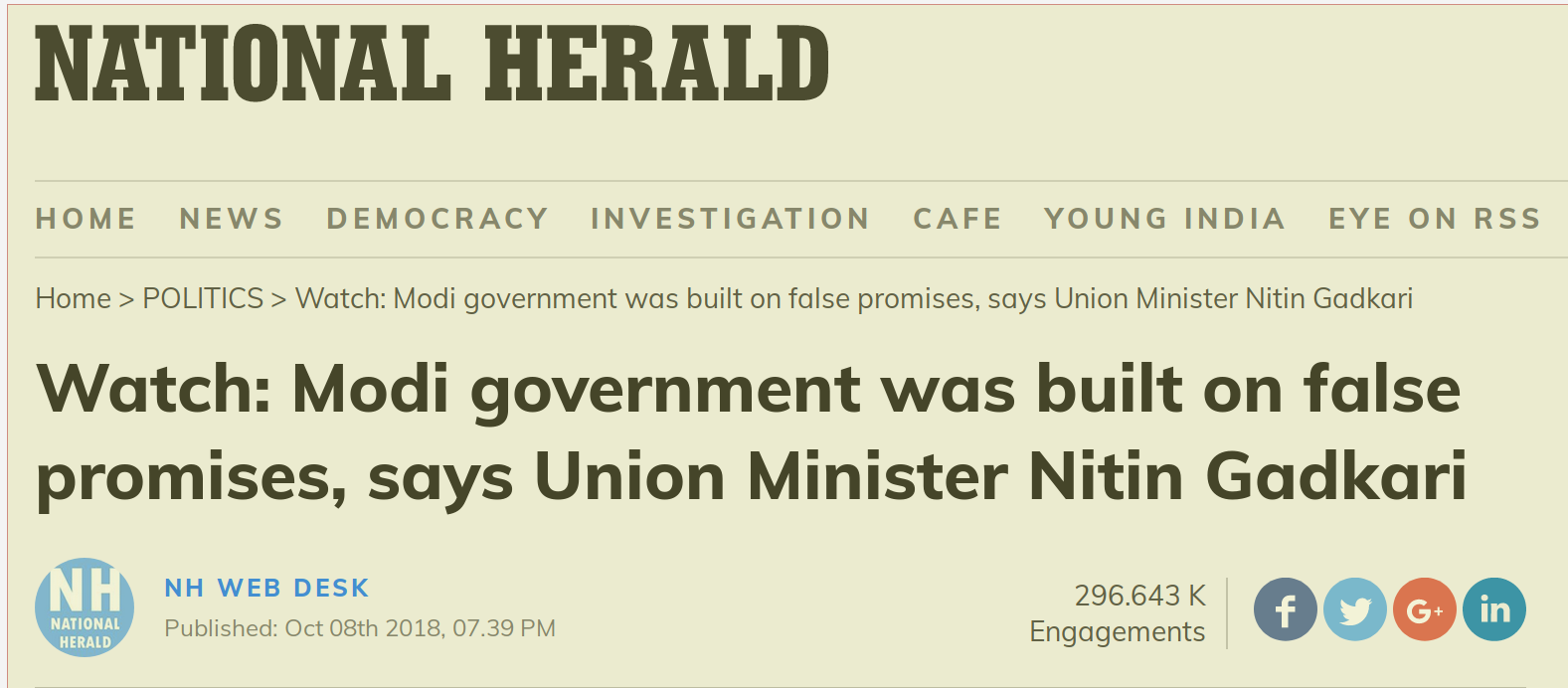 Times of India
Based on this clipped video, Times of India quoted his statement given in the video. The headline of the report published by TOI on October 10, 2018 stated, "Nitin Gadkari reveals why PM Narendra Modi vowed to put 15 lakh in your account." While the basis of the article is the video clip of Nitin Gadkari, it is worthwhile to mention here that the clip makes no reference whatsoever to 15 lakh statement by PM Modi during the 2014 general election campaign. Times of India's sister publication, The Economic Times has also published the same report on October 10, 2018 with the same headline.

Times Now (Hindi) on October 10, 2018 had also wrongly extrapolated the statement that it was about the 15 lakh promise made by PM Modi.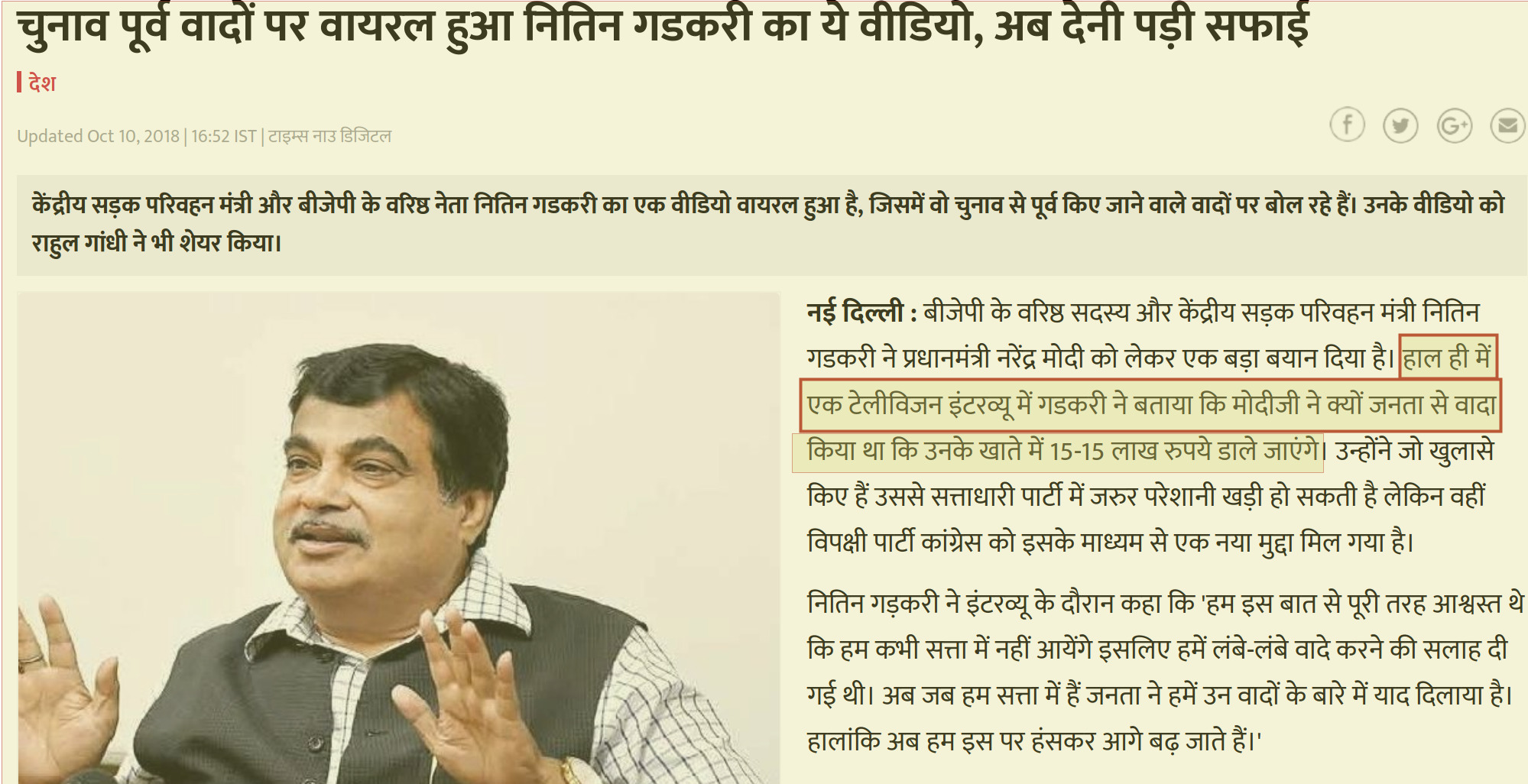 Although, the article goes on to report that the Union Minister has denied that the remark had anything to do with the 15 lakh promised before the 2014 general elections.

Ironically, Times of India had fact-checked the same claim on October 9, 2018.

The Week
An article published by The Week on October 9, 2018, was headlined, "Union minister Gadkari says BJP made false promises in 2014". The article has quoted Gadkari's statement from the clipped video. Once again, Gadkari's statement was linked to the general elections of 2014 as the article states, "The Congress received fresh ammo to target the BJP and the Union government after Union Minister for Road Transport and Highways Nitin Gadkari, in a TV show, admitted that the BJP made tall promises ahead of Lok Sabha elections in 2014."


The Wire
At 2:45 in an episode of Jan Gan Man ki Baat, Vinod Dua on basis of the clipped video raised questions over the context in which these words were uttered, "We believe that you were talking about the Maharastra toll tax, which you haven't mentioned like 15 lakh and Modi as you are saying. Likewise you have not mentioned about the Maharastra toll tax in that video. How do we believe that you weren't talking about the Lok Sabha elections because you haven't even mentioned about Maharastra elections." In the video, Dua claims that Gadkari makes no mention of the Maharastra toll tax issue. However seeing the video in it is entirety, it is clear that Gadkari did refer to 'toll tax' promise made by his party.
Meanwhile, other reports by Times of India and NDTV attributed to PTI have reported strictly on the basis of the clip without assuming the context in which the remark was passed by Gadkari.

Gadkari's controversial claim vis-a-vis tall promises made by BJP was bound to attract much attention. It is not surprising that the opposition party Congress decided to take potshots at BJP using a truncated, misleading version of the clip. However, it is inexcusable for professional news organisations who didn't do their due diligence and published reports based on the truncated clip and social media propaganda.
Donate to Alt News!
Independent journalism that speaks truth to power and is free of corporate and political control is possible only when people start contributing towards the same. Please consider donating towards this endeavour to fight fake news and misinformation.