"Finally, a congressman speaks…and speaks the truth!! It is time for @INCIndia to think about what they want Slavery of @RahulGandhi@priyankagandhi or NATION."
The above message has been tweeted by Gaurav Pradhan, a popular Narendra Modi supporter on social media. Accompanying the message is a video clip in which a bald gentleman is speaking to the camera. Pradhan, who has spread misinformation in the past, claims that this person is a Congressman.
Finally, a congressman speaks…and speaks the truth!!

It is time for @INCIndia to think about what they want

Slavery of @RahulGandhi @priyankagandhi or NATION pic.twitter.com/03bfiUKpM5

— चौकीदार #GauravPradhan 🇮🇳 (@DrGPradhan) February 18, 2019
The video clip is roughly two and a half minutes long. The video begins with the gentleman referring to a core committee meeting of the party, and then goes on to say that the mother and son are destroying the party. He further criticizes the nepotism and patronage that has come to characterize the party, and also refers to Manmohan Singh as a 'remote-controlled' leader. Towards the end of the video, he is heard saying, "These are my views" (translated).
It has been shared on Facebook by a page Namo Again 2019 with the claim that the person is Congress leader Ajai Rai, who will be contesting against Narendra Modi from Varanasi. The video clip has been viewed over 69,000 times so far and shared over 3300 times from this page since it was posted on April 25.
The video clip has been posted by several Facebook and Twitter users on their timelines.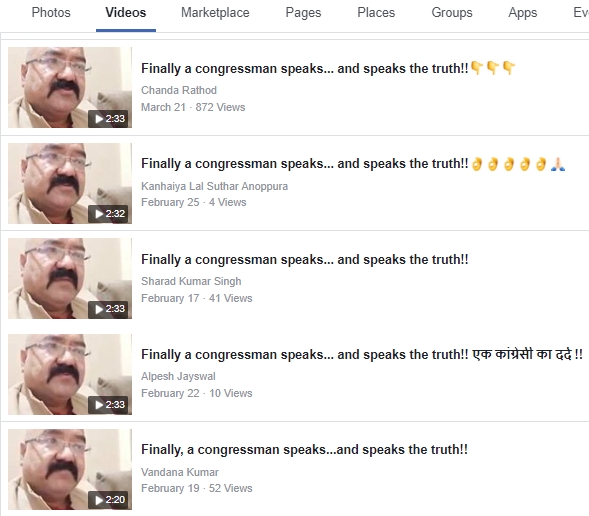 Person in video is not a Congress leader
The person seen in the video is not a leader or member of the Congress party as claimed by Gaurav Pradhan. Nor is he Congress candidate from Varanasi, Ajay Rai. He is Anil Boolchandani, a businessman and resident of Bhopal, according to his Facebook profile. Boolchandani had posted this video clip on his profile on February 8. It may be noted that the caption of the video says "मेरे दुवारा नाटकीय रूपांतरण…" (My dramatic act- translation).
It may be added that Boolchandani is a BJP supporter, as is evident from his Facebook profile. He was recently clicked with controversial BJP candidate from Bhopal, Sadhvi Pragya Thakur.
Mr. Boolchandani was merely staging an act, as asserted by him in the post above. This video was picked up by the pro-BJP social media ecosystem and circulated widely with a false claim.