"जहाँ चुनाव होना बाकि हो और अपने रिस्तेदार हो तो उन्हें ये विडीयो भेजे.. अगर हमारे समाज ने मोदी जी को ज्यादा से ज्यादा संख्या में वोट नही दिया तो विधर्मी *बांग्लादेशी मुसलमान और रोहिंग्या मुसलमान* कुछ ऐसा हाल करेंगे जैसा वे कोलकत्ता में कर रहे हैं। अभी भी वक्त है जाग जाओ! (Please send this video to your relatives who are residing in a poll-bound state. If our society doesn't come out in huge numbers for Modi then these heretics, "Bangladeshi and Rohingya Muslims", will repeat this act across the country, as they did in Kolkata. There's still some time left, wake up -translated)" 
The above caption was tweeted by a user Ananda with a video where BJP members can be seen beaten up by a crowd. One more user by the name of 'Hitesh' also tweeted the video with an identical narrative.
अगर हमारे समाज ने #मोदी जी को ज्यादा से ज्यादा संख्या में वोट नही दिया तो विधर्मी *बांग्लादेशी मुसलमान और रोहिंग्या मुसलमान* कुछ ऐसा हाल करेंगे जैसा वे कोलकत्ता में कर रहे हैं।
अभी भी वक्त है जाग जाओ! @MamataOfficial का आतंक 👇 pic.twitter.com/dVJLZv9a17

— Chowkidar Hitesh हिंदुस्तानी #TeamNB (@HiteshAwasthi20) April 24, 2019
Many individuals on Facebook and Twitter have also shared this video with the same message.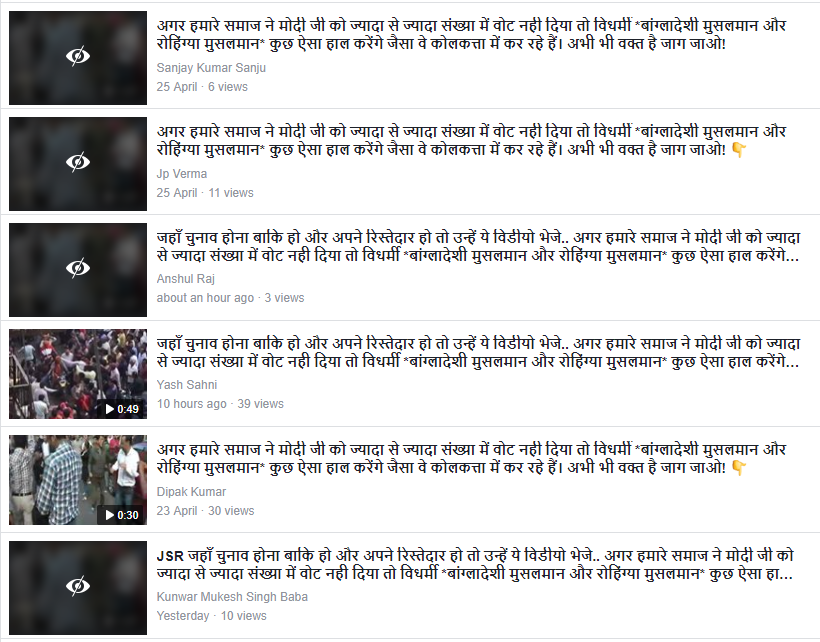 Old Video
Alt News found that the video circulated on social media is old and unrelated to the claim. This incident had taken place in 2017 in Darjeeling and NOT Kolkata. BJP West Bengal President Dilip Ghosh was chased and heckled. It was reported by several media outlets, including ABP News. This clip was broadcasted by the channel in October 2017 when the incident had occurred.
A BJP delegation led by the party President had visited the city after a 104-day strike for a separate Gorkhaland was withdrawn by the Gorkha Janmukti Morcha. Ghosh was in Darjeeling on October 5, 2017, when he was allegedly thrashed by supporters of Gorkha Territorial Administration's chairman Binay Tamang.
In conclusion, an unrelated video of BJP members heckled and chased away in Darjeeling in 2017 was shared that as of Bangladeshi and Rohingya refugees assaulting them. In the past as well, Rohingya refugees residing in India have been targeted with misinformation. The video was earlier circulated as of a recent incident where BJP members were heckled and chased away while asking for votes.
Donate to Alt News!
Independent journalism that speaks truth to power and is free of corporate and political control is possible only when people start contributing towards the same. Please consider donating towards this endeavour to fight fake news and misinformation.To make an instant donation, click on the "Donate Now" button above. For information regarding donation via Bank Transfer/Cheque/DD, click here.