Almost everyone on social media has fallen for hoaxes and fake news at some time or the other and ended up sharing it further. There are some who fall more often than others. Alt News brings you the interesting case of S. Gurumurthy, co-convener of Swadeshi Jagran Manch.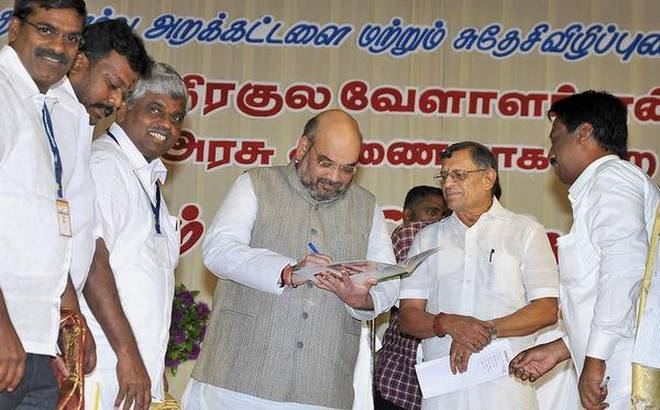 Mr. Gurumurthy has repeatedly fallen for misinformation. Here are a few examples:
1. Sharing the news that Angola has become the first country to ban Islam, Gurumurthy wondered about how liberals will react. Little did he realize that he was sharing a hoax. You can read more about it in this BBC article.
Now the liberals will cry religious freedom is gone. But who will protect non Muslims from Muslims is the question. https://t.co/KZwWHz83fR

— S Gurumurthy (@sgurumurthy) November 2, 2017
2. Gurumurthy played the classic "If true" trick while sharing an edited video of Rahul Gandhi. "Listen and think for yourself", he tweeted Gurumurthy while sharing a video of the Congress President. The video was clearly doctored.
If this video is true this man will play havoc with the Congress which is an important part of two party democracy in India. Listen and think for yourself. pic.twitter.com/VDZYBKOHpx

— S Gurumurthy (@sgurumurthy) November 2, 2017
The video was originally shared by @superlonday as a joke.
This is how it's done, pure Mazak no propaganda:)@AllIndiaBakchod 😁 pic.twitter.com/dwB7fH3rys

— Super Londay (@SuperLonday) October 30, 2017
3. Gurumurthy was among those who fell for the 'nano chip in the 2000 rupee note' hoax.
Interesting. https://t.co/cnBUu7bINr

— S Gurumurthy (@sgurumurthy) November 12, 2016
The present 2 k notes do not have that feature. This interesting feature will be in future notes https://t.co/ER9frBzPlm

— S Gurumurthy (@sgurumurthy) November 12, 2016
4. Gurumurthy has even shared misinformation about music composer AR Rahman. "Just read and share" he tweeted, along with a poster which had a photo of AR Rahman and a fake quotation. The fact that the poster was shared by Postcard News, a known peddler of fake news escaped his notice.
No comments needed…Just read and share pic.twitter.com/wch1MQy42U

— S Gurumurthy (@sgurumurthy) June 10, 2017
You can read the fact-check by SMHoaxSlayer on this fake news here
5. The Onion is a satirical news website, but Gurumurthy probably took it in all seriousness when he tweeted a link to an article which was titled "Historians Admit To Inventing Ancient Greeks."
Historians Admit To Inventing Ancient Greeks http://t.co/P5RMfbuSW6 via @theonion. Now read T McEvilleys shape of ancient thought.

— S Gurumurthy (@sgurumurthy) October 13, 2015
From GPS chip in Rs 2000 note to Postcard News memes, it is ironical that one of the most regarded right-wing ideologues and prolific political and economic commentators repeatedly falls for the most obvious hoaxes.
Donate to Alt News!
Independent journalism that speaks truth to power and is free of corporate and political control is possible only when people start contributing towards the same. Please consider donating towards this endeavour to fight fake news and misinformation.