Coveragetimes.com is a 'news website' that started just a few months ago and is already ranked in the top 15000 websites in India. In terms of their reach, they are not as popular as the other fake news sites like Hindutva.info, DainikBharat.org, PostCard.News, InsistPost.com etc that Alt News has investigated in the past. However, the fake news that this website pushes is toxic enough that we decided to investigate this website.
Firstly, let us look at some of the fake stories that this website has pushed.
1. Just before Diwali, Supreme Court had banned the sale of Crackers in Delhi and the judgement in this case was passed by Justice Arjan Kumar Sikri. A story titled "जिसने पटाखो पर बैन लगाया है वो जज देख लो और समझ जाओ (Translation: Here's the Judge who banned crackers, make your own judgements now)" claims that the person putting Gulal on Sonia Gandhi's face is Justice Sikri.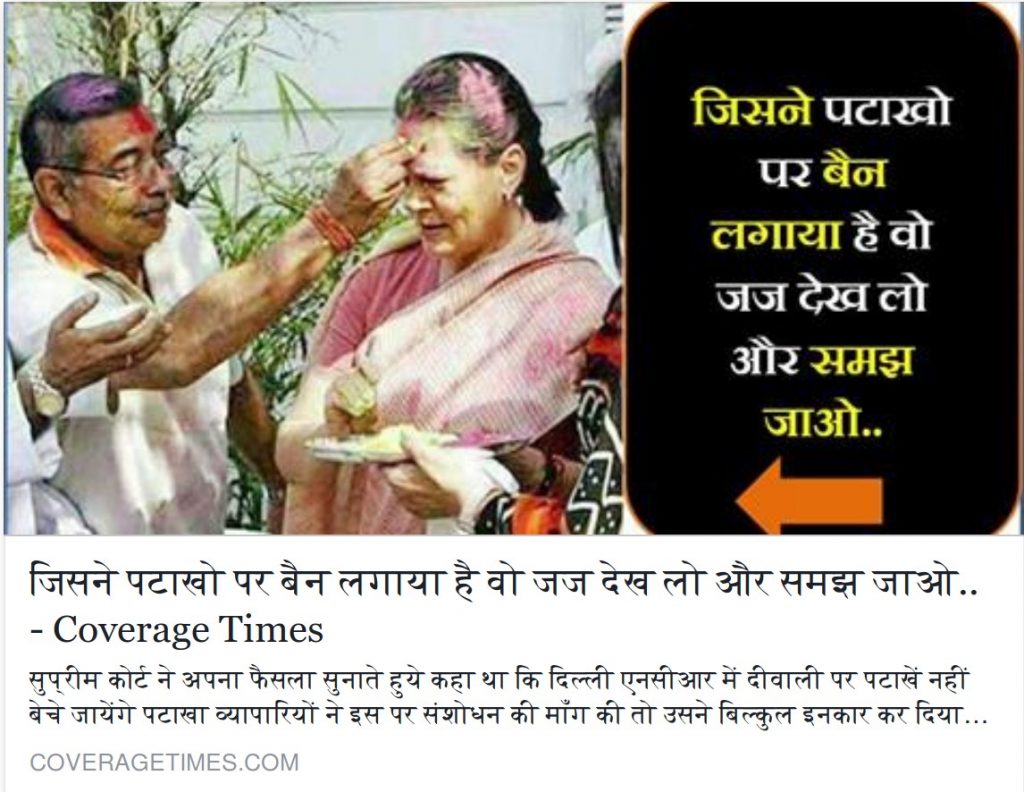 In reality, this person in the above picture is a Congress leader called KP Singh Deo. Multiple pictures of Justice Sikri are available on the Internet and it is very easy to ascertain that the person in the picture above is not him.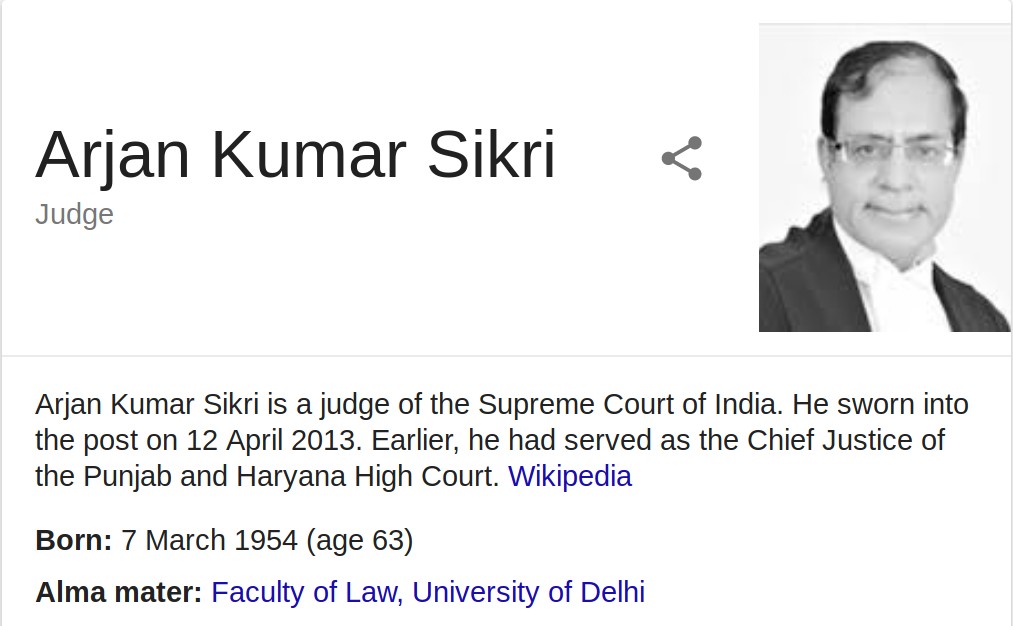 Such an article can only be a product of malice, one that is trying to malign a Supreme Court Justice.
2. A story titled "हैरान कर देगा ये वीडियो, इंदिरा गाँधी के दो नहीं बल्कि तीन बेटे थे जिनमे से एक के बारे में पूरी दुनिया से छुपायी ये सच्चाई (Translation: You'll be shocked to know that Indira Gandhi has not two but three sons, with the third son's reality having been hidden from the world)" claims that Amitabh Bachchan is Indira Gandhi's third son with much conviction. Does this even need a fact-check?
3. A story titled "14 साल की रोहिंग्या लड़की जिसके पति के 18 बच्चे, क्या आप ऐसे शरणार्थी को भारत में बसाना चाहते हो? (Translation: A 14 year Rohingya girl who has 18 kids, would you want her as a refugee in India?" shows the picture of a young girl holding a baby and claims that she has 18 kids. Goes on to ask whether you'd want such a refugee in India.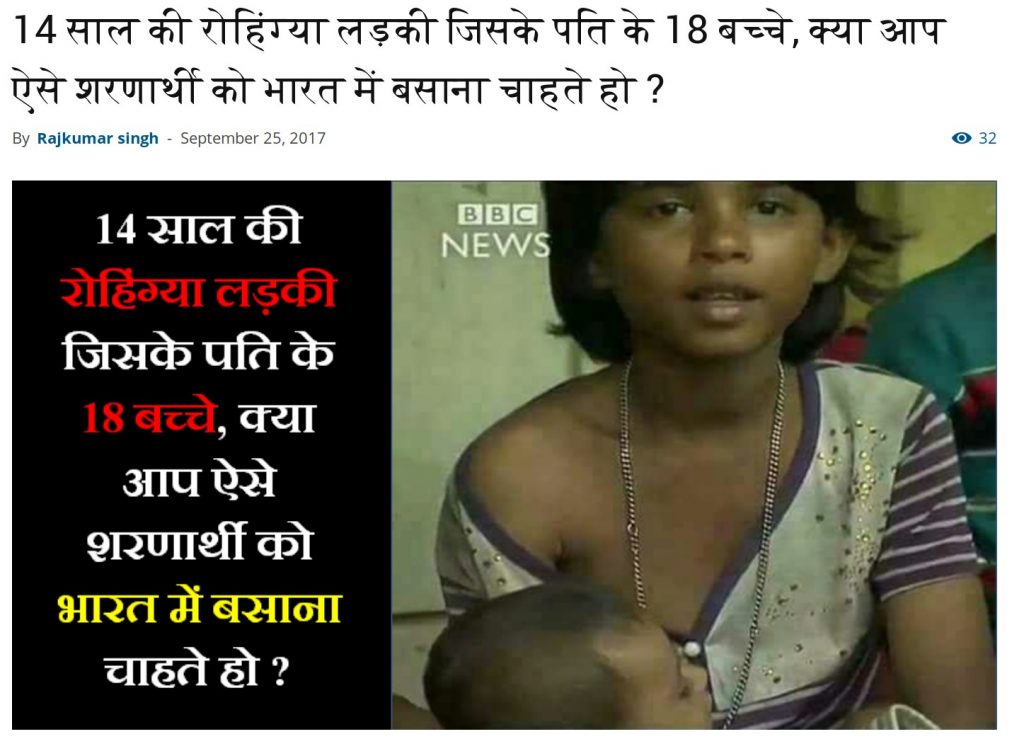 This is actually a passing frame from a BBC Video. The BBC Video doesn't give any information about this girl whatsoever and it is just a passing shot in the video. The story about this girl was first fabricated by a Twitter account called Ravinder Sangwan. CoverageTimes made that into an article. THe BBC Video can be seen below.
4. A story titled "जिहादियों ने स्वामी विवेकानंद जी की मूर्ति का सर काटा, आखिर क्यों छुपा रही है मीडिया अपराधी का नाम? (Translation: Jihadis beheaded Swami Vivekananda's statue, why is Media hiding the accused's name?)" claims that a statue of Swami Vivekananda in Bhadohi, Uttar Pradesh, was beheaded by members of the Muslim community.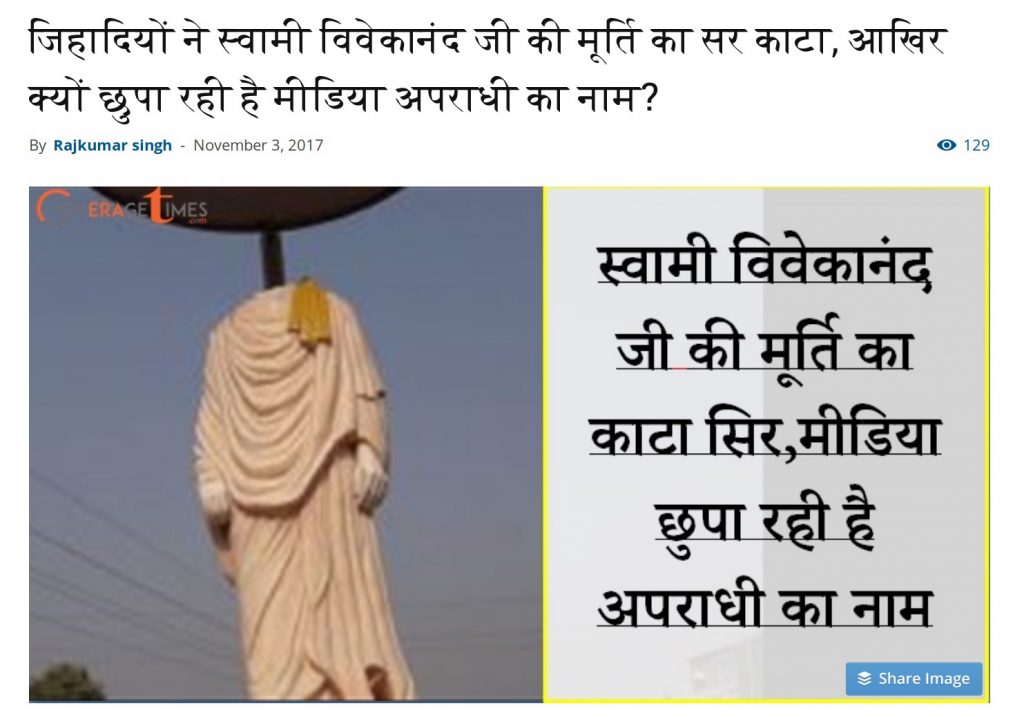 Alt News had exposed how this news is utterly fake and Bhadohi Police has released the name of the accused in this case, Premchandra Gautam, son of Neeraj Gautam.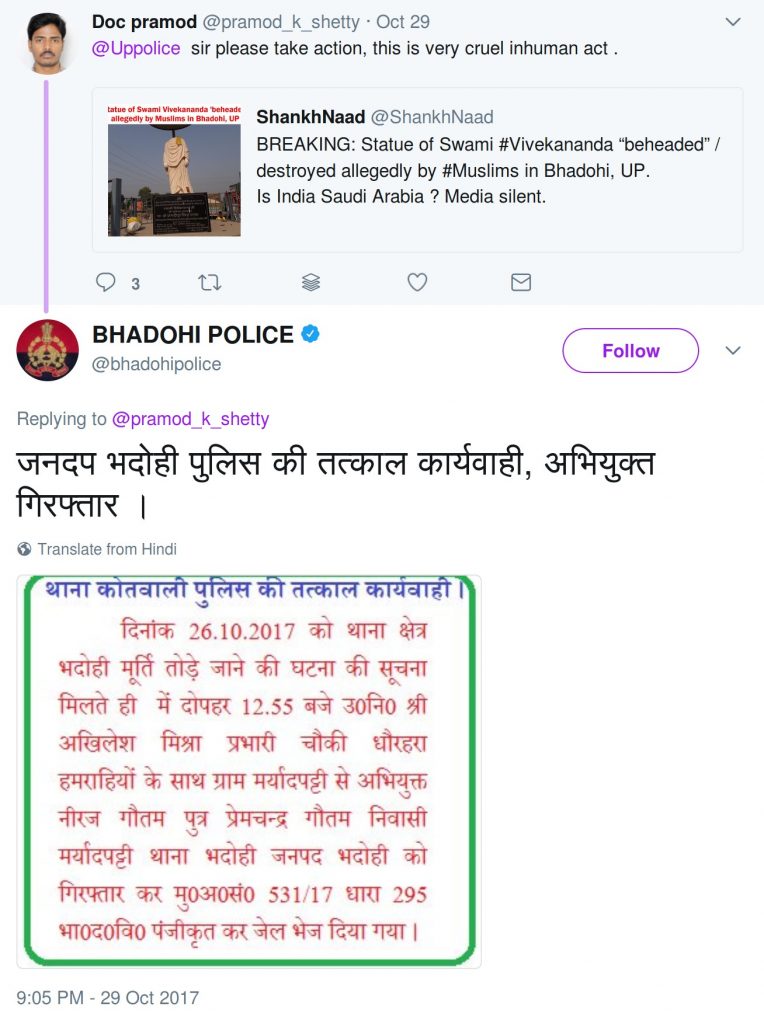 We can keep quoting examples from this website but its suffice to say that this is one sick, fake website.
Who runs this website? To find that out, we first looked at the people who consistently promote this website. We came across a Facebook profile called Dimpal Patel who'd repeatedly share links from this website into tens of Facebook groups.

When we scrolled through Dimpal Patel's Facebook profile, we found that this person had shared a picture with a WhatsApp number asking people to message on that number if they wish to befriend Dimpal Patel.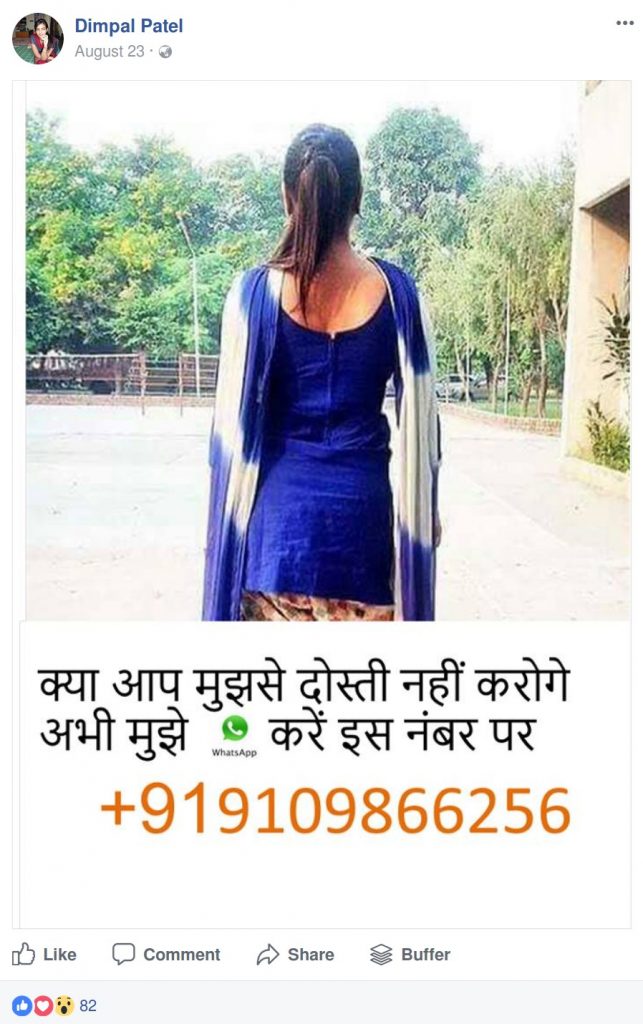 We looked up the WhatsApp number 9109866256 specified in th image above and found that a person called Raju Sikarwar was sharing it as his own number (circled in red), while complaining to Airtel about poor service.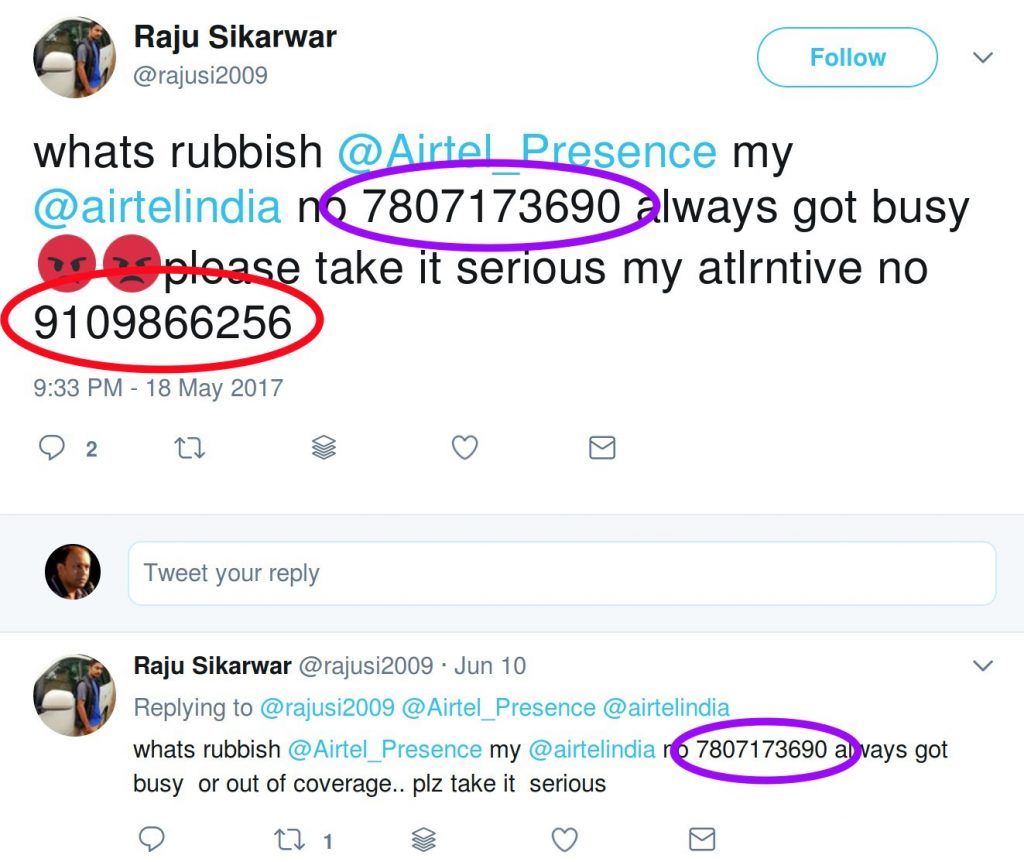 We also looked up the other number (7807173690) that Raju Sikarwar shared and it turned out to be a number advertised by the CoverageTimes Facebook page as their own while putting up an advertisement for those who'd like to do social media marketing for them.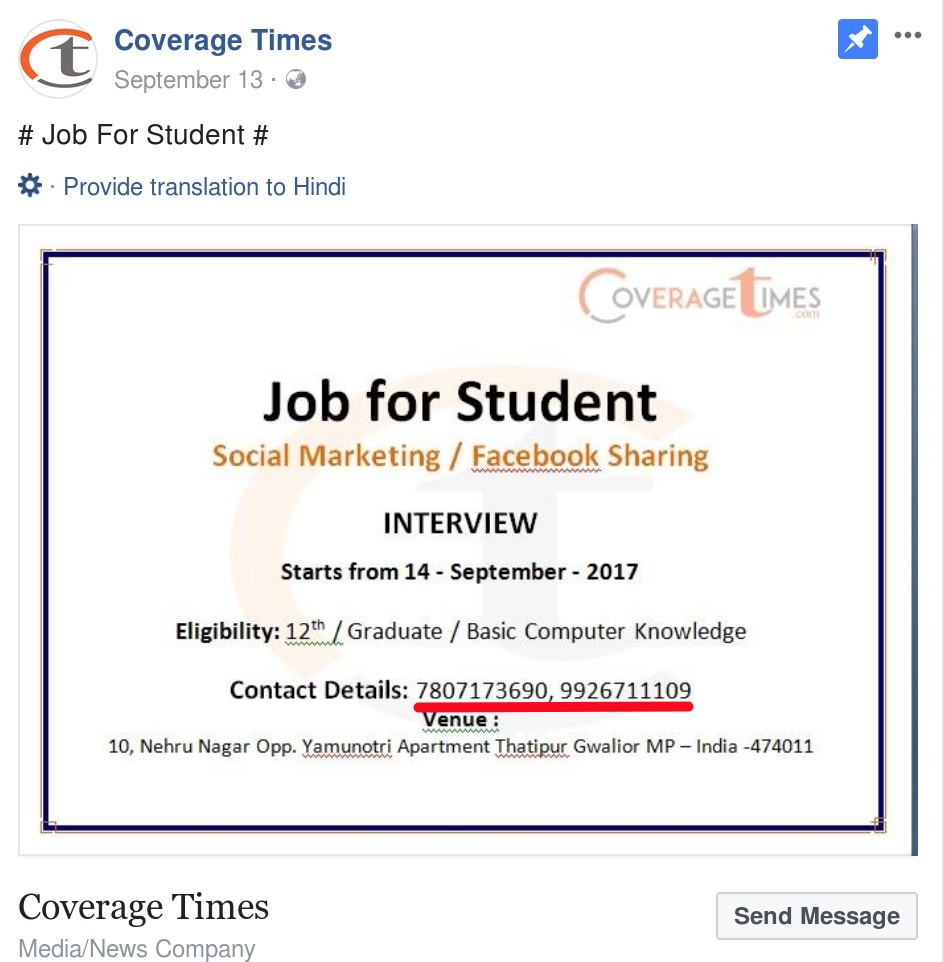 We found Raju Sikarwar's Facebook profile and he also shares posts from CoverageTimes multiple times in various Facebook groups. By now, it must be obvious that Raju Singh Sikarwar = Dimpal Patel.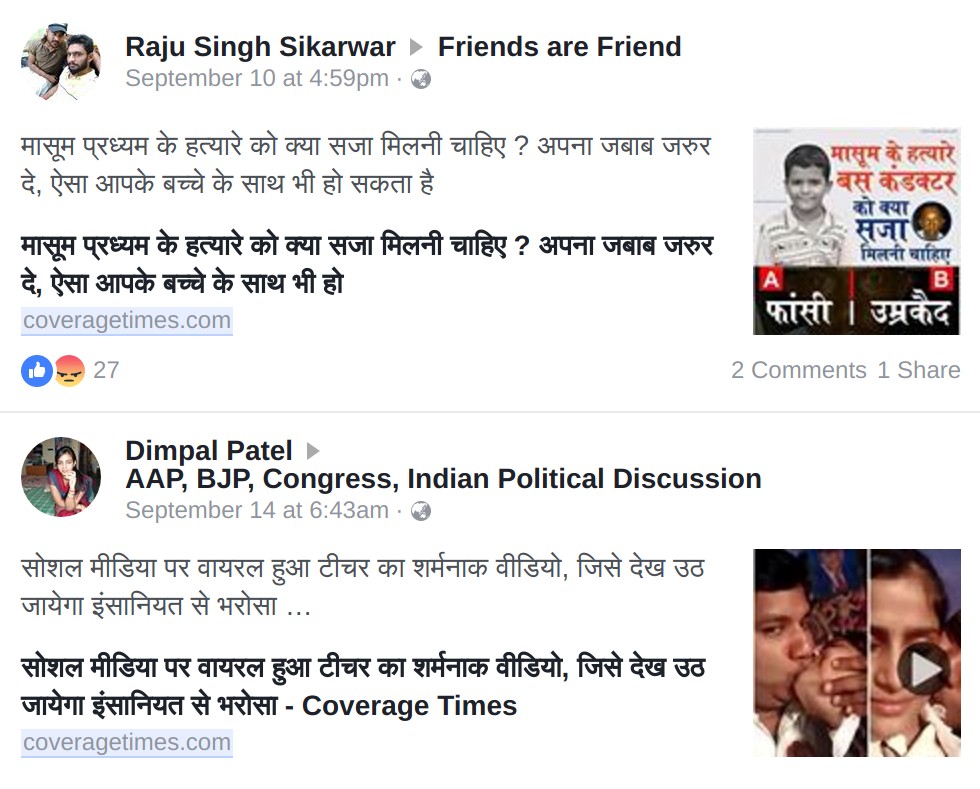 We looked up the second number (992671109) specified in the social media marketing post on Truecaller and we found a verified profile of one Ramendra Chauhan associated with the number. Back in 2013, this same number was listed as the first contact person of Ramendra Singh in an event planned to protest Jodha Akbar serial. The event was created by Ramendra Singh himself and his Facebook profile was enlisted on the event page. Ramendra Singh's LinkedIn profile states that he's the 'Senior Editor' at CoverageTimes.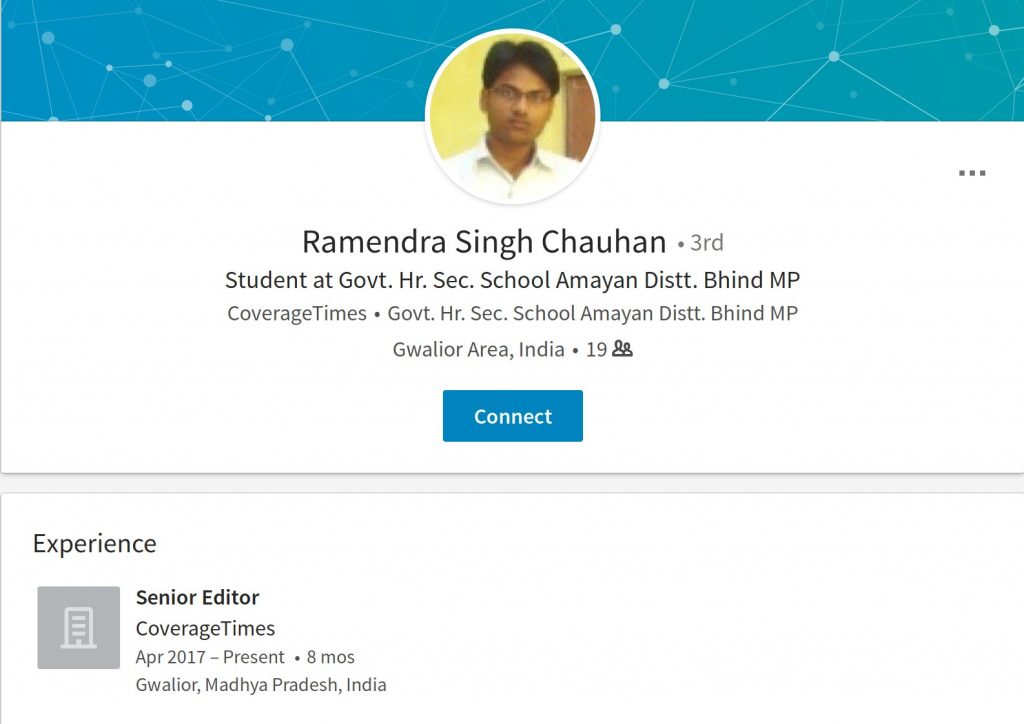 So, we have atleast 2 people who are associated with CoverageTimes. However, the biggest promoter of CoverageTimes is a gentleman called Akash Soni. He has two personal Facebook profiles (1 & 2) and one Facebook page AkashSoniBJP.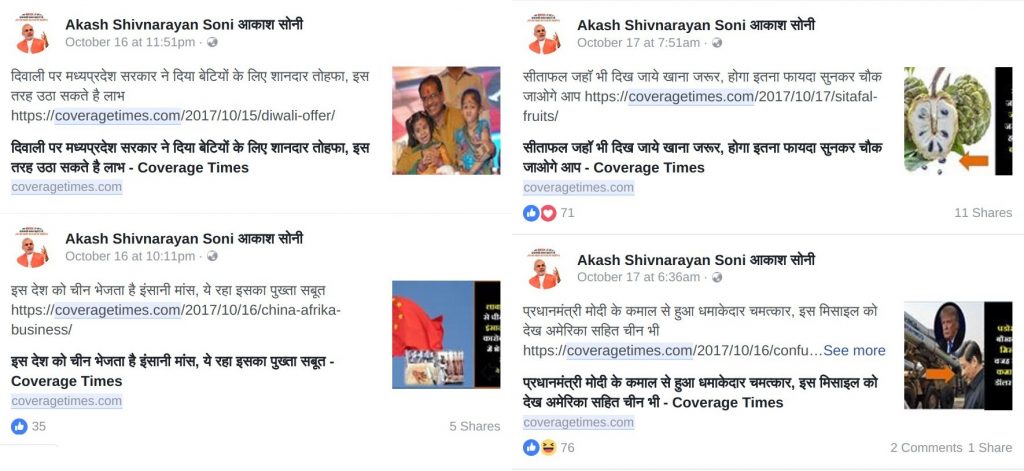 He also has CoverageTimes.com listed as his website on his Facebook page.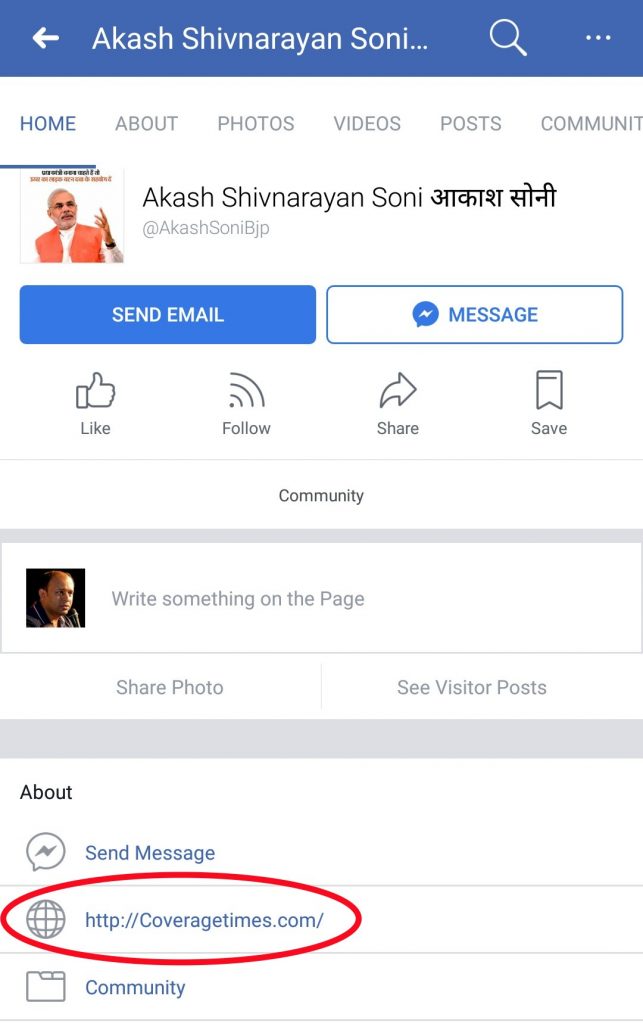 Akash Soni has been featured once before in an Alt News story when he was exposed as one of the Admins of a WhatsApp group who were harassing NDTV Anchor Ravish Kumar. He has pictures with multiple senior BJP leaders.

We have shown how Akash Soni, Raju Sikarwar, Ramendra Singh are all part of the team that is running and promoting the fake news site CoverageTimes. Is the Government at all concerned that people close to BJP are indulging in large scale fake news? The kind that is mainly aimed at creating animosity between communities, character-assassinating individuals? Are political dividends gained from such fake news sites stopping the Government from taking action against such websites?
Donate to Alt News!
Independent journalism that speaks truth to power and is free of corporate and political control is possible only when people start contributing towards the same. Please consider donating towards this endeavour to fight fake news and misinformation.