On May 19, Dainik Bhaskar published a report with the headline, "Slogans of Pakistan in Bhilwara: Video of Pakistan slogans in Sanganer area surfaces, case registered in Subhash Nagar police station". The report includes a 40-second clip of a political rally by members of the Social Democratic Party of India (SDPI). It is worth noting that police officers can be spotted in the video.
(Translated from Hindi: "भीलवाड़ा में लगे पाकिस्तान के नारे: सांगानेर इलाके में पाकिस्तान नारों का वीडियो आया सामने, सुभाष नगर थाने में मामला दर्ज.")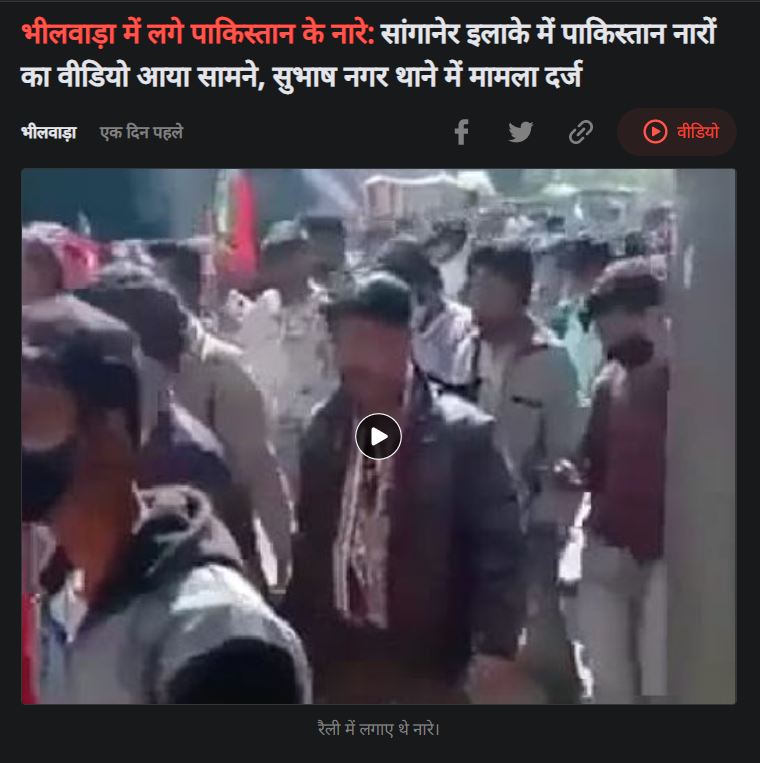 BJP leader Sagar Pande shared the same video and claimed that pro-Pakistan slogans were raised on Eid (May 3). The audio in Pande's video is slowed drastically to a point where the slogans can no longer be understood.
भीलवाड़ा के सुभाष नगर थाना क्षेत्र सांगानेर ग्राम में ईद के मौके पर पाकिस्तान जिंदाबाद के नारे लगाए ….
कितने देशद्रोहियों पर मुकदमा दर्ज कर कार्यवाही की गई ….?@DmBhilwara@PoliceRajasthan @RajPoliceHelp @Bhilwara_Police @BJP4Rajasthan@baheriasc @ladulaltelibjp pic.twitter.com/bwPdVuz6Xs

— Sagar Pande (@MspandePande) May 12, 2022
Other outlets that published similar reports are ABP Live, Aap Ka Rajasthan and Bhilwara Halchal.
This slideshow requires JavaScript.
On May 12, BJP Bhilwara MLA Vitthal Shankar Avasthi referred to the viral claim. He said, "Why not arrest those who raised pro-Pakistan slogans in the Sanganer area?". The remark can be heard around the 1:20 mark on a video uploaded by his son on Facebook.
False claim
Upon listening to the video embedded in Dainik Bhaskar's article, viewers can determine that no pro-Pakistan slogans were raised in the video. But the chant 'SDPI Zindabad' can be heard clearly.
Rajasthan-based lawyer Imran Rangrej pointed out the same and said the viral video is 17 months old. He tagged various police handles, including that of Rajasthan, Ajmer and Bhilwara.
@RajPoliceHelp@AltNews@IgpAjmer@Bhilwara_Police

सांगानेर (भीलवाड़ा) फरवरी 2021 SDPI पार्षद विजेता रैली में लगे SDPI जिन्दाबाद के नारे को पाकिस्तान जिन्दाबाद का नारा बताकर 17 महीने बाद झुठी,मनगढंत,FIR दर्ज करवाई गई जबकि इस वीडियो में थानाधिकारी सुभाष नगर स्वयं मौजूद है pic.twitter.com/QLBc3GDzJu

— Imran Rangrej (@imran_rangr) May 17, 2022
Dainik Bhaskar's report states that the viral video is old. However, no further context has been given. In order to find more context about the video, Rangrej connected Alt News with SDPI member Abdul Salam Ansari who led the rally.
"I cannot be seen in the viral video because I was in the front, leading the rally," Ansari told Alt News over a telephonic call. He added, "The viral video is from February 7, 2021, after the local election. The video shows a segment of the rally after SDPI's Nathulal Rao won in Ward 57. The claim that pro-Pakistan slogans were chanted is false." Zee News's report on local elections confirms Rao's victory.
The video below is a statement by Ansari about the controversy.
Alt News also spoke with counsellor Rao. He said, "We won by a large margin. Thus, a victory procession was organised. I was present in the rally and no anti-India slogans were raised." Facebook page SDPI Bhilwara has posted a video of the celebrations on February 7.
It must be noted that SHO Pushpha Kasotiya and Bhilwara SP Office did not respond to our questions. Deputy SP Bhilwara Ram Chandra Choudhary said that the video is being inspected by the forensics team and can take up to two months to investigate.
The claim that pro-Pakistan slogans were raised in the video is false. The chant that can be heard is "SDPI Zindabad".
Donate to Alt News!
Independent journalism that speaks truth to power and is free of corporate and political control is possible only when people start contributing towards the same. Please consider donating towards this endeavour to fight fake news and misinformation.