More than 6.6 lakh in 27 districts across Assam have been hit by the floods due to pre-monsoon rains in Assam. Nine people have died. While reporting on the flood situation in the state, Aaj Tak aired a video that shows an iron bridge collapsing due to the strong current of the water. (Archive link)
India TV also played the same video while reporting on the floods in Assam. The video appears after 29 seconds into the broadcast. (Archive link)
Apart from this, News18 Bangla, Bharat Samachar, Oriya news channel OTV News, short video platform Editorji aired the video while reporting on the Assam floods. However, Editorji added a disclaimer stating "authenticity unverified".
This slideshow requires JavaScript.
The video has gone viral on Facebook and Twitter with the same claim.
Fact-check
According to a tweet by Guwahati Plus, this video is old and not from Assam.
#VIDEO | Fake News ALERT!

An old video of a bridge being carried away by floodwaters is going #viral on the Internet. The video which is said to be from #Assam is actually not so…#fakenews pic.twitter.com/pQAcJBLXLq

— G Plus (@guwahatiplus) May 17, 2022
Netherlands ambassador to Indonesia, Labert Grange, had tweeted this video on April 6, 2021. He wrote that it depicted the floods in Eastern Flores in Indonesia.
Our thoughts are with the victims of the floods in Eastern #Flores and #TimorLeste. We'd like to express our heartfelt condolences to all those affected by this enormous tragedy. pic.twitter.com/1UGXgKxhj0

— Lambert Grijns (@LambertGrijns) April 5, 2021
Australia's ABC News reported, "Floods and landslides also hit several nearby islands in the Indonesian archipelago, including Flores, leaving at least 55 people dead."
Through the help of Google Street View, Alt News found that this is the Old Kambaniru Bridge. It was located in Sumba Regency, which is in Indonesia. We found old imagery of the bridge on Google Street View.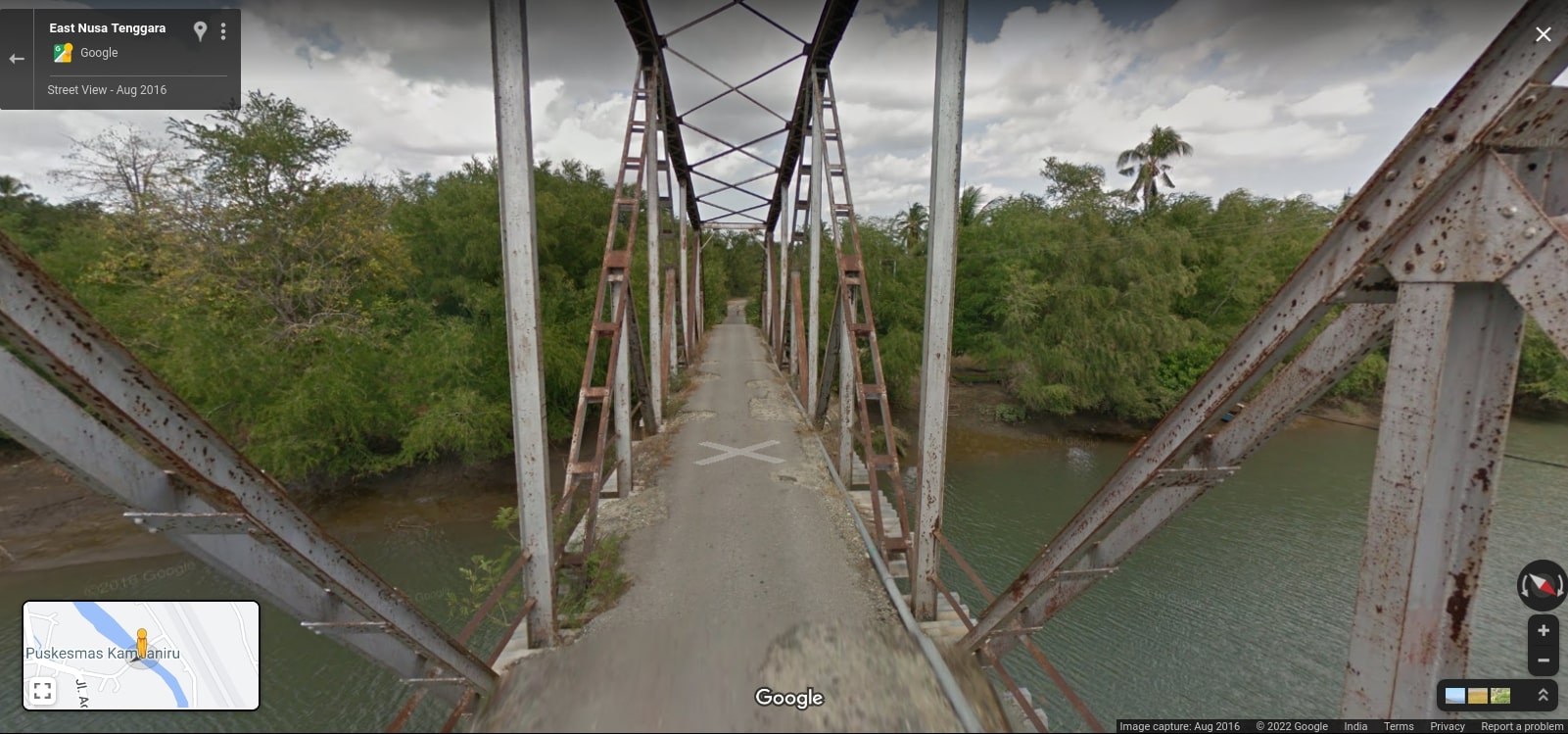 Ultimately, a one-year-old video of a bridge collapsing in the Indonesian floods was shared as the recent floods in Assam. It is noteworthy that a bamboo bridge collapsed in the Udalguri district in Assam. But several major media outlets, including Aaj Tak, shared an old video from Indonesia to report the flood situation in Assam.
Donate to Alt News!
Independent journalism that speaks truth to power and is free of corporate and political control is possible only when people start contributing towards the same. Please consider donating towards this endeavour to fight fake news and misinformation.