An apparent photo of a Dainik Jagran advertisement is viral on the internet. The ad says in large font, "एक मुहल्ला एक बकरा" (Translation: one neighborhood, one goat) and the the text that follows in smaller font reads, "इस बार बकरीद पर हो सके तो पुरे मोहल्ले मे एक ही बकरे की कुर्बानी दे इससे अपनापन बढेगा खून खच्चर कम होगा पानी की बर्बादी कम होगी गन्दगी कम फैलेगी". (Translation: This time on Bakrid, if possible, sacrifice only one goat in the whole locality. It will increase fellow feeling, reduce bloodshed, the wastage of water and the spread of filth).
Facebook page Pradhanmantri Meme Yojna posted the image and garnered 21,000 likes and 2,200 shares.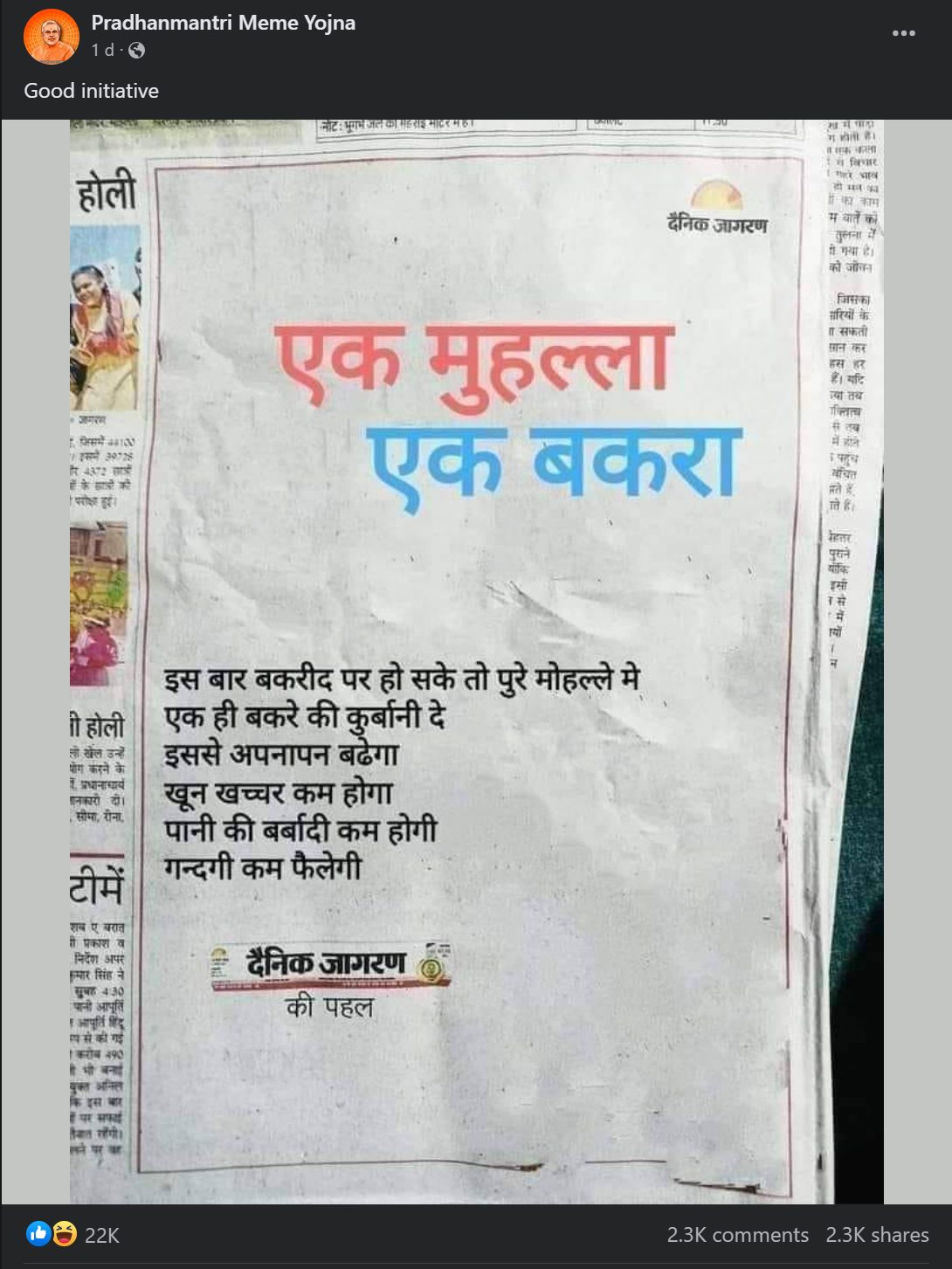 The image is viral on Twitter as well. User @Alpa_kanya tweeted the image with the caption "Full support @JagranNews". The tweet has close to 800 likes. (Archive)
Full support @JagranNews👏👏#GoatLivesMatter#StopKillingGoats pic.twitter.com/NpJHlqde5y

— Alpaca Girl🇮🇳 (@Alpa_kanya) March 12, 2023
Aarfa Khanam, an advocate associated with the Congress, tweeted the photo saying that Dainik Jagran newspaper was trying to woo the government. (Archive)
#कठुआ_रेप की घटना पर गलत न्यूज़ छापने वाला #दैनिक_जागरण अख़बार अब नए नए तरीकों से सत्ता को लुभाने की कोशिश में जुटा हैं।
सोशल मीडिया के माध्यम से ये पोस्ट दिखी हैं अगर ऐसा हैं तो एक पहल आमजन की ओर से भी होनी चाहिए "एक मोहल्ला एक अख़बार"

कागज कम खर्च होगा तो पेड़ कम काटने… https://t.co/hJhU5XmaNI pic.twitter.com/CblpZclm91

— Aarfa Khanam (@Adv_AarfaKhanam) March 14, 2023
Users @PrathamesaJha, @vipinbharadwaj2, @liberalwoke_, @SharadMajethia and @anaamikaatiwari also tweeted the image.
This slideshow requires JavaScript.
Fact Check
Upon a reverse image search of the viral picture, Alt News came across the original image titled, "एक मुहल्ला एक होलिका" (Translation: one neighborhood, one bonfire). We found that this was an initiative by Dainik Jagran which urged people to play Holi in an environmentally sustainable way. Referring to the practice of 'Holika Dahan', the subtext says, "इस बार होली पर प्रयास करें कि थोड़ी दूरी पर अलग-अलग होलिका जलाने की जगह जितना हो सके. एक मुहल्ले में एक ही होलिका जलाएं। इससे प्रदूषण घटेगा, अपनापन बढ़ेगा" (Translation: On this Holi, let's try to avoid arranging Holika Dahan at multiple places and perform one ritual for the entire locality as far as possible. This will reduce pollution and increase fellow feeling)
The ad also contains a list of steps for an environment-friendly Holi.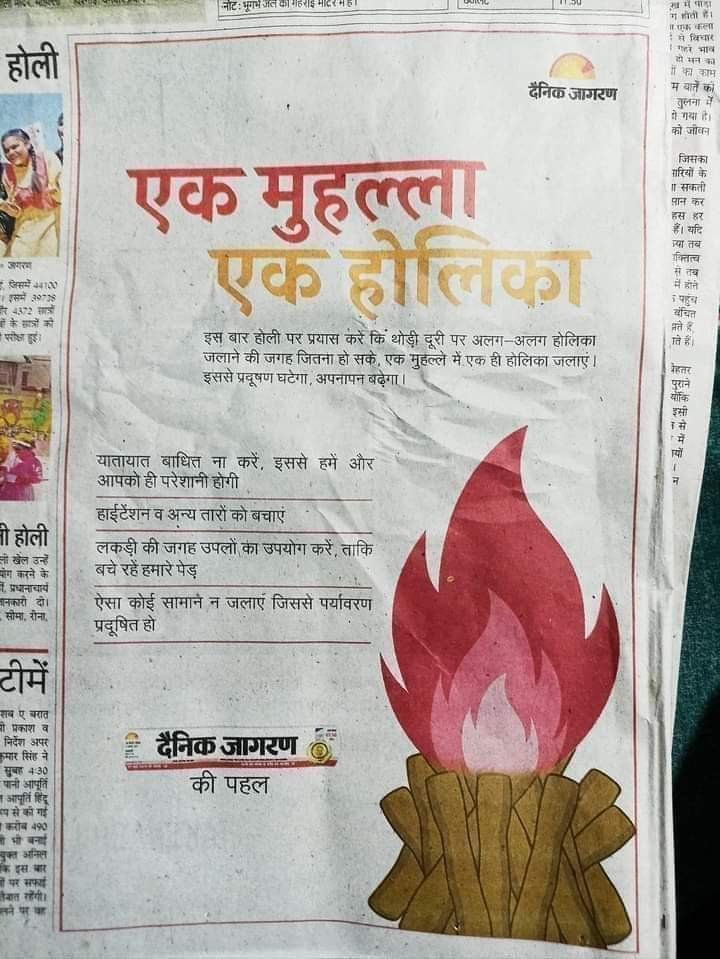 The official Twitter handle of Hardoi Police also took to Twitter to announce the success of Jagran's initiative. The statement read said that thanks to Dainik Jagran's initiative 'One Mohalla, One Holika', only 32 'Holika Dahan' rituals were organized this time as against 58 last year. Moreover, only cow dung cakes were burnt at 140 places and more than 2.5 lakh cow dung cakes are used. Officers had physically verified all the 'Holika Dahan' sites. "Dainik Jagran's campaign Ek Mohalla Ek Holika will promote environmental protection", it adds.
दैनिक जागरण की अनूठी पहल पर्यावरण संरक्षण "एक मोहल्ला, एक होलिका" । @ashutoshvshukla @PankajM57520626 pic.twitter.com/5GWc9Hp9KV

— Hardoi Police (@hardoipolice) March 7, 2023
In an article dated March 8, Dainik Jagran wrote about the impact of their initiative in the Pratapgarh district of Uttar Pradesh. According to the report, as an impact of its campaign 'Ek Mohalla Ek Holika', bonfires of kandas (cow dung) were lit everywhere in the district on March 7.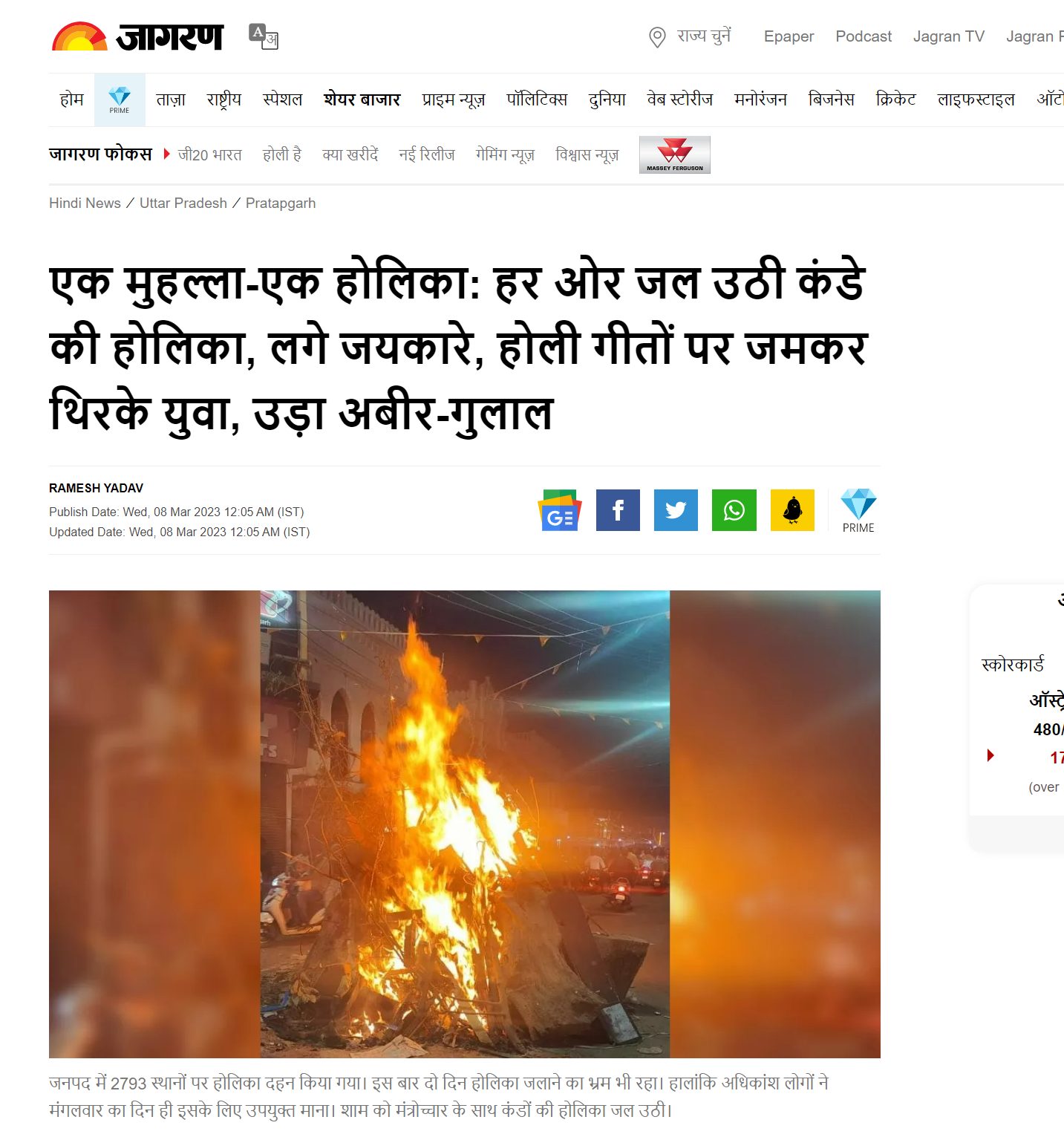 We also found a tweet containing a Jagran news report titled, "एक मुहल्ला – एक होलिका के समर्थन में फोनरवा, लिया संकल्प" (Translation: Phonerwa in support of One Mohalla One Holika, takes resolution). The report stated that a meeting was held on Friday on behalf of Dainik Jagran at the Phonerwa office located in Sector-52 regarding the campaign. In this, various RWA office bearers took a pledge to light a Holika in the sectors, giving their support. At the same time, people talked about making people aware of it. (Archive)
दैनिक जागरण के अभियान एक मुहल्ला -एक होलिका के समर्थन में फोनरवा,लिया संकल्प @JagranNews pic.twitter.com/zXmHtJw0DW

— Vaibhav Tiwari 🇮🇳 (@vaibhavtiwri) January 21, 2023
Meanwhile, several Right Wing influencers took to social media to call out what they saw as a hypocrisy in Jagran's activism. Right Wing propaganda outlet OpIndia published an article where they asked if Jagran would advise people not to buy newspapers. OpIndia implied that Jagran did not have the "guts to write 'Ek Mohalla, Ek Bakra' or 'Ek Mohalla, Ek Christmas Tree', but can write 'Ek Mohalla, Ek Holika". Rishi Bagree, Kreately.in and others also posed the same question to Jagran.
It is likely that the online suggestions influenced the creation of the morphed image. Alt News, however, cannot confirm its origin.
This slideshow requires JavaScript.
Thus it is evident that a newspaper advertisement about Dainik Jagran's initiative Ek Mohalla Ek Holika was photoshopped into an ad saying 'Ek Mohalla, Ek Bakra'.
**This story was updated on March 15 with the tweet by Aarfa Khanam.**
Donate to Alt News!
Independent journalism that speaks truth to power and is free of corporate and political control is possible only when people start contributing towards the same. Please consider donating towards this endeavour to fight fake news and misinformation.