The second wave of the coronavirus pandemic in India did not only overwhelm an unprepared healthcare system but also choked crematoriums unaccustomed to performing mass funerals. Many of those unable to afford crematoriums performed water burials in the Ganges or buried their loved ones on the river's banks. In the second week of May, Dainik Bhaskar reported that over 2,000 bodies were found along a 1,140 km stretch of the banks of Ganga across Bihar and Uttar Pradesh. Multiple other media outlets – Reuters, Hindustan Times, India Today, Mojo Story and BBC – have also reported about the river and its banks swollen with corpses.
But Dainik Jagran, over the last few days, has published a series of reports attempting to portray that mass burials have always happened along the banks of Ganga and online media is misleading its readers through sensational coverage of the issue.
On May 26, the Hindi daily published an image of mass burials and claimed it was taken three years ago. Based on this photograph, the outlet asserted that most pictures of mass graves at Shringverpur ghat in Prayagraj were taken in 2018. It then attempted to normalise the deaths by portraying there has been no increase due to the pandemic and such mass burials have always been taking place.
That same day, Jagran published another report on its print edition headlined, 'There was no corona three years ago, but pictures of the banks of Ganga from three years ago were the same.' The outlet said, "Those who are creating a ruckus on social media and posting images of dead bodies on the banks of Ganga in Sangamnagri (Prayagraj) as recent, must look at this image carefully. This picture (image on left) is from March 18, 2018, when Shringverpur ghat was being renovated prior to Kumbh 2019." The report also said, "There has been an age-old tradition of burying bodies at Shringverpur and Phaphamau ghats in Prayagraj."

According to the report, Dainik Jagran's five-man team covered about a dozen villages along a stretch of 70 km including, Shringverpur ghat and Phaphamau ghat. This report, also published in Jagran's New Delhi edition, highlighted three points (marked in red) – 1) Several Hindu communities practise cremation by burial; 2) Internet media sensationalised the issue; 3) People who have died due to leprosy and snake bites were buried on the ghat. A similar report was published in Jagran's Prayagraj edition on May 28.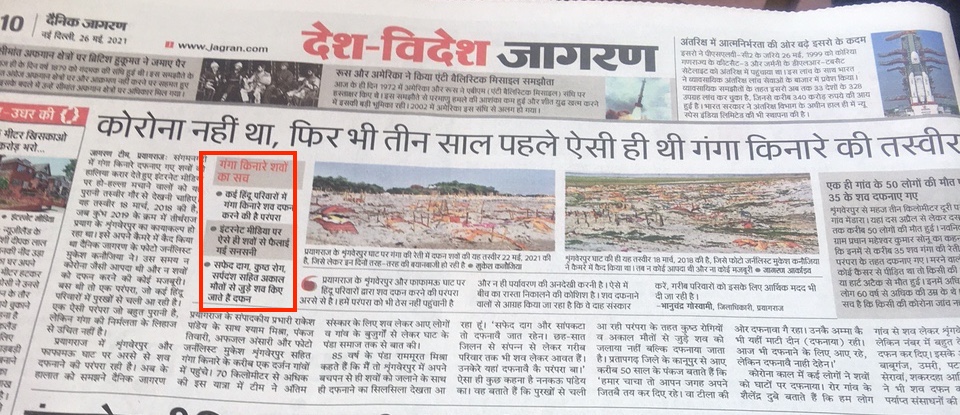 The report was tweeted by Uttar Pradesh Chief Minister Yogi Adityanath on May 26. It gained over 11,000 retweets and 35,000 likes. Other prominent BJP leaders who tweeted the report include BJP IT cell head Amit Malviya, BJP spokesperson Neetu Dabas and BJP leader Ravinder Gupta. Malviya and Gupta stated that the people criticising the government are only trying to defame Hindus by politicising COVID.
This slideshow requires JavaScript.
FACT-CHECK
It is noteworthy that Indo-Asian News Service had reported in 2019 that Dainik Jagran received government ads worth over Rs 100 crore in 2014-15 to 2018-19 period. As per IANS, Dainik Jagran was the highest recipient of government ad revenues. More recently in February 2021, Newslaundry reported how the Jagran group ran a disingenuous PR campaign for the UP government's farm policies and enriched itself in the process.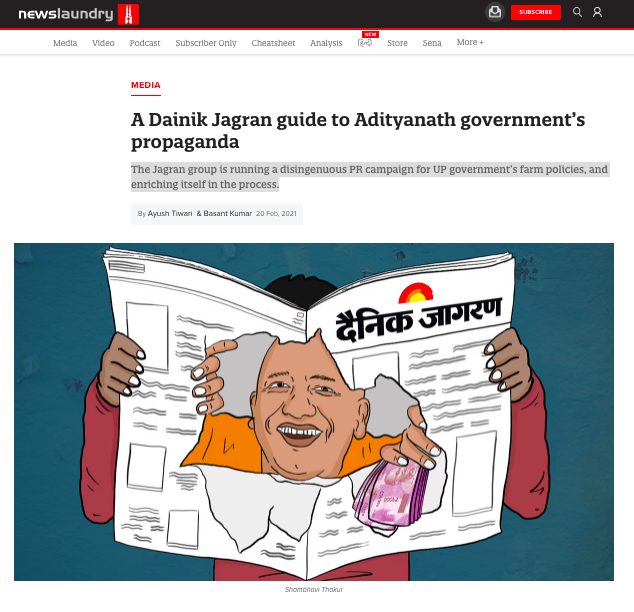 Alt News collaborated with independent journalist Prashant Singh who visited the ghats mentioned in the Dainik Jagran reports and two other ghats. Based on media reports, interactions with priests and locals and statements from journalists, it is clear that the volume of burials post-pandemic at Shringverpur and Phaphamau area is unprecedented.
ANALYSIS: DAINIK JAGRAN'S REPORTS
Alt News studied the image comparison of Shringverpur ghat posted by Jagran. The background scenery in both images is different. The image on left, one that Jagran claims is from 2018, has a river bed while the other has hills and trees. This raises an important question – why didn't Jagran, in order for an accurate comparison, click the photograph in 2021 at the same place where the 2018 image was shot?

The mosque seen on the hilltop in the image on the right is Manari Shah Baba Srigror. Higher resolution versions of both images are accessible on a May 26 article by Jagran.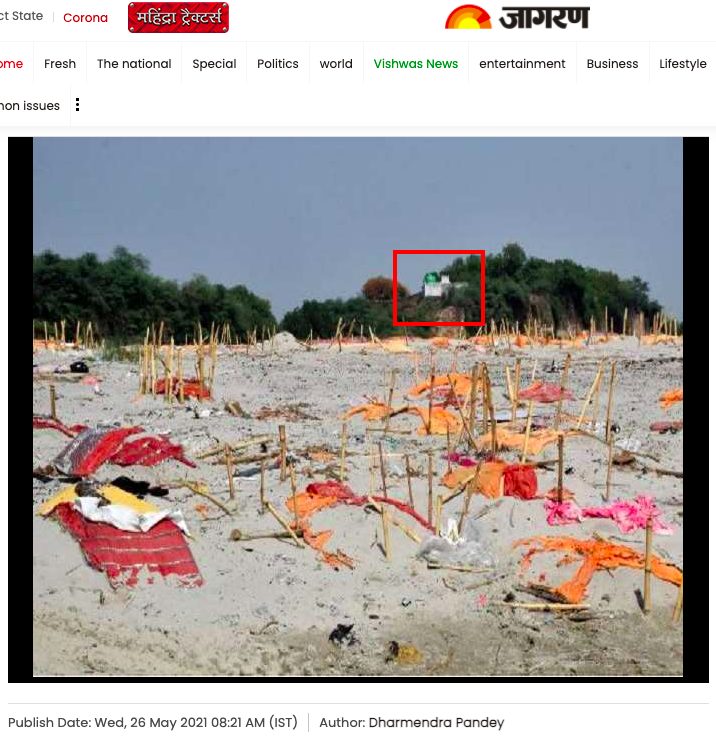 We reached out to two employees at Dainik Jagran Prayagraj but they did not comment on the stories. However, both of them confirmed on a telephonic call that the number of burials in 2021 is unprecedented.
Strangely enough on May 15, about 10 days before these reports were published, Jagran published an image of dead bodies buried at Shringverpur ghat and reported that 100 corpses were cremated every day since the last week of April. On a usual day, 20-25 bodies are cremated, the outlet said.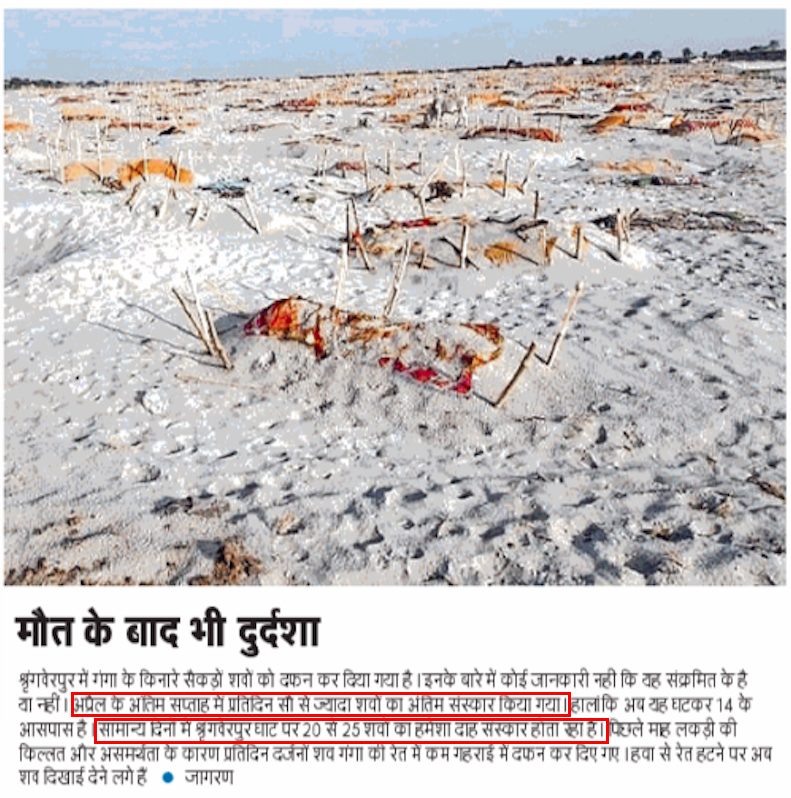 Alt News spoke with independent photojournalist Prabhat Kumar Verma. He has been reporting from Prayagraj since 2009. "Like many journalists, I was reporting about mass burials and dead bodies floating on Ganga. Based on my past experience and spot reporting during the pandemic, I can confidently state that the number of burials in April-May 2021 was the most I've seen, not just at Shringverpur ghat but other ghats as well," he said.
Verma added, "As a journalist, I follow the news, especially of my city. This is not the first time Jagran has carried reports critical of the government, then a few days later published another report which not only supports the government but also contradicts their own reportage."
MEDIA REPORTS: RECENT BURIALS IN PRAYAGRAJ
Alt News performed a keyword search on Twitter (1, 2) and Google (1, 2) restricting the results between March 2018 to December 2018 and found that no national media outlet had reported about mass burials on the banks of Ganga during the said time period.
But in 2021, multiple media outlets and the Ministry of Jal Shakti reported about the extraordinary number of burials during the second wave of the pandemic. Dainik Bhaskar had sent 30 reporters for spot reporting from 27 districts in Uttar Pradesh. According to the May 14 report, over 2,000 dead bodies were found in a stretch of 1,140 km. Bhaskar reported that 13 dead bodies were evacuated from Sangam, Prayagraj and that police identified that three of them were caused by suicide. There is no clarity about the remaining ten.
Amaj Ujala published two reports on May 15 and May 16 that stated that hundreds of dead bodies were buried along the banks of the Ganges near Chhatnag ghat, Jhunsi.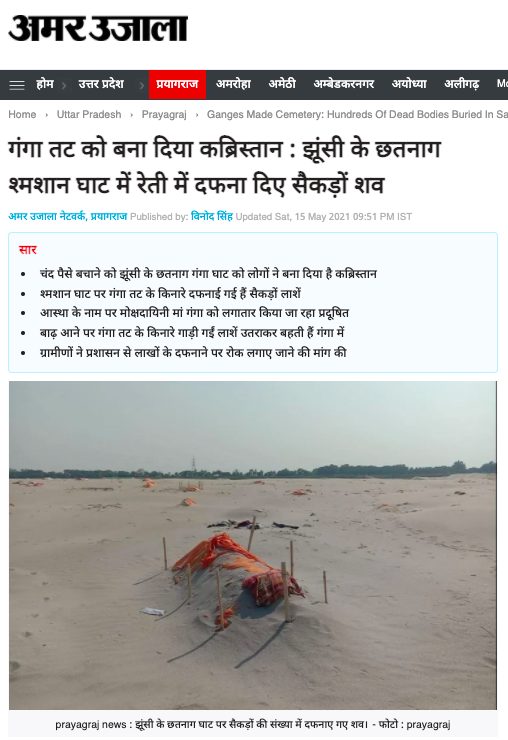 ANI reported that dead bodies laid uncovered in the Sangam area. A local, Kunwar Jeet Tivar, was quoted by the news agency saying, "At least 400-500 bodies have been buried here. This is a sacred place where people used to come to take holy baths. People no longer like to come here. The government should ensure that this matter is taken care of." This report was carried by The New Indian Express on May 16.
On May 16, the Ministry of Jal Shakti said in a statement, "The country is facing an extraordinary situation wherein a number of COVID-19 cases and consequential deaths have been on the rise in many States and UTs in the recent past. Dumping of dead bodies/ partially burnt or decomposed corpses in the river Ganga and its tributaries have recently been reported. This is most undesirable and alarming." No such statement was released in 2018, the year that witnessed similar mass burials per Jagran
The next day Hindustan Times reported, "Over the past week, close to 1,000 bodies were either fished out of the Ganga or found in shallow graves on river banks in Uttar Pradesh and Bihar." The report added that dead bodies were visible at the following ghats – Shringverpur, Arail, Jhunsi, Phaphamau, Sangam – and at the area near Phaphamau Bridge. Inspector general of police, Prayagraj range, K P Singh told HT that the police are no longer allowing burials on the riverfront.
Shivbaran Tiwari, a priest at Shringverpur ghat, told Dainik Bhaskar that prior to the pandemic, typically only 8-10 dead bodies used to arrive. Post-COVID, 60 to 70 dead bodies are being brought to Shringverpur alone. Sometimes this number even crosses 100. This report was also published on May 17.
On May 20, Aaj Tak aired a broadcast from Phaphamau bridge. It was shot from the NH-30 bridge. The report was about the increased number of burials at Phaphamau. Aaj Tak reporter Shivendra Srivastav said during the broadcast, "The sight under Phaphamau bridge is heart-wrenching. People come here for last rites. Only dead bodies can be spotted in this area and some of them are not even cremated but buried just a few feet underground. The bright cloth (ramnami) indicates the burial site… If I'm to take an estimate there have been least 1,000 burials here."
Alt News spoke with Srivastav and he said, "I stand by my report. I can confirm that there were at least 1,000 burials near the Phaphamau bridge area. Based on my research, I feel this kind of mass burial didn't take place in the past."
There are multiple images of mass burials at Shringverpur ghat on Getty Images. One of them was clicked by Ritesh Shukla on May 20 and has been captioned as, "Bodies, some of which are believed to be Covid-19 victims, are seen partially exposed in shallow sand graves after rains washed away the top layer of sand at a cremation ground on the banks of the Ganges River on May 20, 2021, in Shringverpur, northwest of Allahabad, Uttar Pradesh, India. Gravediggers at the site said that there was a threefold increase in the number of bodies arriving for burials and cremations since April."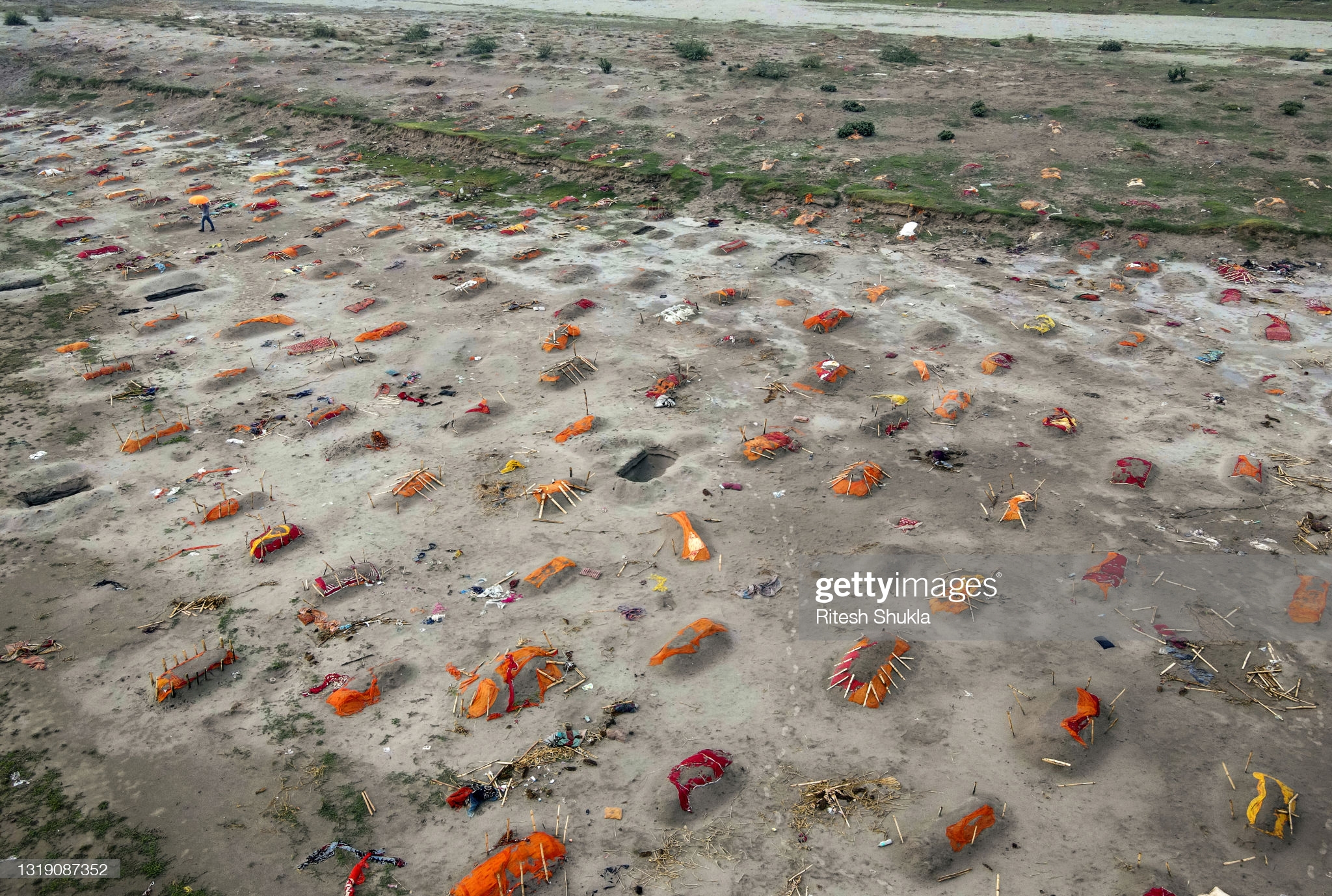 On May 24, 50-year-old priest Jairam told India Today that burial of dead bodies in the sand along the banks of river Ganga is an old custom but the rise in the number of burials is certainly a sign of the COVID-19 pandemic.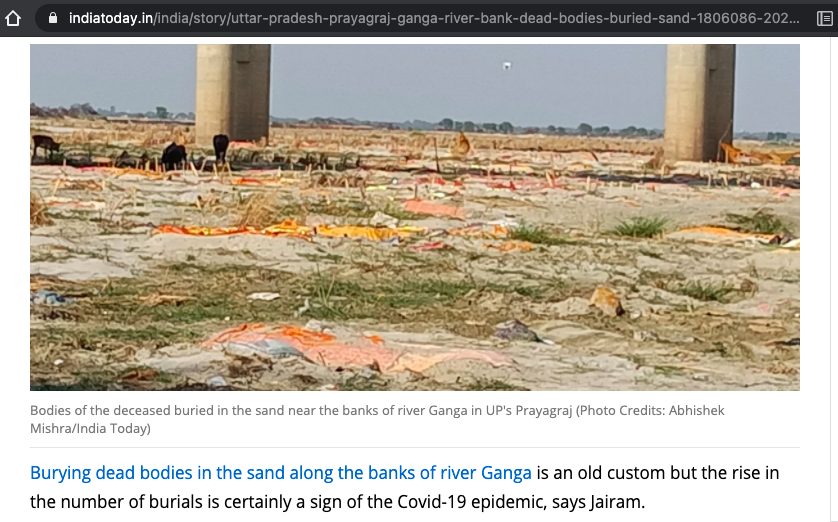 Therefore, multiple national media outlets reported that well over 1,000 dead bodies were found on the banks of Ganga in UP and Bihar. Jagran blamed international media, without naming any outlet, for 'tarnishing' Prayagraj's image. Readers should note that reports by BBC and The Washington Post include statements of government officials and Jagran's reportage claiming images on the internet and reports by 'international media' are creating a misleading image of burials doesn't hold water.
GANGA VICHAR MANCH OFFICIALS' STATEMENTS
Alt News spoke with officials of Ganga Vichar Manch, a volunteer organisation listed on the National Mission For Clean Ganga. BJP state minister and UP coordinator Anamika Chaudhary and UP co-coordinator Sunil Nishad confirmed to Alt News over a telephonic conversation that burials at Shringverpur ghat and Phaphamau ghat have increased amidst the pandemic.
"The number of burials at Phaphamau and Shringverpur ghat was never as high as we have witnessed in May 2021. However, with the cooperation of the administration, the situation at the river banks is improving now and the bodies are not being buried," Chaudhary told Alt News.
Nishad informed, "Prior to the pandemic, bodies were seldom buried at Arail ghat, but this time the number of dead bodies has increased. This pattern can be observed at Phaphamau ghat as well. During my visit to Shringverpur ghat in September-October 2019, I noticed 20-25 buried bodies. But this time the number of bodies is around 400 to 500 – I cannot deny this."
GROUND REPORTING BY JOURNALIST PRASHANT SINGH
Prashant Singh visited Shringverpur ghat and Phaphamau bridge in order to verify Dainik Jagran's claim that a similar dead body count was observed in 2018. Singh asked locals to compare the burials in the pre-COVID era with the number of burials in the first three weeks of May 2021.
INTERVIEWS AT SHRINGVERPUR GHAT
Singh spoke with Kedarnath Tiwari (62) and Manoj Tiwari (42) on May 26. The former is a pandit (priest) and the other is a panda (household priest). Both have been performing last rites at this ghat for decades.
Kedarnath said, "When the number of burials recently increased, we stopped coming. It was an alarming situation. Our family members didn't allow us to visit the ghat. Right from the morning, the burials would begin… since the last 15 days the situation is slightly different. We have never seen anything like this. Four to six dead bodies were coming from each district. There is a dire need for a crematorium."
On May 27, The Indian Express, ABP News and Jagran reported that government officer Anil Kumar Patel submitted a proposal for an electric crematorium near Shringverpur ghat due to a large number of dead bodies buried on the banks of the Ganges. This indicates that the government has acknowledged the increase in the number of deaths amidst the second wave.
Singh asked another priest Manoj Tiwari if he has seen mass cremations to such a large extent in the past, to which he promptly replied "never" and continued, "About a decade ago during extreme summer (due to loos) burials would increase. But what we are seeing in 2021 is unprecedented. Our elders shared that the last time such a large number of deaths took place was during the cholera epidemic."
Manoj confirmed that at least 1,000 bodies were buried at the Shringverpur ghat. When Singh asked how many burials took place prior to the pandemic, he replied, "Burials ranged from 10, 20 to 50 per day." Singh questioned that this number seems to be on the lower side, to which Manoj said, "Well, that is the deal. Today the number of burials per day is about 100 to 125. No one could keep a track of how many dead bodies were being brought here. In fact, we stopped performing last rites and requested families to cremate themselves."
"People who came to cremate their family members were scared of getting COVID-19. They wrapped up the process as quickly as possible and left. Those who were strong-willed did the last rites as usual," he added.
When Singh enquired if there was an intervention by the government, Manoj said, "The government acted only after media reports. Now the burial process has stopped and only cremations take place."
INTERVIEWS AT PHAPHAMAU BRIDGE
On May 29, Singh visited the Phaphamau area and spoke with pandas Devi Prasad Mishra and Durga Prasad Mishra. Both of them have been associated with the ghats for decades.
Devi said, "I'm 55 years old and in my time, I have never seen such mass burials at Phaphamau." When Singh asked him if the same number of burials were taking place in 2018 prior to the 2019 Kumbh, he responded, "No, this has happened after the pandemic when daily 100-125 dead bodies were brought." Devi also revealed that the area near the Phaphamau bridge had such mass burials for the first time. He told Singh that the holy cloth used to cover the grave (ramnami) were recently being removed.
Furthermore, the other panda Durga said, "Cremations and burials used to happen. But not at the scale we are witnessing after the second wave."
Singh also spoke with Ramji who regularly visits Phaphamau to bathe in the Ganges. "I have been visiting Phaphamau each month for the past 32 years. I have never seen the burials I witnessed during COVID-19," he said.
In a series of reports, Dainik Jagran claimed that images on the internet and international media reports on mass burial at the banks of Ganga are mere sensationalism. The outlet claimed that mass burials after the second wave of COVID-19 is not a new phenomenon and a similar number of burials happened in 2018.
While burials along the banks of Ganga is not a new phenomenon in Prayagraj, the scale significantly increased in the second wave of the coronavirus pandemic. This was confirmed by –
Locals, priests and gravediggers associated with the area for decades.
Independent journalist Prashant Singh, photojournalist Prabhat Kumar Verma and Aaj Tak reporter Shivendra Srivastav.
Ganga Vichar Manch officials including BJP state minister Anamika Chaudhary.
Two employees at Dainik Jagran, Prayagraj.
The reports by Dainik Jagran do not corroborate with ground reality and in fact, are an attempt to normalise the recent deaths caused due to mismanagement and government apathy. It must be pointed out Vishvas News that comes under the digital wing of Jagran Prakashan Limited is a signatory to the International Fact-Checking Network (IFCN). Bharat Gupta, CEO of Jagran New Media, is an IFCN board member. The latest reports, unfortunately, only add to the list of misleading reports published by Jagran. In 2018, when an 8-year-old nomadic girl was brutally gang-raped and murdered in Kathua, the outlet claimed no rape had taken place. Last year, when a Dalit woman was gang-raped in Hathras, Jagran claimed that she was murdered by her brother and mother.
Donate to Alt News!
Independent journalism that speaks truth to power and is free of corporate and political control is possible only when people start contributing towards the same. Please consider donating towards this endeavour to fight fake news and misinformation.