On May 30, ANM (auxiliary nurse midwife) Neha Khan from Jamalpur Primary Health Centre in Aligarh was booked for allegedly disposing 29 syringes filled with COVID-19 vaccine without administrating them to the beneficiaries. ANI reported that on a complaint of the CMO, the police has lodged an FIR against Khan and the Medical Officer-in-charge of the primary health centre Afreen Zehra. Khan has denied the allegations and called them a conspiracy against her.
Zee Hindustan reported on the case and aired a video of a healthcare worker pulling out a syringe without administering the vaccine to a person.
This broadcast is massively widespread on social media. BJP Rajasthan spokesperson Laxmikant Bharadwaj shared the portion of the Zee Hindustan broadcast where the video was played.
यूपी में नर्स निहा खान का कारनाम देखिए कैसे इंजेक्शन की सुई चुभोकर बिना वैक्सीन डिस्चार्ज किए वापस निकालकर डस्टबिन में फेंक देती थी।
योगी राज था इसलिए गिरफ़्तार भी और बर्खास्त भी हो गई । पर मक़सद क्या था ? pic.twitter.com/rrS9Umwn7o

— Laxmikant bhardwaj (@lkantbhardwaj) May 30, 2021
BJP Delhi spokesperson Manish Shulka also tweeted the video. And so did BJP supporters Renuka Jain, Arun Pudur and Atul Ahuja.
नर्स निहा खान का कारनाम देखिए कैसे इंजेक्शन की सुई चुभोकर बिना वैक्सीन डिस्चार्ज किए वापस निकालकर डस्टबिनमें फेंक देती थी।गिरफ़्तारकर बर्खास्त कर दिया गया है किंतु छोटी-छोटी बातोंपर हल्ला मचानेवाले कैसे चुप्पी साध कर बैठ गये है ।ये शान्ति ख़तरनाक है।@shalabhmani @Lawyer_Kalpana pic.twitter.com/VTccdIFOLj

— Manish Shukla (@manishBJPUP) May 30, 2021
"The video of the act has gone viral on social media, where Niha Khan can clearly be seen inserting the Covid 19 vaccine in recipients, but skillfully taking it out without releasing the medicine," reported OpIndia, sharing Barkha Trehan's tweet.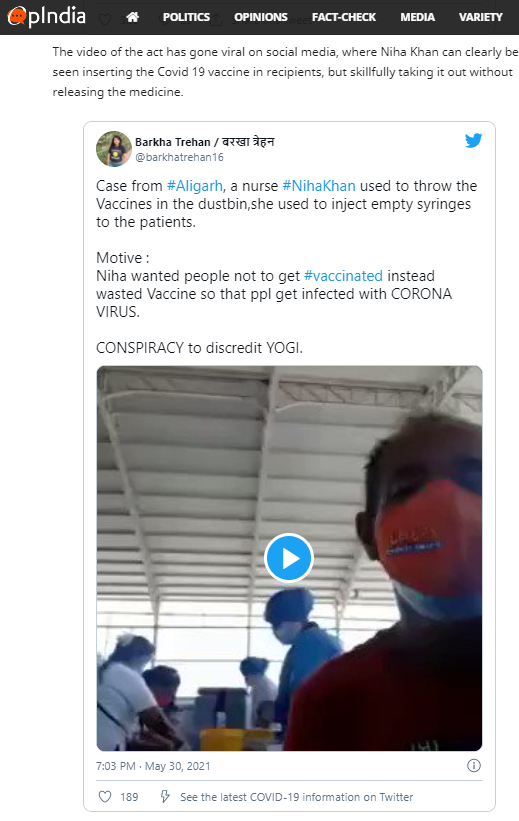 The video is circulating on Facebook as well. It has drawn 9.3 lakh views from the Facebook page 'Headlines India'.
This page played another video which is also circulating on social media with the same 'Neha Khan' claim.
Video 1: Zee Hindustan airs video from Ecuador
The video of a nurse removing the needle without injecting the vaccine was shared by Ecuador-based Twitter handle @gabriela_ma94 on April 26. Former Minsiter of Health of Ecuador Dr Camilo Salinas responded to the handle that the nurse and the patient have been identified and an investigation has been launched.
Saludos
Tenemos identificado al enfermero y el paciente .
Se inicia la investigación daremos detalles pronto.

— Dr.Camilo Salinas Ochoa (@CamiloSalinasOF) April 25, 2021
CNN en Español reported that Secretary-General of the Cabinet of the President of Ecuador Jorge Wated said that the man, 55, fraudulently passed the queue for people above 65 years of age to get vaccinated. The nurse did not vaccinate him at first, as seen in the video, but later did give him a dose. They were both detained for investigation.
The Ministry of Health of Ecuador had tweeted a press release on April 26 itself that said the nurse was identified. The incident took place at a vaccination centre in Mucho Lote in Guayaquil.
COMUNICADO | Ante lo ocurrido hoy en el punto de vacunación #MuchoLote, informamos a la ciudadanía que el profesional de la salud fue identificado y será investigado por las autoridades pertinentes.

Manténgase informado por los canales oficiales. pic.twitter.com/4LaWYvjXUs

— Salud_Ec (@Salud_Ec) April 26, 2021
Ecuadorian journalist Dayanna Monroy tweeted a video showing the police escorting both the man and the nurse from the centre. She wrote that the nurse was detained for investigation after he was caught pretending to vaccinate a person. The man was also detained because he was not eligible for vaccination at the time.
⏩ Detienen para investigaciones al enfermero que fingió vacunar a un ciudadano contra el COVID.

El paciente, que fue pinchado sin recibir la dosis, también fue detenido para investigaciones por supuestamente no ser adulto mayor. pic.twitter.com/07Xozx28rF

— DayannaMonroy (@dayannamonroy) April 26, 2021
Zee Hindustan, therefore, picked up a video from Ecuador and falsely linked it to the case where ANM Neha Khan was booked in UP for allegedly throwing syringes filled with COVID vaccine in the dustbin. The nurse who was detained in the case from Ecuador was a man.
Video 2: From Mexico
The other video shared by a few users was debunked by Alt News last month. The incident had occurred in Macro Vaccination Unit based at the National School of Biological Sciences Zacatenco Unit of National Polytechnic Institute (IPN) in Mexico. The volunteer vaccinator was removed from the vaccination centre.