A photograph of a girl in bridal attire is widely circulating on social media with users claiming that she is an 8-year-old who was married off to a 28-year-old man in Bihar's Nawada district. BJP influencer Ashoke Pandit tweeted the image and tagged Chief Minister and Janata Dal leader Nitish Kumar.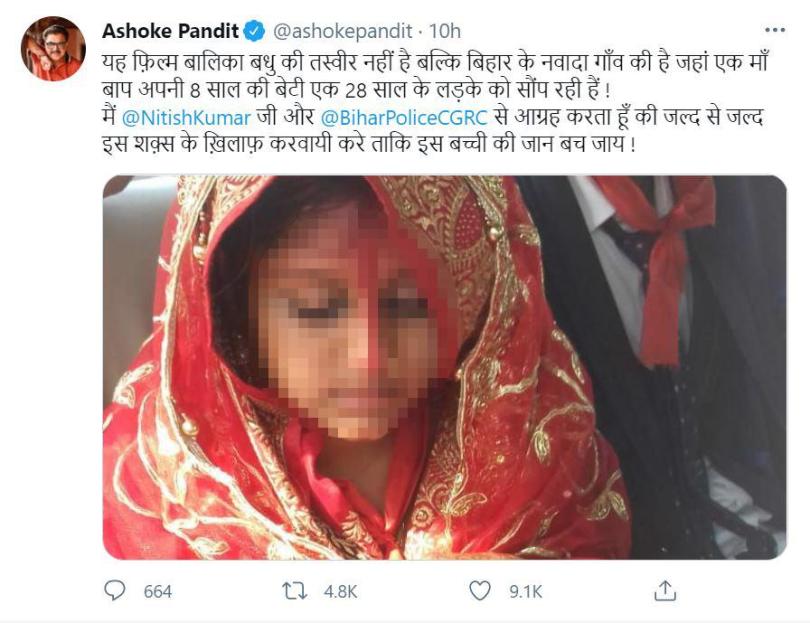 Former journalist Sunchika Pandey and Zee Hindustan journalist Tushar Srivastava also promoted the child marriage claim.
This slideshow requires JavaScript.
Maharashtra Rajya Sabha MP and Shiv Sena leader Priyanka Chaturvedi quote-tweeted Srivastava's tweet and questioned if CM Nitish Kumar will take appropriate action.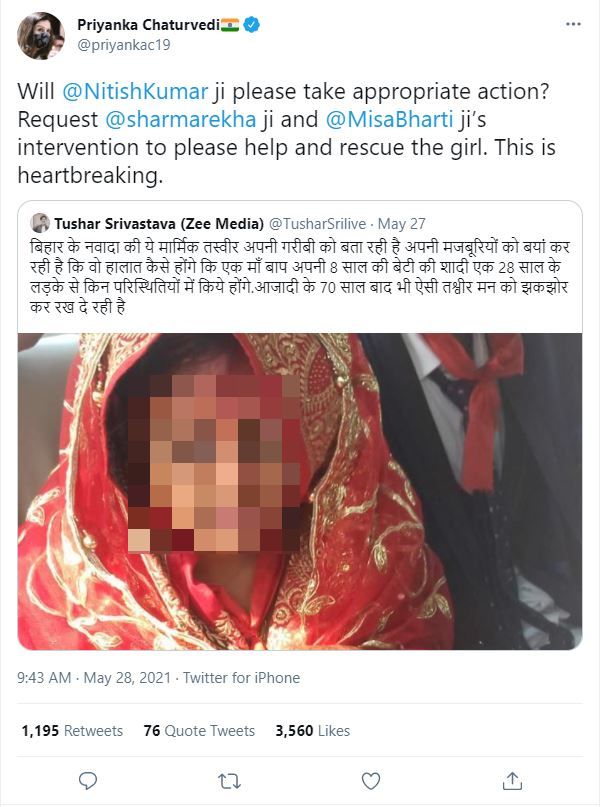 Navbharat Times journalist Narendra Nath Mishra claimed that the minor was married due to poverty.
Taking cognizance of the matter, Priyank Kanoongo, Chairperson of the National Commission for Protection of Child Rights, issued a notice.
नवादा बिहार में बाल विवाह किए जाने के सोशल मीडिया से प्राप्त शिकायत का संज्ञान लेते हुए,@NCPCR_ ने नोटिस जारी किया है।
दोषियों को हर हाल में सज़ा दिलवाने के लिए आयोग प्रतिबद्ध है।
कृपया बच्चे का फ़ोटो अपलोड व शेयर कर के क़ानून का उल्लंघन न करें। pic.twitter.com/pdWrfn3h2R

— प्रियंक कानूनगो Priyank Kanoongo (@KanoongoPriyank) May 28, 2021
News portal Khabri Bhaiya also published an article based on the picture. It quoted sources as saying, "The family the girl has been married into is not even in a position to take care of her properly."
The photograph is massively viral on Twitter and Facebook.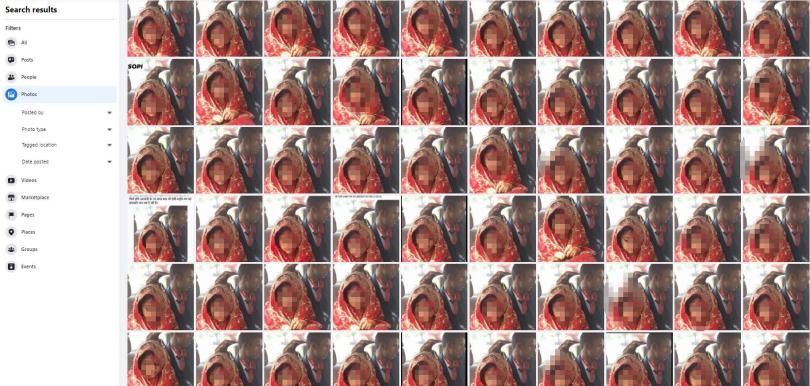 Fact check
Alt News reached out to SP Dhurat Sayali Savalaram from Nawada who said that the incident took place in Jamui but she was unable to provide details as the case does not fall under her jurisdiction. Nawada DM Yashpal Meena was able to provide further information. Addressing the media, Meena informed that a high-level team was sent to the Manjore Panchayat of Warisaliganj for investigation, where locals said that the girl's natal home fell under the jurisdiction of Sikandra police station in Jamui district. She was raised at her grandmother's house and has also been living there. Jamui police administration was briefed on the incident.
We subsequently spoke to Jamui SP Pramod Kumar Mandal who informed us that the girl was married in Ashok Dham and is actually 19 years old. He also sent us a photograph of her Aadhaar card that says her date of birth is January 1, 2002.

Santhosh Singh, editor of Kashish News, shared the young woman's video statement with us. She said that she was born on January 1, 2002. The man beside her in the video is her husband. The couple were married after their families' consent.
Nawada administration issued a press release debunking the viral child marriage claim. The release also mentions her date of birth as per her Aadhaar card.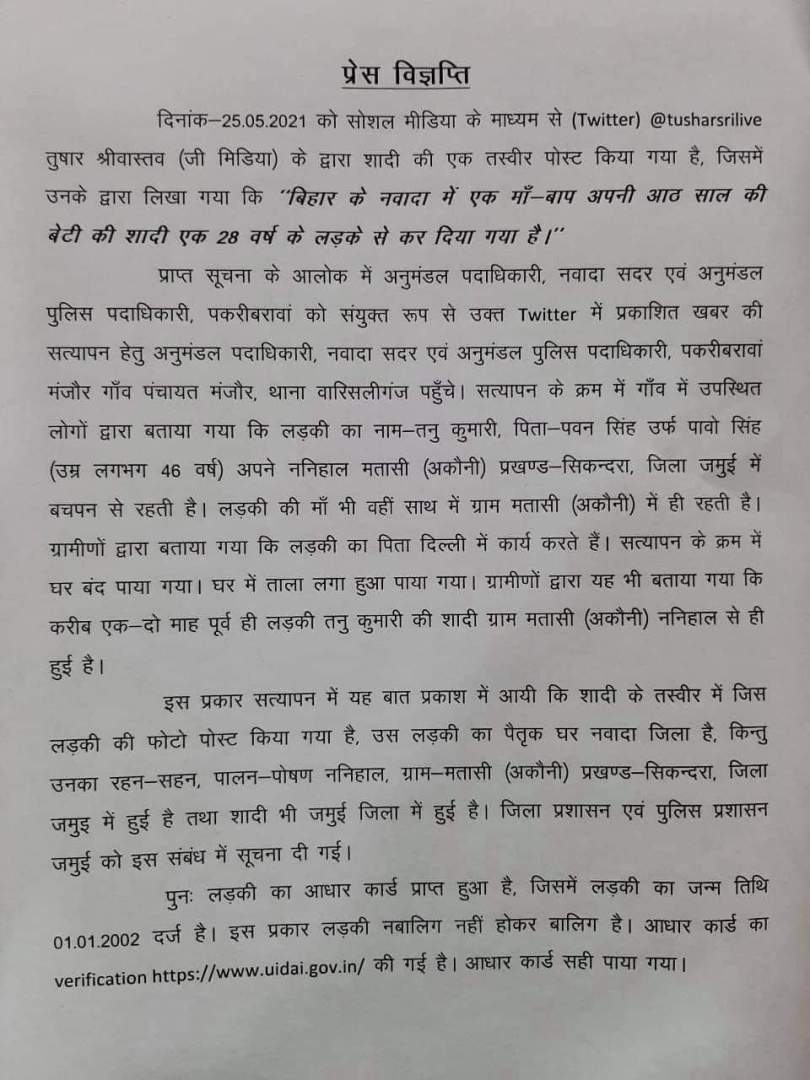 Mooknayak founder Meena Kotwal also contacted the couple – Tanu and her husband Shashikant – and they clarified on the viral claims.
बिहार की जिस लड़की को 8 साल का बताकर तस्वीर वायरल की जा रही है वो 19 साल की तनु हैं. तस्वीर में शादी के जोड़े में बैठी तनु को 8 साल का बताकर इसे सोशल मीडिया पर वायरल किया जा रहा है और कहा जा रहा है कि मजबूरी में 8 साल की बच्ची की शादी की गई है. तनु ने बताया कि उनकी जन्मतिथि 1/1 pic.twitter.com/j0qKxFGK6g

— Meena Kotwal (@KotwalMeena) May 28, 2021
A young, adult woman's marriage in Bihar was given a false child marriage spin on social media. Local administration and the woman herself have clarified that she is 19 years of age.
Donate to Alt News!
Independent journalism that speaks truth to power and is free of corporate and political control is possible only when people start contributing towards the same. Please consider donating towards this endeavour to fight fake news and misinformation.