On April 3, 2022, just about two months after Yati Narsinghanand got bail in the Haridwar Dharam Sansad hate speech case on the condition that he would not deliver provocative speeches that can disturb communal harmony or take part in similar assemblies, Narsinghanand launched a vitriolic attack against Muslims at the Burari Hindu Mahapanchayat in Delhi and urged Hindus to take up arms against Muslims.
Fourteen days later, he repeated it in Una, Himachal Pradesh. Here, speaking to the media during a hate-spewing assembly in which he took part, Narsinghanand said that Islam's jihad would eat the entire country.
Undaunted by bail conditions imposed on him, Narsinghanand has since delivered speech after speech after speech targeting Muslims, which received thousands of views on YouTube. Not only that, he has announced a three-day dharam sansad in Ghaziabad, Uttar Pradesh, from December 17, 2022. After the district administration denied him permission, he said he would hold it at any cost.
The Supreme Court recently took a serious note of the 'disturbing' nature of hate speeches 'against one community' and asked police to take suo moto action in such speech cases 'even if no complaint is forthcoming and proceed against the offenders'. Keeping this in mind, Yati Narsinghanand's brazen and repeated violations of bail orders with complete impunity deserve to be highlighted. It is worth noting that the apex court said in its October 21 order that 'any hesitation to act in accordance with this direction will be viewed as contempt of this Court and appropriate action will be taken against the erring officers.'
What constitutes Hate Speech?
According to the United Nations, hate speech 'refers to offensive discourse targeting a group or an individual based on inherent characteristics (such as race, religion or gender) and that may threaten social peace.' It identifies hate speech as a 'precursor to atrocity crimes, including genocide.'
The Law Commission of India had in March 2017 submitted a report to the Supreme Court on hate speech. On page 38, the report defines hate speech as an 'expression which is abusive, insulting, intimidating, harassing or which incites violence, hatred or discrimination against groups identified by characteristics such as one's race, religion, place of birth, residence, region, language, caste or community, sexual orientation or personal convictions.'
Readers can find the Alt News Hate Speech Policy here, follwoing which this report has identified and classified Narsinghanand's hate speeches. The document has been prepared based on Facebook's community standard on hate speech, which is the most detailed such document available publicly.
Tier 2 of the policy considers the following as hate speech: Expressions of contempt (in written or visual form), which is defined as:
Self-admission to intolerance on the basis of protected characteristics, including, but not limited to: homophobic, islamophobic, racist.
Expressions that a protected characteristic shouldn't exist.
Expressions of hate, including, but not limited to: despise, hate.
All of Narsinghanand's public speeches documented below, offline or online, can be designated as hate speech according to the above classification.
Who is Yati Narsinghanand?
In January 2022, Narsinghanand's father 83-year-old Rajeshwar Dayal Tyagi told ThePrint that Narsinghanand was born in 1972 in Hirnot village, Bulandshahr. His given name was Deependra Narayan Singh.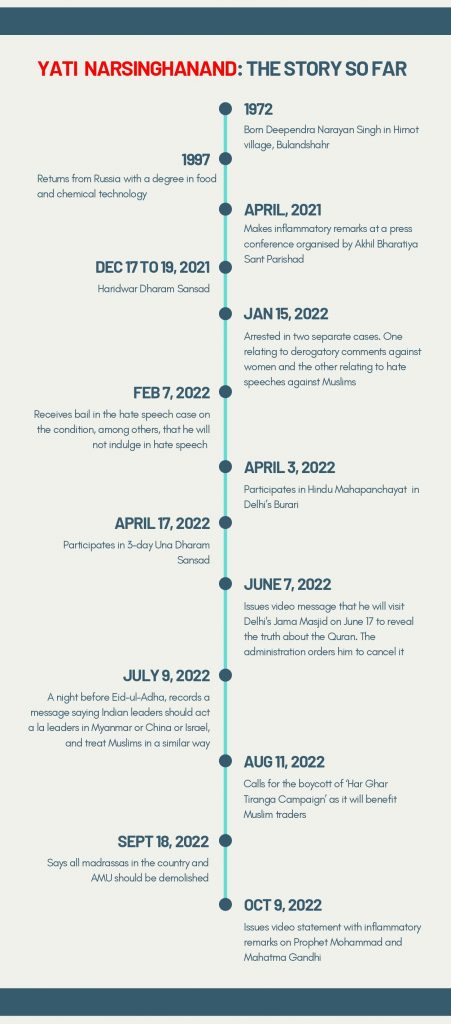 He also described his son as a brilliant student who had received scholarships based on merit for studying food and chemical technology in Russia. A junior at the college, Arun Tyagi, revealed to ThePrint that Narsinghanand was very popular among the Indian student community, especially because of his culinary expertise and he had started a business providing tiffin services.
According to the story, Narsinghanand returned from Russia in 1997 and got married. He had a job offer from Haldiram's which he declined and moved to Ghaziabad and opened a coaching institute. Around this time, he came under the influence of BJP leader Baikunth Lal Sharma, who later became his mentor. However, it is unclear how Narsinghanand got associated with the Dasna Devi temple and later became the head priest.
In March 2021, Narsinghanand shot to fame after he came out in support of two caretakers of the Dasna Devi temple who had been arrested for allegedly beating up a 14-year-old Muslim boy for entering the temple to drink water. At a press conference, he said that he had trained his followers to give a befitting reply to trespassers from a certain minority community and they were simply following his instructions.
The Dasna Devi temple in Ghaziabad also had a poster in place that barred entry to Muslims. After the assault of the minor Muslim boy, this poster was replaced by a larger banner which read the same. In fact, this poster inspired Hindutva groups to put up banners at other temples and shrines warning Muslims and non-Hindus not to enter the premises.
The very next month, speaking at another press conference organised by Akhil Bharatiya Sant Parishad at the Press Club of India, Narsinghanand made several inflammatory remarks against the Prophet of Islam. A number of FIRs were filed against him.
The Haridwar Dharam Sansad
From December 17 to 19, 2021, a large gathering of Right-Wing religious leaders, including some affiliated with the BJP, took place in Haridwar. The event was termed 'Dharam Sansad' or religious parliament. On all the three days, this event witnessed an extraordinary outpouring of hate speech, call for violence and anti-Muslim rhetoric.
Videos of the Haridwar Dharam Sansad soon started circulating on social media. BJP leader Ashwini Upadhyay was also an attendee of the event and had brought a 'saffron constitution' to Dharam Sansad. The police took cognizance of the videos and filed an FIR on December 23.
सोशल मीडिया पर धर्म विशेष के खिलाफ भड़काऊ भाषण देकर नफरत फैलाने संबंधी वायरल हो रहे वीडियो का संज्ञान लेते हुए वसीम रिजवी उर्फ जितेंद्र नारायण त्यागी एवं अन्य के विरुद्ध कोतवाली हरिद्वार में धारा 153A IPC के अंतर्गत मुकदमा पंजीकृत किया गया है और विधिक कार्यवाही प्रचलित है। @ANI pic.twitter.com/0NLBwPqQhV

— Uttarakhand Police (@uttarakhandcops) December 23, 2021
On January 13, Jitendra Narayan Tyagi, formerly known as Wasim Rizvi, one of the speakers, was arrested for hate speech.
A video of the conversation between Yati Narsinghanand and the Haridwar Police during Tyagi's arrest also went viral on social media. In the clip, it appeared as if the police are begging the mahamandaleshwar of the Juna Akhara to allow them to arrest Tyagi. Here, Narsinghanand can also be heard saying to the police that they will all die ("Tum sab maroge").
Conversation between "Swami Ji" Yati Narsinghanand and police officers during Jitendra Tyagi/Wasim Rizvi's arrest- pic.twitter.com/IzXj1vfAH5

— Fatima Khan (@khanthefatima) January 13, 2022
Arrest & Bail Condition
Narsinghanand, one of the most prominent speakers at the Dharam Sansad since his Hindutva activism had already been widely reported, was arrested two days later in two separate cases — one relating to derogatory comments against women, another relating to hate speech.
Uttarakhand | Yati Narsinghanand has been arrested today, in connection with a case pertaining to derogatory remarks against women. He has 2-3 cases registered against him: CO City, Haridwar pic.twitter.com/mMs1YI6R9x

— ANI UP/Uttarakhand (@ANINewsUP) January 15, 2022
After staying in judicial custody for almost a month, he received bail on February 7 in the Haridwar hate speech case and on February 14, in the case pertaining to derogatory comments against women. As has been stated earlier, Narsinghanand's bail conditions included giving an undertaking that he would not repeat the same offence he had been arrested for or participate in any event that can cause enmity between communities.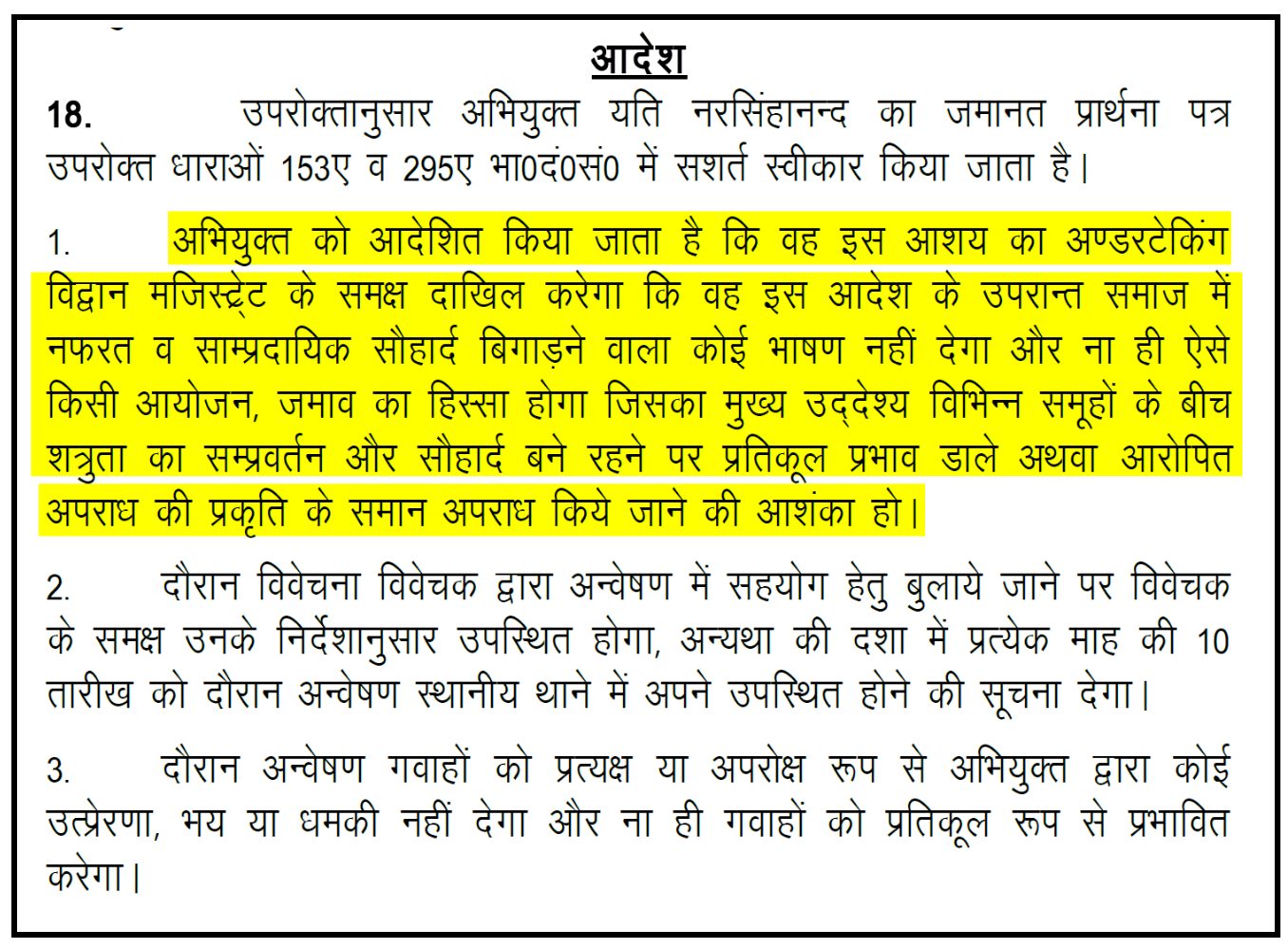 Burari Hindu Mahapanchayat
Less than two months after his bail, Narsinghanand appeared on the stage at the Burari Hindu Mahapanchayat on April 3 organised by Seva India Foundation and other Hindu organisations, reportedly without police permission. In one of the clips available in public domain, he says that once a Muslim becomes the Prime Minister of the country, 50% of the attendees will have to change their religion. He further says that the Muslims in the country are not from Arab, they were once friends and family of Hindus. He also adds that 40% of Hindus will be murdered, and the rest 10% of Hindus will give away their sisters and daughters to Muslims and will either live in refugee camps or in foreign lands. Narsinghanand also urges the Hindus to be man enough to take up arms if they wanted to alter their future.
The entire above speech falls under Tier 2 (3.1) as it is Islamophobic in nature. Besides, it peddles a conspiracy theory that once Muslims come to power, they will essentially exterminate the Hindu population. Moreover, it is a form of speech that could incite imminent violence or intimidation.
Yati Narsinghanand is at it again, he asks "Hindus" to take up arms against "Muslims" while addressing a crowd gathered at the ongoing "Hindu Mahapanchayat" in Delhi's Burari ground.

"If you want to change the future, become a man,man is the one who has arms in hand," Yati said. pic.twitter.com/ABuX2B58UU

— Mahmodul Hassan (@mhassanism) April 3, 2022
In another clip, he says that those who are capable of giving birth should go now and give birth to children, and make the children worthy to fight.
Yati Narsinghanand further asks "Hindus" to give birth to children and make them worthy to fight.

"Only give birth to children, go now and give birth to children, and make your children worthy to fight," he said at "Hindu Mahapanchayat" in Delhi today. pic.twitter.com/9CmvGMWP9a

— Mahmodul Hassan (@mhassanism) April 3, 2022
Both the viral clips show a clear violation of the bail conditions by Yati Narsinghanand.
In this same event, several journalists affiliated with Article 14 and Newslaundry were assaulted. There were also reports of the mob forcing journalists to delete footage of the event from their devices.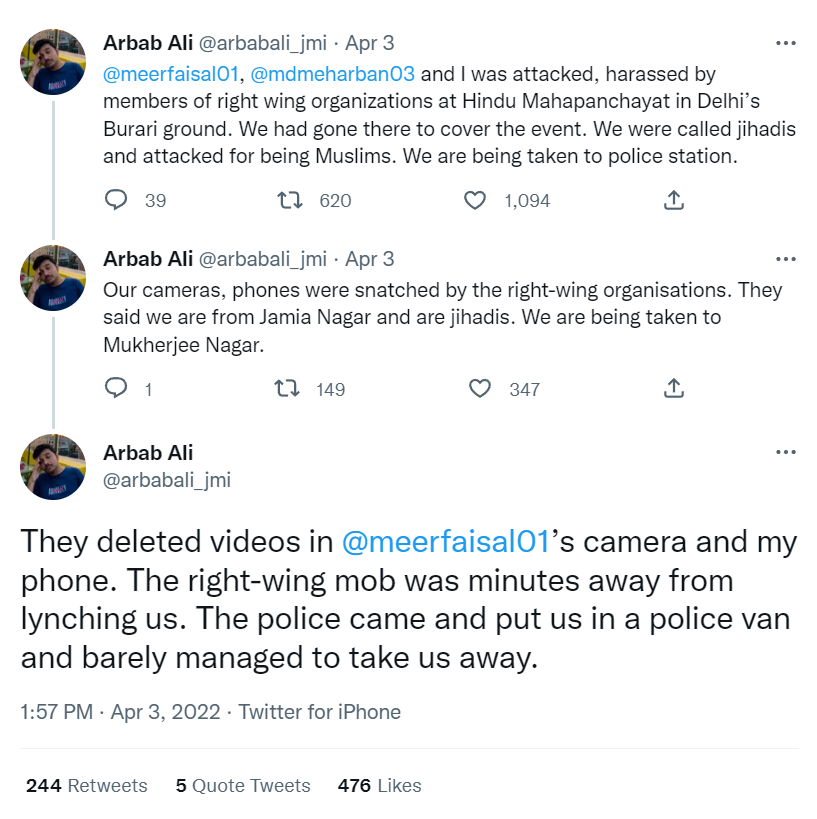 Una Dharam Sansad
14 days after the Hindu Mahapanchayat in Delhi's Burarai, Yati appeared in another Dharam Sansad, this time in Una.
There are no publicly available clips to verify if Narsinghanand spoke at the Una conclave. However, he did speak to the media during this event. He said that Islam's jihad will eat the entirety of the country and that the population of Muslims was increasing exponentially. He also said that the population of Muslims had increased in the hills and hence the crime rate had gone up.
This falls under Tier 1 (2.7) of the hate speech policy as it generalizes Muslims as criminals and also peddles the theory that an increase in Muslim population leads to an increase in crimes. [Generalisations or unqualified behavioural statements (in written or visual form) to or about criminals (including, but not limited to, 'thieves', 'bank robbers' or saying 'All [protected characteristic or quasi-protected characteristic] are 'criminals']'.
Yati Narsinghanand was also a speaker at the Una Dharm Sansad. He said, "Population of muslims is rising" and stressed on the need for Hindus to produce more kids. According to his bail condition in Haridwar Dharm Sansad case, he is not allowed to take part in these events. pic.twitter.com/P6uHDnfr8S

— Kaushik Raj (@kaushikrj6) April 17, 2022
Live streams on YouTube and the Doomsday Theory
Ever since Narsinghanand got out of jail, he has taken part in several YouTube live streams. On going through Narsinghanand's YouTube speeches, Alt News found that there are a few points that he makes repeatedly. One of them is the idea that 'Islam's jihad' will destroy India. He keeps on saying that by 2029, India will have a Muslim PM and this will be the beginning of the extermination of Hindus. He also likes to harp on the string that Islam is a fundamentally corrupt and violent religion that believes in destroying others and Hindus should be prepared. Another claim that he makes almost every time he is at the microphone is that religious texts of Muslims, that is, the Quran and the Hadith, tell Muslims that they can rape, murder, loot people from other religions, or 'kafirs'. The only way for the Hindus to defeat this enemy is by being physically prepared, giving birth to as many child as possible and pick up arms. He also often makes the claim that most of the religions of the world, if not all, are at war against Muslims.
Moreover, all of his speeches contain loads of misinformation and conspiracy theories unsupported by any evidence, which function as a launchpad for him.
Live stream #1
On April 3 around 2:30 PM IST, the same day as the Hindu Mahapanchayat in Burari, Narsinghanand appeared on a YouTube live stream on the channel 'Swami Armitanand Bhakti', run by Swami Amritanand, a close associate of Narsinghanand. The channel has around 20.9K subscribers and the live stream received 6,066 views. The topic for this stream was 'Vijay ya veergati' (Victory or gallantry).
At the 6:38-minute mark, Swami Amritanand says that there is a latest government press release as per which it is said that in the last one week in West Bengal, around 800 bombs, 15 rifles and 150 shotguns have been recovered from a 'certain community'. He then asks Yati Narsinghanand about the outrage that is caused when they speak of such facts.
To this Narsinghanand responds by saying that the Hindu community only knows how to do politics to fulfil self-interest. The Muslims, he says, are doing their job with honesty, that is, they are following what the Quran says and not doing anything that is not mentioned in there, implying that Muslims are inherently violent and it is part of their religion.
In this same stream, at the 8:53-minute mark, Narsinghanand argues that Hindus are not producing children, not becoming strong physically, and are not prepared for a battle. He argues that Hindus are becoming economically strong but there is no meaning to that.
At the 9:20-minute, the co-host asks why the Hindu community does not come to his support. Narsinghanand responds by saying that Hindus are not interested in saving their sisters and daughters. They are only interested in watching their sisters and daughters get raped by Muslims and later get sold in the markets. He says that Hindus have a slave mindset hence they don't come to his support. At the 14:15-minute mark, Yati compared Muslims to wolves/beasts.
This part can be categorized under Tier 1 (2.4) of the policy — Dehumanising speech or imagery in the form of comparisons, generalisations or unqualified behavioural statements (in written or visual form) to or about sexual predator.
From the 14:58-minute mark, they extensively talk about the kinds of people who are leading this country and are 'fooling' Hindus. Swami Jitendranand also raises the issue of the Government of India not providing enough security for Yati Narsinghanand. Narsinghanand says that the government is providing security to those saints who are leading Hindus to the den of Muslims to get murdered.
At the 17:55-minute mark, Narsinghanand says that BJP-RSS are here to promote self-interests before Muslims take over and rule Hindus in 2029 (Intimidation). He says that after 2029, they are going to give away their sisters and daughters to Muslims anyway. (Tier 1 – 2.4)
Narsinghanand ends his bit of the stream by talking about Maulana Tauqeer Raza, and how the person was not arrested despite giving out objectionable speech, he also mentions that even nationalist news anchors are saying that he spews venom.
Live stream #2
The second live stream was held on 'Swami Amritanand Bhakti' in the evening of April 18 around 8 PM IST. This stream received 2,738 views and it is the lengthiest Yati Narsinghanand has been live on YouTube since his bail. This stream was held on the day Narsinghanand and Amritanand were returning from the Una Dharam Sansad.
The stream begins with Amritanand asking Narsinghanand why the speeches at the Dharam Sansad are termed hate speech. Narsinghanand responds by saying that Dharam Sansad-like events are enlightening Hindus and this has rattled the 'jihadis'.
At the 17:55-minute mark onward, to a question asked by Amritanand, Narsinghanand says that as per the hadiths, a 'kafir' can be raped, murdered and even looted, none of which is considered a crime. He adds that wherever sharia is implemented, the murder of a 'kafir' is seen as a reward. He also says that wherever Muslims are in majority, Hindus are not even allowed to breathe. (Tier 1 – 2.6)
At the 44:17-minute mark, Narsinghanand says "They don't spare their own mothers, sisters and daughters" (translated) – (Tier 1 – 2.6). Just after this, at the 44:27-minute mark, he says, "In Bangladesh when Muslims go to rape Hindus, their mothers say go one by one or else my daughter will die" (translated) — (Tier 1 – 2.6). At the 47:36-minute mark, Amritanand says Muslims are more shameless than animals. He says that it is written in the Hadith that they can rape the dead. The rest of the stream till the end remains in the form of a Q&A.
It is pertinent to note, throughout this live stream, Narsinghanand also targets the RSS-BJP. He thinks that the BJP-RSS speaks a different language when they are not in power and take a U-turn when they are in power.
Live stream #3: The Interview
The third live stream on the Swami Amritanand Bhakti channel was done on May 20, around 2:41 PM. It received a total of 10,171 views. Unlike the first two streams, this one did not feature Narsinghanand. Instead, another interview with him shot a few days back was broadcast.
At the 7:15-minute mark, interviewer Sachin Tiwari asks Narisnghanand how Hindutva will emerge stronger and how Gyanvapi has become an issue these days. In his usual style, Narisnghanand starts by saying that Hindus are fools, he says "which Hindu did not know that Gyanvapi was a temple and not a mosque?" He then adds that which Hindus do not know that the mosque in Mathura, too, is actually a temple. Narsinghanand says that it is good that these places of worship are being returned to Hindus but the focus should not solely be on that.
"Isse jyada humein dhyan iss baat pe dena chahiye ki Bharat pe Islam ke jihadiyon kabza na ho jaye. Pata chala hum kewal mandiron ki ladai ladte rahe aur itne dino main musalman jihadis pure bharat pe kabza kar le." ("More than this, we should focus on the fact that India might get captured by the jihadis of Islam. Our focus will solely remain on temples and one day we will find out that Muslim jihadis have captured the entire country") — (Tier 2 – 3.1).
He says that the whole focus should be on creating a Sanatan Rashtra (Hindurashtra), and only then will Sanatan dharma survive. He adds, "Mandir banne chahiye lekin dekhiye sthiti ye hai ki agar musalmano ka raaj aya to ek bhi mandir yaha bachna nahi h, jo mandir aaj ke hai ye bhi nahi bachne hai. (Temples should be built but the condition is such that if Muslims start ruling this country, not a single temple will survive, and even those temples that were built today will vanish). (Intimidation)
He also says that the religion of Islam was born to destroy Hindu temples. The first temple that was destroyed was in Mecca, the 'Makkeshwar Mahadev' temple [referring to the conspiracy theory that the Kaaba is a Shiva temple].
Narsinghanand adds that he cannot expand upon these topics because of the restrictions imposed upon him by the courts. However, he doesn't relent. He immediately says that, "Humara bhavishya tabhi zinda rahega jab hum bachengay." ("our future will only exist if we survive".)
He adds, "Pata chala hum toh mar gaye fir chahe jitne mandir ho jitne gaushalaye ho, jitne ashram ho ye kis kaam aane hai. Woh Jihadiyon ke kaam aane hai woh unhe masjid banaengay, waha apni aiyyashi karengay, apna maza lengay." ("One day we will find out that we all are dead and all our temples, gaushala, and ashrams will be of no use. They will be useful to the jihadis, they will convert those places to mosques, they will enjoy there, they will take pleasure there".) (Intimidation, Tier 2- 3.1)
He also says, "Islam ke basic jo samjhiye. Aapka jo bhi kuch hai, usey cheen na, aap ki hatya karna, aapke maal ko ganimat maan kar hajam kar jana, aapki aurton ko ya to balatkar karke mandiyon main bechna, ya apni sex slave banake apne pas rakh lena. Ye islam ka uddeshiya hai. Isko samjhe bina, hum Islam ko samjh hi nahi sakte." ("Understand the basics of Islam. To steal everything from you, to kill you, to take away all your belongings, to rape your women and then sell them in the markets or to turn your women into their sex slaves and keep them for themselves. This is the basic goal of Islam. Without understanding this, we will never be able to understand Islam".) (Tier 2 – 3.1. Tier 1 – 2.6).
The interviewer then moves to the other guests. At the 23:22-minute mark, Amirtanand takes over and starts asking questions to Narsinghanand about the 'restrictions' implemented on him by the courts. What Narisnghanand says can be translated as follows: "Look, this is true that the court has put such a huge restriction upon me and I will never be able to tell the truth about Mohammad which I had earlier brought before the world. Now I will never be able to tell that Mohammad was a thief, that Mohammed was a dacoit, that Mohammed was a rapist, that Mohammed was a seller of women, that Mohammed was a merciless killer, that Mohammad was the founder of organised crime. Islam is an organised gang of criminals". (Tier 2 – 3.1. Tier 1 – 2.6).
Live stream #4
The fourth live stream was held in the evening on June 19, on the same channel. The stream was led by Swami Amritanand and it featured Santosh Das and Yati Narsinghanand. The stream received 4,400 views and the topic of the conversation was "धर्म परिवर्तन एवं धर्म परावर्तन पर विशेष चर्चा" (Special conversation on religious conversion and religious enforcement).
The conversation with Narsinghanand begins at the 1:09:00-minute mark with Das narrating a poem about religious conversations. Narsinghanand gets disconnected from the stream and another guest, named 'the Apostate Imam', talks of how every one out of four Muslims in Europe are leaving Islam. Once he reconnects, the first guest, Santosh Das, asks Narsinghanand's opinion on धर्म परावर्तन (Dharam Paravartan or religious enforcement) through which Islam was allegedly forced upon others.
Narsinghanand begins by saying that the disease named Islam needs to be removed not just from India but from the entire world (Tier 2 – 3.1). He then goes on a rant about how Hindus need to become strong, without which they cannot win this 'battle'. Narsinghanand also says that Islam has various countries, mosques, institutions and terrorist organisations to back it, but its fundamentals are weak. He then refers to the 'data' shared by the 'Apostate Imam' which proves that Islam was slowly vanishing from this planet.
At the 1:16:00-minute mark, Narisnghanand says, "Jaise swami ji China ne kaha ki Islam ek mansik beemari hai. Toh iss mansik beemari ka har sambahv ilaaj hume khojna padega, inhe khadena bhi padega aur inka paravartan bhi karwana padega." ("For example; the way China has called Islam a mental disease, we also have to find every possible solution for this mental disease. We have to chase them away and at the same time enforce upon them our religion.") (Tier 2 – 3.1, Tier 1 – 2.3).
For the rest of the stream, all the speakers continue talking about religious enforcement. At one point (1:17:05), Narisnghanand says, "Hindus never changed their religion on their own. I am not speaking of some of these traitors. Lots of torture happened, blood-bath happened, and rapes happened, but only after that Hindus switched their religion." (translated)
He repeatedly emphasizes in this stream that the reality of Islam needs to be brought in front of the world. His bit on this live stream ends with him talking about the various steps and sacrifices required to finish the 'enemy'.
Live stream #5
This one was held on a channel called 'Maa Bharti Putra', which is run by a follower of Yati Narsinghanand and has 2.76K subscribers. This live stream was organised on August 1, 2022, at 3:49 PM IST and the total lifetime views of this stream are 1,588 views. The topic of this stream was 'Vishwa Dharam Sansad' (Global Religious Parliament).
The stream begins with (0:53-seconds mark) Swami Amritanand asking Narsinghanand about the topic of the stream. He asks why 'Vishwa Dharam Sansad'. To this, Narisnghanand says that Islam's jihad is not just an issue for India, but the whole world.
He says, "Even the last Muslim on earth will take two swords in his two hands and fight until he kills himself. Islam's jihad is endless, after the end of the world also they will continue their jihad." (translated)
He then adds, "So, Swami Ji, when they are our enemy, they are the enemy of Buddhists, they are the enemy of Christians, they are the enemy of Jews, they are the enemy of Communists. So we should all come together and fight them. This is the biggest battle." (translated). (Tier 3 – 1)
He further says, when the world comes together to defeat Islam, only then humanity will progress.
Throughout the stream, Narsinghanand answers various questions. At the 7:30-minute mark, a viewer poses a question about the security apparatus of the country and how leaders have failed to ban PFI despite having thousands of evidence that they are involved in terrorist activities. What could be the reason behind this, he asks.
Narsinghanand says that the entire world knows that no Hindu leader has the guts to fight Islam's Jihad. He adds that there is no point in banning PFI as it will achieve nothing; the focus should be on defeating Islam and its jihad. Drawing on the metaphor of Cancer, he adds, "I don't consider banning a step. All mosques and all madrassas should be demolished using cannons if you wish to survive. You are trying to cure fourth-stage cancer using prayers. That is not possible." (translated)
At the 14:40-minute mark, a viewer asks Narsinghanand a question about Hindus allegedly trying to please Pasmandas and Sufis. Narsinghanand responds by saying, "Do you understand cheenal women? Cheenal women are those who are not satisfied with their husbands. Sometimes they will go here, sometimes they will go there and then within a few days they die of painful diseases. Similarly, the Hindu community moved to Pasmandas. Sometimes they move to Sufism, then in a few days they join Wahabism, then Bareilvis, then you never know where. And then they will die a painful death, worse than that of a dog." (translated). (Tier 2 – 1.3. Tier 1 – 2.2, 2.5).
In this stream, at the 28:53-minute mark, a viewer suggests that the leaders of Hindu organisations like Mohan Bhagwat should be converted to hijras (a pejorative term for transgendered people), to which Narsinghanand replies by saying "Hijde toh abhi bane huwe hai, abhi bhi toh hijde bane huwe hai. Abhi kaunse mard hai? Dekhiye Satyam Shivam Sundaram ji, humara toh manna ye hai ki aaj bhi jo bade bade pado main behte hai sab hijde hi hai." ("They are already Hijras. See, Satyam Shivam Sundaram Ji, I believe, people who are in big posts are already hijras.") (Tier 2 – 6).
A viewer also asks Narsinghanand about his opinion on India sending rations to countries like Afghanistan where Hindus and Sikhs are allegedly tortured. This is the last question in the stream and Narsinghanand responds by saying that Indian leaders have a tradition of treating Muslims favourably, like one treats one's sons-in-law, and they have a history of dying by ingesting poison provided to them by these people. He says that an average citizen cannot stop this tradition.
We decided to count the number of words that are common throughout these streams and found the following: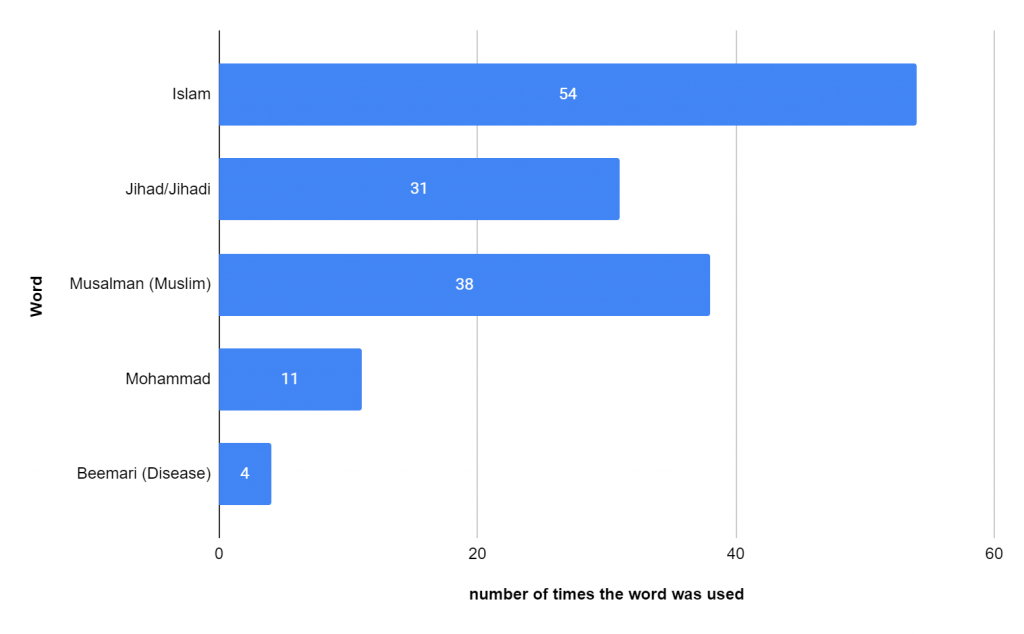 Narsinghanand's Take on Contemporary Issues
Other than participating in YouTube live streams, Narsinghanand also regularly gives interviews to his associates and voices his messages on contemporary issues. For instance, he issued a video statement in June on the controversy surrounding Nupur Sharma, the former BJP spokesperson who allegedly made derogatory remarks on the Prophet of Islam. Narsinghanand had said that he would be visiting Delhi's Jama Masjid on June 17, to tell the truth about the verses written in the Quran.
[English Caption]

Hindu extremist leader Yati Narsinghanand supported hateful comments on Prophet Muhammad, he said Islamic books are responsible for terrorism. pic.twitter.com/O4ZRYGRVM4

— HindutvaWatch (@HindutvaWatchIn) June 7, 2022
Narsinghanand's video statement went viral on social media on June 7. The Ghaziabad administration later issued a notice to him asking him to cancel his Jama Masjid visit or face legal consequences.
On June 8, he gave an interview to his associates at the Maa Bharti Putra YouTube channel. In this interview, Narsinghanand again spoke about his plans to visit Jama Masjid. He also repeats that "Islam is an organised gang of criminals." [timestamp: 4:11-minute.] (Tier 1 – 2.6, 2.7) This interview received 8,050 views.
On June 12, again on the Maa Bharti Putra YouTube channel, a video of a conversation between Narsinghanand and an unidentified individual was uploaded. In his signature style, Narsinghanand talks about Islam in a derogatory manner throughout the video. At the 3:40-minute mark, he says that "No one is scared of their threats. The Jews are not scared, and the Buddhists of Myanmar are not scared. In fact, China has declared Islam as a mental disease." (Tier 1 – 2.3, Tier 2 – 3.1) This video received 12,729 views.
Parts of the conversation between Narsinghanand and the unidentified individual were also uploaded on YouTube on June 14. Here, he continues to talk about Islam and about history. At one point [timestamp: 10:50-minute mark] he says that the Holocaust happened because Muslims had told the Nazis to do it. (Tier 1 – 4.6) This video received 8,298 views.
On July 1, during the hearing of the plea by suspended BJP leader Nupur Sharma seeking the transfer of FIRs against her, Justice Surya Kant made an oral remark that "this lady [Nupur Shamra] is single-handedly responsible for what is happening in the country." Responding to this, Narsinghanand issued a video saying that the judiciary of the country has instigated 'jihadis' to kill Nupur Sharma. At the 00:36-minute mark, he says India has 30 crore jihadis. (Tier 2- 3.1)
At the 10:00-minute mark, Narsinghanand says that the Supreme Court wants to get Nupur killed. It can get me killed as well. (translated). The title of the YouTube video in Hindi can be translated as "Will India be now run by Sharia law."
The oral remarks made by the court received a mixed response from the civil society. It is for the courts to decide if Narsinghanand's language qualifies as contempt of the court.
On the evening of July 9, just the night before Eid ul Adha, Narsinghanand recorded a message saying that Muslims across the globe are praying for the destruction of Narendra Modi and the RSS. He also says that the BJP government has helped Muslims so much that all their struggles are over and now all they plan day and night is how to rule India and how to do jihad. (Tier 2 – 3.1)
In the same video, he suggests that the leaders of India should take the road the leaders of Myanmar or China or Israel did. (Tier 2 – 3.1, Tier 3 – 2)
On September 15, Narsinghanand issued a video message regarding the rape case in Lakhimpur where two Dalit minor sisters were allegedly raped by three Muslim men. Narsinghanand says that this act was done by the 'Jihadis' of Islam. In this video, he also says that the Quran gives Muslims the right to rape 'kafir' women and to make them their 'sex slaves' or sell them in the markets. (Tier 1 – 2.6).
Unlike his other video messages, this one was uploaded on a channel called We Support Yati Narsinghanand Saraswati, which has around 2.15K subscribers. This specific video received 1,148 views.
All of the above instances — be it a speech, a YouTube live stream or an interview — Narsinghanad abuses and/or insults groups of people based on their religion identity, and sometimes gender, and incites violence against them.
Violation of YouTube's Hate Speech Policy
Almost all the videos of Yati Narsinghanand and his associates uploaded on YouTube violate the platform's Hate Speech policy. The policy clearly states that YouTube removes content promoting violence or hatred against individuals or groups based on Caste, Gender Identity, Religion, etc., The full guidelines can be read here.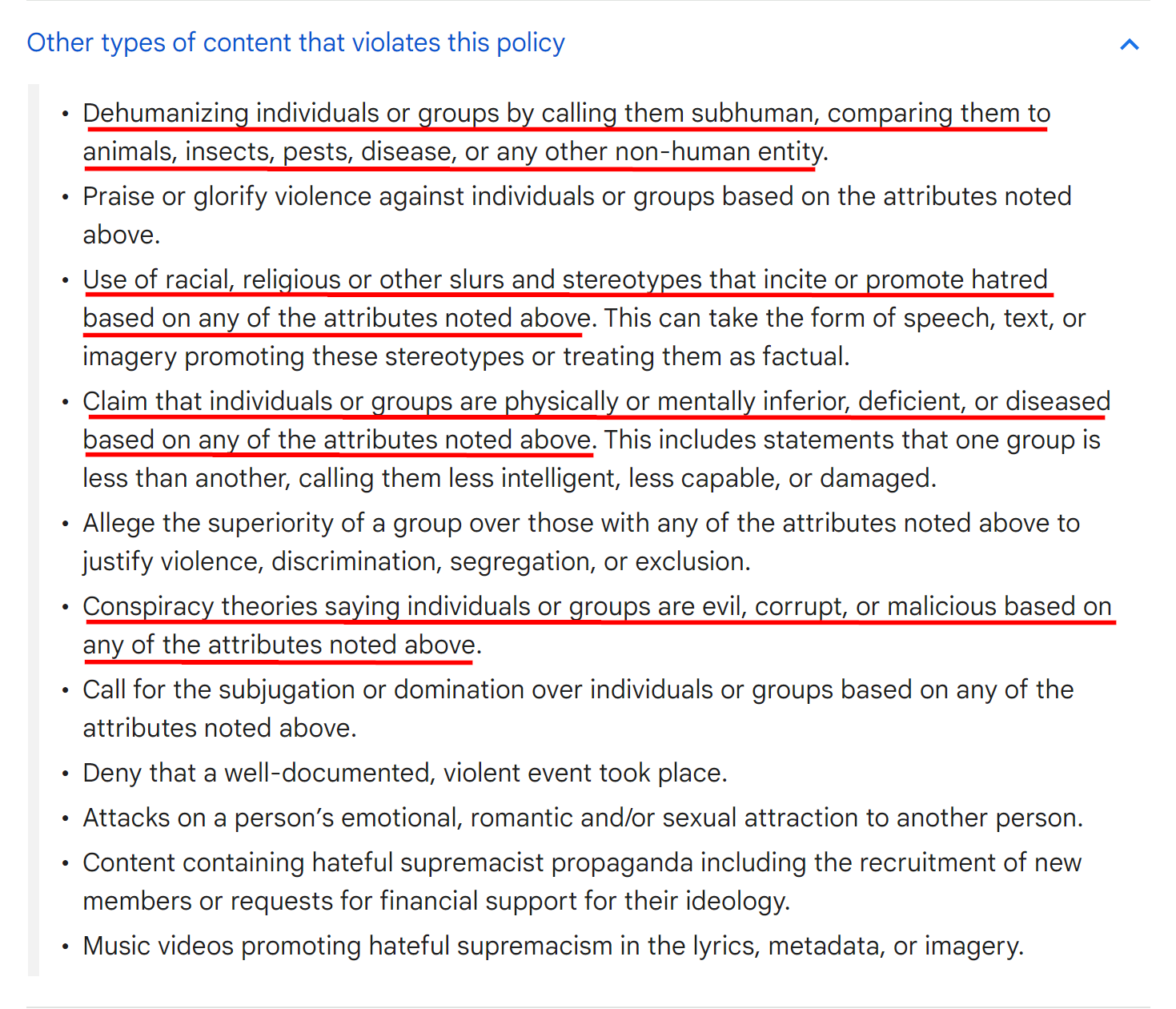 The image above highlights several points that have been violated by Narsinghanand and his associates multiple times on YouTube. For instance, in the second live stream mentioned in the story, Narsinghanand's associate Swami Amritanand says Muslims are worse than animals and their religious texts justify necrophilia. Throughout all the videos, Narsinghanand casually refers to Muslims as Jihadis. He also says that Muslims need to be sent to concentration camps like the way it is done in China or they should be treated the way it is done in Myanmar [referring to the Rohingya exodus]. In several of the YouTube live stream, he promotes the conspiracy theory that Muslims are planning to capture India or that the Kaaba in Mecca is a Shiva temple. In fact, in one of his video messages, he claims that the Holocaust happened because Muslims had instigated the Nazis and Hitler.
All of these are clear violations of YouTube's policy on hate speech.
After Alt News reached out to YouTube, two of the above-mentioned channels — Maa Bharti Putra and We Support Yati Narsinghanand Saraswati — were taken down by the platform after a review. The third and the most prolific channel, Swami Armitanand Bhakti, continues to be available on the platform. The platform did remove at least six videos from this channel.
Violation of Bail Conditions
Though Yati Narsinghanand's bail condition says that he cannot participate in public events that spread hatred between religious groups or give inflammatory speeches, he participated in two such events — Hindu Mahapanchayat and Una Dharam Sansad — just two months after his bail. In fact, he continued to make inflammatory remarks on YouTube which receive thousands of views.
Moreover, in August, Narsinghanand called for the boycott of the 'Har Ghar Tiranga' campaign, the initiative launched by the Prime Minister to celebrate the 75th year of Independence. As per Narsinghanand, the campaign aims to benefit a company owned by a Muslim. (Tier 3 – 2.3)
हर चीज़ में मुस्लिम ऐंगल क्यों जोड़ दिया जाता है?

अब प्रधानमंत्री मोदी जी के 'हर घर तिरंगा अभियान' का बहिष्कार करने की बात करते हुए यति नरसिंहानंद सरस्वती को सुनिये…👇🏽 pic.twitter.com/uc2rW4K4XF

— Ashraf Hussain (@AshrafFem) August 11, 2022
In mid-September, after speaking at a public event, Narsinghanand addressed the media and said that all madrassas in the country should be demolished using gunpowder. He also proposed that all the students in the madrassas be sent to camps to remove the 'virus' called Quran. He also says that the Aligarh Muslim University should also be demolished like madrassas. (Tier 2 – 3.1, 1.2. Tier 3 – 1).
"मदरसों और AMU को बारूद व बमों से उड़ा ध्वस्त कर देना चाहिए और उसमे पढ़ने वालों को डिटेंशन सेंटर भेज देना चाहिए"-यति नरसिंहानंद

हरिद्वार कोर्ट ने इस व्यक्ति को इस शर्त पर जमानत दी थी कि यह भविष्य में इस प्रकृति का अपराध नही करेगा लेकिन माननीय यह तो अब बमों की बात कर रहा है! pic.twitter.com/UESIjTaxXZ

— Zakir Ali Tyagi (@ZakirAliTyagi) September 18, 2022
In the second half of October, Narsinghanand issued a video message about the alleged gang rape of a woman in Ghaziabad. The case received extensive media coverage due to the brutal nature of the incident. In his statement, Narsinghanad not only made the false claim that a Muslim individual had raped Nirbhaya 'most brutally' in 2012, but also repeated the claim that he makes often, that is, Islam teaches them (Muslims) to rape the daughters of kafirs and the crime should be looked through the lens of the Quran and Hadith.
The Ghaziabad rape case turned out to be false as per the police and they arrested the woman and her accomplices for fabricating the charges.
Narsinghanand's speeches continue to demonize Muslims and promote both structural and casual violence against religious minority groups. As noted by lawyer Shahrukh Alam, hate speech does not only refer to offensive or foul-mouthed speech directed at people. It is speech that can cause actual material harm through the social, economic and political marginalization of a community.
Legal Opinion
Alt News also spoke with a lawyer regarding Narsinghanand's bail condition. The lawyer, who spoke on the condition of anonymity, said, "Normally in a case, when bail conditions are there and the accused is subjected to those conditions, the police should monitor if such conditions are violated and the judiciary should take its course if the same is brought to its notice. And hence, in this case, if the accused has violated the bail conditions on multiple occasions and if there are proofs in the public domain, then the same should be brought to the notice of the police, who should bring it to the notice of the court."
Section 446A in The Code Of Criminal Procedure, 1973 also dictates some provisions regarding cancellation of bond and bail bond, which can be read here.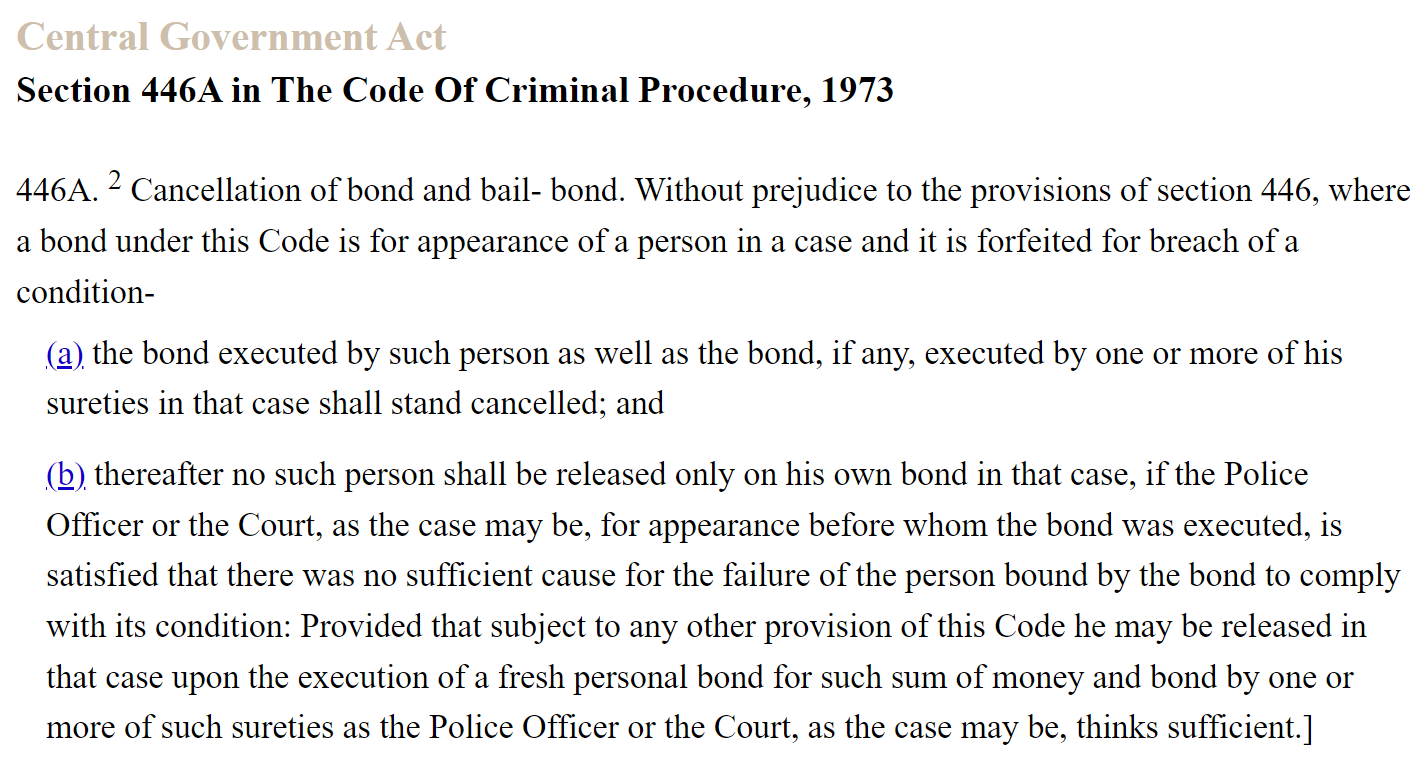 Narsinghanand's BJP Connection
After FIRs were lodged against him in April 2021, BJP leader Kapil Mishra came forward and started crowdfunding to support Narsinghanand's operations.
₹ 25 lacs almost collected for Swami Yati Narsimhanand Ji

Click to donate now : https://t.co/8NqiC1TKz1 pic.twitter.com/tfMNaV5KW2

— Kapil Mishra (@KapilMishra_IND) April 15, 2021
While Narsinghanand has no formal association with the Bharatiya Janata Party, he has been seen in close proximity of BJP leaders on several occasions. It is pertinent to note that his mentor in the early days was the BJP leader Baikunth Lal Sharma, who had played an important role in the Ram Janmabhoomi movement.
The relationship between the BJP and Narsinghanand soured in August of 2021 when a video of his went viral where he could be heard saying that many women politicians have been mistresses of at least one male politician. Several BJP leaders and supporters condemned the statement. In fact, the same Kapil Mishra, who had previously raised funds for Yati Narisinghanand, now said he had a 'Jihadi mindset'.
यति नरसिंहानंद की महिलाओं के प्रति सोच किसी भगवाधारी की हो ही नहीं सकती

ये जिहादी सोच से बीमार कोई कुंठित आदमी हैं

इस आदमी को महिला आयोग और यूपी पुलिस द्वारा गिरफ्तार किया जाना चाहिए

ये माँ जगदम्बा के मंदिर में बैठने योग्य नहीं https://t.co/Q24TGRwy59

— Kapil Mishra (@KapilMishra_IND) August 28, 2021
According to this report in Scroll, Narsinghanand has both supporters and detractors among the BJP rank and file.
Police Response
Alt News spoke with SP City (Additional SP) Dr Yogender Singh Rawat regarding the violation of bail conditions by Yati Narisinghnand. He told Alt News that all information pertaining to the matter was available with Kotwali Police Station. The very first FIR in the Haridwar Dharam Sansad case was registered at this police station.
When we reached out to an officer at Kotwali Police Station, we were told that the police did not monitor social media and that if Narsinghanand had delivered inflammatory speeches in public spaces or on social media, FIR should be registered against him at the nearest police station. There was no direct response to what course of action the police were taking over the violation of bail conditions.
It was surprising to see that police were not monitoring the social media activities and interactions of an individual who had been to jail for inflammatory remarks and have a history of disseminating hate speech/misinformation through social media platforms. The police conveyed a sense that it was not their duty to monitor such developments as it was not under their station's jurisdiction.
Whether police complaints/FIRs were filed against Yati Narignshnand in the area where he delivered his speeches can easily be verified through a simple Google search. We found at least three media reports about FIRs registered against Narsinghanand in the last five months. (1, 2, 3). The latest 'probe' against Naringhanand was ordered on October 9, when he made objectionable remarks against Prophet Mohammad and Mahatma Gandhi.
Donate to Alt News!
Independent journalism that speaks truth to power and is free of corporate and political control is possible only when people start contributing towards the same. Please consider donating towards this endeavour to fight fake news and misinformation.