Former Pakistan Prime Minister Imran Khan was allegedly shot at during a rally in Wazirabad in Pakistan's Punjab on Novermber 3. Khan was leading his party members to the capital, Islamabad, to demand snap elections after he was ousted in April when he was attacked. According to preliminary reports, the ex-cricketer-turned-politician received injuries on his leg, while many of his supporters were injured.
Footage of the firing. Assassination attempt on Imran Khan. pic.twitter.com/fmSgI2E8jc

— Ihtisham Ul Haq (@iihtishamm) November 3, 2022
Soon after the reports came in, several photos started circulating on social media as visuals of the attack and its immediate aftermath. News24 shared two photos on Twitter with the caption, "Photos of Imran Khan have surfaced after he was shot. 9 people were injured in the attack, and 1 dead." (Archive.)
This slideshow requires JavaScript.
The same visuals were shared by multiple Indian news outlets, including NDTV, Times Now Navbharat, ET Now Swadesh, Zee Salaam, News1India, Zee Delhi-NCR Haryana, and Inextlive. Pro-BJP propaganda outlet OpIndia also used the viral image in its report.
This slideshow requires JavaScript.
Various Indian journalists shared the same visuals on Twitter. Among them are multimedia journalist Abhishek Tiwari, manager of India TV Jay Ram Patel, independent journalist Ashish Bhatt, Dainik Bhaskar correspondent Tarun Sharma, and News9 journalist Jacob Mathew.
This slideshow requires JavaScript.
International publications such as The New York Times, The Economist, The Guardian and CNN also used the same visual as the aftermath of the assassination attempt. The New York Times mentioned (Pakistan Tehreek-e-Insaf, via Associated Press' as photo credit while The Guardians credited Associated Press for the photo and said it was released by Khan's party Tehreek-e-Insaf.
This slideshow requires JavaScript.
Fact-check
Photo 1
When Alt News performed a Google reverse image search on the first photo of Imran Khan laying on the ground with his arms up, we came across a tweet from 2014 by Imran Khan with the caption, 'Night at the dharna [protest].'
Night at the dharna. pic.twitter.com/5ppIGJAs1S

— Imran Khan (@ImranKhanPTI) August 17, 2014
This photo was clicked in August of 2014 when Khan had challenged the then Prime Minister Nawaz Sharif to resign after allegations of 'electoral match-fixing' were made against the latter. Khan and Tahirul Qadri of Pakistan Awami Tehreek had started separate rallies from Lahore and reached Islamabad after 35 hours of march. The now-viral photo was clicked during this journey where Imran Khan had camped for the night.
Photo 2
For the second photo in which we can see a bleeding Imran Khan being carried by his aides, we again performed a Google reverse image search and found various news reports. Among them was a Time of India fact-check from 2018 that carried the same image. This photo was in circulation in 2018 when claims were made on social media that the Pakistani leader was shot or beaten to death. Alt News had also done a fact-check on the same when it was in circulation in 2018.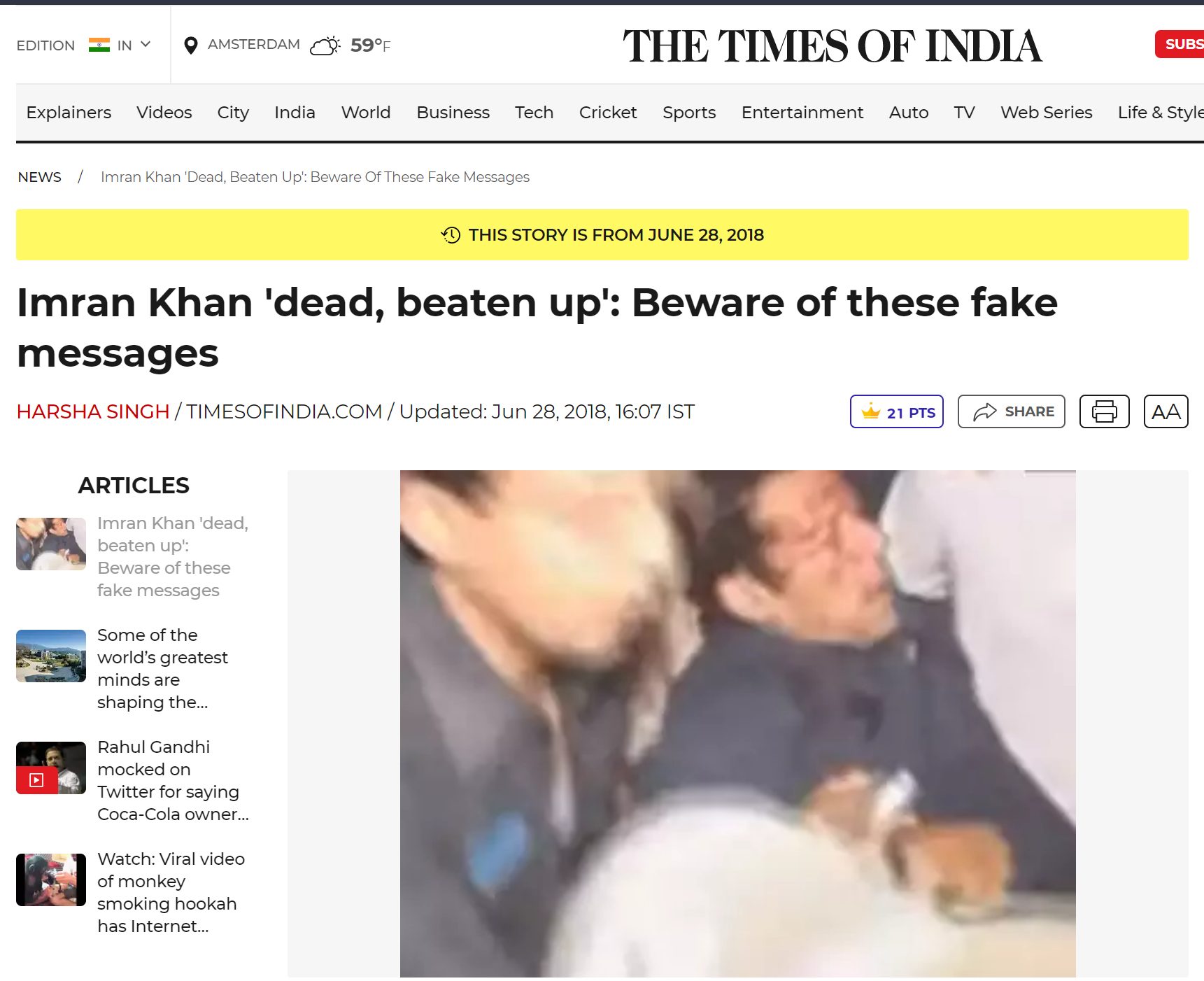 The article mentions that the photo is from 2013 when Khan injured his head after falling off a forklift that was taking him onto a stage at an election rally in Lahore.
A video of the incident can also be found on Al Jazeera English's YouTube channel.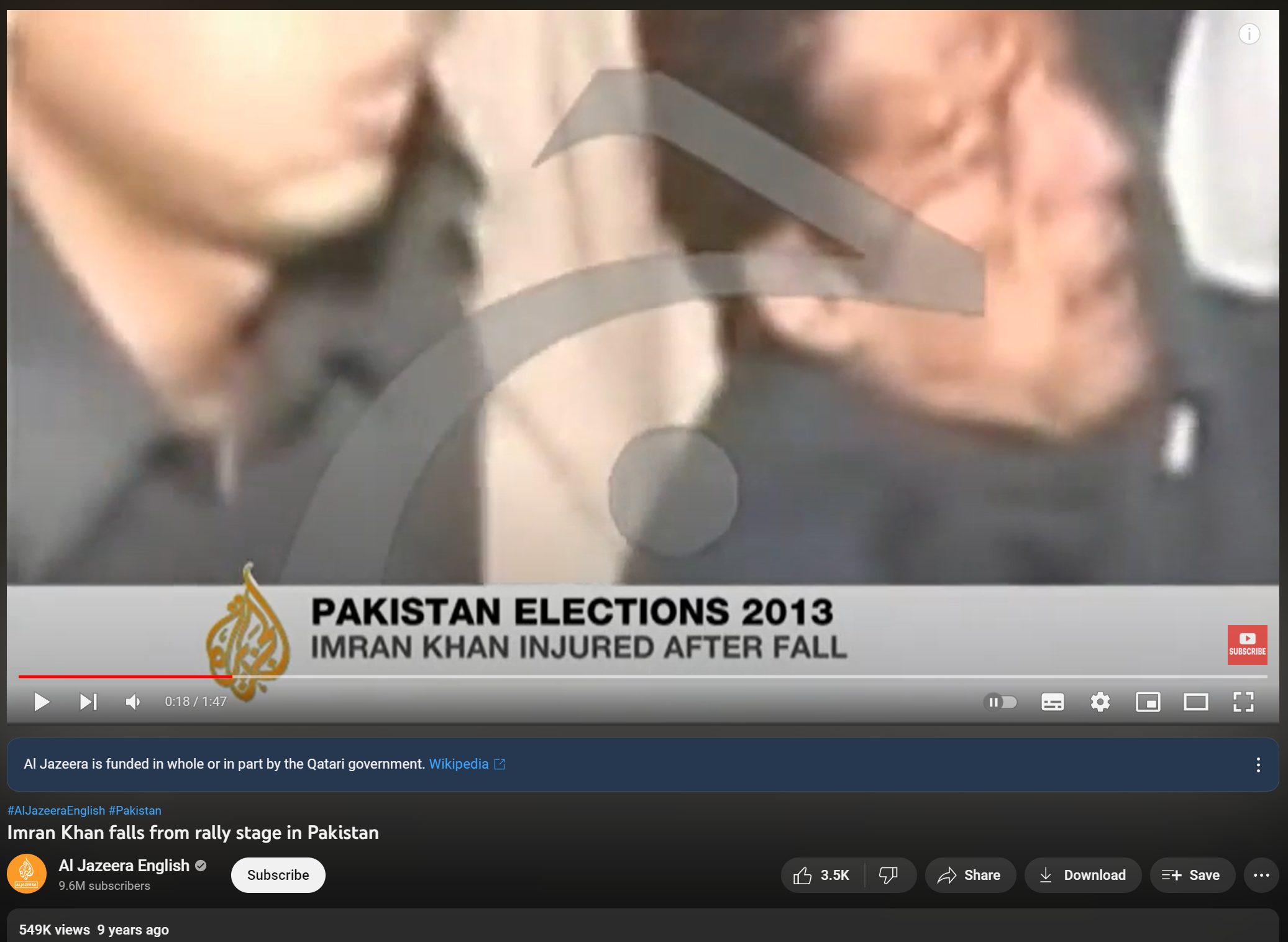 To sum it up, almost decade-old photos were circulated by journalists and media organisations in the aftermath of the assassination attempt on former Pakistan PM Imran Khan on November 3.
Donate to Alt News!
Independent journalism that speaks truth to power and is free of corporate and political control is possible only when people start contributing towards the same. Please consider donating towards this endeavour to fight fake news and misinformation.