On September 28, Facebook user Benoy Abraham posted a video of a man stripped off his clothes except for his underwear tied upside-down. The man is seen surrounded by a crowd of people, one among whom seems to insert a rod inside the man's private parts. The message shared along with video attributes the gruesome act to 'BJP MLA Anil Upadhyay'. It alleges, "B.j.p. എം‌എൽ‌എ അനിൽ ഉപാധ്യായയുടെ ഈ പ്രവൃത്തിയെക്കുറിച്ച് മോദി എന്ത് പറയും, ഈ വീഡിയോയെ വൈറലാക്കി മാറ്റുക, അതിന് ഇന്ത്യ മുഴുവൻ കാണാനാകും. (What will Modi say about this act of BJP MLA Anil Upadhyay. Make the video viral so that it gets watched across the country -translated)".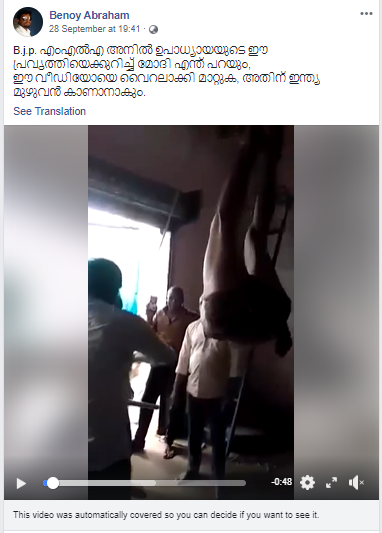 A few more people on Facebook shared the video with the identical narrative.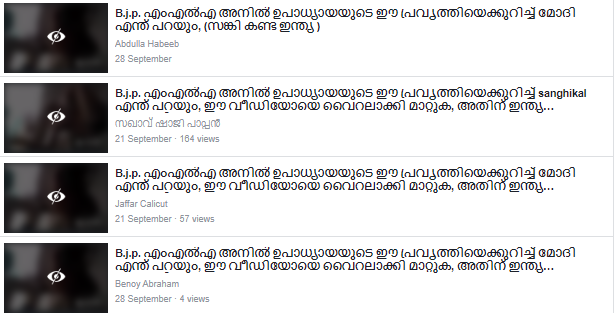 Alt News has also received several requests on its mobile application to fact-check a similar claim circulated along with the video in Hindi.

Fact-check
The claim is false and this is debunked at the onset of our fact-check as there is no BJP MLA named 'Anil Upadhyay'. My Neta, a website that contains details about state and central legislators, does not include any information about any person that goes by this name and is a part of the BJP.
To find the origin of the video, Alt News performed a Google search with the keywords, "man inserts rod private parts video", and found an article where the victim was identified as Vicky Aglawe.

Subsequently, we found reports by mainstream media outlets which said that the incident took place in Maharashtra. Akhil Pohankar, the owner of Waddhamna-based transport service, and fellow transporter Amit Thakre were arrested on July 28, 2019, for torturing a driver by hanging him upside-down from a ceiling. "The clips were allegedly prepared at the office of Pohankar, also office-bearer of a political party, a day before to teach the 23-year-old driver Vicky Aglawe a lesson. Aglawe was given Rs 30,000 cash by Pohankar as expenses for taking his truck, loaded with glass consignment, to Thiruvananthapuram on July 26. Aglawe apparently spent the money on liquor, clothes and feasting. He also did not turn up despite repeated calls by Pohankar," reported The Times of India on July 29.
It was further added that the most gruesome part of the video allegedly showed another driver Omprakash Choure inserting a rod into the private parts of Agawle after removing his inner-wear.
According to a report by Dainik Bhaskar, Akhil Pohankar was Shiv Sena's youth wing Yuva Sena tehsil chief from Nagpur district.
On July 29, three more including Choure were arrested in the matter for abetting the crime. This video was earlier debunked by BOOM.
#Nagpur: Omprakash Chaure, S Ithankar and C Parasmore, have been arrested for their alleged involvement in abetting Akhil Pohankar and his co-transporter Amit Thakre to torture driver Vicky Aglawe. The five were remanded for a day after being produced before court.

— SoumitraboseTOI (@soumitraboseTOI) July 29, 2019
In conclusion, an old video of a man tortured by Shiva Sena's youth wing tehsil chief was falsely shared as brutality perpetrated by 'BJP MLA Anil Upadhyay'. It may be noted that there is no MLA in the BJP who goes by this name. Earlier, the same name -'Anil Upadhyay'- was used to target both Congress (1, 2) and BJP.
Donate to Alt News!
Independent journalism that speaks truth to power and is free of corporate and political control is possible only when people start contributing towards the same. Please consider donating towards this endeavour to fight fake news and misinformation.