A claim attributed to Ratan Tata that was debunked six years ago is circulating on social media once again. The present version of this hoax tries to pit Parsis against Muslims and glorifies the patriotic values of the Parsi community while seemingly denigrating the other. The message claims that Ratan Tata refused to sell Tata Sumo cars to Pakistan despite being requested by former commerce minister in UPA, Anand Sharma, to consider the proposal by Pakistani industrialists. The message also tries to target Delhi Chief Minister Arvind Kejriwal.
Message: ""YOU COULD BE SHAMELESS, I AM NOT" ~ Ratan Tata. Few months after 26/11, Taj group of Hotels owned by TATAs launched their biggest tender ever for remodeling all their Hotels in India and abroad. Some of the Pakistani companies also applied for that tender. To make their bid stronger, two big industrialists from Pakistan visited Bombay House (Head office of Tata) in Mumbai without an appointment to meet up with Ratan Tata since he was not giving them any prior appointment. They were made to wait at the reception of Bombay house and after a few hours, a message was conveyed to them that Ratan Tata is busy and can not meet anyone without a prior appointment. Frustrated, these two Pakistani industrialists went to Delhi and through their High Commission met up a Congress Minister. Then this minister, Anand Sharma immediately called up Ratan Tata requesting him to meet up with the two Pakistani Industrialists and consider their tender "ENTHUSIASTICALLY." Ratan Tata replied…"You could be shameless, I am not" & put the phone down. Few months later when Pakistani government placed an order of TataSumos to be imported into Pakistan, Ratan Tata refused to ship a single vehicle to that country. This is his respect and love for his motherland. He placed the nation above money & business. Something Kejriwal & his likes can learn from him, who are mostly seen appeasing terrorists & separatists to keep their Pakistani Masters happy. Not to forget, Ratan Tata is a man of Parsi background that constitutes one of the two Zoroastrian communities of the Indian subcontinent. His community is minuscule in India but every single one of them has made India proud. While Tata Parivar is full of Patriotism, we have some so-called minorities who are either busy begging freebies or helping Pakistan plant bombs. And when they are caught, they fake victim-hood & make martyrs out of terrorists. Share so it reaches all the UNDESERVING LOSERS who stay in India but work for their handlers in Pakistan."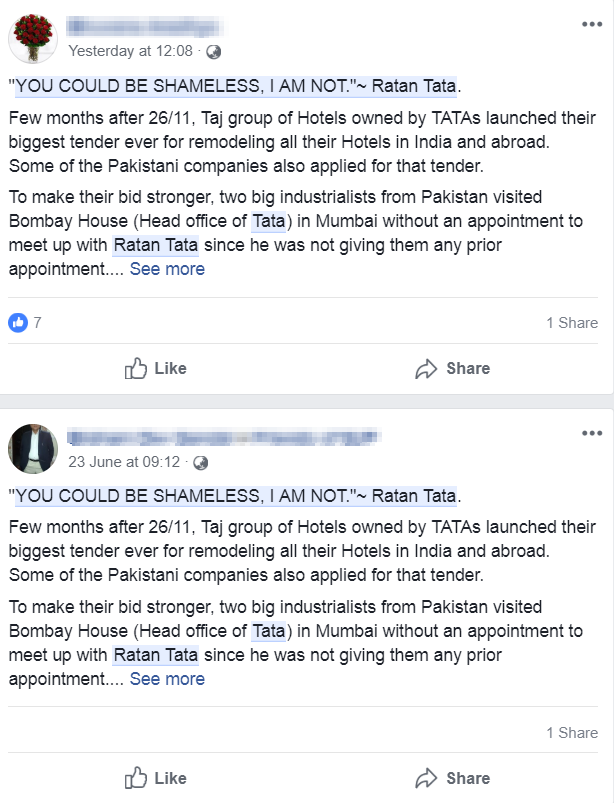 Currently, different versions of this message is being shared by many Facebook pages and accounts. Alt News also found an article published by India Times, an Internet subsidiary of The Times of India group on September 11, 2015, '8 Reasons Why Ratan Tata Is India's Coolest Business Tycoon Ever #ProudToBeIndian'. The article has attributed a reason calling Ratan Tata, 'The Patriot'.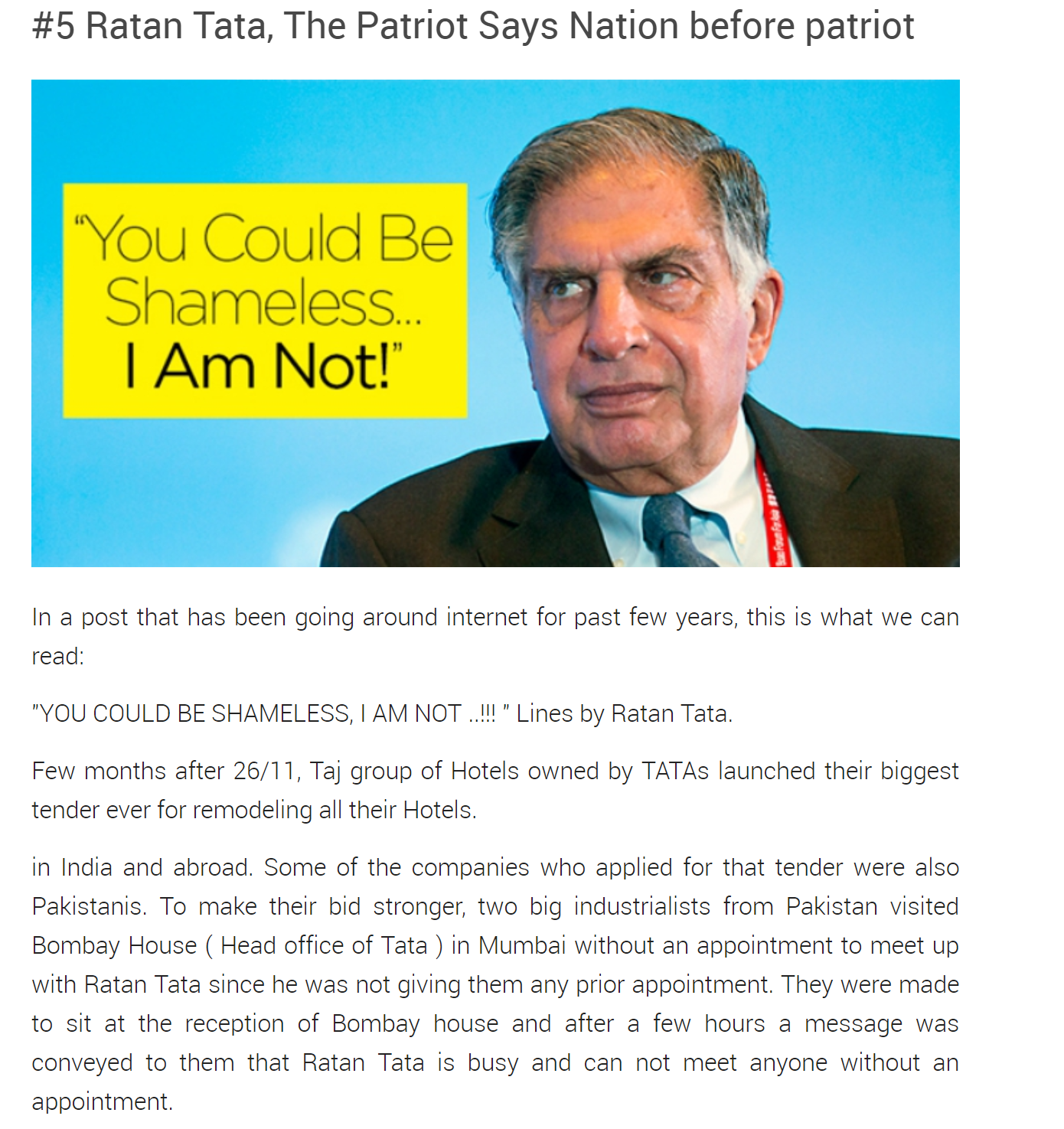 An editorial published in Meghalaya Times was based on the hoax, titled 'Ratan Tata claims Politicians could be shameless but not him'. We could backtrace the present version of the hoax to August 2012 when it was shared by a page called PROUD TO BE AN INDIAN.
A YouTube video, titled 'You clould be shameless…I'm not : TATA's Answer to Pakistani's' published on July 15, 2016 has received more than 6 lakh views and 10000 'likes'. It narrates the same story propagated over the last six years.
How old is this hoax?
Googling the keywords, "Ratan Tata, Pakistan, Tata Sumo", we came about a post published on August 8, 2012 by BharathAutos, an automobile website. The website had issued an apology:
"We seriously apologize for the mistake and the error is regretted. Early-today we posted an article regarding 'Tata motors had rejected Pakistan's proposal for supplying 380 nos. Tata Sumo Grande for use of Pakistan police.' Actually the sources that we referred turned to be a fake news and only after Tata Motors contacted our team the truth was revealed."
Furthermore, they also claim to have a statement from a Tata spokesperson which states, "The news is incorrect – the company has not received any such order, and the trade between India & Pakistan, automobiles are in the restricted list. Hence, the question of Pakistan having placed any order with Tata Motors for automobiles does not arise."
We couldn't find the above press release on the official Tata Motors Website. However, a tweet from the official handle of Tata Motors on July 16, 2013 also confirms that claim is untrue.
@TheMayanks It's not true. As per current rules, which determine trade between India & Pakistan, automobiles are in the restricted list. 1/2

— Tata Motors (@TataMotors) July 16, 2013
@TheMayanks Hence, the question of Pakistan having placed any order with Tata Motors for automobiles does not arise. 2/2

— Tata Motors (@TataMotors) July 16, 2013
Last week, a message about '1098′ child helpline service of leftover pickup and distribution was circulating widely on social media. This too was a hoax, first perpetuated more than eight years ago. Such messages have been floating in the social media ecosystem for a long time and despite being debunked, continue to circulate with periodic regularity.
Donate to Alt News!
Independent journalism that speaks truth to power and is free of corporate and political control is possible only when people start contributing towards the same. Please consider donating towards this endeavour to fight fake news and misinformation.