Trigger Warning: Graphic Image
Amid the ongoing Israel-Hamas war, a collage of two pictures is viral on social media. The first image depicts some men dragging a donkey with the Israeli flag painted on its body and the second shows the donkey being burned. Several users have shared the photo collage claiming that pro-Palestine protesters had burned the donkey.
Journalist Dave Atherton (@DaveAtherton20) shared the collage on X (formerly Twitter) with the caption, "Some people are barbaric beyond words." The post received over 740,000 views, 22,000 likes and 7661 reposts. The post was later deleted by Atherton, who later tweeted a clarification. (Archive)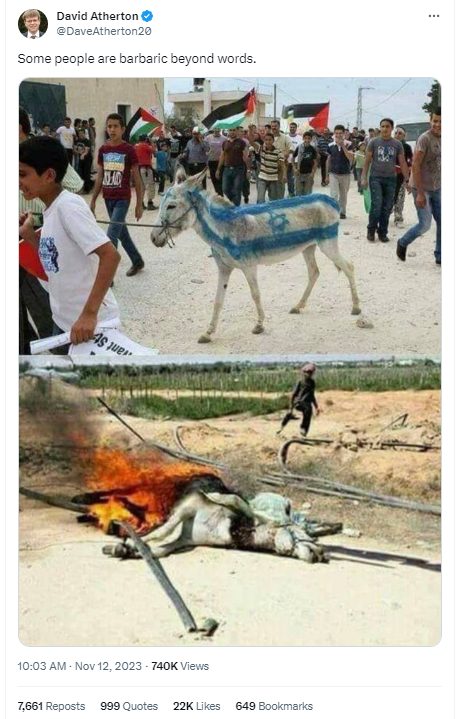 Israeli activist, Yoseph Haddad (@YosephHaddad), also shared the image which was deleted later, stating, "The pro-Palestinian protesters against Israel prove how barbaric they are through their demonstrations!" the post has over 48,900 views, 1981 likes and 720 retweets. (Archive)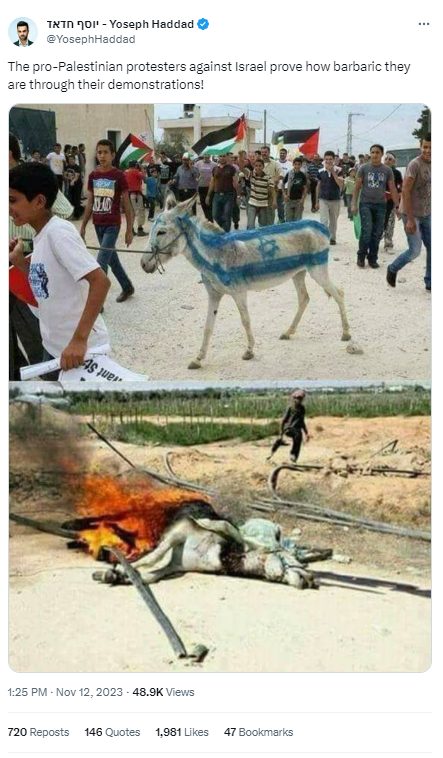 In the recent past, Alt News has fact-checked Haddad several times and found him amplifying misinformation related to the ongoing war.
X (formerly Twitter) users like @Mademoisellemk3, @peanut_astro and @failosK also amplified the claim.
This slideshow requires JavaScript.
Fact Check
A Google reverse-image-search of the first picture led us to the image clicked by Jaafar Ashtiyeh in 2011 and uploaded on Getty Images with the photo caption "Palestinians display a donkey painted as an Israeli flag during a demonstration to support the Palestinian bid at the United Nations for statehood recognition on September 23, 2011, in the West Bank village of Kfar Kadum. Palestinians across the West Bank prepared to celebrate the formal submission of their bid to become a UN member state, despite opposition from Washington and Israel."
So it is clear that the photo of the donkey painted in Israel colours is more than a decade old.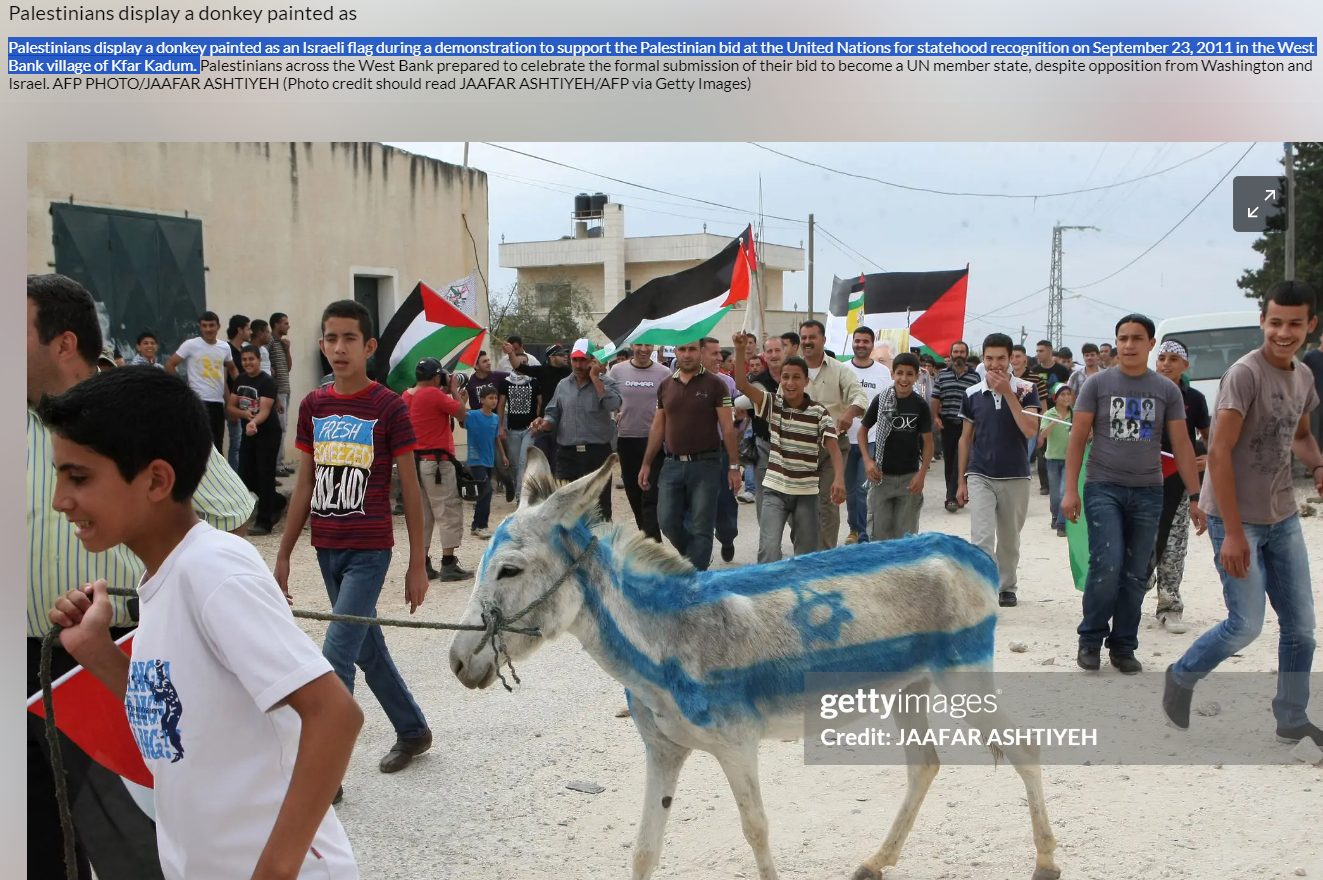 A Google reverse image search of the second picture, depicting a donkey being burned, led us to the photograph by Abed Rahim Khatib in 2014, uploaded on Getty Images with the caption, "Palestinians burn the donkey, who was killed earlier by an Israeli air strike in Rafah in the southern Gaza Strip, on August 6, 2014, while Israeli and Palestinian delegations prepared for crunch talks in Cairo to try to extend the 72-hour truce. The ceasefire, which came into effect on August 5, has brought relief to both sides after one month of fighting killed 1,875 Palestinians and 67 people on the Israeli side."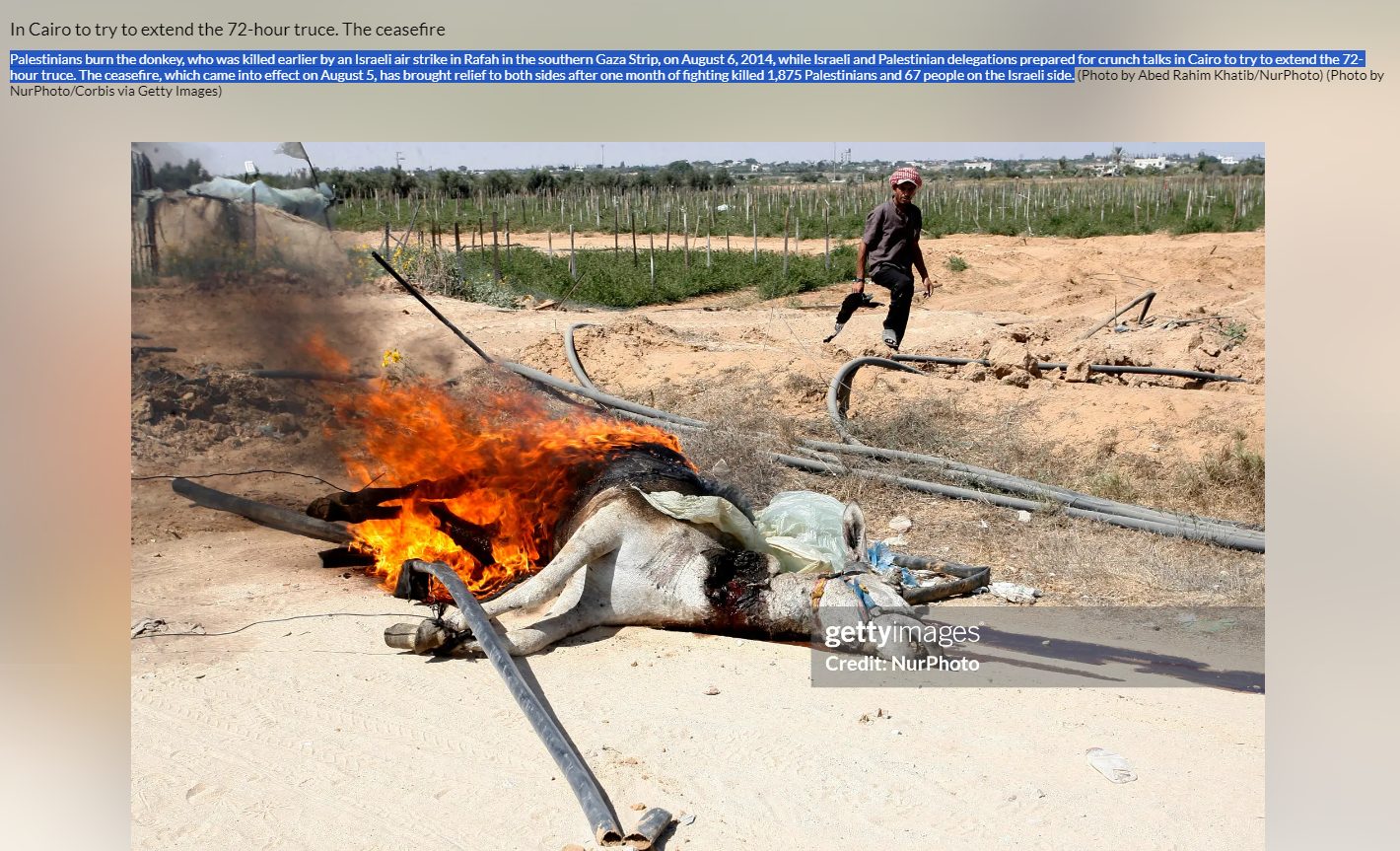 To sum up, neither of the images in the viral photo collage is related to the ongoing war. The claims that pro-Palestinians burned a donkey after painting the Israeli flag on its body are false. The first photo is from 2011 and the second from 2014.
Abira Das is an intern at Alt News.
Donate to Alt News!
Independent journalism that speaks truth to power and is free of corporate and political control is possible only when people start contributing towards the same. Please consider donating towards this endeavour to fight fake news and misinformation.