A video of a Palestinian woman allegedly saying that she 'prefers the Jews' in Arabic is viral on social media. In the 29-second clip, the English closed captioning suggests that the woman claims to be a 'prisoner of Hamas'. "I don't feel like dying. We tried to escape, but they (Hamas) forced us to stay here. Said they will slaughter my belly, slaughter me if I'll escape. And that's it. We're stuck here… We're prisoners of Hamas.. I prefer the Jews. Who will take care of me? None of them (the terrorists) cares", the captions in the viral video read. Verified US-based account @itismenewtown tweeted the video and 'thanked' the Israeli Defense Force for 'saving these people'. (Archive)
Imagine @IDF actually frees them from HAMAS and the internet will get flooded with these videos of people who were opressed by hamas but were afraid to complain because of the deathrape. Imagine then that the Gaza will actually start to thrive after Isreal intervention. The… pic.twitter.com/sBs7n9a2Qn

— Sir Issac Newton 🇺🇲 (@itismenewton) November 10, 2023
The official X (formerly Twitter) account of the Embassy of Israel to the United States shared the video. They later deleted their tweet. (Archive)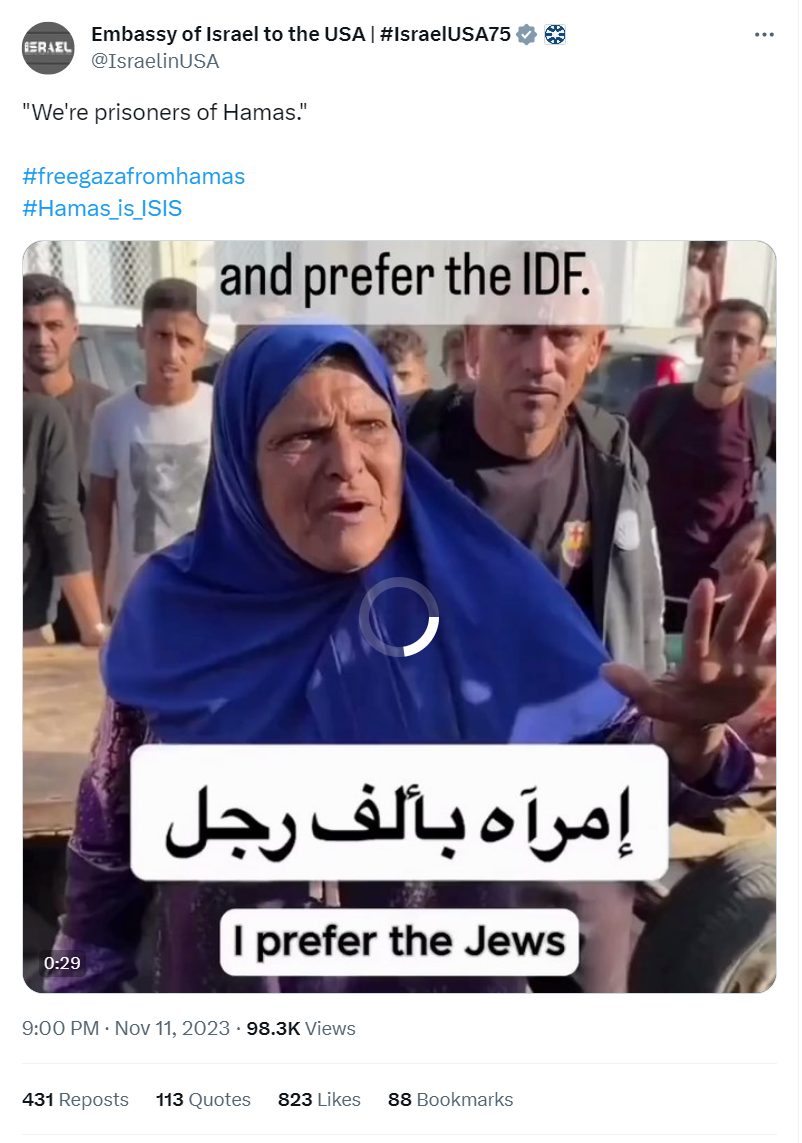 User @GedaliahBorvick also tweeted the same video with the same closed captions. (Archive)
Gazan woman: "I don't want to die. I wanted to evacuate, but they said they would rip my stomach open. We are hostages of Hamas (terrorist)! I prefer the Jews!" pic.twitter.com/0rhmRV85dH

— Gedaliah Borvick (@GedaliahBorvick) November 10, 2023
Several other users including verified users @MichalZach1 and @Netanel_baruch, and @UnfoldingTimes have tweeted the same video. (Archives- 1, 2, 3)
This slideshow requires JavaScript.
Fact Check
We noticed several comments under the viral tweets, which clarified that the woman's words had been mistranslated in the English closed captions. Users stated that the woman was actually saying that she recognised her son, killed by the Israeli forces, from his belt.
Stop spreading lies 😒
She said that she recognised her son from his belt , and she returned to bring the body of him who was murdered by israeli occupation forces

— Liza (@lizalizasami) November 10, 2023
We accessed a longer version of the video on Instagram user @a7mhisham's account. We reached out to a Palestinian journalist who provided us with an accurate translation of what is being said by the woman in the video.
Below is a transcription:
"My son died 10 days ago. I went to Netzarim every day to bring them back. My kids were afraid to bring the bodies back. I volunteered and I didn't care if I would be killed. I went in and I saw my son, I know him from his belt and mobile phone. When I went in, I saw Israeli soldiers. There were a lot of bodies and no one brought them back. I found the bodies badly decomposed. If I didn't have my son's body with me I would have brought more". She was asked how many bodies she saw, to which she replied, "There were four bodies left on the roadside".
"Yes, there was a number of Israeli soldiers there. When they saw me they got out of their tanks. I started waving at them, so they let me take the body. I wrapped my son in a blanket and… I pulled him out. Right in front of the Israeli soldiers so that they know that I came for my son. He weighed much less than when he was alive so I managed to carry him."
As is evident, at no point does the woman talk about being a prisoner of Hamas or that she 'prefers the Jews'. In the viral video, she was recounting how she brought her dead son's remains back home.
Donate to Alt News!
Independent journalism that speaks truth to power and is free of corporate and political control is possible only when people start contributing towards the same. Please consider donating towards this endeavour to fight fake news and misinformation.