'The Kashmir Files' director Vivek Agnihotri tweeted an unsigned letter purportedly issued by Pakistan's banned terror group Lashkar-e-Islam. The letter threatens to kill "kafirs" (non-believers) in Kashmir. "You are being watched by followers of Allah. You people have betrayed the people of Kashmir," reads the letter. It also says, "Every Kashmiri Pandit is a threat to Kashmir and Quran." Agnihotri's tweet received over 9,000 retweets as of this writing.
Latest DEATH THREAT letter to all non Muslims who don't follow ALLAH.

Is this TRUTH or PROPAGANDA? क़ौमी नफ़रत का सत्य या झूठी कहानी?

Dear Comrades, now who is provoking them? Should we tell this TRUTH or cover it up like Kashmir Genocide of Hindus? pic.twitter.com/drNpTgPwiN

— Vivek Ranjan Agnihotri (@vivekagnihotri) April 13, 2022
Newsroom Post published an article based on Agnihotri's tweet. "Vivek Agnihotri has brought to light a venomous letter," wrote the outlet. (Archive link)
'Pandits, leave Kashmir or get killed': Vivek Agnihotri shares terror group's 'letter to kafirs'
| #KashmiriPandits |https://t.co/yaihli8arR

— Newsroom Post (@NewsroomPostCom) April 13, 2022
Similar reports were published by Amar Ujala and Lokmat News.
News18's Amish Devgn anchored a show on Agnihotri's tweet as "breaking news" and yelled to his audience – "Lashkar-e-Islam gives big threat".
#BreakingNews
लश्कर-ए-इस्लाम ने कश्मीरी पंडितों को दी धमकी, कहा- "कश्मीर छोड़ें या धर्म बदलें"#AarPaar #Hindu #Secularism #SecularPolitics @AMISHDEVGAN pic.twitter.com/vNJCw8Ga8t

— News18 India (@News18India) April 13, 2022
Pro-BJP propaganda outlet OpIndia, while reporting on the killing of civilian Satish Kumar Singh in Kulgam, also claimed that the letter was issued by Lashkar-e-Islam.
Fact-check
Alt News found that one Vijay Raina tweeted the same letter a few hours before Vivek Agnihotri. Raina claimed that the letter was found in Veervan Pandit Colony in Baramulla and that it was "sent by post".
Veervan Pandit Colony #Baramulla received threatening letter through post saying "Raliv, Galiv or Tchaliv" pic.twitter.com/6umZrxSoux

— Vijay Raina (@RealVijayRaina) April 13, 2022
This is the earliest tweet carrying the letter that Alt News could find. We spoke with Vijay Raina, who is a sarpanch of Kulgam. "I am in touch with Kashmiri Pandit settlements living in Kashmir under PM package jobs. I received the letter from a resident of Veervan colony in Baramulla district," he said, adding that as per his knowledge, the letter was delivered by a postman.
Times Now reported on the letter that surfaced in Veervan colony. The outlet wrote, "Around 150-200 families of Kashmiri Hindus live in Baramulla, Veervan, who have secured government jobs in the Pradhan Mantri Rozgar Yojana under the rehabilitation scheme in the region."
The report further said, "The threatening letter was delivered via post to the security detail of the colony on Tuesday evening" and added, "however, it doesn't seem to be real, according to the police, given the fact that the said terrorist organisation's existence is uncertain. The police assured that robust precautions and security measures have been put in place nonetheless."
There are also certain red flags in the letter that raise doubts about its authenticity.
1. The letter is unsigned
The letter merely says "commander" at the end, without the name and signature of Lashkar-e-Islam's commander.
2. Lashkar-e-Islam is misspelt

The word "Lashkar" is misspelt as "Lashker" in the letter. It is unimaginable that the outfit would misspell its own name on official letterhead. Pakistan banned Lashkar-e-Islam on June 30, 2008, and a government document that lists proscribed organisations gives the correct spelling – "Lashkar". It is noteworthy that the outfit's name transliterated in English is also written as "Lashkar-e-Islami". This is the spelling given in the document below prepared by the National Counter Terrorism Authority (NACTA) of Pakistan. However, both "Islam" and "Islami" are used even on Pakistani government websites. This is not the case with "Lashker". Readers are requested to check for themselves by searching "lashker" site:gov.pk on Google.
This slideshow requires JavaScript.
3. The logo on the top left corner of the letter is of Jamaat-e-Dawa Pakistan
On the left of the letterhead is a logo that belongs to a different terror group – Jamaat-e-Dawa (JuD). This outfit was banned by the United Nations in 2008 which recognised it as an alias of the proscribed Lashkar-e-Taiba terror group.
A simple reverse-image search (by cropping the logo from the viral letter) throws results revealing that the logo belongs to JuD. Furthermore, the Urdu text below the two swords in the circle (marked in black) itself reads "Jamaat-ud-Dawa Pakistan".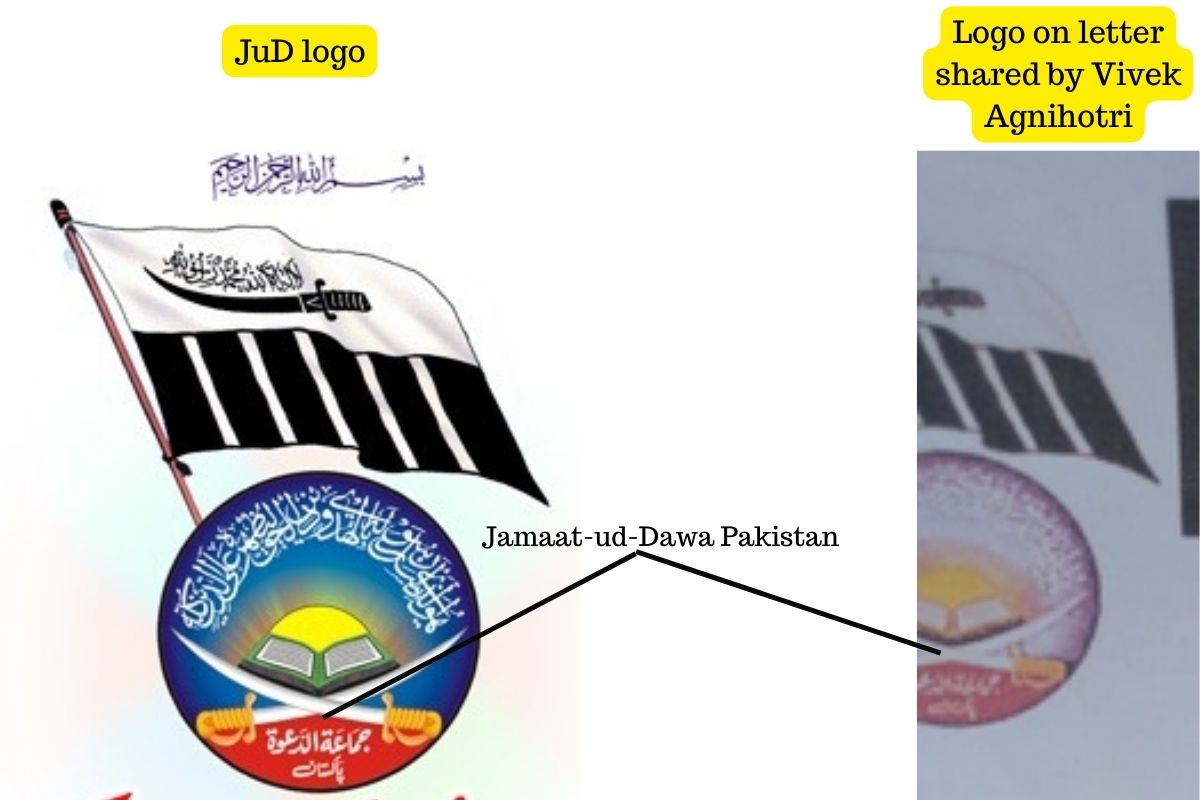 We spoke with Pakistani journalist Zarrar Khuhro to corroborate Lashkar-e-Islam's symbol. "I reached out to Iftikhar Firdous and Ihsanullah Tipu Mehsud, journalists from Khyper Pakhtunkhwa, to dig into their archives and find the letterhead," he told us. Khuhro shared with us a genuine letter issued by the outfit where its flag is spotted in the top right corner. It doesn't match the symbol in the viral letter. Furthermore, this letter is in Urdu, it is signed and has a completely different letterhead that says "Lashkar-e-Islam", not JuD.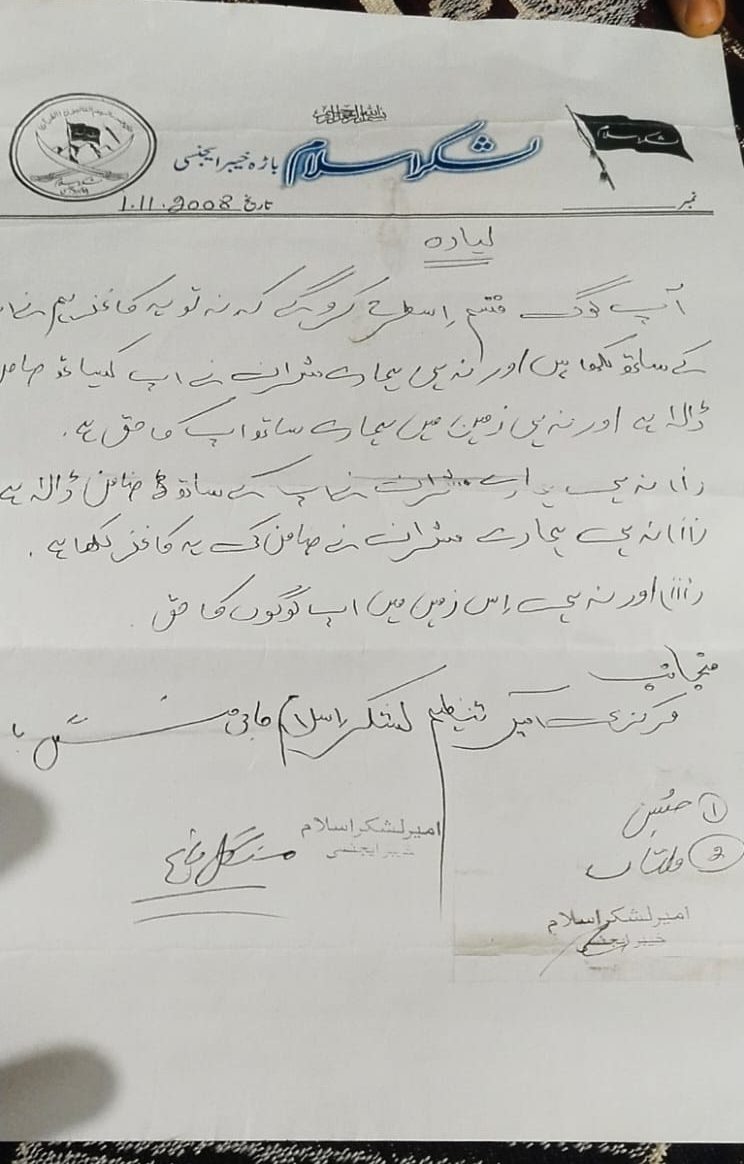 The photo below, credited to AFP, shows a picture of the flag of Lashkar-e-Islam which is the same as the one on the letter shared by Khuhro.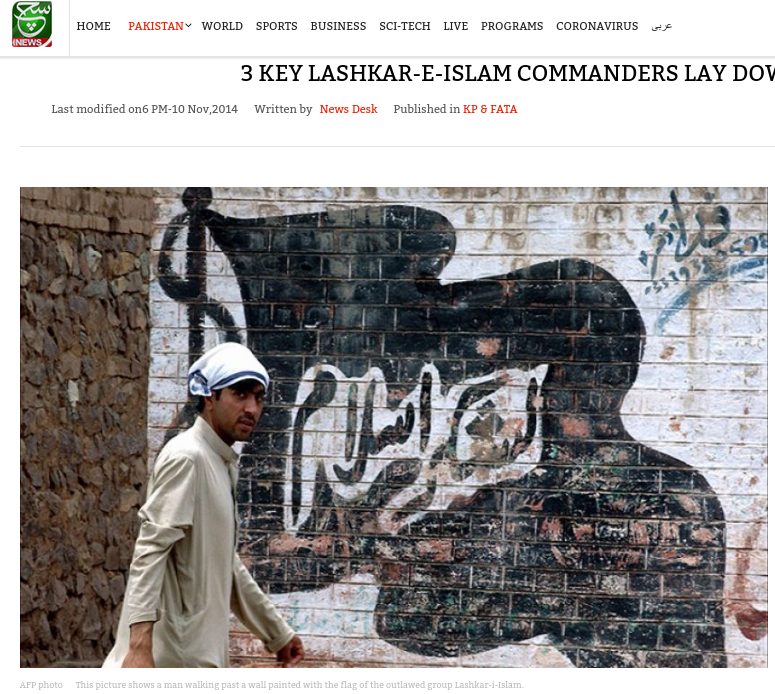 In both the flags (the one in the letter shared by Khuhro and the one in the AFP image), the Urdu text in the middle says "Lashkar-e-Islam".
4. A letter with identical letterhead was circulating in 2016
A similar letter claimed to have been issued by Lashkar-e-Islam in 2016 was published by DNA. This letter too showed the terror outfit threatening Kashmiri Pandits to leave Kashmir or face death. It also carries the logo of JuD on the left and misspells "Lashkar" as "Lashker".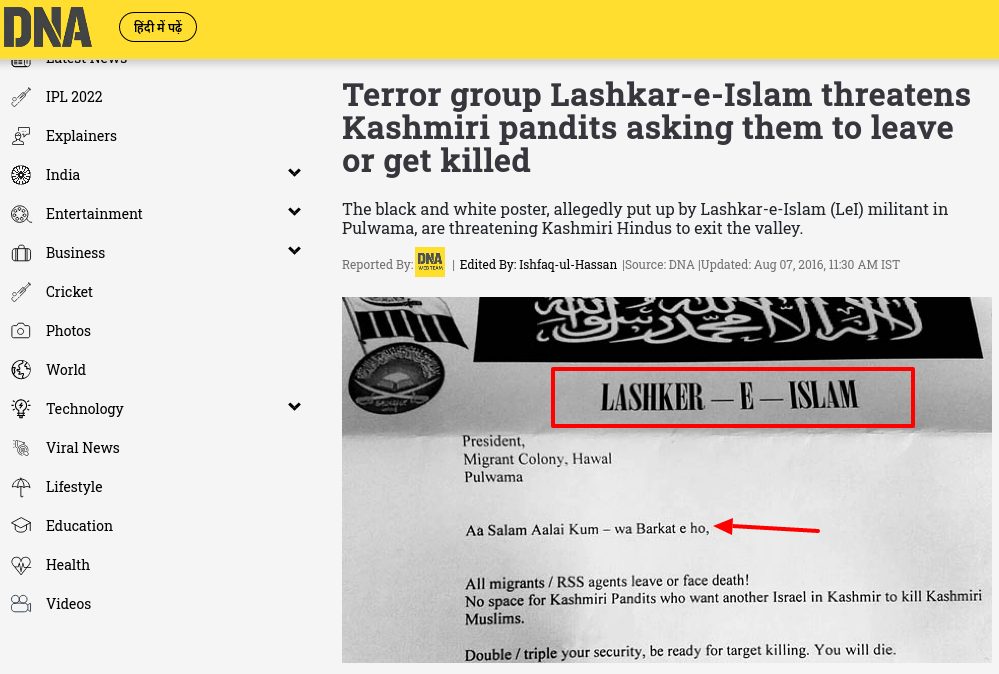 However, the main red flag in the 2016 letter is the incomplete greeting. It says, "Aa Salam Aalai Kum – wa Barkat e Ho" and omits the phrase "Wa Rahmat Ullahi" in between. The line should either have only been "As Salamu Alaikum" (peace be upon you) or the complete phrase "As Salamu Alaikum Wa Rahmat Ullahi Wa Barkatuh" (peace be upon you and mercy of Allah and blessings).
On August 7, 2016, Hindustan Times reported that the letter surfaced near the transit accommodation for government employees in South Kashmir. While the police confirmed the presence of the poster, Pulwama SP Rayees Mohammed Bhat said, "We believe it is a work of miscreants who want to create fear among the minority community."
5. The letter has factual inaccuracies
There is a portion in the letter that says, "We have started what was left unattended in 1990. We started this again with the killing of Kafir Nischal Jewellers and Kafir Bindaroo."

Satpal Nischal, 70, was killed in January last year by militants in Srinagar "apparently for having obtained a certificate under the new domicile law, that allows people who have lived in Jammu and Kashmir for more than 15 years rights to purchase immovable property". The Resistance Front (TRF) had taken responsibility for the attack. Nischal hailed from Gurdaspur, Punjab.
Pharmacy owner Makhan Lal Bindroo, 68, was killed in a series of attacks on minorities in J&K in October 2021. While the police did not identify any specific terror group, TRF had claimed responsibility for shooting Bindroo point-blank, reported India Today. Bindroo was a Kashmiri Pandit.
There are no reports that say Lashkar-e-Islam had claimed responsibility for either of the attacks mentioned in the letter.
The viral letter, therefore, appears to be dubious and not a genuine handiwork of Lashkar-e-Islam as claimed on social media.
Donate to Alt News!
Independent journalism that speaks truth to power and is free of corporate and political control is possible only when people start contributing towards the same. Please consider donating towards this endeavour to fight fake news and misinformation.