The Centre announced new IT rules on February 25 and the deadline to comply with the law ended on May 26. Non-compliance means that social media companies like Facebook, Twitter, WhatsApp, Instagram can now be sued for posts, comments, etc made on the platform by users. The law does not carry a provision to ban the platforms but it can take away safe harbour protections.
A WhatsApp message viral last year has been revived in the wake of the new IT rules. It claims that the Government of India is monitoring all forms of online and telephonic communications and asked people to not forward messages related to politics or religion. Alt News has received numerous requests on its WhatsApp helpline number (+91 76000 11160) to verify the message.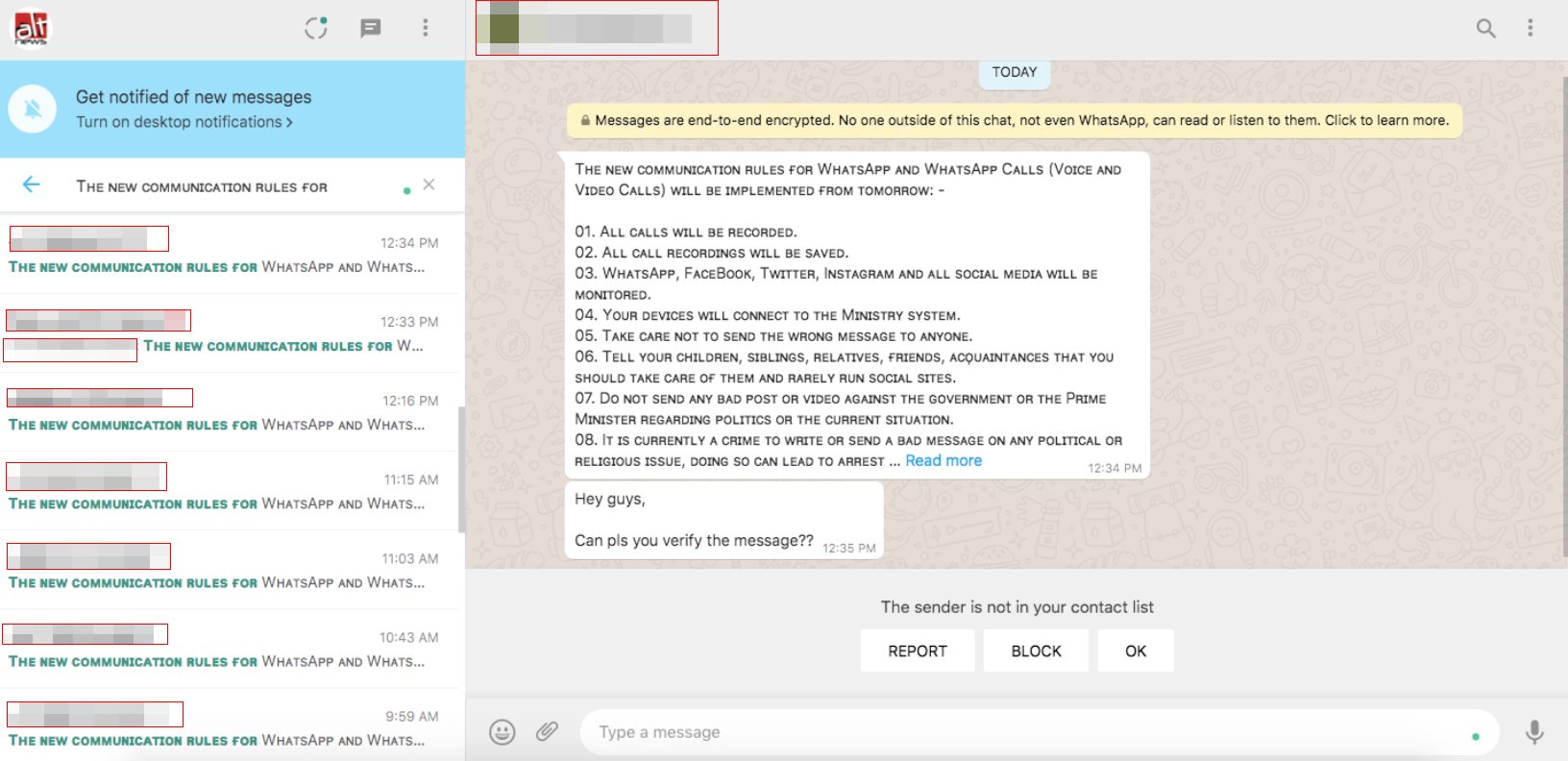 The complete text reads, "All calls are recorded. All phone call recordings saved. WhatsApp is monitored. Twitter is monitored. Facebook is monitored All social media and forums are monitored. Inform those who do not know. Your devices are connected to ministry systems. Take care not to send unnecessary messages. Inform your children, Relatives and friends about this to take care. Don't forward any posts or videos etc., you receive regarding politics/present situation about Government/PM etc.​​ Police have put out a notification termed ..Cyber Crime … and action will be taken…just don't delete … Inform your friends & others too. Writing or forwarding any msg on any political & religious debate is an offence now….arrest without warrant… This is very serious, plz let it be known to all our groups and individual members as group admin can b in deep trouble. Take care not to send unnecessary messages. Inform everyone about this to take care. Please share it; it's very much true. Groups please be careful."
Below is a screenshot of the message viral last year in April.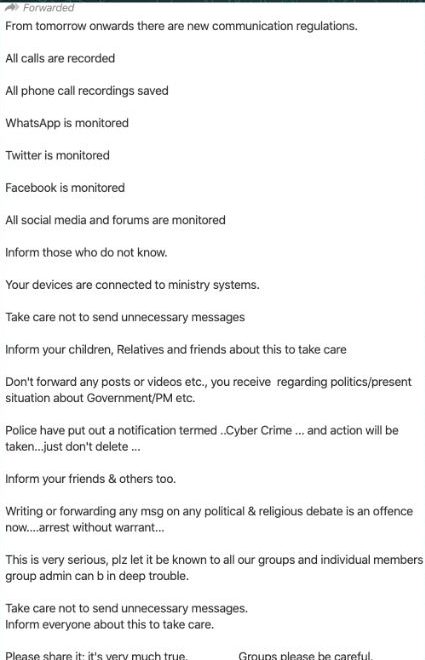 Hoax message
On March 24, 2020, the Press Information Bureau (PIB) debunked this message via Twitter. "No such thing is being done by the Government," reads the tweet.
Do not fall for such #Whatsapp messages being circulated.

No such thing is being done by the Government.

However, everyone is advised to not share any false news/misinformation concerning #CoronavirusInIndia

For authentic information follow @MoHFW_INDIA and @pib_India pic.twitter.com/XBErXb1CSP

— PIB Fact Check (@PIBFactCheck) March 24, 2020
It is important to keep in mind that WhatsApp has end-to-end encryption (E2EE) which means "only you and the person you're communicating with can read what's sent, and nobody in between, not even WhatsApp." E2EE conversations remain private unless the receiver shares screenshots of the conversation or if there is a breach in the security of the communication devices. WhatsApp sued the Indian government on May 26, 2021, over new internet rules that ask the company to identify the "first originator of information". WhatsApp has argued this would break E2EE and infringe on the right to privacy.
Facebook Messenger doesn't have end-to-end encryption enabled by default. But it has a feature called 'secret conversation' which is end-to-end encrypted. Similarly, Twitter does not have end-to-end encryption for its direct messages. As per a 2018 Tech Crunch report, Twitter was testing a feature similar to Facebook's secret conversation.
It's important to note that not all E2EE messaging applications are equal. Tom's Guide, an audience supported tech blog, has listed various E2EE apps available for Android or iOS. A 2019 report by Engadget, a US-based tech news website, compared the security offered by Facebook Messenger, WhatsApp, Telegram and Signal. According to this report, Signal has the highest standard of security out of the four apps.
Expert opinion
In order to understand social media surveillance by the government, Alt News reached out to Kushal Das, a developer of SecureDrop at Freedom of the Press Foundation, via Signal messenger. SecureDrop is a free software platform for secure communication between journalists and sources.
Before you read the responses given by Das to our questions, we recommend you watch this short video by AJ+ about online surveillance.
Donate to Alt News!
Independent journalism that speaks truth to power and is free of corporate and political control is possible only when people start contributing towards the same. Please consider donating towards this endeavour to fight fake news and misinformation.