A three-minute video which appears to depict seizure of illegal drugs is being circulated on social media with the claim that it is a recent incident from Delhi's Shaheen Bagh. The video has a watermark on the top right and scrolling texting in the centre of the video which says 'India news'. Several Facebook and Twitter users have shared this video the claim in Hindi.
A Twitter user Akash RSS @Satynistha tweeted the viral video with the caption, "A few days ago, both of them were campaigning actively in Shaheen Bagh. Now look at them, mother and daughter both arrested. Look at their work, now that the New Delhi Shaheen Bagh gig is over they have started this (translated from कुछ दिन पहले यह दोनों शाहीन बाग में बड़े जोर से नेतागिरी कर रही थी अब देखो अम्मी और बेटी दोनो पकड़ी गई , देख लो इनका काम, दिल्ली शाहीनबागा वाला काम निपटा तो ये शुरू कर दिया)". Alt News has caught @Satynistha spreading misinformation on numerous occasions in the past. (archive link)
कुछ दिन पहले यह दोनों शाहीन बाग में बड़े जोर से नेतागिरी कर रही थी अब देखो अम्मी और बेटी दोनो पकड़ी गई , देख लो इनका काम, दिल्ली शाहीनबागा वाला काम निपटा तो ये शुरू कर दिया pic.twitter.com/ODycKZRJOa

— Akash RSS (@Satynistha) April 3, 2020
Twitter user @PMPATEl1969 also shared the viral video along with the same Hindi. This video has been retweeted over 600 times (archive link). Similarly, a Facebook user also shared the viral video along with the same Hindi text. This has been viewed over 4,000 times (archive link).
Alt News received several requests to fact-check the viral video on WhatsApp (+91 76000 11160) and on our official Android application.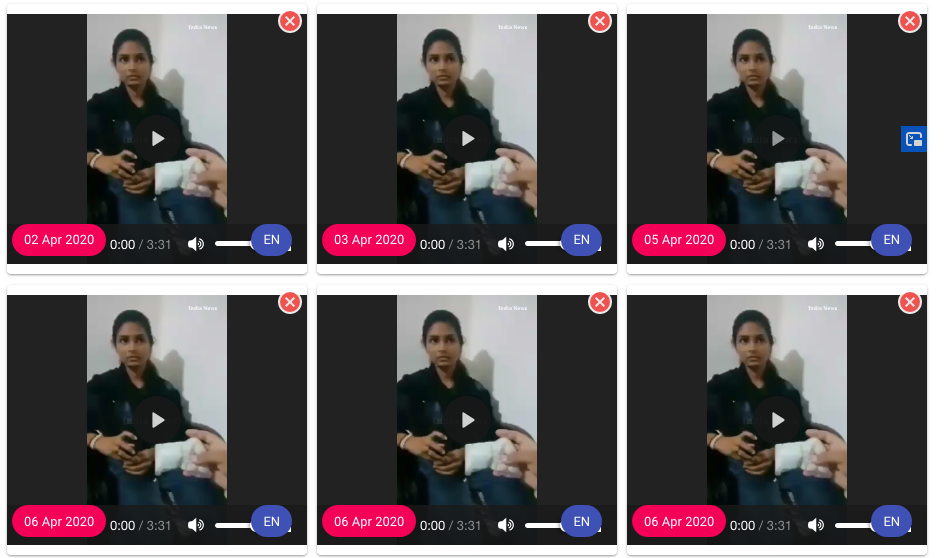 Fact-check
Alt News analysed the video using InVid, an online video verification tool and performed a reverse image search on Yandex. One of the searches revealed that the viral video was also shared with Hindi text, "अम्मी और बेटी दोनो पकड़ी गई , देख लो इनका काम".

Using this as a clue, we performed a keyword search on Facebook and found that the page India News had shared with the video with the title 'अम्मी और बेटी दोनो पकड़ी गई , देख लो इनका काम – Entertainment Video' on March 4. The video has a staggering 5.8 million views and over 62,000 shares. (archive link)
After rummaging through the results of another reverse image search, we found that the viral video was also published by a Pakistan-based YouTube channel on July 20, 2019. The title reads, 'Karachi young girl drug dealer arrested (Translated from کراچی منشیات فروش نوجوان لڑکی گرفتار ).'
We found several other Pakistani users who had shared the video last year.
سر شرم سے ڈوب جاتا ہے یہ سب کچھ دیکھ کر 😐
زیادہ سے زیادہ شئر کریں –

Posted by The Demand Online on Friday, 26 July 2019
While we could not independently verify if the video is from Pakistan, the claim associated with the video is false and misleading. Alt News was able to trace the video back to July 2019, thus proving that it cannot depict a recent incident in Shaheen Bagh.
Donate to Alt News!
Independent journalism that speaks truth to power and is free of corporate and political control is possible only when people start contributing towards the same. Please consider donating towards this endeavour to fight fake news and misinformation.