A five-minute audio clip of a phone conversation between two men is circulating on WhatsApp. In the audio, one man shares various claims related to coronavirus in Nagpur while the other reacts to the information. Alt News has received several requests to fact-check the viral audio on WhatsApp (+91 76000 11160).

Some of the claims made in the audio file are – "59 people have been tested positive and identified over 200 Covid-19 cases in Nagpur." The man who made the claim also added that he was informed of these numbers by 'Nitin'.
Another claim that was made in the viral audio was that three doctors were tested positive and "Dr Kamlesh" is currently on a ventilator due to coronavirus. "His test had to be sent to Mumbai because labs in Nagpur don't have the capacity to conduct Covid-19 tests nor the staff knows how to conduct it."
The viral audio also suggests that the Maharasthra Medical Association has recruited six doctors from Sweden and are seeking approval from the PM. "They will visit for 12 days and test the samples," the man claimed, adding that news numbers of coronavirus cases were informed to the CM but the information hasn't been made public yet.
The full audio can be heard below
Fact-check
Alt News spoke with Anil Gadekar, district information officer, Nagpur. He said, "The audio file that claims 59 people have been tested positive for Covid-19 and a team from Sweden is coming for 12 days to conduct coronavirus test is totally fabricated. A complaint has been registered with the police. Even the cyber cell in looking into the matter."
Gadekar shared the district government's official data on coronavirus patients. According to the data, as of now five people have been tested positive for coronavirus in Nagpur.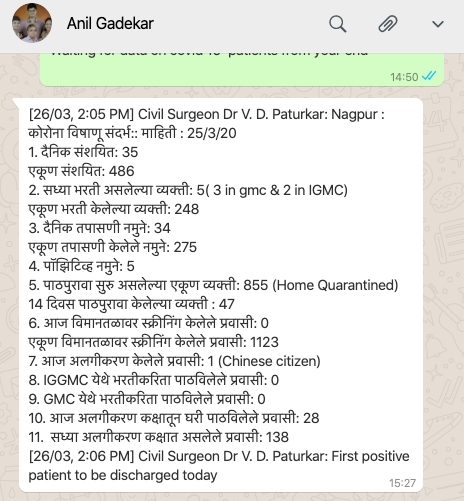 The translation of the information mentioned above can be found below. As per the information, the doctor who was tested positive in Nagpur is Civil Surgeon Dr VD Paturkar. He is also the first patient to be discharged in the city.
| Patient data points, as of March 25 | Number of patients |
| --- | --- |
| Daily Suspect | 35 |
| Total Suspects | 486 |
| Currently admitted persons | 5 [3 from Government Medical College (GMC) and 2 from Indira Gandhi Medical College (IGMC)] |
| Total admitted persons | 248 |
| Daily inspection samples | 34 |
| Total inspected samples | 275 |
| Positive Patterns | 5 |
| Total Persons In Follow-Up | 855 (Home Quarantined) |
| Persons pursued 14 days | 47 |
| Travelers screened at the airport today | 0 |
| Total airport screened passengers | 1123 |
| Excluded travelers today | 1 (Chinese citizen) |
| Passengers recruited at IGMC | 0 |
| Passengers recruited to GMC | 0 |
| Passengers sent home today from the separation room | 28 |
| Travelers currently in isolation room | 138 |
| First positive patient to be discharged today | Civil Surgeon Dr V. D. Paturkar |
On March 27 Times of India reported that after interrogating 35 people, the cyber cell zero-downed on three suspects. Jay Gupta (37), Amit Pardhi (38) and Divyanshu Mishra (33) have been arrested for circulating the misleading audio file.
Prior to this, Nagpur police clarified via Twitter that a fake audio clip is being circulated on social media. The tweet said, "Extremely irresponsible as well as misleading audio and video clips are going viral in the context of corona, serious action is being taken against those sending false information or sending false messages. Posting rumours is a serious crime. (कोरोना संदर्भात व्होटसअँप वर अत्यंत बेजबाबदार तसेच दिशाभूल करणाऱ्या आडिओ व व्हिडीओ क्लिप व्हायरल होत आहेत, अशा चुकीची माहिती अथवा चुकीचा संदेश पाठविणे , पोस्टकरणे अफवा पसरविणे हा गंभीर गुन्हा आहे, याविरुद्ध कठोर कारवाई करण्यात येत आहे #FakeNews #COVID2019)."
कोरोना संदर्भात व्होटसअँप वर अत्यंत बेजबाबदार तसेच दिशाभूल करणाऱ्या आडिओ व व्हिडीओ क्लिप व्हायरल होत आहेत, अशा चुकीची माहिती अथवा चुकीचा संदेश पाठविणे , पोस्टकरणे अफवा पसरविणे हा गंभीर गुन्हा आहे, याविरुद्ध कठोर कारवाई करण्यात येत आहे#FakeNews #COVID2019

— Nagpur City Police (@NagpurPolice) March 24, 2020
On March 26, the Press Information Bureau's fact-check wing also tweeted about the viral audio message.
An audio clip is circulating on social media claiming that Nagpur has tested 59 positive coronavirus cases including 3 doctors

The assertion made in the audio is #FAKE.

Please DO NOT forward such fake audio clips. pic.twitter.com/u29ROXWaf0

— PIB Fact Check (@PIBFactCheck) March 26, 2020
Thus, the claims made via the audion viral on WhatsApp are baseless and misleading.
It must be noted that the official figure of COVID-19 positive cases is solely based on the number of tests that have been done, and should not be confused with the actual number of people who may be COVID-19 positive. Among major countries, India has one of the lowest rates for coronavirus.
Note: The number of positive cases of the novel coronavirus in India is close to 700. This has caused the government to impose a complete restriction on movement apart from essential services. Globally, more than 4 lakh confirmed cases and close to 22,000 deaths have been reported. There is a growing sense of panic among citizens, causing them to fall for a variety of online misinformation – misleading images and videos rousing fear or medical misinformation promoting pseudoscience and invalid treatments. While your intentions may be pure, misinformation, spread especially during a global pandemic, can take lives. We request our readers to practice caution and not forward unverified messages on WhatsApp and other social media platforms.
Donate to Alt News!
Independent journalism that speaks truth to power and is free of corporate and political control is possible only when people start contributing towards the same. Please consider donating towards this endeavour to fight fake news and misinformation.