"Hindus have been wiped out from Pakistan, Bangladesh, Kashmir. They never sought revenge from Muslims. They silently embraced death. All Hindus should learn secularism & tolerance from those Hindus". This is what is being attributed to actor Prakash Raj. According to this quote which is being shared widely on social media, the actor apparently made this inflammatory statement, asking the Hindu community to silently embrace death when faced with Muslim aggression.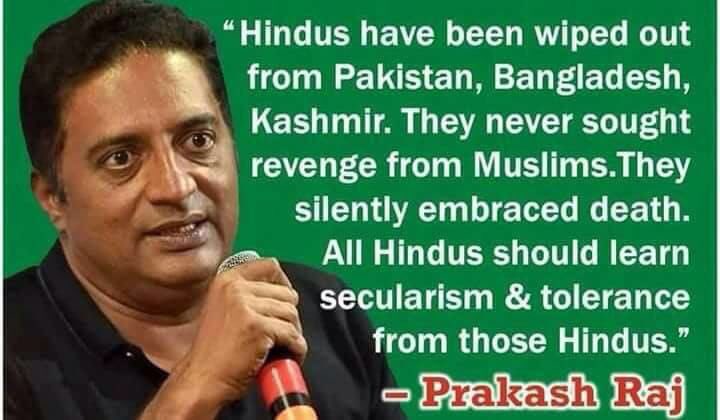 Prakash Raj has been a vocal dissenter and critic of the ruling party and Government, as a result of which he has often come under attack from those sympathetic and supportive of the regime.
@prakashraaj hindus have been silent for 1000years but the time has come to wake up. No longer tolerance will accepted as massacre of the hindus happen daily in Kashmir Pakistan Bangladesh. @PMOIndia@HMOIndiapic.twitter.com/rZiqIuXqrA

— MAX (@suren1964) January 31, 2018
பொட்ட @prakashraaj கம்னாடி @superstarrajini @ikamalhaasan @HRajaBJP @Narayanan3 கூத்தாடி நாய்க்கு ஏன்டா ஹிந்து நையாண்டி? உன்னெல்லாம் தமிழ் சினிமாவுல உள்ளவிட்டது எங்க தப்பு! @srsekharbjp @SVESHEKHER @sgurumurthy @itz_katti @vechusenjing @MVR19711 @KasthuriShankar @chiyanviki pic.twitter.com/6je14e4wUD

— S. Muralidharan (@EelaTamilanMS) January 28, 2018
The Hindi version of the said quote too has been circulating on social media.
शर्मनाक! #वामपंथी (अभि)नेता प्रकाश राज ने कहा की हिन्दुओं ने #कश्मीरी पंडितों की तरह चुपचाप मौत को गले लगा लेना चाहिए! इस मुद्दे पर आपकी क्या राय हैं?
प्रकाश राज 👇👇👇 pic.twitter.com/vdbgqQ3lDm

— Mitali शाह मिताली (@mitalishah121) January 27, 2018
Prakash Raj tweeted on the issue, clarifying he had never made any such statement and that lies are being spread in his name.
By spreading such lies…instead of debating my views…you are proving to the world…how frustrated..desperate..and the cheap levels you can stoop down ..Dear citizens please like and retweet this to show such cowards …that we stand for a fearless Society which questions pic.twitter.com/2Bxi6aQUbV

— Prakash Raj (@prakashraaj) January 29, 2018
By the time a clarification is issued by these celebrities, the fake quote has already travelled far and wide on multiple social media platforms. These fake quotes which are frequently attributed to celebrities by suspicious twitter handles and Facebook pages seem to be following an established pattern. The format in which these quotes are presented is broadly similar, and the theme is usually communal. Actors who have professed a certain point of view which is not popular with certain sections are usually targeted. Prakash Raj is now the latest victim, along with actors Farhan Akhtar and Swara Bhasker.
Donate to Alt News!
Independent journalism that speaks truth to power and is free of corporate and political control is possible only when people start contributing towards the same. Please consider donating towards this endeavour to fight fake news and misinformation.