Alt News has stumbled upon a factory – a factory of fake quotes. The matter first came to light when fake quotes ascribed to Prakash Raj , Swara Bhasker and Farhan Akhtar went viral on social media. The three celebrities denied making the statements that were circulated in their name. A further search by Alt News led to a goldmine of similar quotes. Fake quotes are being circulated in the name of actors, authors, activists, politicians and even common people with the objective of polarizing the society on religious grounds. Let us look at a few of them:
Fanning fears :
The claims are often outlandish like the one below. You may be tempted to think that no one would believe them. Think again. These inflammatory messages are reaching far corners of the country through WhatsApp.
"In Bangladesh, Pakistan, Kashmir, Assam, Kerala and other parts of India, we Muslims have snatched 70% of land from the Hindus. Yet Hindus think we could not do any harm to them in 1400 years. India has nearly become an Islamic nation." E. Abubaker, PFI Kerala.
naresh_nimbau: क्या जिहादी अबुबकर सच बोल रहा हैं ?
.
इस मुद्दे पर आपकी क्या राय हैं ? pic.twitter.com/e8jUv51JjG rt

— शायरी_C (@mukesh_mumbai) November 29, 2017
"Till all Hindus, Buddhists, Sikhs and Christian are not killed, we will continue with our Jihad. Your tolerance and secularism cannot change our views. According to the Koran, the one who is not a Muslim has no right to be alive" – Abdullah Zubair, India
खतरनाक ! क्या हिन्दुओं के भाई चारे से मुसलमान बदल जायेंगे ?
.
इस मुद्दे पर आपकी क्या राय हैं ? pic.twitter.com/xx06DCto7f

— raju (@good_for_ever) December 1, 2017
"Make a mosque on government land, bury dead bodies in open land and make it a kabristan, make a Dargah or Mazaar on railway platforms. Land Jihad will ensure Muslims will control land all over the world" – Faiz Saiyyad, Lawyer
खतरनाक ! लैंड जिहाद के चपेट में आया भारत ! इस मुद्दे पर आपकी क्या राय हैं ?
.
हर जगह मस्जिद, मजार, दरगाह, कब्रिस्तान का अतिक्रमण ! Land Jihad pic.twitter.com/xW2BAbuV25 rt

— Naresh Choudhary (@naresh_nimbau) December 21, 2017
Maligning Islam :
Another overriding theme of the quotes is to spread misinformation about Islam and Muslims.
"My husband Kamaal Amrohi divorced me. For the second marriage I was forced into "halala" with Amanullah Khan. What kind of religion is Islam where the husband gets his wife raped?" – Meena Kumari
बॉलीवुड अदाकारा मीना कुमारी हुई थी हलाला का शिकार ! उसके बाद मीणा कुमारी ने बोला था इस्लाम पर ऐसा हमला की सन्न रह गए थे मुसलमान !
.
मीना कुमारी के सवाल पर आपकी क्या राय हैं ? pic.twitter.com/b1AUMXOVt1

— हरीश राजपुरोहित (@hbrajpurohit0) December 9, 2017
"Muslims have the virility and hence we produce 10 kids. Unemployment, terrorism, slums, water shortage etc due to this population explosion are problems of the government, not the Muslims" – Owaisi
इस मुद्दे पर आपकि क्या राय हैं ? pic.twitter.com/Zq3aiuFpdI

— Arvind Mishra (@ArvindM35729905) December 2, 2017
Targeting Muslim celebrities
Targeting Muslim as well as liberal public figures is yet another theme of these quotes. The objective is to show them in a bad light and build public opinion against them.
"I criticize the traditions of Hinduism like dowry, caste system etc. But I don't want to upset Muslims by criticize their traditions like four wives, 10 – 12 kids and teaching terrorism to children in Madrasas." – Aamir Khan
आमिर खान द्वारा इस भेदभाव पर आपकी क्या राय हैं ? ज्यादा से ज्यादा शेयर करे ! pic.twitter.com/2R0jy1Aa4j

— RAJENDER JOSHI (@rajenderjoshi2) April 2, 2014
We have seen similar attempts to discredit Arundhati Roy by ascribing fake quotes to her. What is surprising is the number of people who routinely fall for such obviously fake quotes.
The above is only a small sample of numerous such rabid posts circulating on social media. Such radical messages are being manufactured in bulk and use of Hindi gives them an even wider audience.
We found a pattern in the quotes:
The quotes are communal in nature and have a very clear agenda to polarize Hindus and Muslims.
They show Muslims in a poor light and further the narrative of Hindus being under threat.
Though not always, they often focus on liberal celebrities to build public opinion against them.
They pick a current issue like Rohingya refugees or instant triple talaq and try to shape opinion on the issue by fanning distrust and fear of the other community. They are often shared with the question: "इसमुद्दे पर आपकी क्या राय हैं ?" (What is your opinion on this issue?)
They are fake. The people quoted have made no such statements.
These messages are not a recent phenomenon and some of them go as far back as 2014. We were not able to trace the origin but the use of identical color and font points to one person or a small group of people behind this coordinated social media offensive. The fake Swara Bhasker and Farhan Akhtar quotes carried the logos of serial fake news
peddlers Shankhnaad and Postcard News but we don't know if they are behind the other fake quotes that don't carry logos.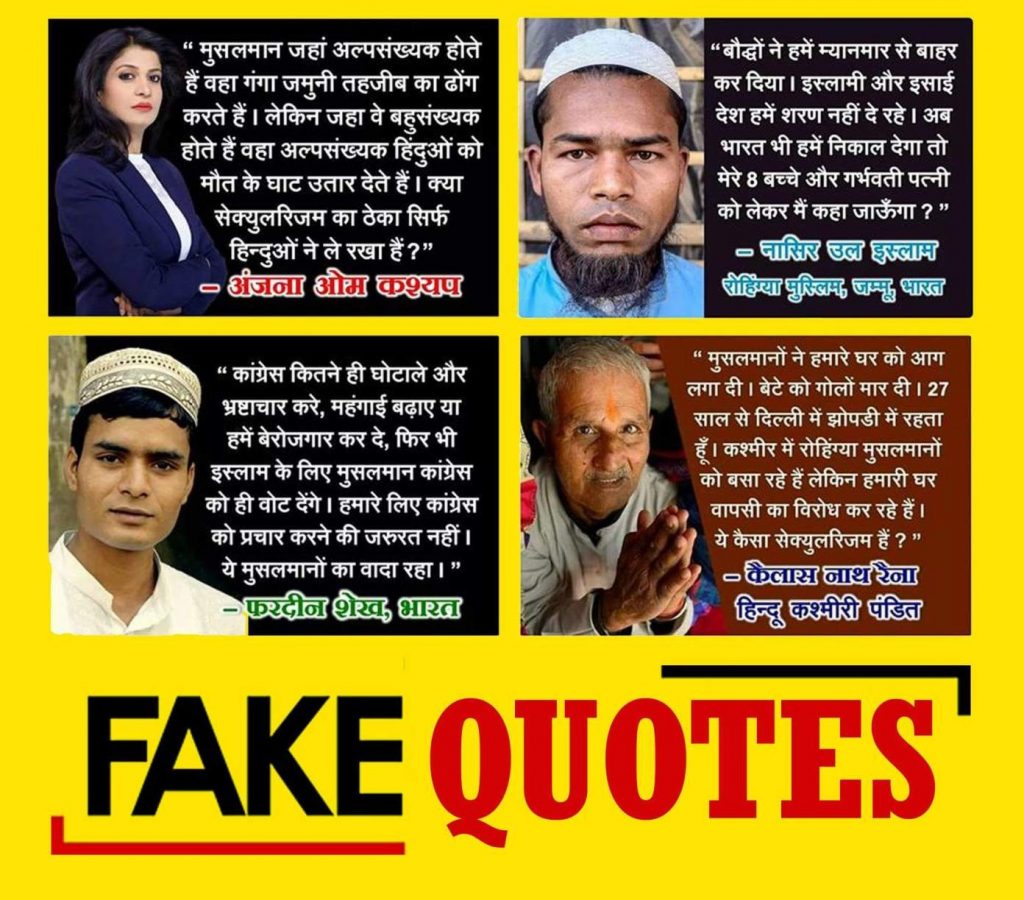 Clearly the fake quotes have been manufactured to create a feeling of victimization among the majority community. The messages play on fears with an objective to create and maintain a divide between communities. They target the most gullible social media users who are looking for a confirmation of their own biases. There is need for a greater awareness of the malicious intent behind these quotes. The perpetrators of the fake quotes factory must be identified and action initiated against them. Social media users need to unite to call out the fakery of those sharing such material. It is time to reclaim the social media space from such rogue elements. The factories of filth need to be shut down
Donate to Alt News!
Independent journalism that speaks truth to power and is free of corporate and political control is possible only when people start contributing towards the same. Please consider donating towards this endeavour to fight fake news and misinformation.