A graphic featuring Russian Defence Minister Sergey Shoigu attributes the following quote to him, "Russian soldiers will not harm those Indians who have marked their homes or cars with the Indian tricolour. In fact, the search squad of the army will themselves evacuate such people to a safer location." The graphic also says, "Our chaiwala is quite mighty after all." This is a reference to Prime Minister Modi.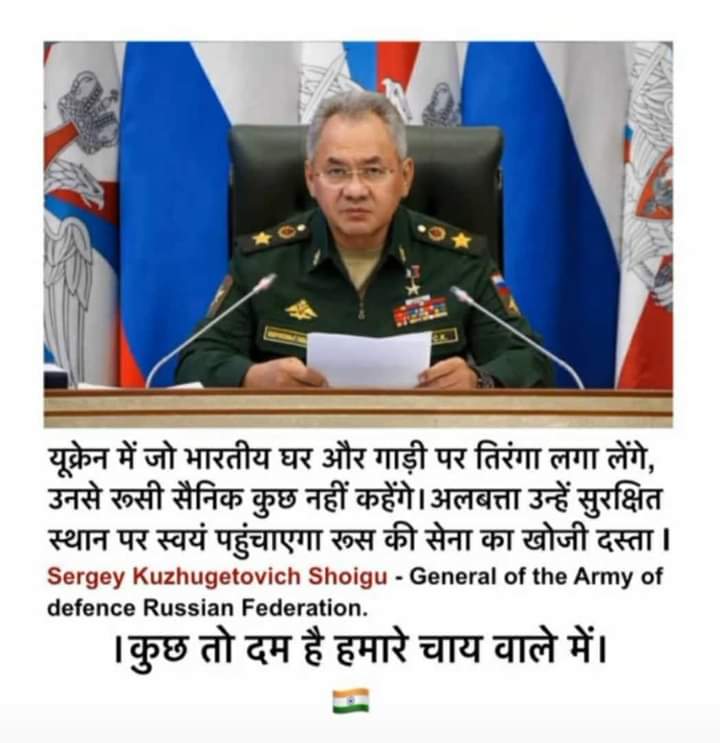 Twitter user 'Sunil Bairagi 𝙎𝙆 (Digital Warrior)' tweeted the graphic and wrote, "This is the power of our chaiwala." (Archive link)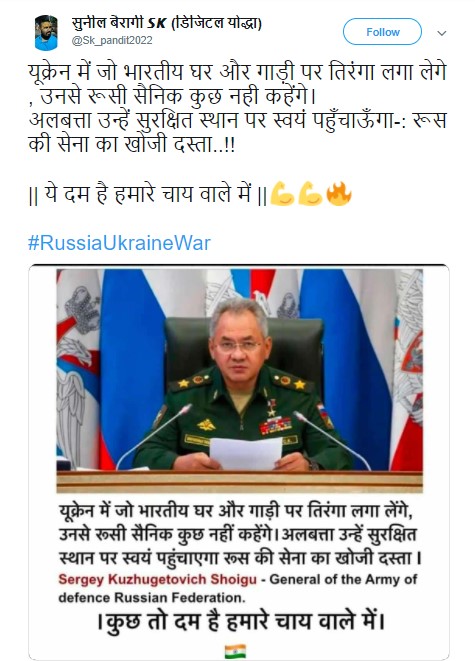 The graphic is generating a lot of traction on Twitter and Facebook.
This slideshow requires JavaScript.
We also received a few requests for its verification on the Alt News mobile app. The graphic has also made its way to WhatsApp.
This slideshow requires JavaScript.
Fact-check
The claims being circulated via this graphic are completely false. Russia did not advise Indians in Ukraine to mark their homes or cars with the Indian flag. Neither did the Russian authorities state that the search squad of their army would evacuate Indians upon seeing the tricolour. Had the Russian army actually made such an announcement, it would have undoubtedly garnered a flurry of media attention. However, we could not find any news reports to corroborate the 'news'.
However, it is worth noting that Indian authorities have advised Indians in Ukraine to wear the Indian flag or a tricolour sticker for identification while evacuating to safer locations or travelling to the border.
ABP Live reported, "An alternative route is being used to bring back Indians from war-torn Ukraine. Meanwhile, sources said that all Indians in Ukraine have been asked to put the Indian flag on their vehicles and write 'India' on them during evacuation operations for authorities to easily identify their nationality. These instructions have been provided especially for conflict zones." The Times of India also reported that Indian authorities have advised Indians stranded in Ukraine to display the national flag for identification during evacuation.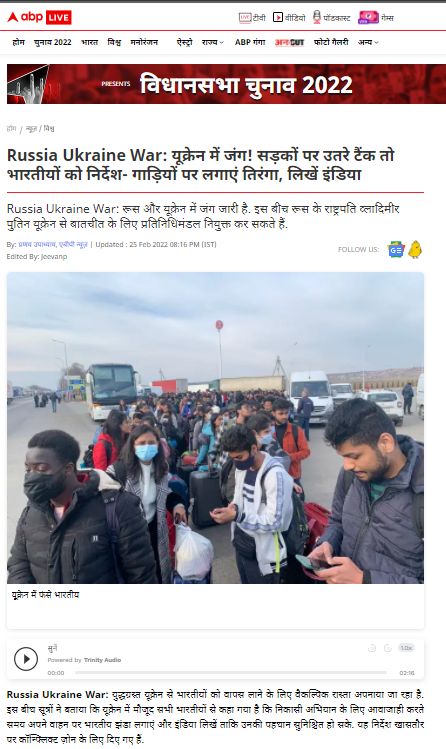 The claim that Russia advised Indians in Ukraine to mark their homes and cars with the tricolour for safe evacuation by Russian troops is false. It is worth noting that this is not merely a rumour, but the misinformation can prove to be dangerous for Indian stranded in Ukraine.
Donate to Alt News!
Independent journalism that speaks truth to power and is free of corporate and political control is possible only when people start contributing towards the same. Please consider donating towards this endeavour to fight fake news and misinformation.