Amidst Russia's invasion of Ukraine, several distressing videos of Indian students trying to escape Ukraine have surfaced on social media. On February 28, The Indian Express reported that four Union Ministers will visit as Special Envoy of the Indian government in neighbouring countries to expedite the rescue of Indian citizens from Ukraine.
In the backdrop of this, a screenshot from PlaneFinder, a United Kingdom-based real-time flight tracking service, has gone viral since February 24. The image shows the trajectory of Air India flight number 121 (AI121) with the claim that it shows the aircraft flying through the warzone to rescue stranded Indians.
Republic TV published an article with the headline, "Air India lone airliner to brave through war-ridden Russia-Ukraine airspace: Report" along with the viral image. This report was later deleted without any clarification.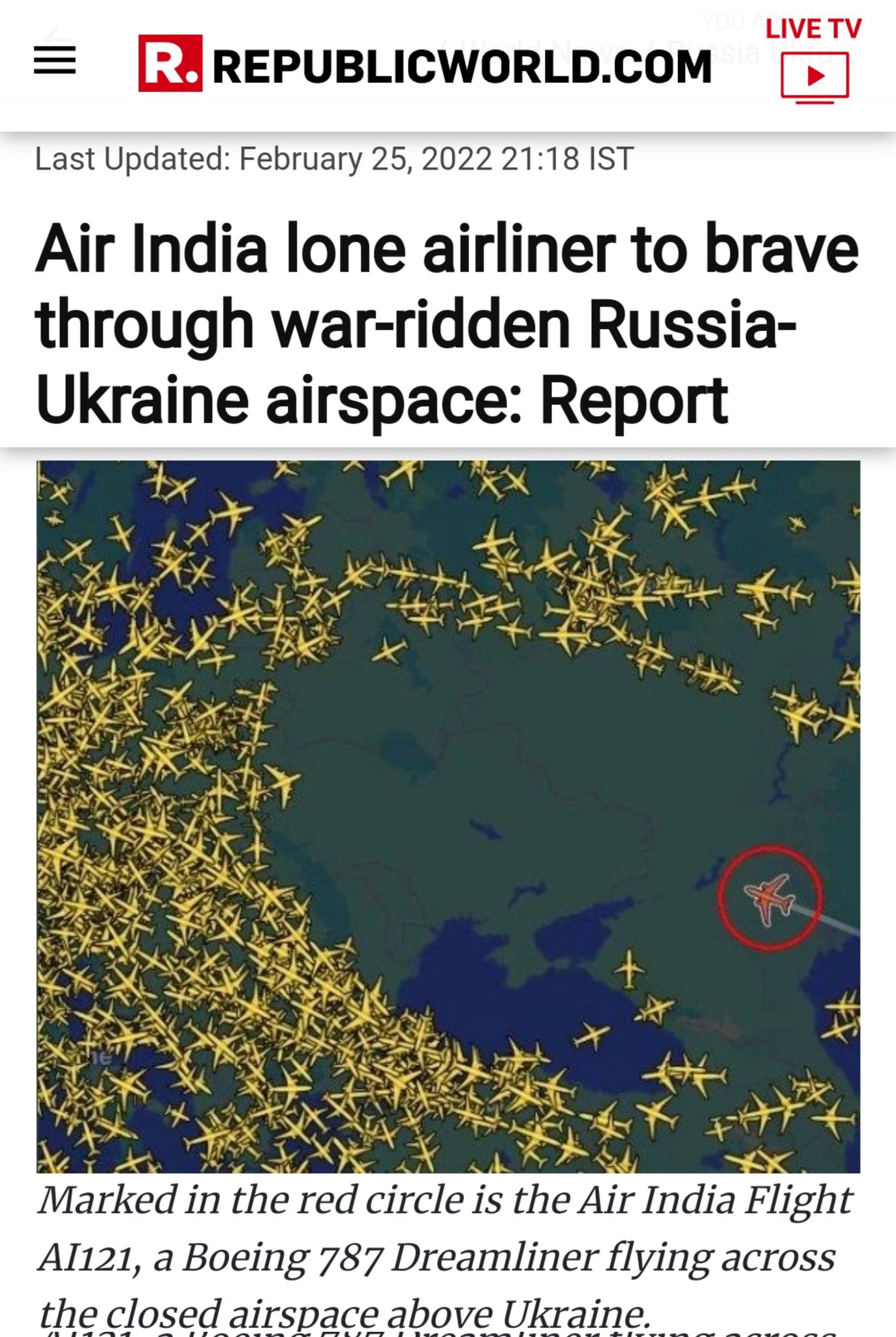 News18 anchor and managing editor Amish Devgan and Akhilesh Mishra, former director of the BJP government's online citizen engagement initiative 'MyGov India', posted this image on February 27. Both have deleted their tweets.
This slideshow requires JavaScript.
Using social media monitoring tool CrowdTangle, we found that over 100 accounts [view PDF] shared this image online including pro-government pages like Modi Once More and Saffron Tigers. The latter shared the image and wrote, "[sic] This single plane which is flying on sky of Russia Ukraine war zone is showing the power of new India. When no country has dare to fly there it is #AirIndia which is going to airlift Indian Nationals who are stuck there. This is new India under the able leadership of PM Narendra Modi ji. This single picture tells the whole story." This post has been shared over 11,000 times and liked over 40,000 times.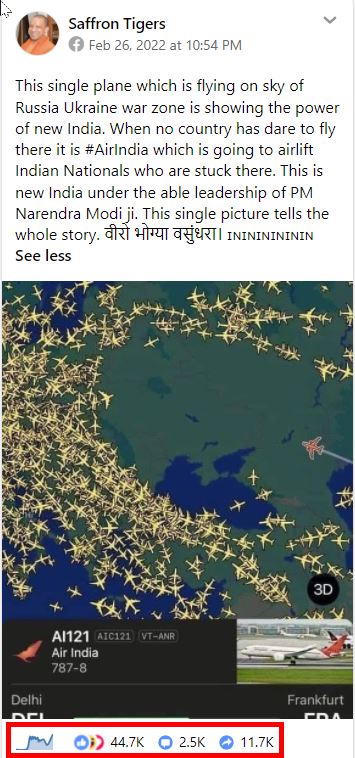 On the same day, FB page 'Modi Once More' shared this image and wrote, " [sic] That's Air India rescue flight on its way…Modi Ji – I got Swag Mitron!"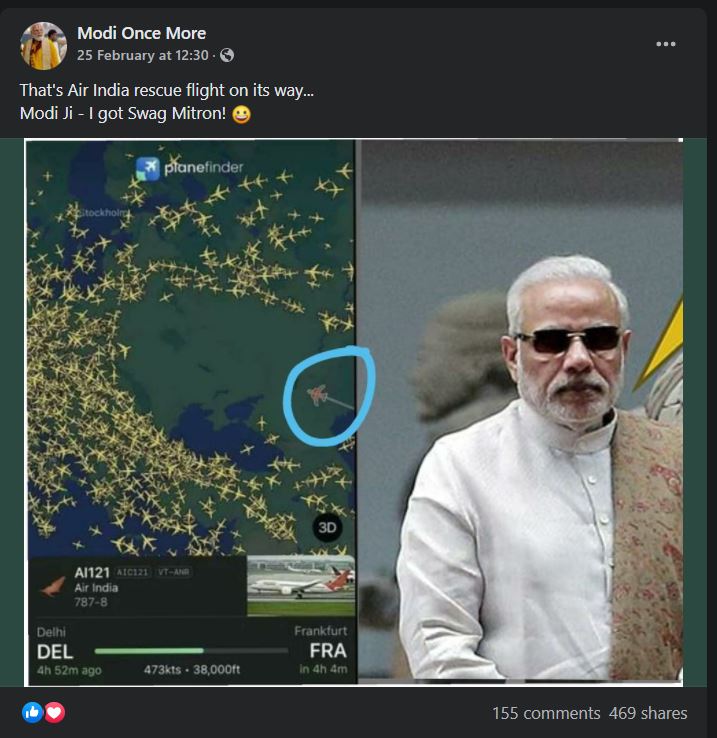 Prior to all the posts, on February 24, Twitter user @QuebecTango posted the viral image and alleged AI121 was flying in a no-fly zone and dubbed it as 'Leeroy Jenkins' moment – a western slang for doing something extraordinary. This tweet was retweeted over 12,000 times.
Air Traffic Control: Avoid the area – there's a war on!
Air India: LEEEEEROOOOYYYYY JEEEENKINNNNS!!! pic.twitter.com/VaBbgvxEDs

— QuebecTango (@QuebecTango) February 24, 2022
AI121 is not Ukraine-bound
It must be noted that a day after @QuebecTango shared the image, he claimed, "[sic] End result: it was a glitch in the app. It corrected itself but not before a screengrab was taken. I saw said screengrab and immediately tweeted the Leeroy Jenkins take without realising it was a glitch. End result: cries of "fake" but still happy with the joke." Twitter user @YourAnonNews also shared this image and called it a "meme".
Looking at the viral image, we can see that the screenshot itself reveals that flight AI121 is heading to Frankfurt (Germany) not Ukraine.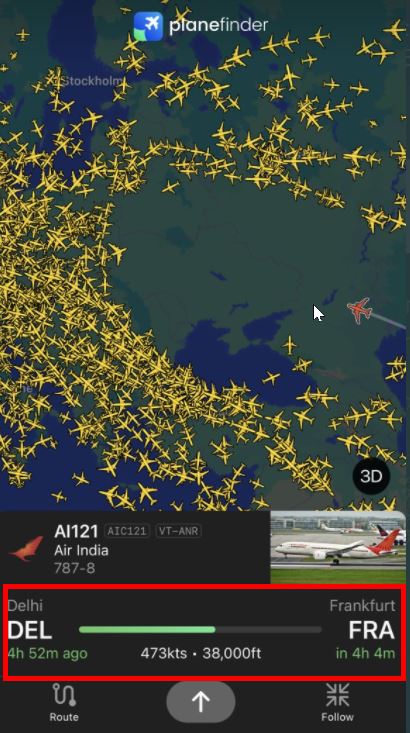 As per PlaneFinder, AI121 is operational on all days of the week except Wednesdays. It was Thursday on February 24, thus the flight was operational. The image below is a screenshot from PlaneFinder that shows the trajectory of flight AI121 on February 24.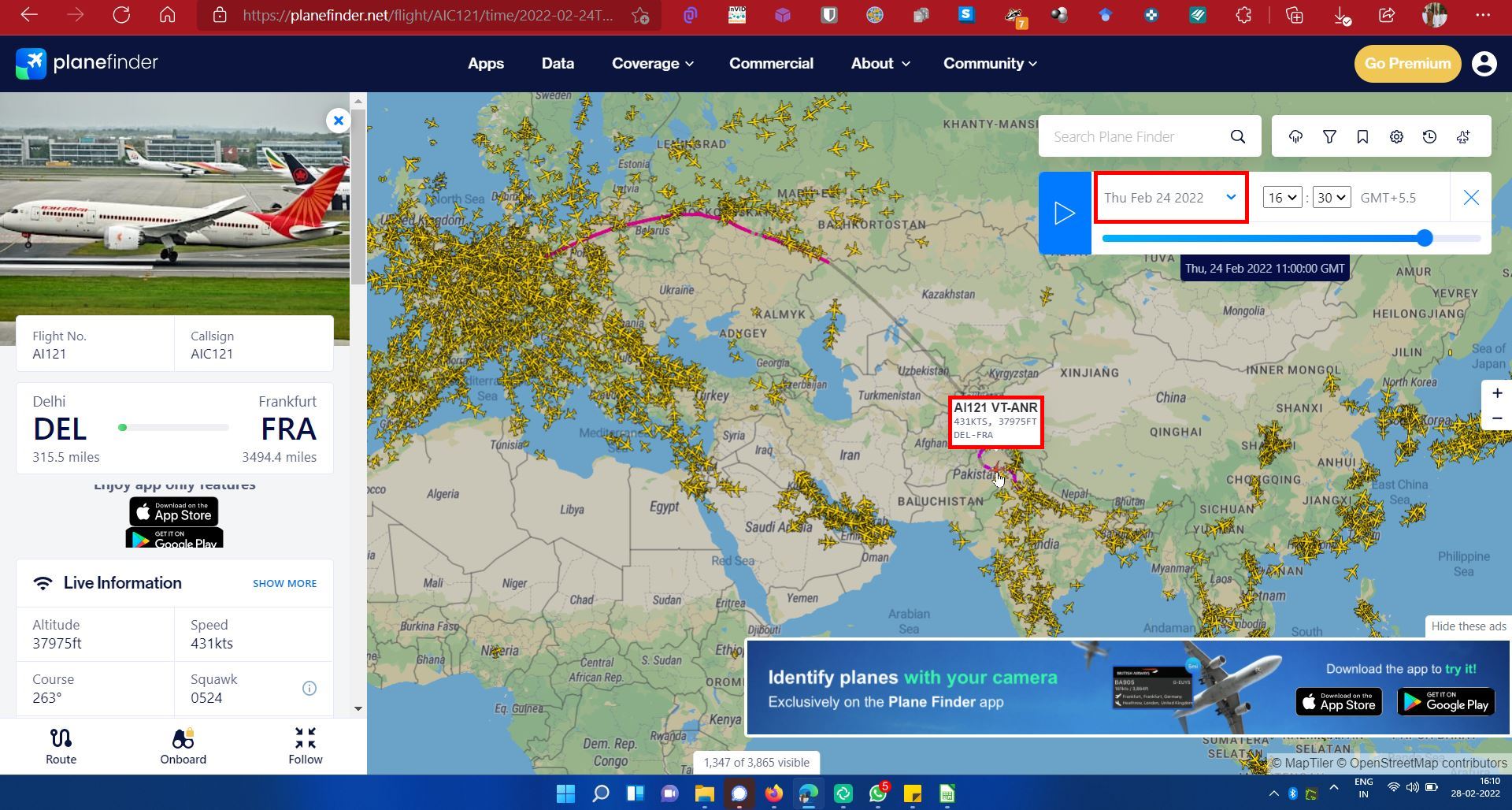 It is must be noted Press Trust of India reported that an Air India plane that took off to bring back Indians from Ukraine on February 24 was called back to Delhi after Ukrainian authorities issued a Notice to Airmen (NOTAM) stating that civil flights within the country "are restricted due to potential hazard".
An Air India official told Alt News, "All flights have pre-defined air navigation routes guided by the air traffic control. In case of any exigences, non-availability of airspace or aerodrome, a NOTAM is issued and subsequently, a route is re-defined. I must stress that no commercial aircraft will enter any area(s) declared as no-fly zone." Thus, it is safe to state that no 'Leeroy Jenkins' moment took place in relation to AI121 flight.
On February 25, the Ministry of External Affairs spokesperson Arindam Bagchi tweeted, "The first batch of evacuees from Ukraine reach Romania via Suceava border crossing."
The first batch of evacuees from Ukraine reach Romania via Suceava border crossing.

Our team at Suceava will now facilitate travel to Bucharest for their onward journey to India. pic.twitter.com/G8nz2jVHxD

— Arindam Bagchi (@MEAIndia) February 25, 2022
To sum it up, Republic TV and News18 anchor Amish Devgan shared an unverified screenshot with the false claim that it shows India's rescue mission on February 24. The Government of India began the rescue operation in question on February 25.
Donate to Alt News!
Independent journalism that speaks truth to power and is free of corporate and political control is possible only when people start contributing towards the same. Please consider donating towards this endeavour to fight fake news and misinformation.